When it comes to holiday gift shopping, we're all familiar with the good old one-stop-shop strategy. You head to one store and find a special something for everyone on your list — it really can't get any easier! Except this year, it just did. We present you with the one-stop-shop-and-gift strategy. Yup, same shop and same universally appealing gift for every last female. What's better is that we're pretty confident we've landed on the actual perfect all-encompassing gift. Functional, stylish, and seasonable, it's something any woman can put to good use right away: a pair of Winter boots.
Ahead, we break down the best boots from SOREL that any lady in your life (including the little ones!) will be excited to receive. Whether she's an outdoorsy type or a hygge-channeling homebody, she won't be able to resist a pair of beautiful boots perfectly matched to her unique style and interests. Stress-free shopping for you, new shoes for her; it's a win-win.
Last but not least, enter for a chance to #GetGifted a whole new wardrobe, including a $3,000 shopping spree and 12 pairs of SOREL shoes!
THE ON-THE-GO CITY GIRL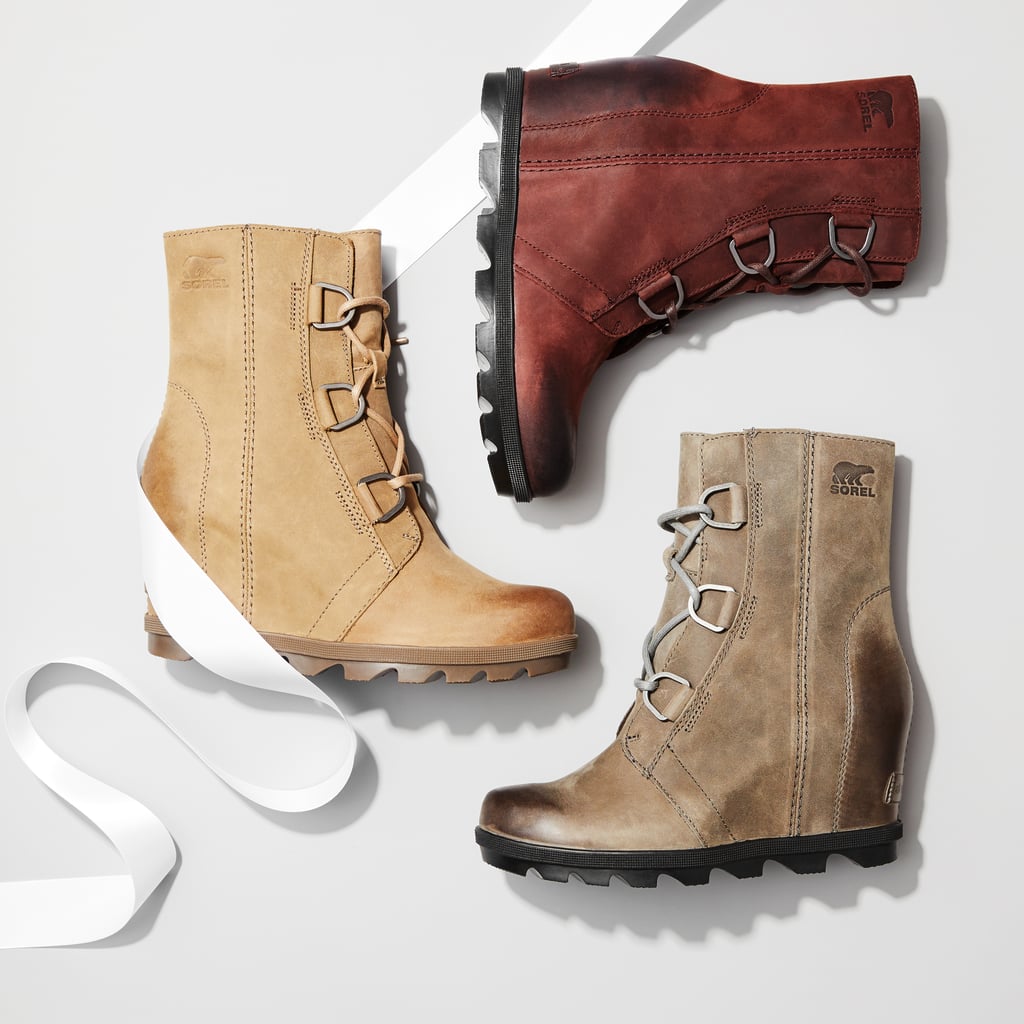 When she's constantly on the move, she needs a pair of shoes that can keep up. These boots fit the bill, delivering comfort without sacrificing style. In addition to being waterproof and easy to walk in, the clean, classic wedge design will take her seamlessly from day to night and work to weekend.
THE OUTDOORSY NATURE-LOVER
If she spends her free time enjoying things outdoors, these menswear-inspired boots were made for her. Classic hiker boot details merge with a sleek, modern design to create a pair of shoes she'll want to wear all the time with leggings and a chunky knit sweater.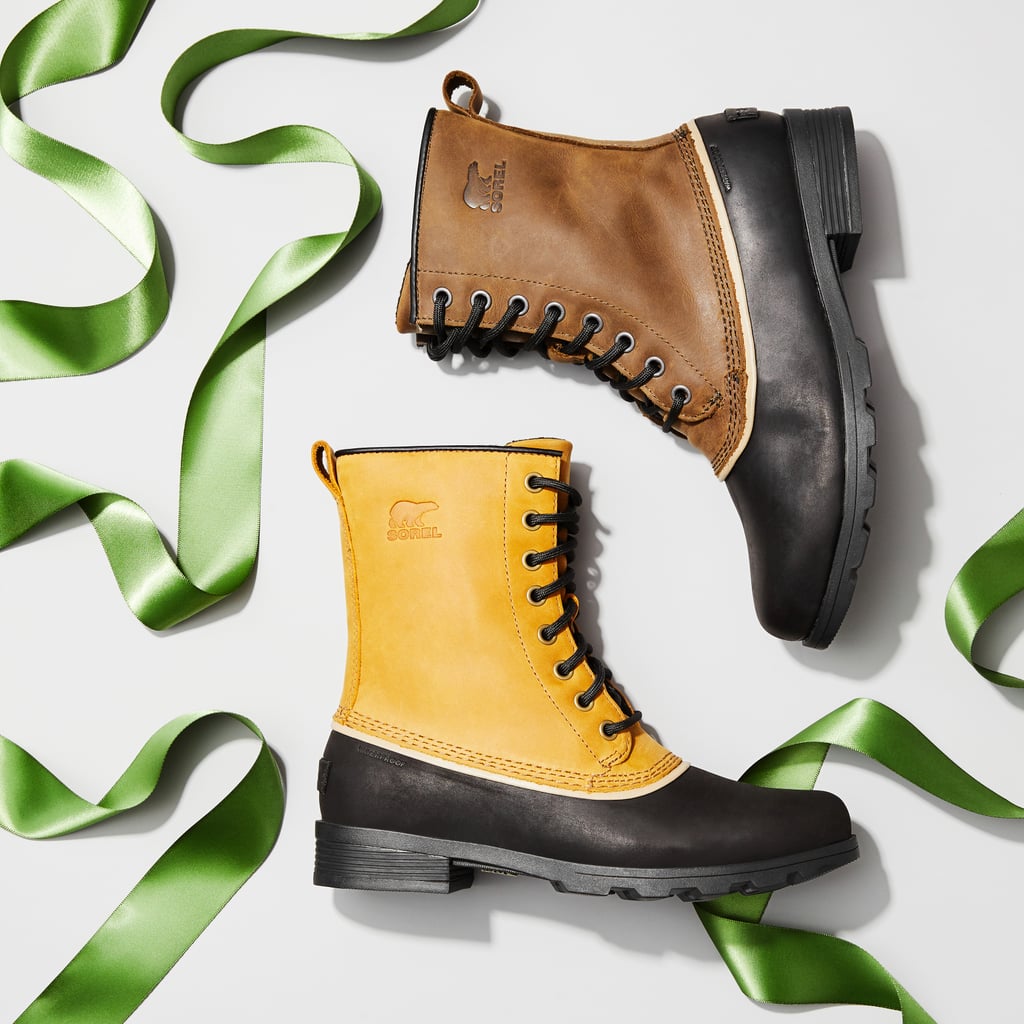 THE ARTSY TRENDSETTER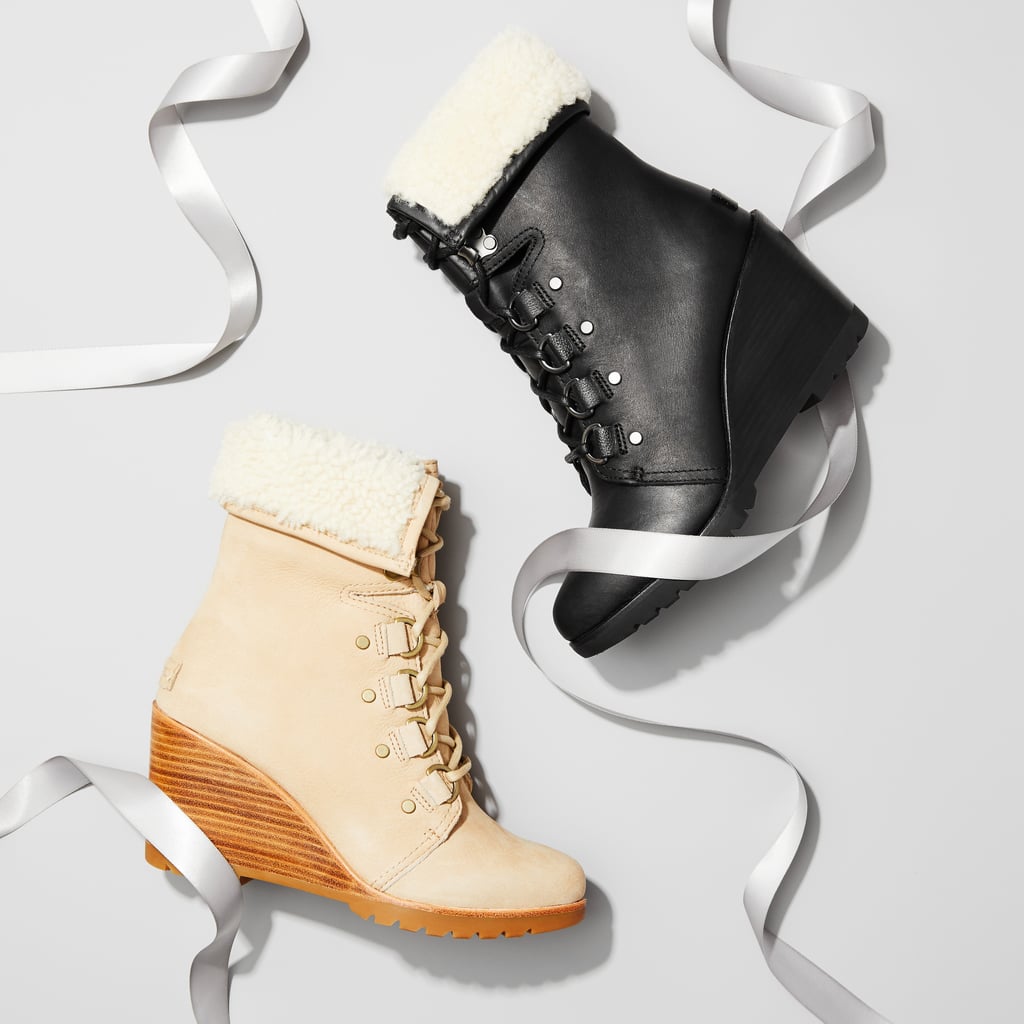 Balance out her more colorful, eclectic outfits with a pair of neutral wedge boots. She'll appreciate the on-trend element of the exposed shearling, as well as the versatile tan or black hue that she can mix and match with anything in her ever-changing wardrobe.
THE FASHION-FORWARD INFLUENCER
When it comes to the girl with the most drool-worthy style, you can never go wrong with black boots. Wedge Chelsea boots get a luxe upgrade with a leather upper, cool monochromatic effect, and shearling accents. They're elevated and elegant, just like her. She'll love reaching for these to accompany her #OOTDs all Winter long.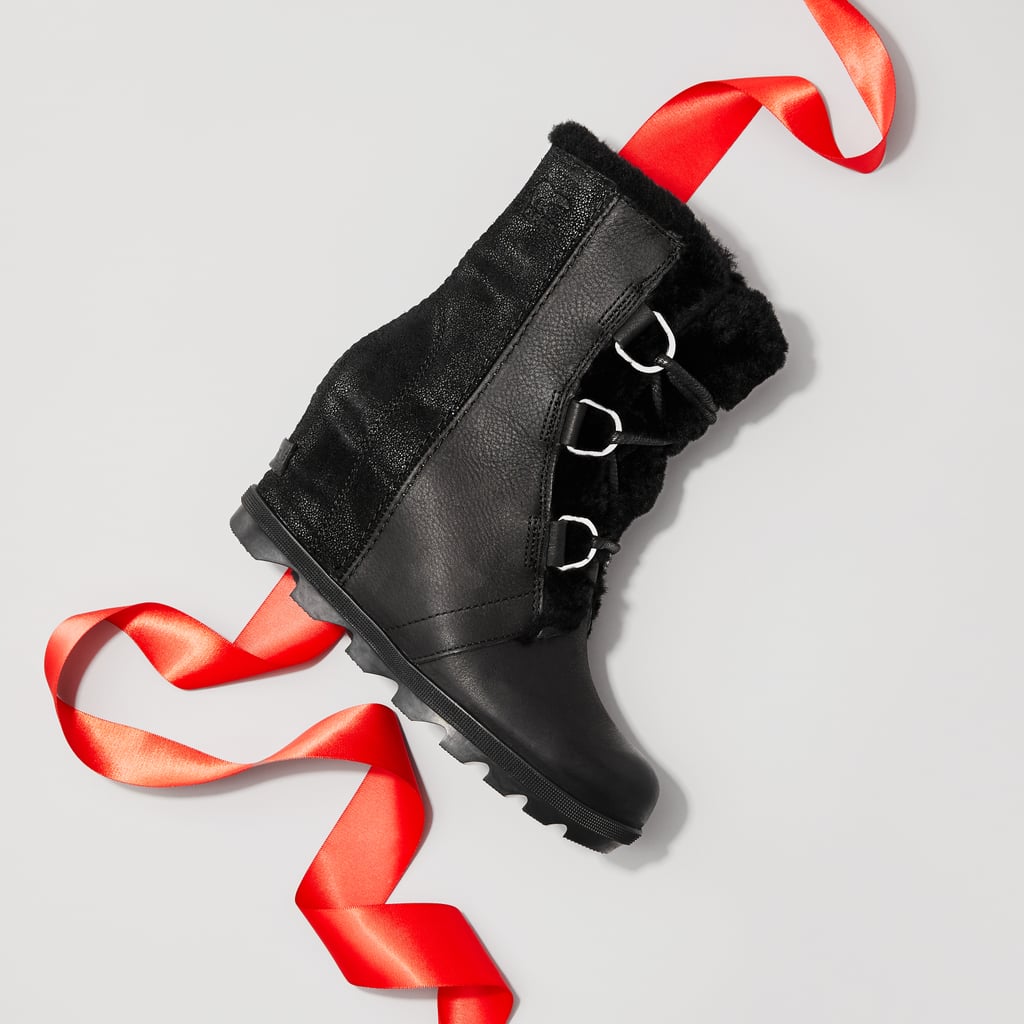 THE MULTIFACETED ADVENTURER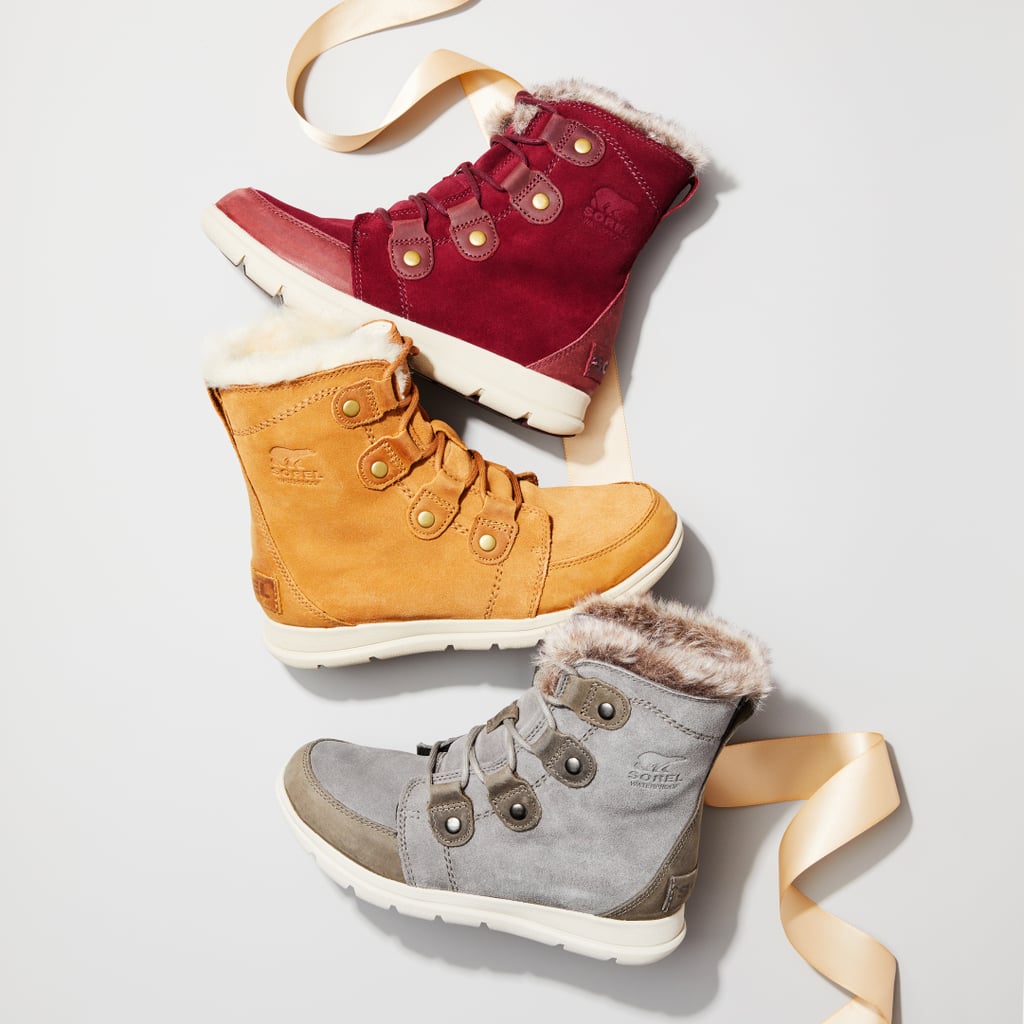 When she loves the city just as much as she does escaping it, you'll want to give her a pair of shoes that work in both urban and rugged environments. These hybrid shoes are like sneakers and Winter boots rolled up into one, with their lightweight design and insulated suede and faux-fur design.
THE SPORTY THRILL-SEEKER
From skiing to snowboarding, she thrives on cold-weather adventures. Treat her to a pair of snow boots she can easily pull on to hit the slopes. These are insulated, fleece-lined, and waterproof to keep her feet warm and protected.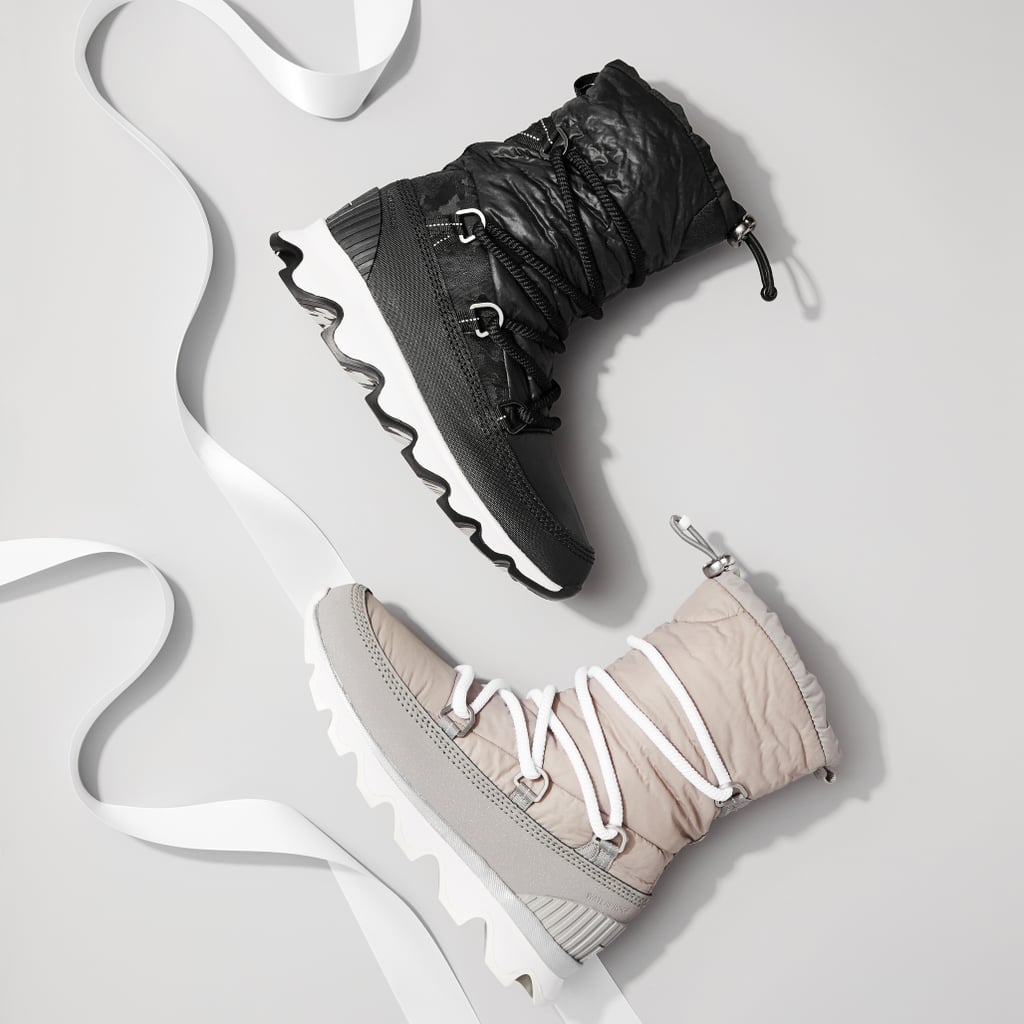 THE UP-FOR-ANYTHING OPTIMIST
Whether it's a weekend trip upstate or a spur-of-the-moment hot chocolate run, there isn't anything she won't turn down. These boots feature an ultraversatile and durable design and will become her number one companion no matter where her spontaneity takes her.
THE FUN-LOVING GO-GETTER
Help her chase the fun all season long with a pair of snow boots she can wear on any of her many escapades. The extralow ankle cut offers maximum versatility, whether she wants to pair the boots with jeans for a casual snow day or with sports gear for something more adventurous.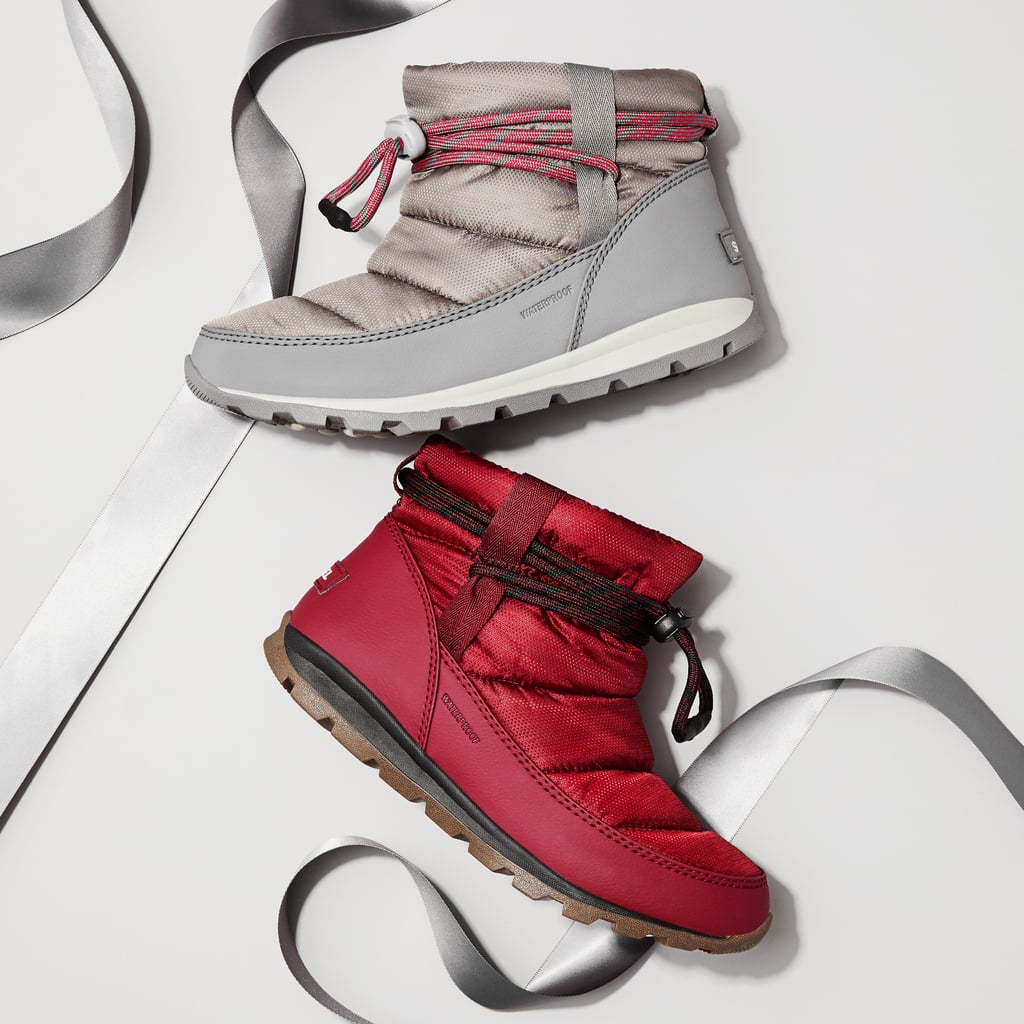 THE STYLISH HOMEBODY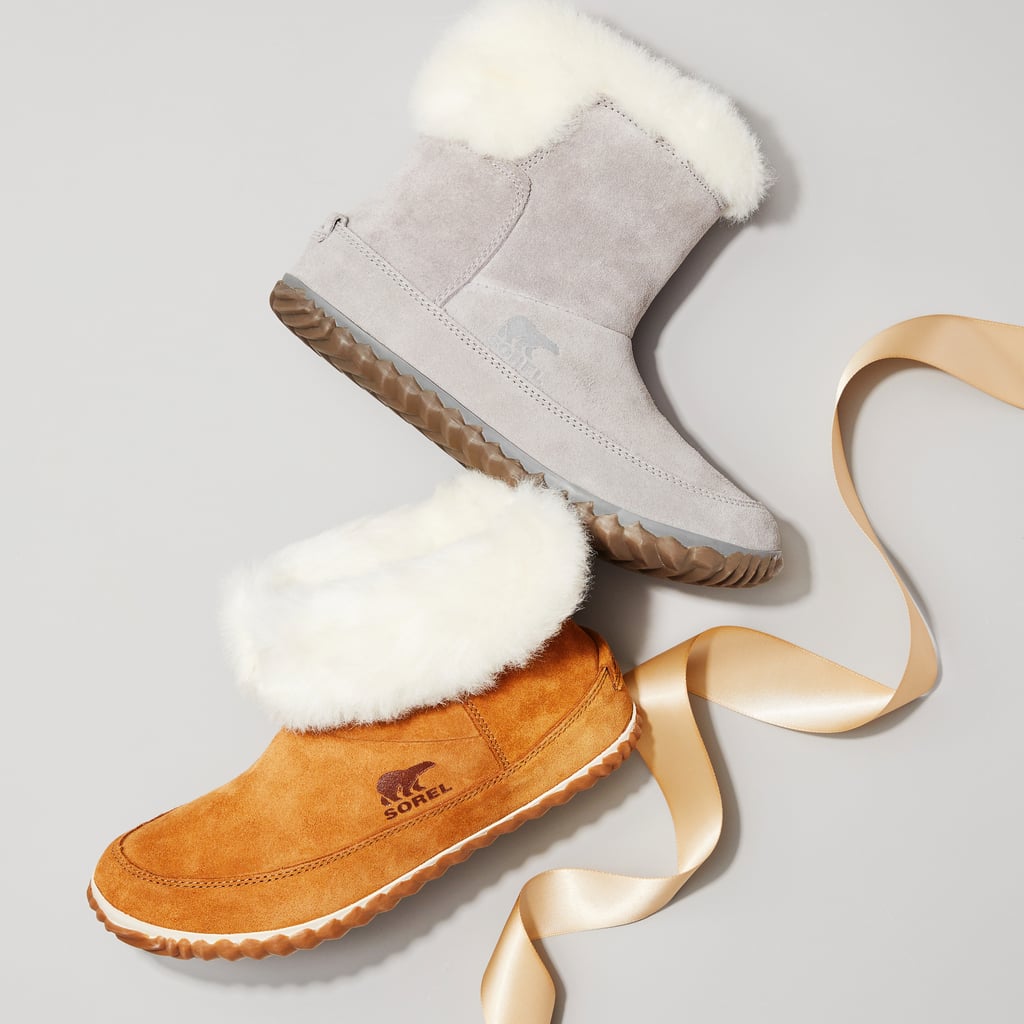 When she spends all her free time cuddled up in her dreamy hygge oasis, chances are she lives in cozy, comfy staples. This year, up her at-home style game with a pair of plush booties crafted from luxe textures like suede and faux fur. The best part is that with the rubber sole, she can easily bring the comfort outside too!
THE EVER-GENEROUS HOST
As a magnanimous host, she's always on her feet making sure her guests are well taken care of. Express your gratitude by treating her to a pair of soft slippers that will help keep her stylishly warm through all those holiday parties and beyond.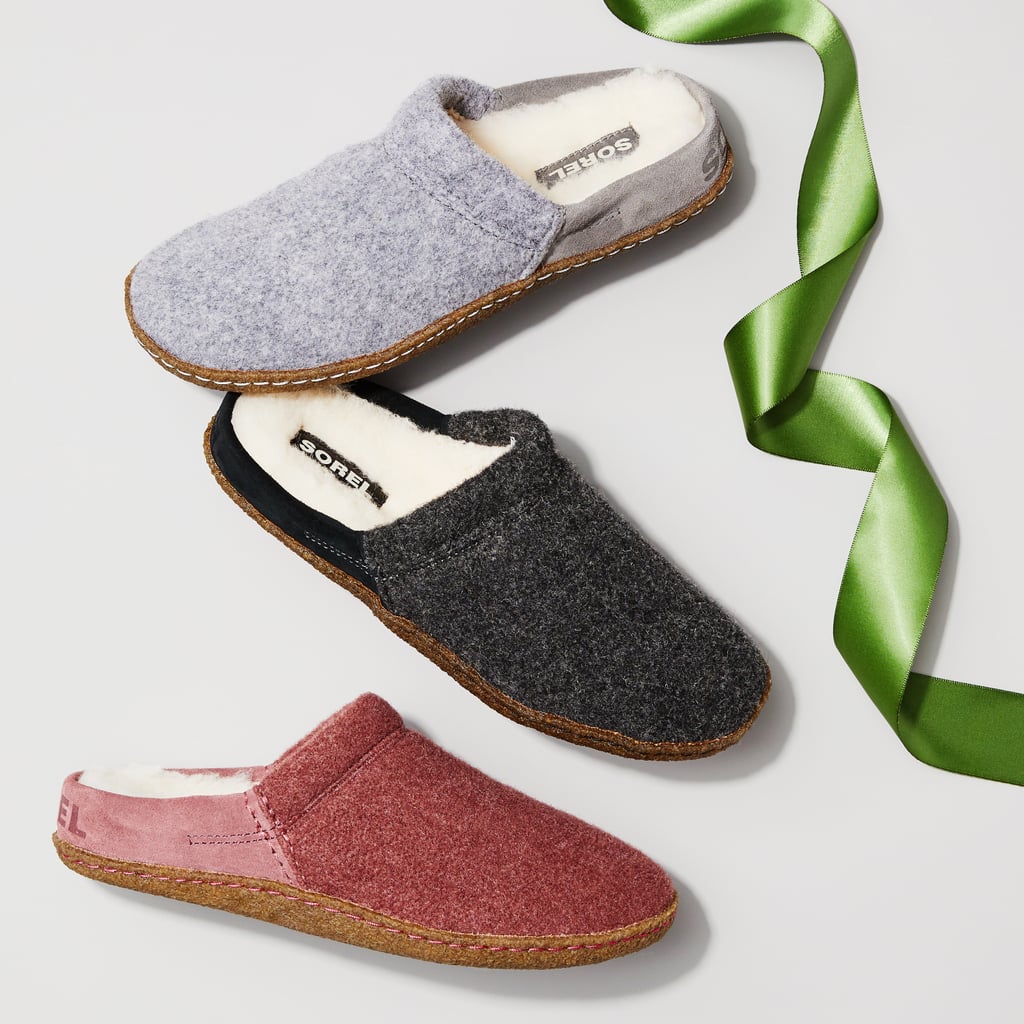 THE BUSY NEW MOM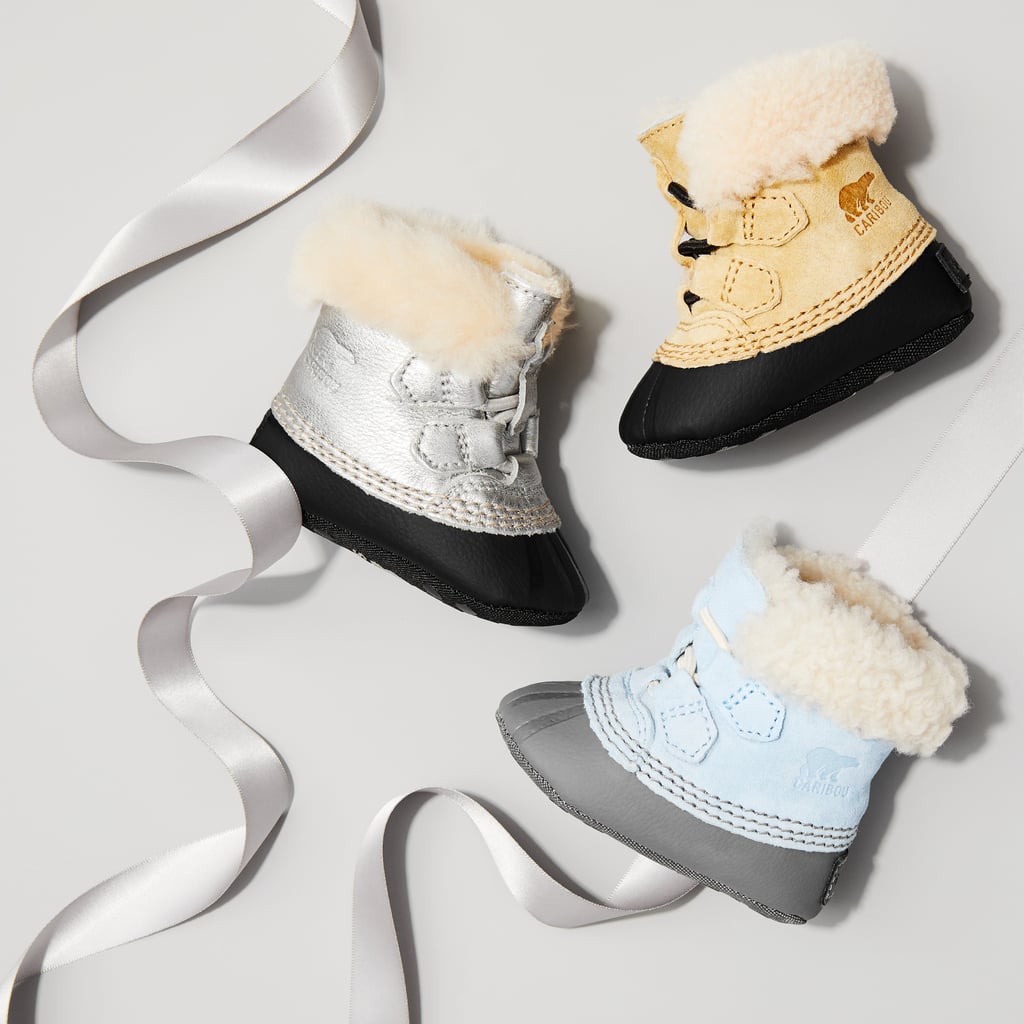 Constantly picking up discarded baby shoes is such a new mom struggle. She'll greatly appreciate a pair of Winter booties for her little one that feature convenient elastic laces. Now she can spend less time wrangling shoes and more time focusing on more important things.
THE LOVABLE NEW ADDITION
Don't forget about the newest, littlest member of your group! Treat the wee one to supersoft shearling slippers that are just as cute and cuddly as they are.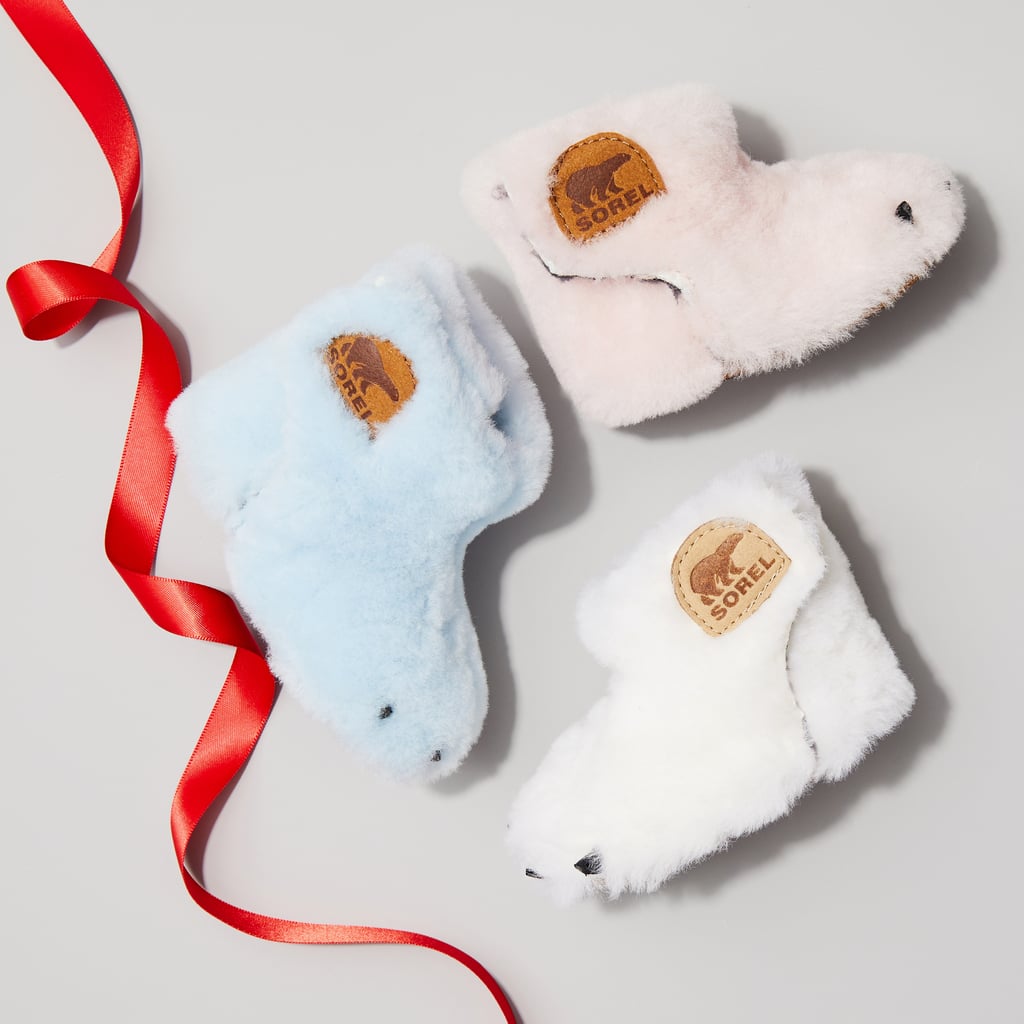 GIVE THE BOOTS
SOREL Joan of Arctic Wedge II

$240

from

SOREL

Buy Now




SOREL Emelie 1964 Boot

$160

from

SOREL

Buy Now




SOREL After Hours Lace Shearling Boot

$260

from

SOREL

Buy Now




SOREL Joan of Arctic Wedge II Lux Boot

$300

from

SOREL

Buy Now




SOREL Explorer Joan Boot

$140

from

SOREL

Buy Now




SOREL Kinetic Boot

$170

from

SOREL

Buy Now




SOREL Explorer Carnival Boot

$130

from

SOREL

Buy Now




SOREL Whitney Short Boot

$110

from

SOREL

Buy Now




SOREL Out 'N About Bootie

$90

from

SOREL

Buy Now




SOREL Nakiska Scuff Slipper

$70

from

SOREL

Buy Now




SOREL Baby Caribootie

$50

from

SOREL

Buy Now




Infant SOREL Bear Paw Slipper

$60

from

SOREL

Buy Now



Source: Read Full Article