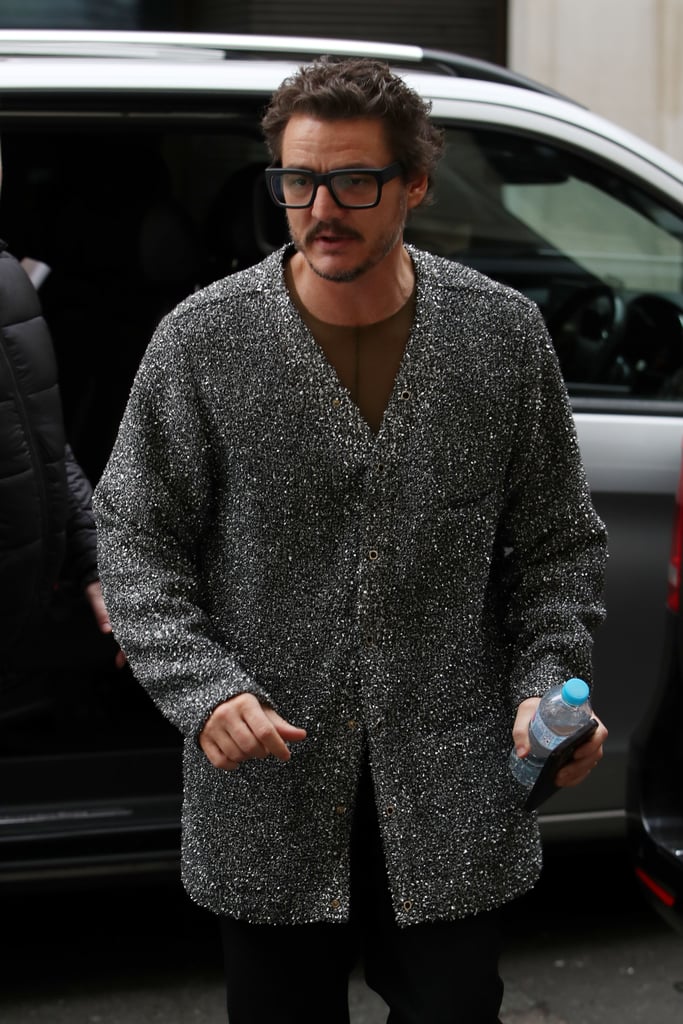 Oh, to Be Pedro Pascal's Sparkly Cardigan

Never have we been more envious of an inanimate object than when Pedro Pascal stepped out in a sparkly cardigan this week. As soon as we saw him walking the streets of London wearing the glittery knit, we longed to swap places with it — to be enrobing the heartthrob, catching the attention of random passersby, sparking internet discourse, and ultimately taking responsibility for his style breakout.
Pascal has been serving look after look while promoting "The Last of Us" season one and "The Mandalorian" season three this year, working with stylists Julie Ragolia and Fabio Immediato. His latest came on Feb. 23 when he arrived to a radio interview wearing the shiny cardigan in question: a long button-down sweater made of silver foil yarn and created by menswear label 4SDesigns. He layered it over a sheer brown tank top and finished the look with black pants, leather boots, and his usual chunky-framed glasses.
Just one day prior, the actor stopped by a photo call for "The Mandalorian" in yet another unexpected cardigan, a cropped brown Acne Studios number made of see-through waffle-knit material. He wore it slightly unbuttoned with a gray tank top, bright-red pants, and black boots as he posed with costumed characters in front of the step-and-repeat. His press tour, including a hysterical hosting gig on "Saturday Night Live," has presented several other standout fashion moments, from a green corduroy suit and silky purple Valentino top to a long sequin-lined coat that further proved he's not afraid of a little sparkle.
To be clear, Pascal has always been adventurous with his sartorial choices, often eschewing plain black suits in favor of fun patterned shirts, brightly colored sets, and graphic tees. His recent style streak, however, has effectively clinched his fashion-icon status, and we can't wait to see what he delivers next. Catch up on his latest looks to see what all the hype is about.
Source: Read Full Article