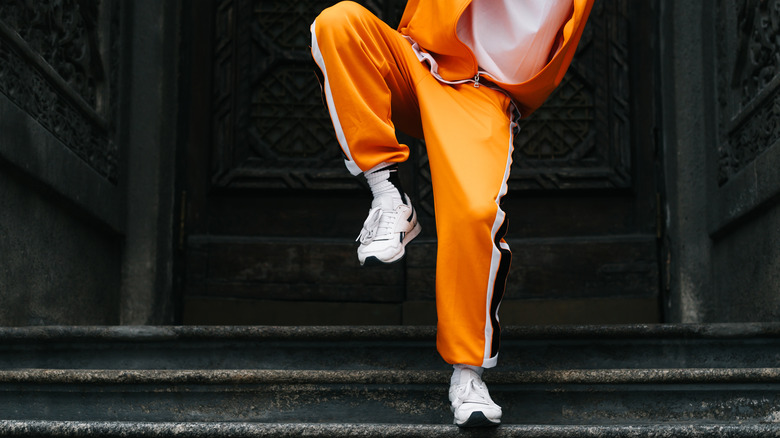 The tracksuit has proven to be a timeless trend that, while it may change its image up and even hibernate every so often, always pops back up on the scene. This sporty apparel jumped off in the 1960s, when U.S. star sprinters, like Tommie Smith, would warm up in the matching sets. Back then, the suits were typically made from soft, breathable material (like cotton) and the jackets donned buttons rather than zippers, but the suits made a statement. Once Adidas got on board in the late '60s, the rest, as they say, was history (via Frank and Oak).
From the Adidas tracksuits made popular by RUN D.M.C. in the '80s to the Paris Hilton velour suit trend in the 2000s, this outfit can be a whole mood. With different materials, patterns, and styles, there is a tracksuit to match each unique personality. Even former President Barack Obama enjoys wearing a tracksuit. But, as GQ reports, there is a right way and an "anti-swag" way to don this outfit. Let's dive into how to avoid a tracksuit snafu, and how to rock it like a champ.
There is a right and wrong way to rock a tracksuit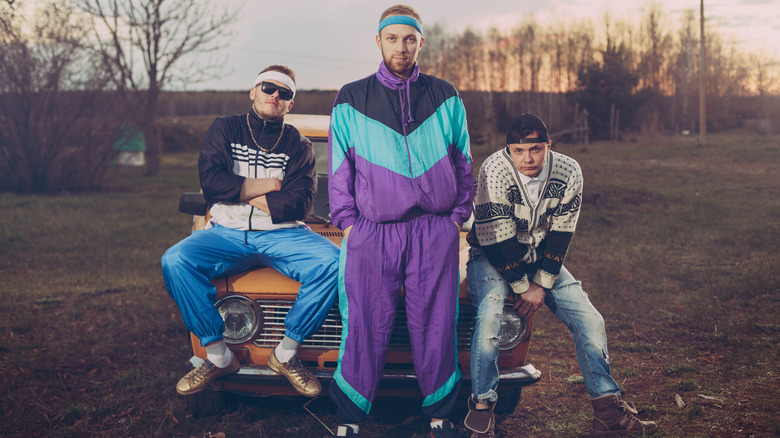 When buying a tracksuit, first and most importantly, you want to make sure it fits properly. With a too-large and loose-fitting suit, you are bound to look frumpy and sloppy. To be stylish and classy, GQ recommends getting yourself a more form-fitting tracksuit — think along the lines of an actual suit. Rockstar Original agrees, stating that the better the fit, the more stylish the suit, and although the main attraction is "comfort and mobility," you can still look fresh for the Gram. 
Shoes are an essential piece to the look, whether choosing all white kicks, or a pair of sexy heels, these can change up the vibe of the outfit. But Rockstar Original says there are two types of shoes to avoid at all costs when wearing a tracksuit, sandals (just don't), and color clashing shoes. The shoes should accent the outfit, not ruin it.
Finally, don't overthink, or over style, your tracksuit look. According to Frank and Oak, a tracksuit really "styles itself" so when putting yourself together, remember that less is more.
Source: Read Full Article