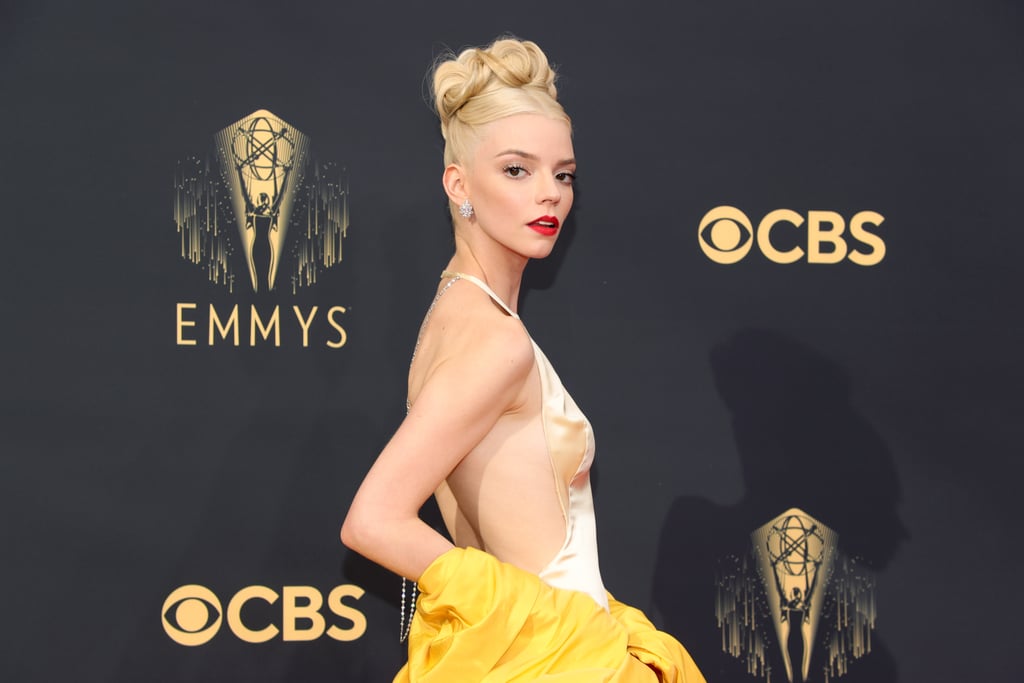 Anya Taylor-Joy Goes Full Princess Belle For the Emmys — With a Sexy, Backless Twist

Anya Taylor-Joy dressed like the Emmy trophy she's hoping to take home at the award show on Sunday night. The always-stylish Queen's Gambit star, who is nominated for lead actress in a limited series or movie, walked the red carpet in a satiny champagne gown and golden yellow shawl draped over her arms. Her Dior dress featured a halter neckline, formfitting bodice, and entirely open back complete with two dainty strings of rhinestones that somewhat resembled a backwards necklace. Perhaps a new trend is brewing?
As soon as we caught a glimpse of Anya's billowing shawl, we couldn't help but draw comparisons to Princess Belle's signature yellow ball gown — although Anya's version is far more sexy than we'd likely see in a Disney movie! With the help of image architect Law Roach, the star completed her princess-worthy look with Tiffany & Co. jewelry, a prom-like updo, and bold red lipstick. Read ahead to admire Anya's stunning Emmys outfit from all angles — trust us, you definitely want to see it from the back!
Source: Read Full Article