Katy Perry is an American singer and songwriter who started singing in church during her childhood years and persevered to a career in gospel music. Although unsuccessful in her first album debut, Katy Perry rose to fame in 2008 with the release of her second album One of the Boys. Katy Perry has become one of the artists who exudes a unique level of energy that is vibrant, compelling, colorful, and sprightly, and not only does it inspire her music, but it is apparent in her style of dressing. From world tour concerts to Super Bowls and from award nights to gala parties, Katy Perry never disappoints to give both a surprising look and a slight frown to supporters and non-supporters alike.
Click the button below to start this article in quick view
10

Musical Couture (2014 Grammy Awards): Over $100,000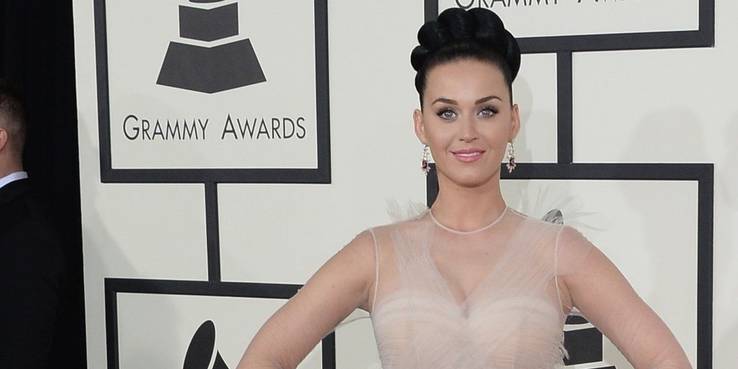 Katy Perry's red carpet musical ensemble from Valentino couture at the 2014 Grammy Awards looked like a mere celebration of her love and passion for music. With tiny musical notes printed on the inner lace material of the dress, this music-inspired long gown came straight from the runway in Paris some four days before the event took place.
RELATED: 10 Things Katy Perry Does to Achieve Success
It felt like the heavens had connived with Perry's love for her craft and her passion to bring the world together through music. It was perfectly apparent from the artist's physical perspective. The beautiful piece was rumored to have cost Perry a hefty $100,000.
9

Flame Dress (Superbowl 2015): Between $15,000-$20,000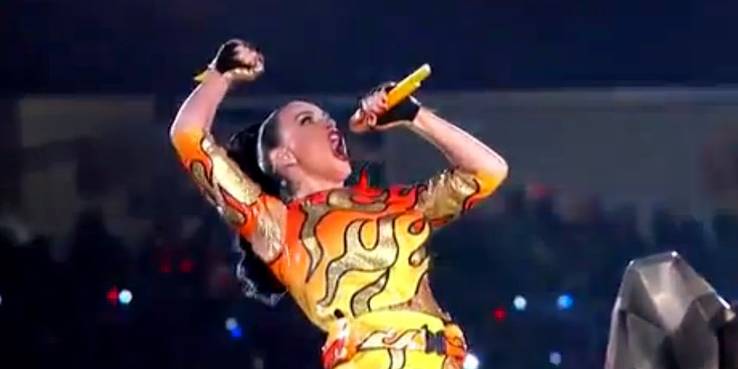 This Girl Is On Fire inspires one of the unforgettable Super Bowl outfits of Katy Perry in the 2015 Super Bowl halftime performance – the Flame Dress designed by no other than Jeremy Scott – Perry's dear friend who designs most of her unique, if not outrageous performance attire that never fails to amaze the public.
RELATED: The 10 Most "WTF" Super Bowl Ads Ever
The Flame Dress was worn by Katy Perry during her opening set while astride a giant animatronic tiger was a blazingly perfect complement to the entire performance. The entire opening wardrobe was said to have cost Perry a flaming worthy sum between $15,000 to $20,000.
8

Polka Dot Strapless Gown (2013 American Music Awards): Over $10,000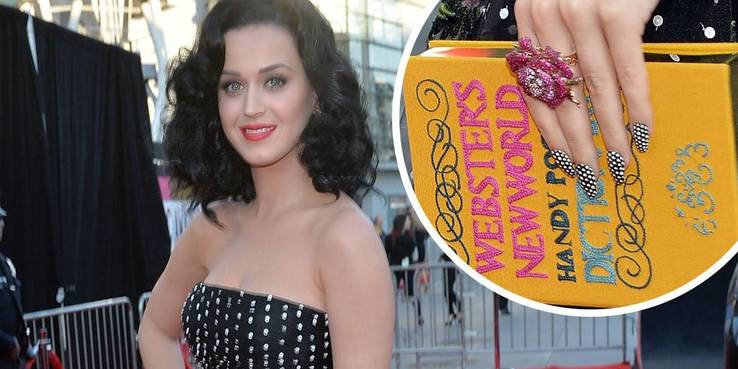 Katy Perry graced the 2013 American Music Awards night in a strapless floral, polka-dot long gown from Oscar de la Renta's Spring 2014 Collection. It was estimated to have cost a little over $10,000. This chic and elegant piece made Katy Perry look stunningly sweet and young.
RELATED: The 10 Most Memorable Super Bowl Halftime Moments
Just exactly how fans want her to look outside her, most of the time, crazy and outrageous music videos and super fun and hyped Super Bowl and world tour performances. Oftentimes, the world forgets how artists and celebrities like Katy Perry look in simple, yet elegant, clothing and makeup.
7

Teeth Bling And Leopard Set (2013 MTV Video Music Awards): Over $10,000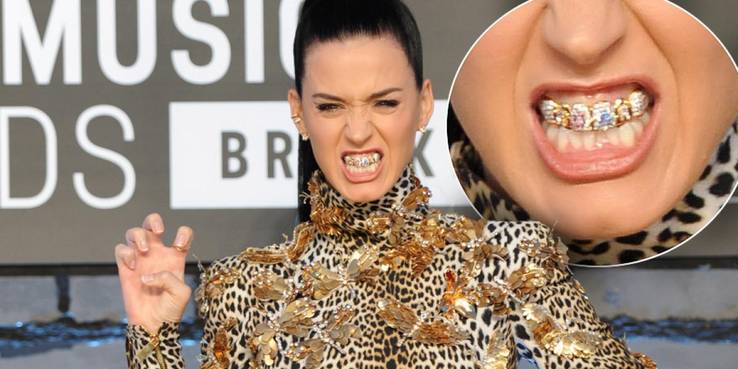 Katy Perry closed the 2013 MTV Video Music Awards with a roar, singing her hit song Roar, clad in a body-hugging leopard print dress designed by French designer Emanuel Ungaro, which was reported to cost $10,000 per piece. A very noticeable addition to the overall look was her new set of jewel-embellished teeth which was said to have been designed by celebrity jeweler Paul Wall, that's worth roughly $1,000. However, the famous mouthpiece was rumored to be encrusted by diamonds which could cost not less than $10,000. Dolled up in this overall look, Katy Perry surely brought everyone to roar along with her.
6

Viktor & Rolf Royal Blue Trench, & Louboutin Bag: Up To $8,500
Many have said that Katy Perry sometimes tends to take things a little over the top, well, this number might just make everyone nod in agreement. Donned in Viktor & Rolf's royal blue trench coat over a blue fishnet accented dress, the Katy Perry arrived at the Viktor & Rolf Autumn/Winter show in Paris.
RELATED: 10 Most Embarrassing Moments of Katy Perry's Career
Sporting a bright blue shade of hair left everyone feeling like Perry seemed to have chosen not to take the time to carefully decide on the best garments to beautifully contrast her crowning glory. The royal blue trench coat costs over $1000 while the pill-shaped bag by Christian Louboutin would cost a hefty $7,000. Perry's overall blue ensemble cost a little less than $9,000.
5

House Of Gasoline Glamour Chiquita Crystal-Spiked Shoes (Entertainment Weekly May 2010): $6,000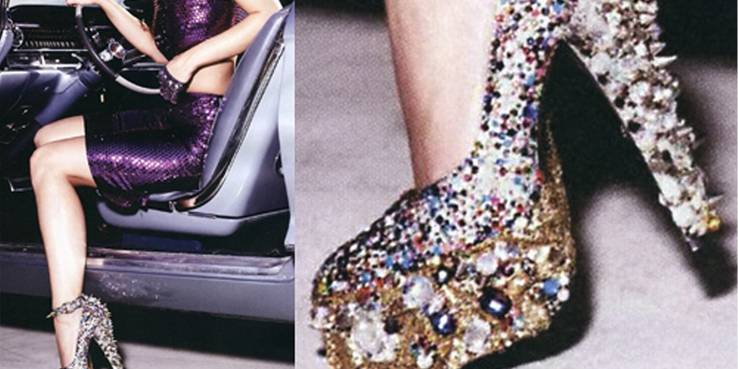 Worn in one of Katy Perry's product endorsement and magazine photoshoots is the Chiquita crystal-spiked shoes that is commercially priced at $6,000 under House of Gasoline Glamour.
RELATED: Top 10 Most Scandalous Katy Perry Outfits
This crystal shoes are hand-made and covered with Swarovski crystals and are mostly loaned for photoshoots and music videos. To date, they have been worn by Avril Lavigne and Katy Perry in the magazines. Although Katy Perry might not own a pair of these shiny and extravagant shoes, with Perry's vibrant and sprightly personality, she sure would love to own her very own robust Cinderella glass slippers.
4

Gucci Crystal Embellished Dress (2013 Grammy Awards): $5,500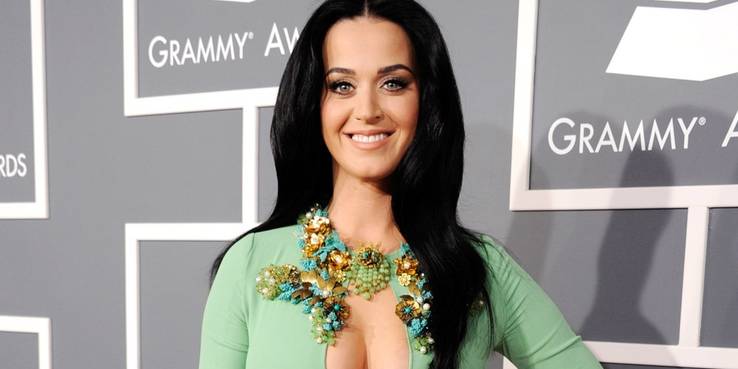 Sexy and sultry as she is, Katy Perry graced the 2013 Grammy Awards in a long, form-fitting mint green Gucci crystal-embellished gown looking all gorgeous and oozing with sexiness. Rumor has it that Katy Perry had been acting all rebel despite the Grammy board's dress code memo.
RELATED: The Top 10 Most Expensive Women's Handbags
Perry slew the red carpet in the stunning gown designed with jewels around the collar and quite an opening that displays an ample amount of chest. Not that Katy Perry didn't give too much attention to the Grammy' specified mode of clothing for the occasion. The gorgeous Gucci piece was priced at roughly $5,500.
3

Black Diva (2012 Much Music Video Awards): $5,000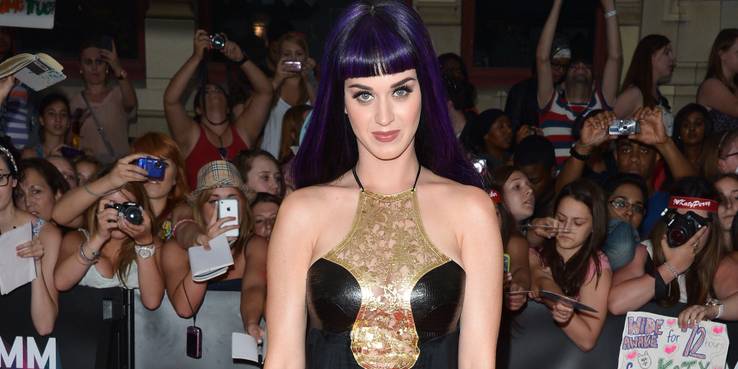 Probably one of Katy Perry's most amazing ensembles is the black halter gown that she wore in the 2012 Much Music Video Awards in Toronto Canada. The goddess-inspired gown is embellished with a curvy golden accent occupying most of the upper half of the bodice with a long, soft and flowy see-through chiffon skirt that flows past the floor.
RELATED: The Top 10 Favorite New Celebrity Couples
The design by VAWK from its 2012 Resort Collection, Katy Perry complimented the entire look with suede black Christian Louboutin heels, looking fierce but classy in a deep purple let-down hair and a gold bangle. Katy Perry performed her latest single Wide Awake and won herself the "Favorite International Artist" and "International Video of the Year" awards. The entire look cost Perry an estimated $5,000 and more.
2

Sheer Crystal Dress (57th Annual Grammy Awards 2015): $8,000
Fresh from her Super Bowl performance, Katy Perry shimmied onto the red carpet in the 57th Annual Grammy Awards 2015. Dazzling in the sheer jewel-embellished, almost see-through belted dress from Zuhair Murad's Spring 2015 Collection that just came from the Paris Couture runway.
RELATED: Top 10 Sexiest Women in the World 2012
Katy Perry being constantly a head-turner in every event sure did not disappoint as she complimented her entire look with silvery-purple wavy locks and the sure thing she really did look like the event's gem that sparkles through and through. Completing the overall look with a pair of silver heels, a pair of statement earrings that kind of went a little overboard and stunning make up just cost Perry a little over $8,000 for the night.
1

Empire Red Gown (amFAR's 23rd Cinema Against AIDS Gala Cocktail Reception 2016): Over $1500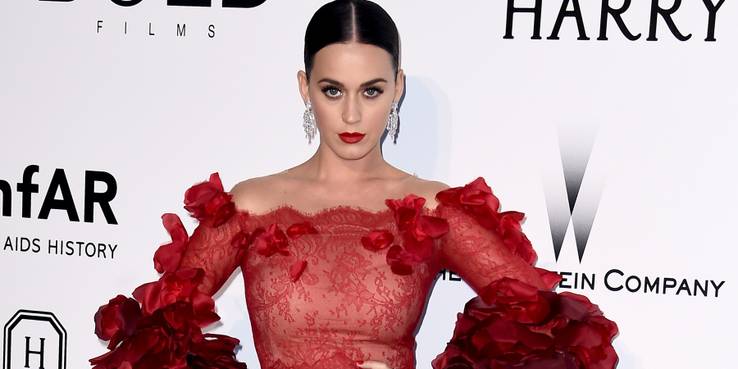 Dazzling in her red lace gown from the Marchesa 2016 Fall Collection, Katy Perry went full floral in the 2016 Cinema Against AIDS Gala held in France. Her sensational red lace, off-shoulder gown was topped with petals that looked like roses in full bloom gathered around the lower sleeves of the dress. The pop princess effortlessly achieved glamour and grace with a sleek pulled-back bun, a 2-inch diamond dangle earring by Harry Winston and sultry red lips that was perfectly appropriate for the overall ensemble. The whole glamorous look is estimated to cost Katy Perry just a bit over $1500, but that sure won't hurt her pockets.
NEXT: Top 10 Most Beautiful Women Celebrities in America 2012
Tags:celebrity
Source: Read Full Article