The iconic Air Jordan 1 was designed by Peter Moore in 1985 and specifically crafted to meet the needs of Chicago Bulls' rookie sensation, Michael Jordan. The Air Jordan 1, as we know it, is probably Nike's most popular basketball sneaker ever, which follows design cues from the OG, Air Force 1. Funny enough when Jordan began his rise to fame though, he was approached by Nike with a promise to build a brand around him but surprisingly declined as he preferred the Converse Chuck Taylor over Nike sneakers, claiming "the soles were too thick" as it didn't let him feel the court beneath him enough. Nike, still hellbent on getting their guy, went ahead and sent Air Jordan 1 samples over to MJ and even then, he still did not like them. Over time the shoe would begin to grow on him until he played in them every night and well from there— history, as the Air Jordan 1 has gone on to transcend sports and become a symbol in the world of fashion, streetwear and culture at-large. The latest of the bunch, the Air Jordan 1 Retro High OG "Shadow 2.0", drops today and you'll have a chance to get them early on GOAT's website and app.
Air Jordan 1 Retro High OG "Shadow 2.0"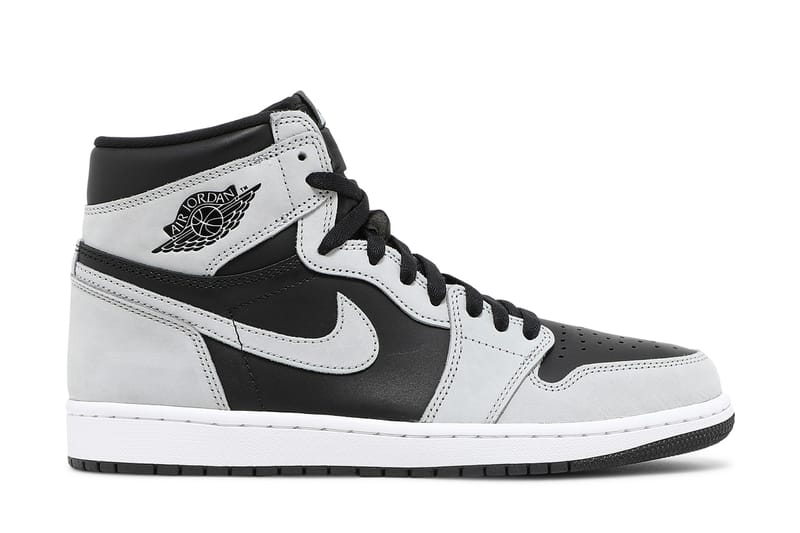 Release Date: May 15, 2021
Lowest Price: $170 USD
As its moniker suggests, the Air Jordan 1 Retro High OG "Shadow 2.0" utilizes the same neutral palette featured on the original Black/Grey colorway from 1985. This pair makes use of a black leather upper with grey nubuck overlays at the toe and heel. A matching grey Swoosh is joined by traditional branding elements that include a Nike Air tongue tag and a Jordan Wings logo stamped on the lateral collar. A rubber cupsole with encapsulated Air cushioning delivers a smooth ride.
Air Jordan 1 Retro High OG "Shadow" 2018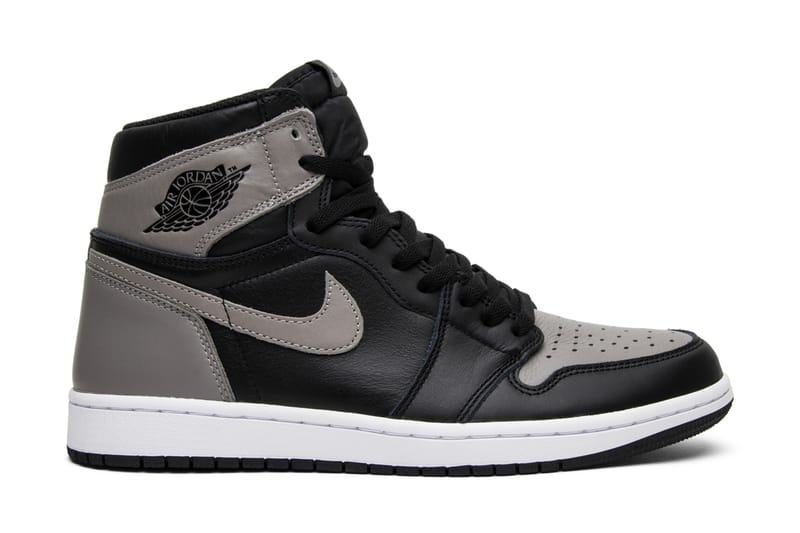 Release Date: April 14, 2018
Lowest Price: $210 USD
This Nike Air Jordan 1 Retro High OG "Shadow" 2018 is a retro re-release of an original 1985 colorway. The shoe features a black and medium grey leather upper with a white midsole and black outsole. It also features OG Nike Air branding on the tongue and the Wings logo on the ankle collar. It was last retro'd in 2013, and a low-top version dropped in 2015.
Air Jordan 1 Retro High OG "Chicago" 2015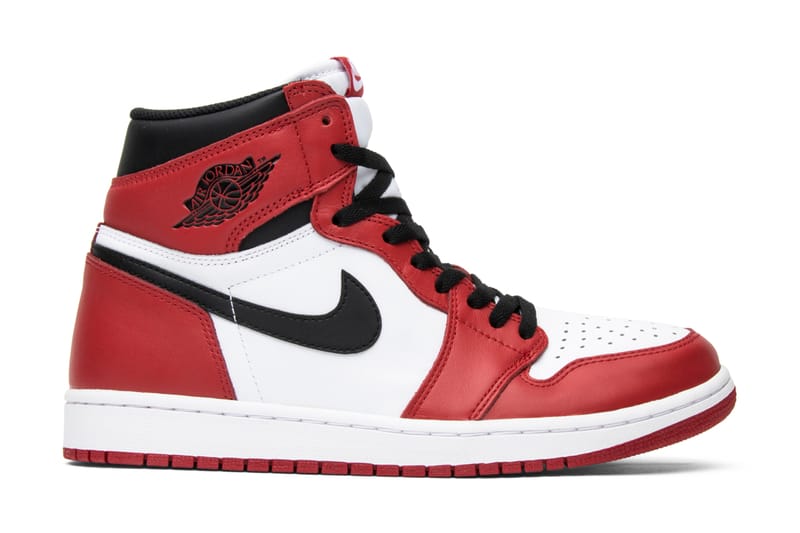 Release Date: May 29, 2015
Lowest Price: $900 USD
The Air Jordan 1 Retro High OG "Chicago" 2015 colorway was designed to avoid Jordan's $5,000-per game fines from the NBA after the original black and red colorway was banned. The "Chicago" was first retro'd in 1994 and stayed true to the 1985 design. Further retros were released in 2013 with small changes to the design, and again in 2015 with the original branding details: the Nike Air logo on the tongue and the original clean heel without the Jumpman logo.
Air Jordan 1 Retro High OG "Banned" 2016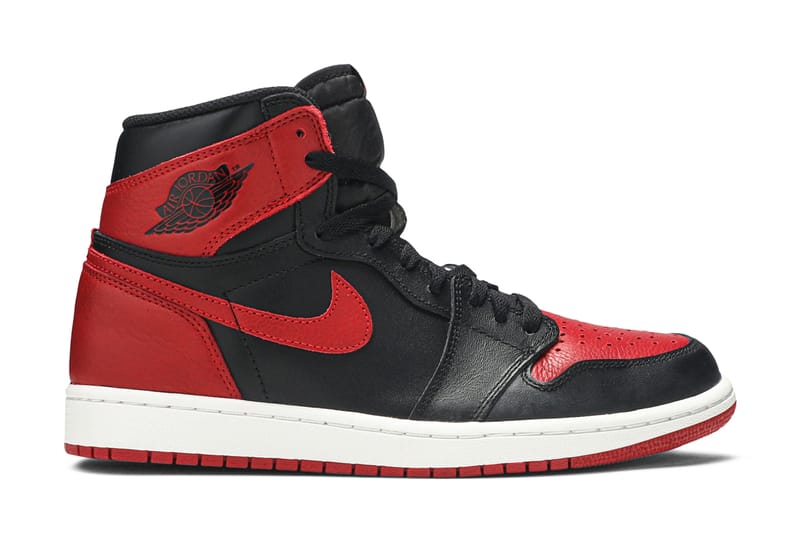 Release Date: September 2, 2016
Lowest Price: $299 USD
Banned by the NBA in 1985, Michael Jordan was charged $5,000 per game for wearing the Air Ship"Black/Red" because they didn't include the color white which was part of the Chicago Bulls' official team colors. Used as a marketing tactic, Nike crafted the "Banned" campaign around the sneakers to launch and promote the Air Jordan line. The sneaker was retro'd in 1994, 2011, 2013 and 2016. The 2011 pair featured an "X" on the heel paying homage to the "Banned" nickname.
Air Jordan 1 Retro High OG "Royal" 2017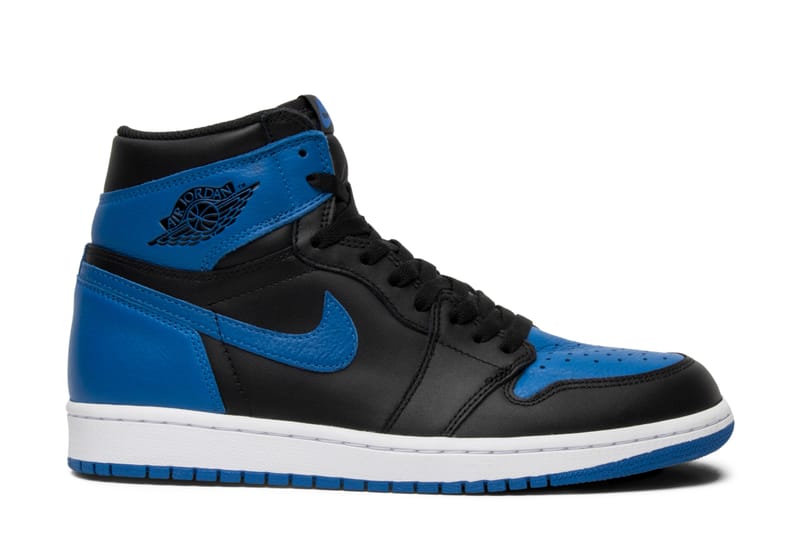 Release Date: April 1, 2017
Lowest Price: $469 USD
In 1985 sports photographer, Chuck Kohn, photographed Michael Jordan wearing the Air Jordan 1 Royals. This photo turned Nike poster was the first time anyone saw Michael wearing the Air Jordan 1 sneakers. Ever. Known to be his favorite colorway, Jordan chose the Royals to be the first Air Jordan 1 available for purchase. They were also the only color-way out of the Top 3 Air Jordan 1 Retro colorways ("Banned" and "Chicago") that he never wore on the court. Since 1985, the Royals have been released in 2001, 2013, and 2017.
Air Jordan 1 Retro High OG "Shattered Backboard"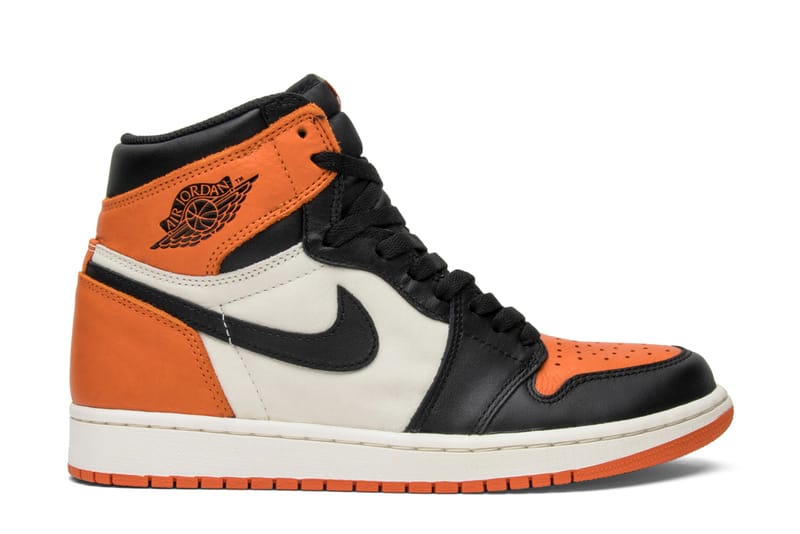 Release Date: June 26, 2015
Lowest Price: $1,450 USD
In 1985 on a Nike Europe tour, Michael Jordan shattered a backboard when throwing down a monstrous dunk while wearing an orange, black, and white uniform. Commemorating the moment and uniform, the first version of the Air Jordan Retro High OG "Shattered Backboard" was released in 2015 with a high quality tumbled leather and black toe-box in the original hightop silhouette of the Air Jordan 1, sporting an orange, black and white colorway inspired by the team uniform MJ wore during that 1985 game.
Travis Scott x Air Jordan 1 Retro High OG "Mocha"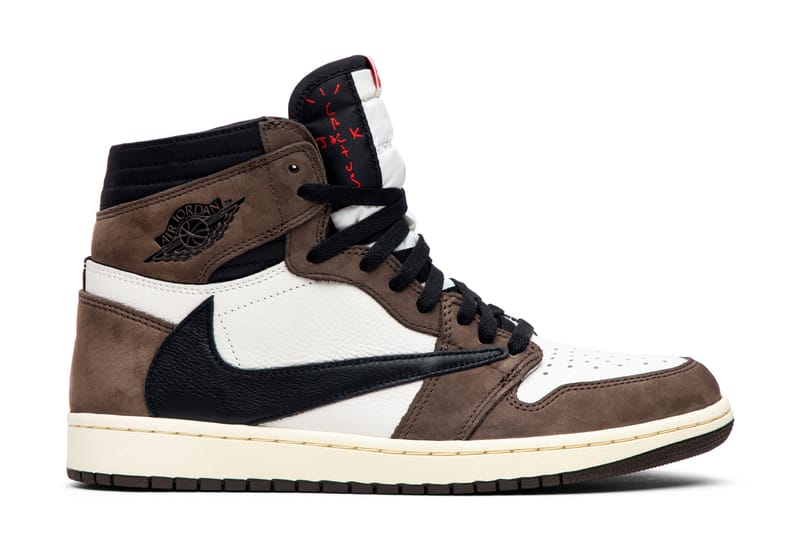 Release Date: May 11, 2019
Lowest Price: $1,524 USD
The Travis Scott x Air Jordan 1 Retro High features a new look on the iconic silhouette, thanks to an oversized reversed Swoosh on the lateral side. A traditionally oriented Swoosh graces the medial side of the upper, which is built with a blend of white leather and brown suede. Additional unique details include a double-layer construction on the collar and Scott's crudely drawn face logo embossed on the heel. The silhouette sees a mix of tumbled sail-colored leather and buttery suede treated in dark mocha on its under- and over- lays respectively. Its Swoosh logos, laces and ankle entry are all done in black, while the heels sport debossed "sicko" motifs. What's more is that the collaborative sneaker features a small stash pocket that wraps around the ankle. Sealed by velcro, its interior is drenched in university red to match the "Cactus Jack" tab on the side of each tongue.
Release Date: June 25, 2020
Lowest Price: $7,511 USD

Originally revealed at Dior Men's pre-fall 2020 show in Miami, Jordan Brand connected with Parisian fashion house Dior to create history with the Jordan 1 Retro High "Dior," now available on GOAT. Coinciding with the famed silhouette's 35th anniversary as well as Dior Men's collection debut in the United States, the highly-limited sneaker channels the timelessness of both the shoe as well as the iconic style of Maison Dior. This is the first time that Jordan has collaborated with a legacy fashion label and therefore the release was limited to only 8,500 pairs, each pair individually numbered. Designer Kim Jones' take on the iconic sneaker makes use of a white and grey upper constructed from Italian leather with hand-painted edges. Dual branding hits take form as a Dior woven tongue tag, a Nike Swoosh in Dior Oblique jacquard and icy outsoles revealing a Dior and Dior Wings logo on each shoe.

Off-White x Air Jordan 1 Retro High OG "UNC"

Release Date: May 23, 2018
Lowest Price: $1,800 USD

Inspired by Michael Jordan's alma mater, the Off-White x Air Jordan 1 Retro High OG "UNC" carries a classic two-tone composition, filtered through Virgil Abloh's unique design prism. The process involves taking a white leather base with dark powder blue overlays and adding embellishments that convey an expressive, handmade quality. They include detached Wings, a floating Swoosh, and lines of text on the medial-side quarter panel delineating the taxonomy of the shoe.

Air Jordan 1 Retro High OG "Pine Green"

Release Date: September 22, 2018
Lowest Price: $460 USD

The Air Jordan 1 Retro High OG "Pine Green" showcases a modified take on the silhouette's classic "Black Toe" design, first introduced to the world in 1985. The leather high-top employs a black/white color scheme with Pine Green accents on the heel, outsole and leather wings that wrap around the collar. Unlike the original "Black Toe," the traditional white finish on the toe box is colored in with more Pine Green.
Source: Read Full Article