The group, one of the most successful acts of the 1990s, have not performed together since the London Olympics closing ceremony in 2012, and they last toured together 10 years ago.
In a video shared on the band's newly-created social media accounts, Melanie Brown, Melanie Chisholm, Geri Horner and Emma Bunton are seen in a mock news broadcast, confirming the details of their tour.
The group will kick off the Spice World tour on 1 June in Manchester before travelling to Coventry, Sunderland, Edinburgh and Bristol and London.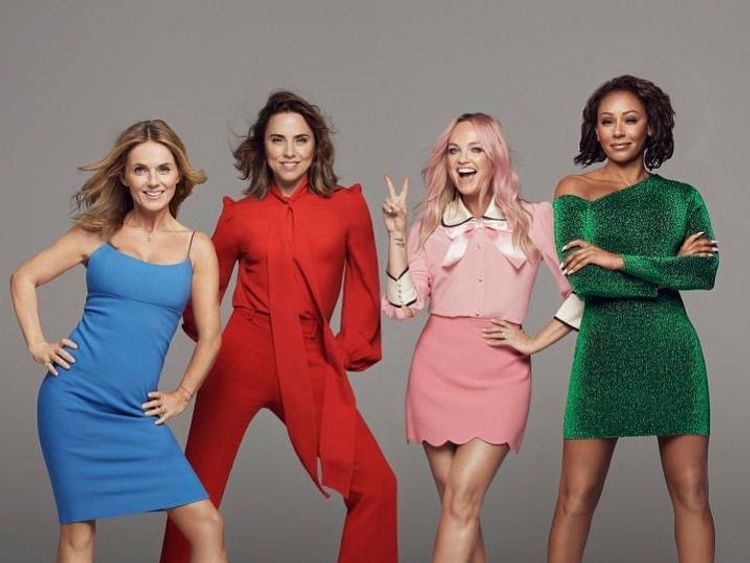 "We are beyond excited to be reuniting next year for a stadium tour! Bringing girl power and our message of friendship and love back to the stage feels more relevant than ever," the group said in a statement.
"We hope everyone can join us for one big Spice Girls party!"
The clip also confirmed that Jess Glynne will join the Spice Girls as a "very special guest".
Tickets go on sale at 10.30am on Saturday.
Shortly after the announcement, Glynne tweeted: "ARE YOU MAD! I'm Joining @spicegirls ON TOUR! Y'all best come through cause this stadium tour is gonna kick OFF!"
Earlier, Baby Spice Bunton confirmed rumours of the reunion when she was pressed for information from her Heart breakfast radio show co-host Jamie Theakston.
"After 3 o'clock today you will find out everything. I'm just so excited. I want it out there. It will be brilliant," she said.
Speaking on Loose Women at lunchtime, Mel B said she hopes Beckham might change her mind about joining the tour.
She confirmed that only four of them were signed up and said: "She's got a full-on life with all of her work commitments and her fashion line and her kids, so, she's just kind of not committing just yet."
Beckham is said to be focusing on her fashion business but is apparently still "aligned" with the Spice Girls "in preserving their unique legacy".
She said in a statement: "Being in the Spice Girls was a hugely important part of my life and I wish my girls so much love and fun as they go back on tour, I know they will put on an amazing show and the fantastic fans past and present are going to have a wonderful time!"
The Spice Girls first performed as a four-piece for two years after Geri quit the band in 1998.
In July, Mel B confirmed they would reunite this year.
Here are details of the concerts:
1 June – Manchester: Etihad Stadium
3 June – Coventry: Ricoh Stadium
6 June – Sunderland: Stadium Of Light
8 June – Edinburgh: BT Murrayfield Stadium
10 June – Bristol: Ashton Gate Stadium
15 June – London: Wembley Stadium
Source: Read Full Article