Since 1958, the Recording Academy has presented its annual GRAMMY Awards ceremony to honor the achievements of the music community and its academy members. HYPEBEAST was on the ground at this year's event — held in Las Vegas, Nevada, at the MGM Grand Garden Arena — and witnessed dazzling musical performances, surprise celebrity appearances and showstopping red carpet looks.
Located along the Las Vegas Strip, the 17,000-seat multi-purpose arena played host to the ceremony's first audience-attended event since the pandemic relegated the show to a nominees and performers-only showcase in 2021. Last year's ceremony was held at the Los Angeles Convention Center and only allowed nominees and performers to attend without an audience.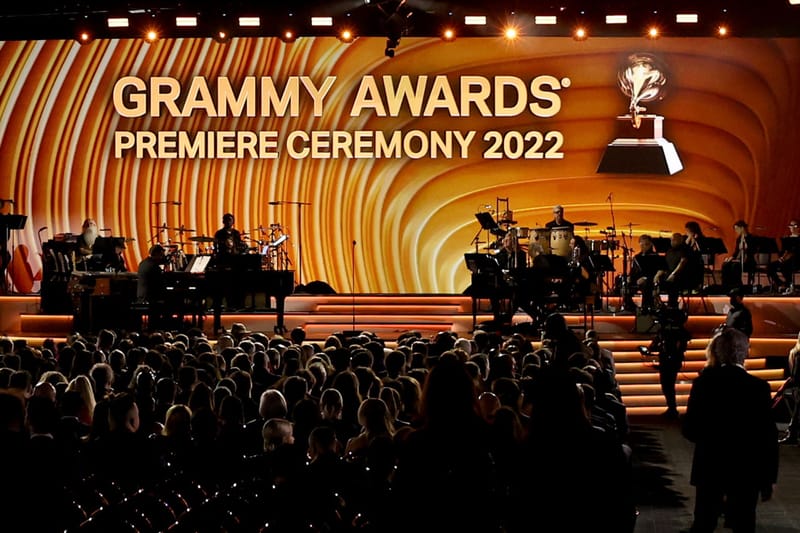 Matt Winkelmeyer/Getty Images
GRAMMY signage and photo booth activations guided attendees through the hotel's far-stretching casino floor to the special event space. Upon venue check-in, ticket holders had to show government-issued IDs and COVID-19 vaccination proof at several different checkpoints before being allowed into the seating area. Once inside, VIP guests were treated to complimentary Fiji water, finger food and curated cocktails from Grey Goose, the official spirit partner of the 64th Annual GRAMMY Awards. And because the event was held at a hotel and casino, many onlookers — held at bay by security stanchions – vied for the chance to spot their favorite celebrity or artist walking towards the arena.
For fans who watched the show from home, Nielsen's television ratings reported that this year's viewership clocked in at 9.59 million — a 4% increase over 2021's broadcast. Trevor Noah reprised his 2021 role as the GRAMMYs host and set a laidback vibe for the evening. Noah advised guests: "Don't even think of it as an awards show. Think of it as a concert where we're giving out awards." True to form, the lineup of performances were all concert-level with top-tier production, sound design and creative stage sets.
Music supergroup Silk Sonic, comprised of Vegas residency headliners Bruno Mars and Anderson .Paak, opened the show with their ode to a '70s themed R&B groove. Best Pop Vocal Album winner Olivia Rodrigo performed her hit song "drivers license" against a neighborhood street backdrop and was seated inside a vintage Rolls Royce vehicle. Not to be outdone, Lil Nas X incorporated three outfit changes into his lively musical set. And in a surprise moment that delighted audience-goers, best Traditional R&B Performance Winner H.E.R. brought Lenny Kravitz and Travis Barker on stage to perform a rendition of his rock classic "Are You Gonna Go My Way."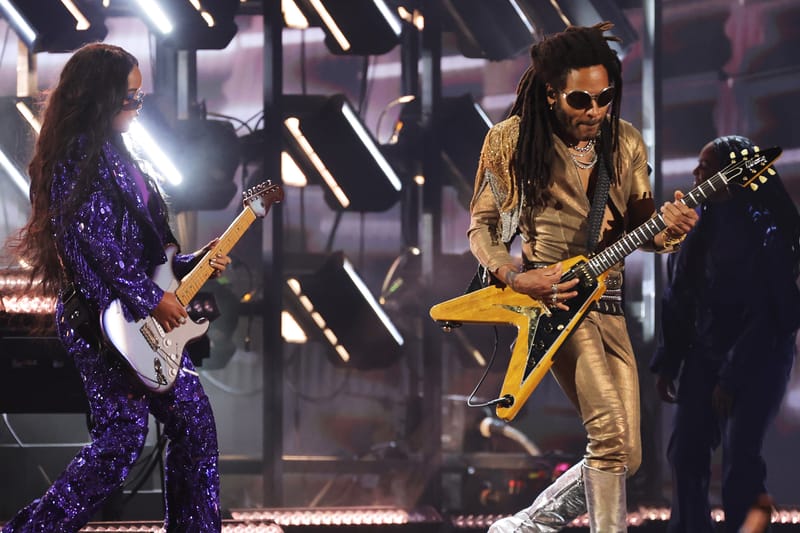 Rich Fury/Getty Images For The Recording Academy
As the world's leading professional music society, receiving a GRAMMY nomination or Gramophone trophy is considered one of the highest honors in music, as it is a peer-based award. The evening's biggest wins included Silk Sonic sweeping all of the categories they were nominated for – including Song of the Year and Record of the Year for "Leave The Door Open." A teary-eyed Doja Cat expressed gratitude, saying: "I like to downplay a lot of sh*t, but this is a big deal" as she and SZA won Best Pop Duo/Group Performance for their commercial-hit-turned-TikTok trend "Kiss Me More." Meanwhile, rising rap star Baby Keem won Best Rap Performance, while Jon Batiste won Album of the Year and Olivia Rodrigo won Best New Artist.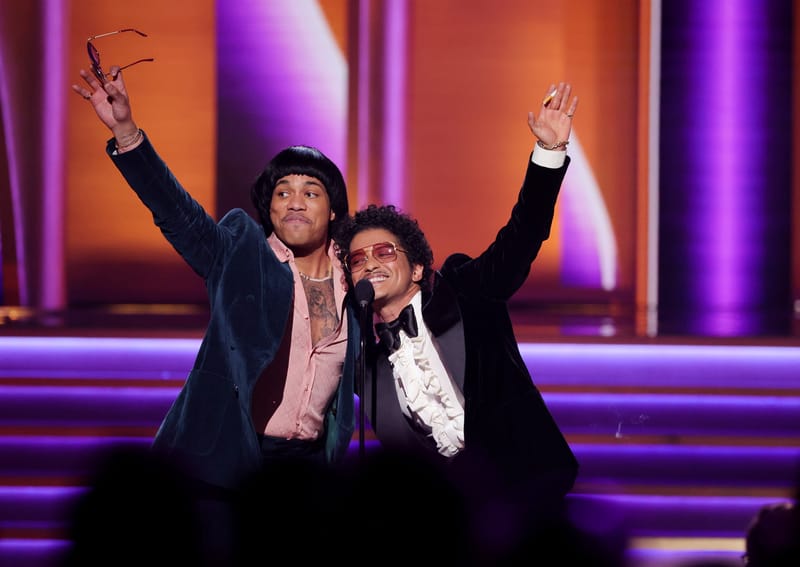 Rich Fury/Getty Images For The Recording Academy
Outside of musical accolades and performances, there was also a collection of noteworthy fashion moments. Pop star Dua Lipa and Megan Thee Stallion had a fashion face-off on stage before presenting the BNA award, with both artists dressed in the same Versace ensemble. Flying in for the rescue was the brand's designer Donatella Versace, who made a few outfit adjustments on stage to ensure the artists looked different.
The red carpet also saw many male artists rocking the latest Spring/Summer 2022 and Fall/Winter 2022 menswear trends. Justin Beiber, FINNEAS, Giveon and Jared Leto wore modern approaches to bare-chested suiting, refined tailoring, and luxe streetwear, while Trevor Noah donned multiple sleek tuxedos styles from Gucci. Lil Nas X and Fivio Foreign opted for pearl-dripped attire, while Jack Harlow looked dapper in an elegant Givenchy ensemble.
@hypebeast #hypebeast: here are some of the memorable red carpet looks from the 64th Annual #grammys #grammyawards ♬ original sound – HYPEBEAST
As the 64th annual Grammy Awards came to a close, Chris Stapleton's acceptance speech served as a reminder to celebrate moments of joy during challenging times. As he accepted the Grammy Award for Best Country Album, Stapleton said: "Everybody in this room has made some kind of a sacrifice to be up here doing this. I don't know what it is for everybody, but I know that it hurts sometimes."
"Hopefully, we're all doing it so that we make the world a better place, and the people that live in it will love each other and have a good time together and come together," he added.
Source: Read Full Article