On a remote coastal site located on one of the Scottish Isles, architectural practice fardaa has transformed a derelict basalt barn into a space where people can get together as a community.
Set on the Isle of Mull, where the population is estimated at less than 3,000 people, the Croft 3 facility will become a much-needed communal space in which the community can convene to eat meals prepared with local ingredients. The project was initiated by chef Jeanette Cutlack, who purchased the building back in 2019 with the intention of expanding her restaurant. "Bringing the croft back into use is a dream come true," she says. "For ten years, I would walk past the barn and imagine sheep on the hillside and food growing next to the barn."
Upon purchasing the building, she reached out to one of her childhood friends, Edward Farleigh-Dastmalchi – an architect who had recently founded his own practice. "Ed and I have been friends since our teens. Once I bought the barn, it never occurred to me to ask anyone else to be the architect," she adds. Upon receiving the commission, the studio got to work on creating a space suitable for both the landscape and its proposed usage.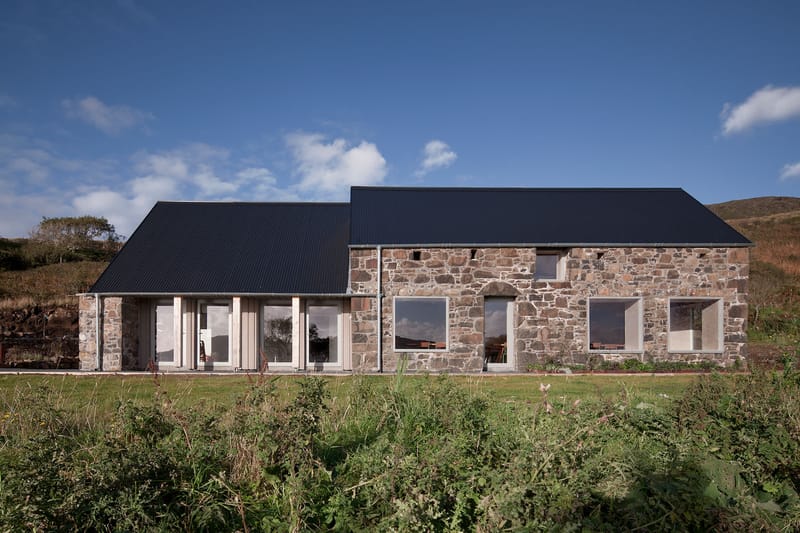 Much of the existing stone barn has become dedicated to a dining hall, with a timber-clad extension providing space for an entranceway, a kitchen, and further visitor facilities. From the outside, these two elements appear as pitched volumes, crafted in a way that echoes the undulating topography surrounding them.
The surroundings of Croft 3 have been considered at every stage. Perfectly picturesque – visitors can gaze out through the large portrait windows, across Loch Tuath bay, and onto the nearby Ulva island. Ouside, restoration works have been completed using lime mortar and salvaged basalt from the original stone structure, while inside, materials have been kept simple and raw, white plaster walls, white-painted skirting and American White Ash timber floors. Furniture comes in the form of chairs reclaimed from a French cafe, and communal dining tables made on the island from a single douglas fir.
"As a London-based practice, we relished the opportunity to broaden our reach and contribute a new cultural connector that serves locals and visitors, with an added benefit of generating revenue on the remote island," Farleigh-Dastmalchi said. "Working in a rugged coastal setting such as the Isle of Mull was an opportunity to put our passion for crafting community spaces into action in a new and beautiful context."
Take a look around Croft 3 above, and for more architecture – check out Aēsop's new Canary Wharf location, which ahs been infused with historical design cues.
Source: Read Full Article