Prada2 of 23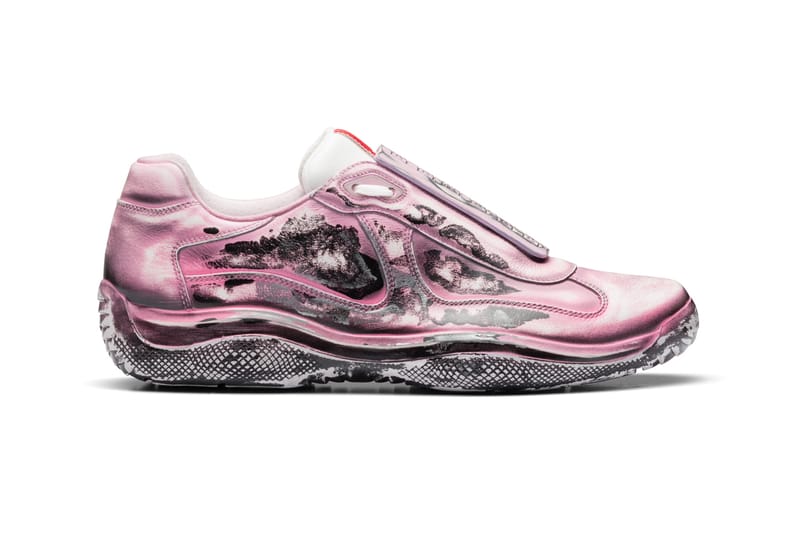 Prada3 of 23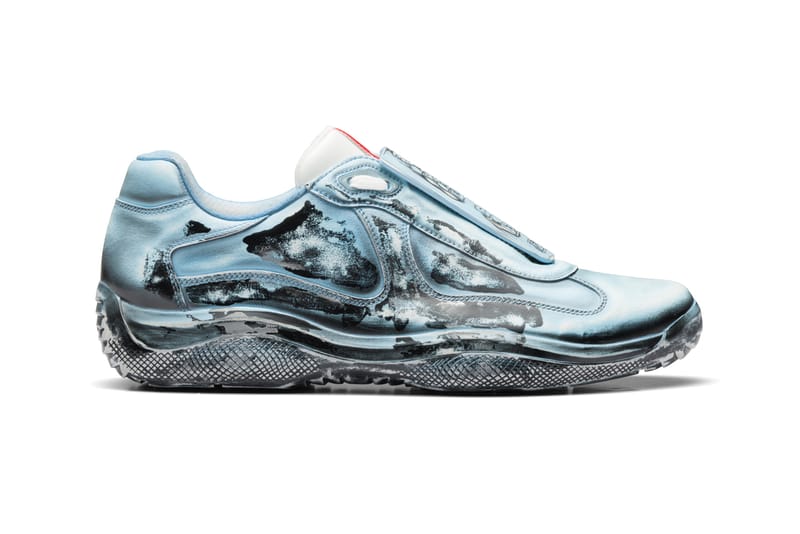 Prada4 of 23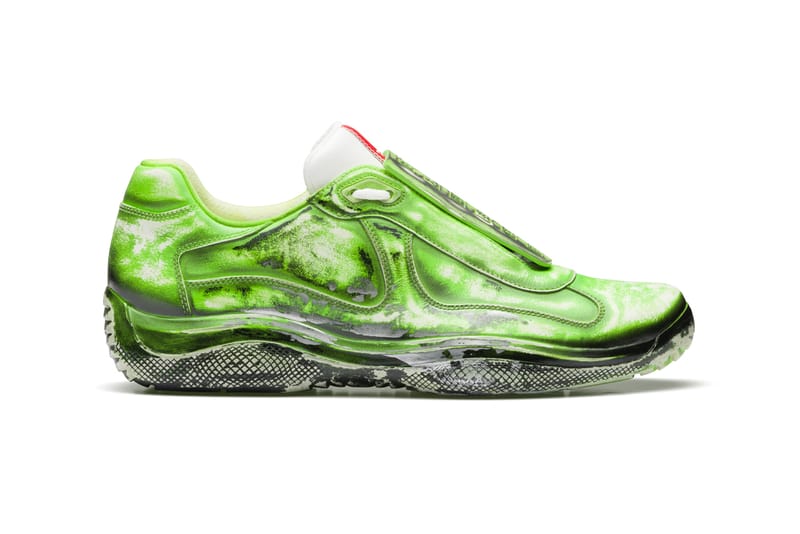 Prada5 of 23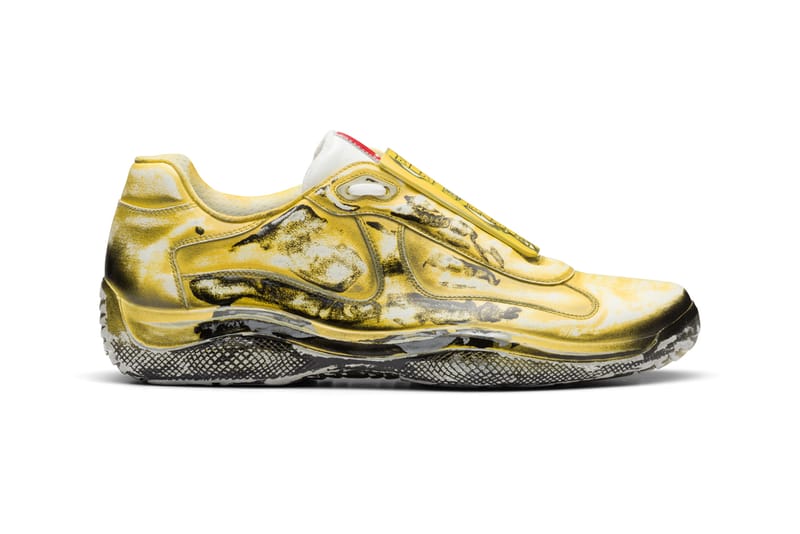 Prada6 of 23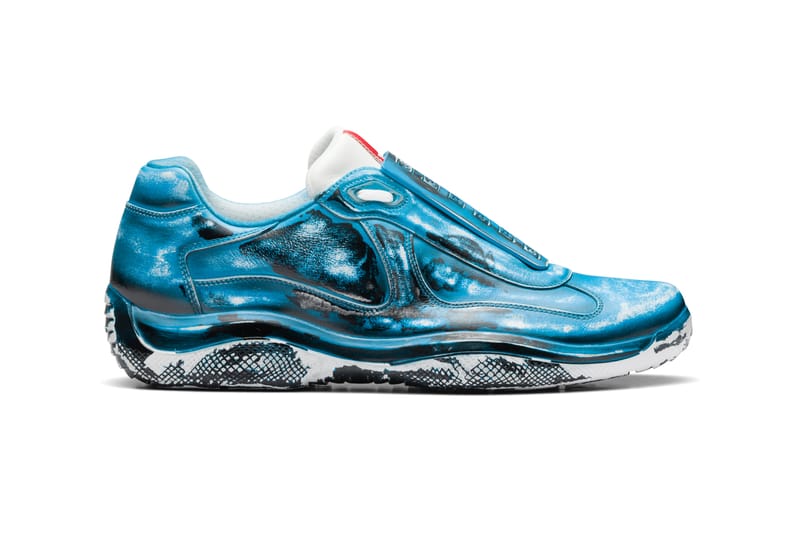 Prada7 of 23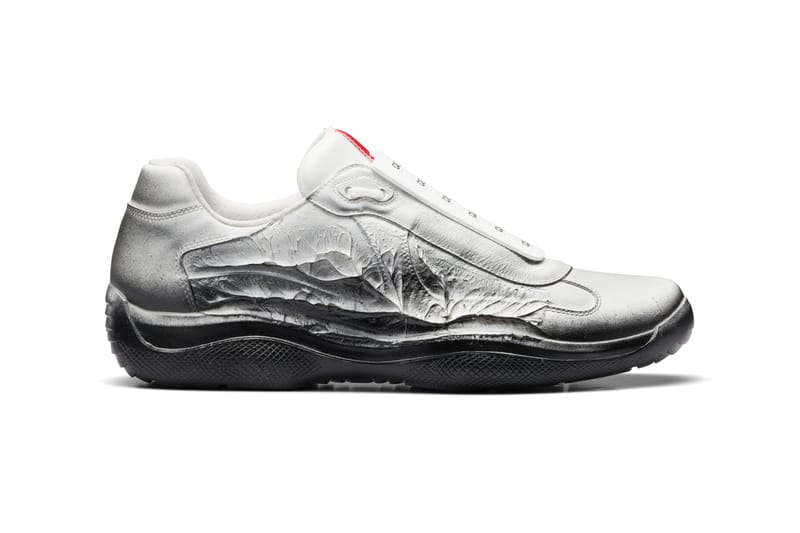 Prada8 of 23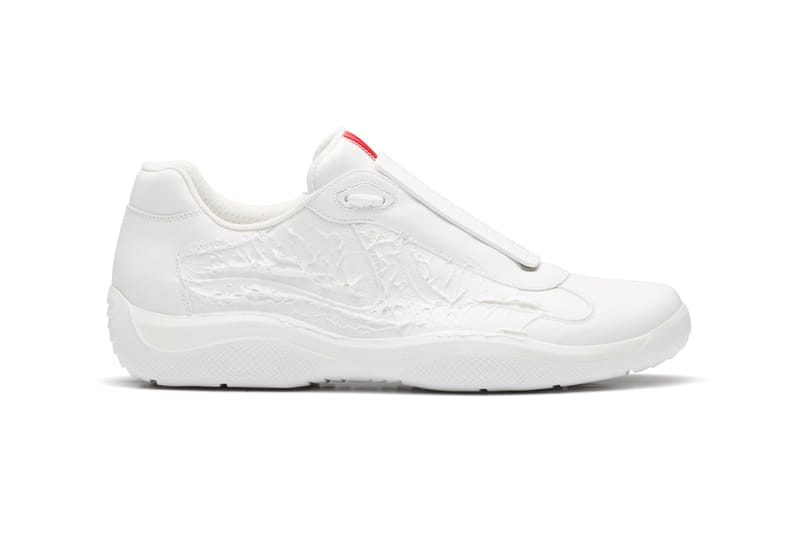 Prada9 of 23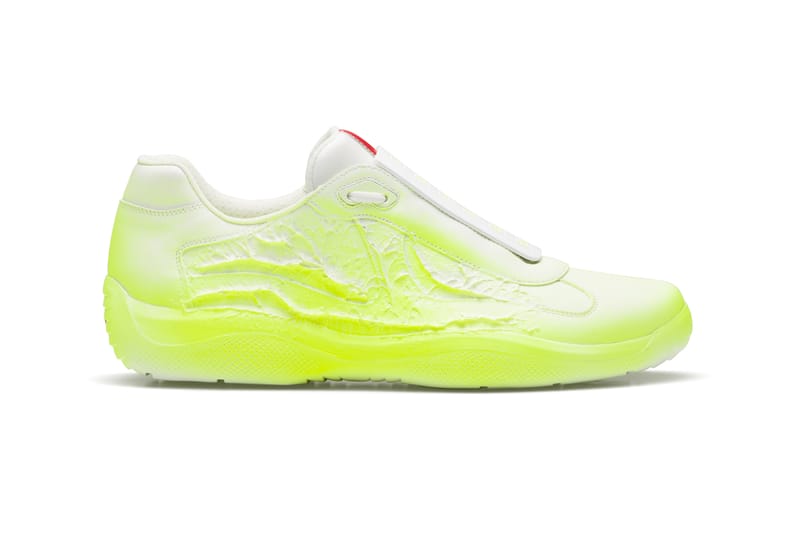 Prada10 of 23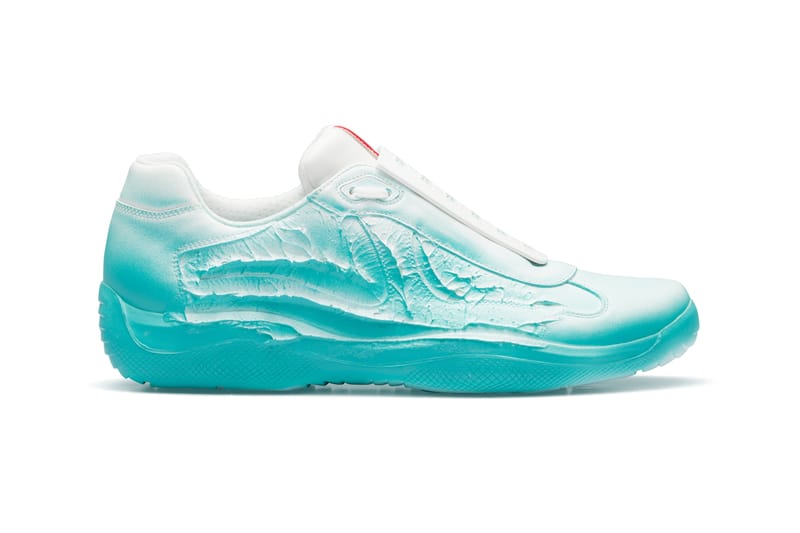 Prada11 of 23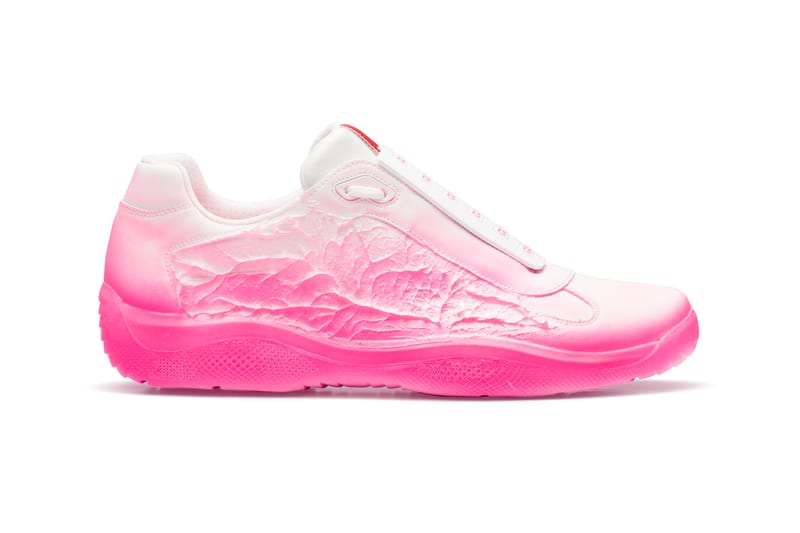 Prada12 of 23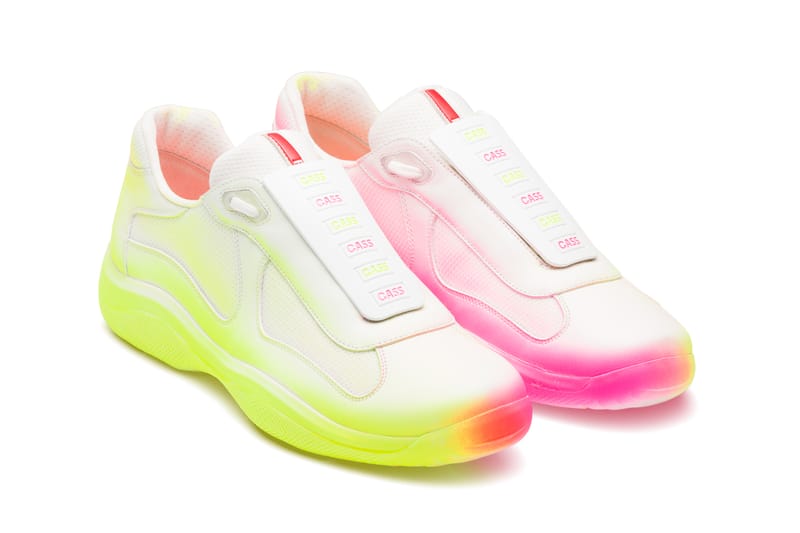 Prada13 of 23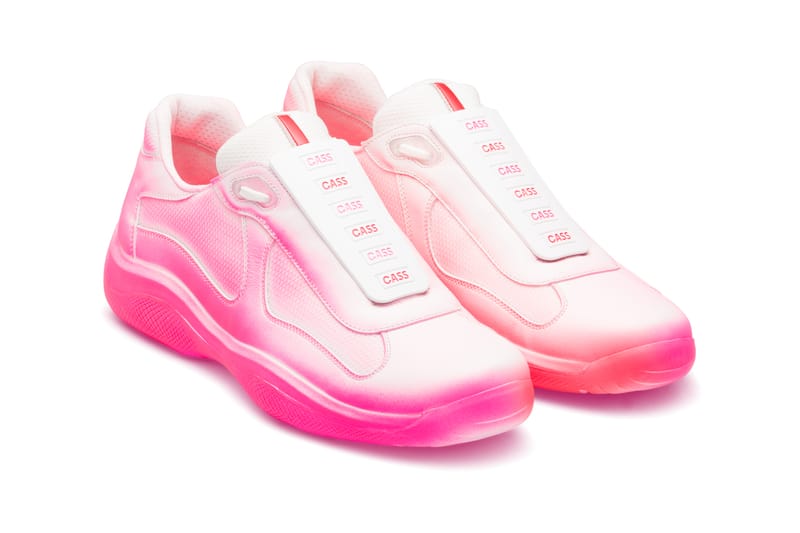 Prada14 of 23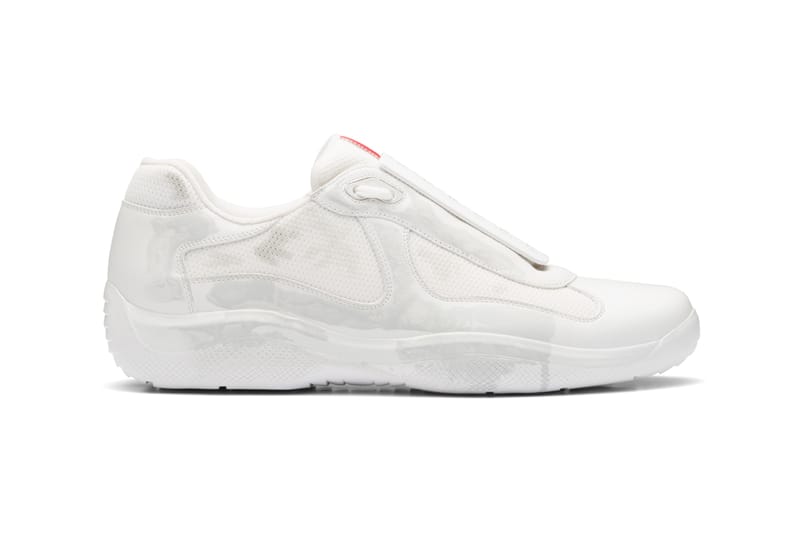 Prada15 of 23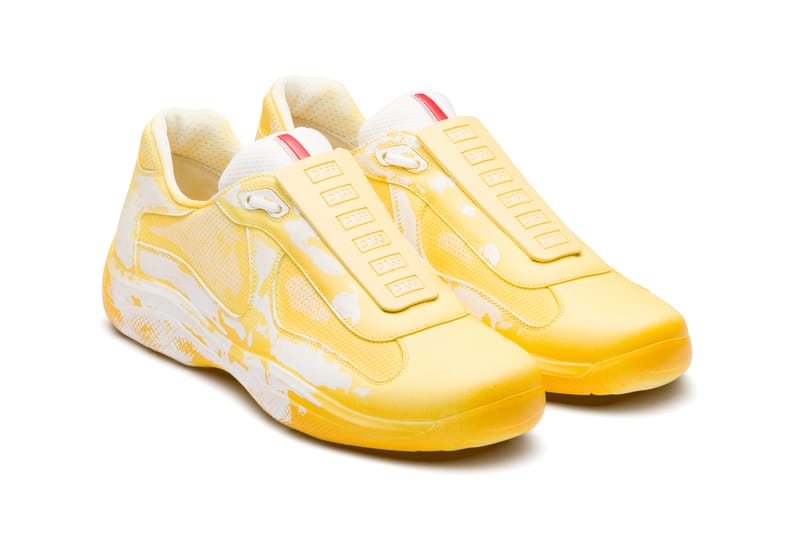 Prada16 of 23
Prada17 of 23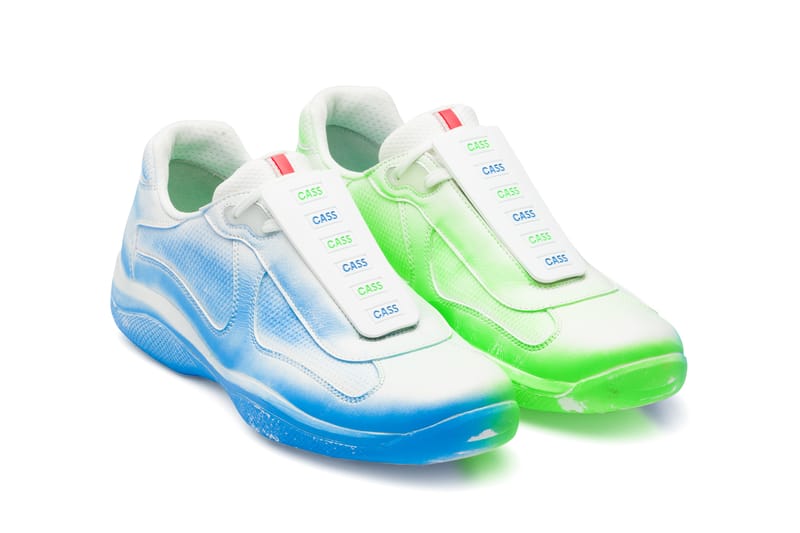 Prada18 of 23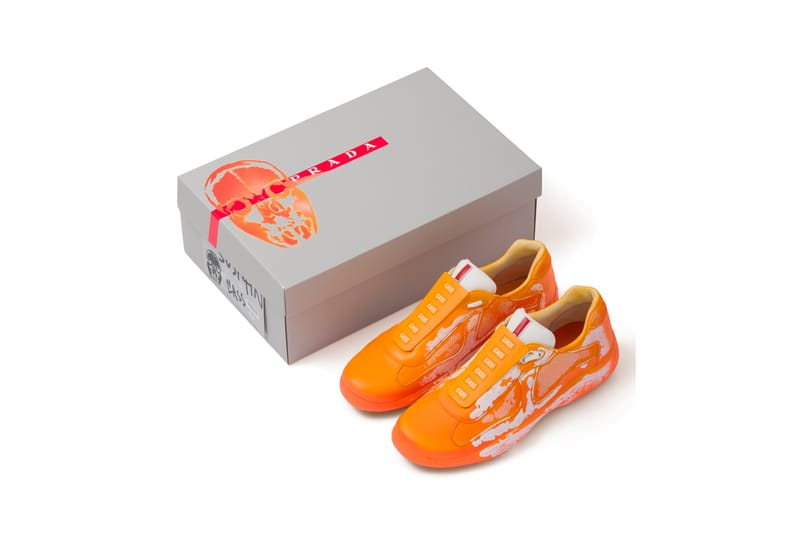 Prada19 of 23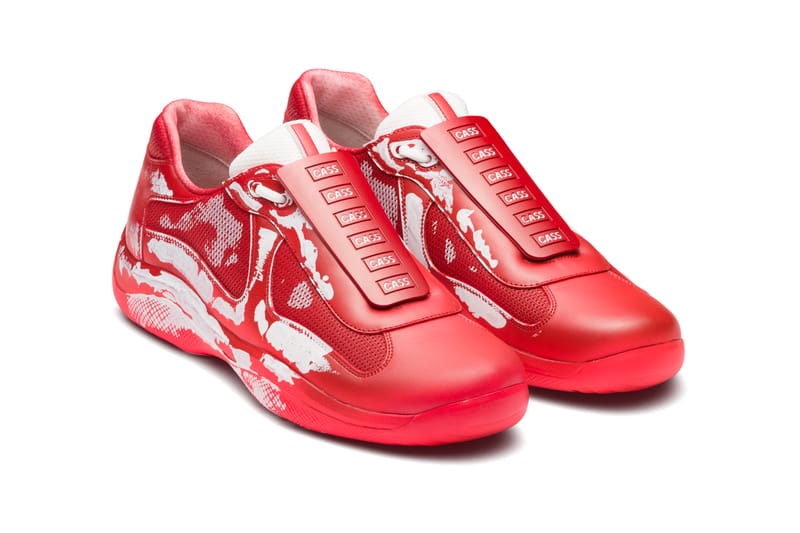 Prada20 of 23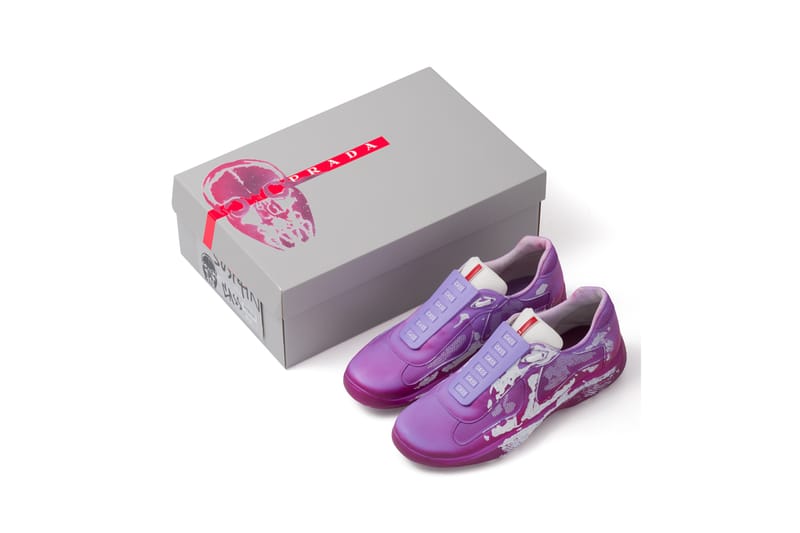 Prada21 of 23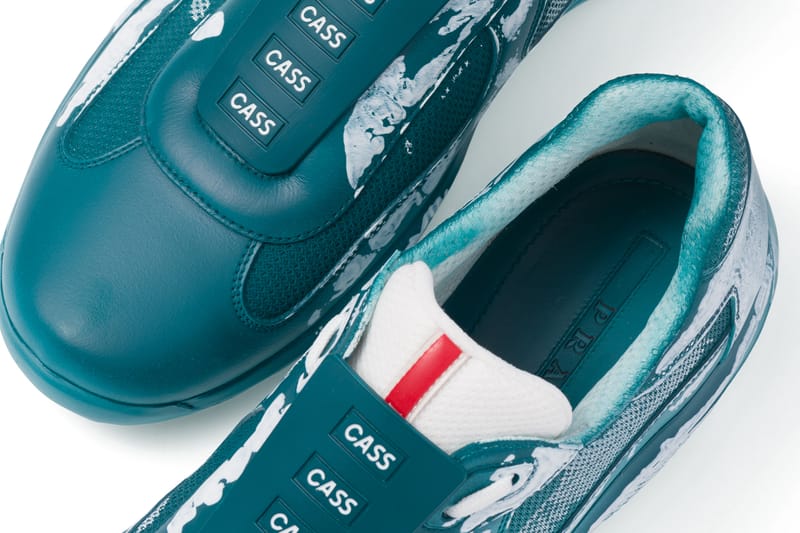 Prada22 of 23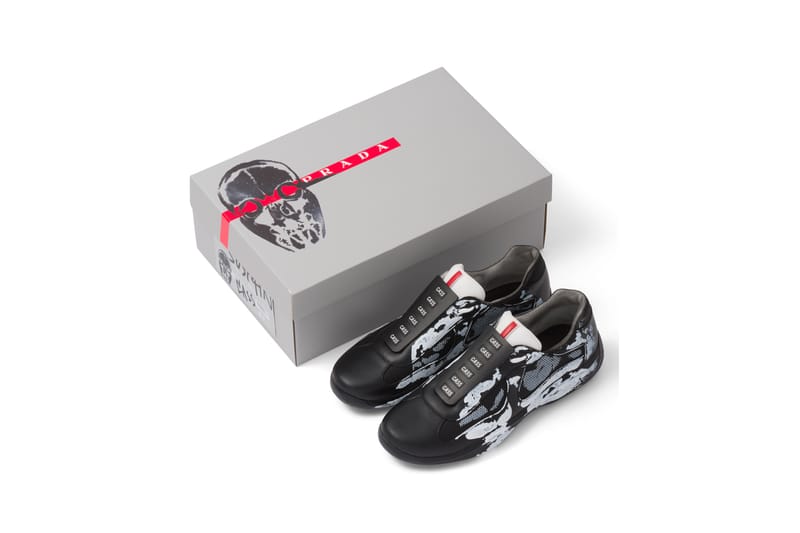 Prada23 of 23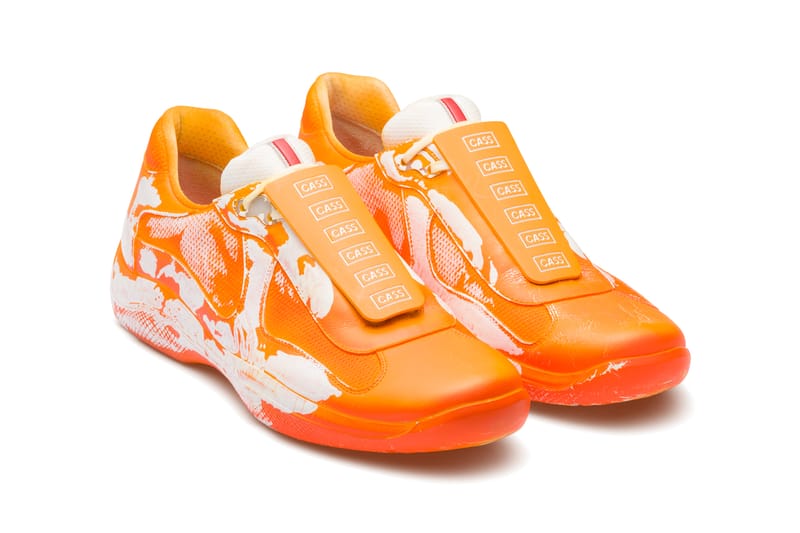 Prada
In support of the collaboration's announcement, Cassius Hirst also sat down with Prada for an interview about the project:
Prada: How did this project with Prada begin?

Cassius Hirst: I was painting Air Force 1s – painting them, taking photos and turning those photos into complex vinyl stencils that became abstract designs. I would mask off part of the body of the shoe, and then wrap the whole shoe in the stencil. It looked crazy. And I kept taking photos of them when I was doing it. Compared to other sneakers, the Prada America's Cup shoe is totally different. It actually confused me for a bit because I just thought: what can I do? I explored 3-D design – I put a shoe inside a shoe, creating a new shoe but with the substance of both. And that felt so Prada – but that was too much. So then I began painting – I painted 44, trial and error, and narrowed down to 22. And then worked with the factory, to reproduce them.

How did painting shoes begin?

I saw other people do it – and I tried it, and I enjoyed it. When I started painting shoes, they were just for myself and friends, and a few people I met with thought they were cool, so I thought, maybe I'll do another pair and I ended up making designs I was really happy with. And it came from there. For me, shoes are special compared to other items of clothing: to me, they're like cars, they're like skateboards, they're like swords. They're objects.

Please tell us about the Cass x Prada campaign and why you chose to put the masks in it.

Shoes are a format for my work. And in this project with Prada, I used the same approach to create the masks on a different, rigid object. It's clothing, but it doesn't quite sit in the realm of normal clothing. I've always been into masks. As a kid I just wanted to hide really. And superheroes were always fascinating. I loved the Power Rangers. The idea that the mask could give a power. I also loved the band Slipknot too when I was younger. I used to be quite a scared kid — the masks were pretty scary and powerful, but you could always see the humanity in them. Also, within the streetwear scene – it's not something I've ever really invested myself in much, but I look from an outside perspective – there are shoe collectors, toy collectors, art collectors, and people who make masks. It's all connected, closely knit together.

When did you become interested in art?

I think an interest in art was inevitable, growing up in my house. But it was all about my own realization of it. These days, it's less of something I got into, more of a realization that everything I'm already into is art. When I was a teenager, I went through a period of declaring 'I hate art' but since then I've realized that everything I love, everything I enjoy, is art. And it is a lot more abstract than painting or drawing – suddenly, anything I enjoy… the reason I enjoy it is the art of doing it. I used to skateboard when I was younger – that is art. It's a way to express yourself. It's about trying, failing, learning. I think in any form of creativity, you have to enjoy the process – if you don't enjoy the process and just want the end product, it's going to be a nightmare. It's the same with painting shoes. The collaboration with Prada is amazing – I love the whole process of doing it and the satisfaction of having the shoes. It's not competitive.

Can we talk about the creative process of this capsule?

It was a great process – long and slow. But fun. There are so many possibilities, just with color, working with the form of the America's Cup sneaker. The simple power of color. All the techniques I use, they come from the shoe itself. The colors create a range, transitioning between the different styles. Everything links. It's all spray paint. At some point during my childhood, I got into spray painting skateboards. I just loved it because it was so quick. Anytime I tried painting by hand when I was younger was a nightmare, I got so frustrated. It was so slow. With spray paint, it's like shining a torch onto something – like painting with light. So here, I am working with that – even the white, the textured paint, was spray paint – sprayed onto paper, and pressed against the shoe. I experimented with texture. Texture is created with molding paste – using the same technique as the white paint, pressed against the shoe. It's the idea of altering the form, changing it three-dimensionally trying to 'pull out' the surface of the shoe. The texture in the ATT4CK series is the only thing, actually, that wasn't sprayed. This is the first time my work has been industrialized. It was about finding a balance. I love the handmade and I was scared that these shoes were going to become really industrial, really rigid. But working with the Prada factories changed everything – I realized they were actually painting them, by hand, doing what I do. There was a dialogue, too, between me and the artisans. The best part about it for me was how willing Prada are to invest their time, to be open to ideas, to challenges. And to really commit.

Can we talk through the specific styles – there are four: ATT4CK, D3CAY, SUST4IN, REL3ASE. Where did the names come from?

There are four sneakers, named ATT4CK, D3CAY, SUST4IN, REL3ASE. They all interconnect. They sometimes contradict. I make my own music, with drum machines and synthesizers; electronic music in general, and they have a thing named ADSR: attack, decay, sustain and release. With sound, attack denoted the time it takes to reach its highest volume; decay is the amount of time it takes for it to fade from the top of attack, to sustain. Sustain is how high of a volume is when it's held – once it's past the decay. Release is after you let go of the key, how long the sound continues. And like my own knowledge of those words in a synthesizer world, I could see them as aesthetics, in the shoes. SUST4IN for instance is the 'held' point of the series. ATT4CK is aggressive – the neon has a punch. And with D3CAY, the shoe itself seems decayed, worn. And REL3ASE – you see the color, fading, letting go. They are all conceived as a series, which work really well together.

The key motif of the series – the kind of logo – is a brain scan. Can you please explain its meaning?

The key motif of the series – the kind of logo – is a brain scan. I like the idea that everyone's got their own sort of version – in their head. I had a seizure, when I was a teenager, and had all kinds of tests – the visuals come from there. Full scans, cross-sections. I find them fascinating. I had stencils made – and I've been using it ever since. It fits with the masks too – it's kind of like a weird self-portrait.
Cass' Prada America's Cup sneakers are limited to just 3,000 units worldwide across all 22 styles. They are available via Prada's website and a select range of Prada boutiques now, and cost £1,400 GBP apiece.
In case you missed it, check out this week's issue of Sole Mates.
Source: Read Full Article