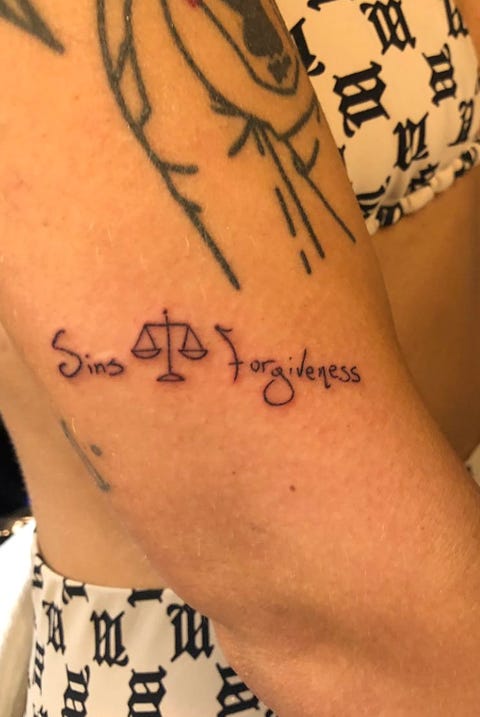 True story: Lil Wayne wrote this out for Halsey right after her Saturday Night Live performance. As in, that's literally his handwriting. In case you're wondering how many of my tattoos Lil Wayne designed, the answer is zero.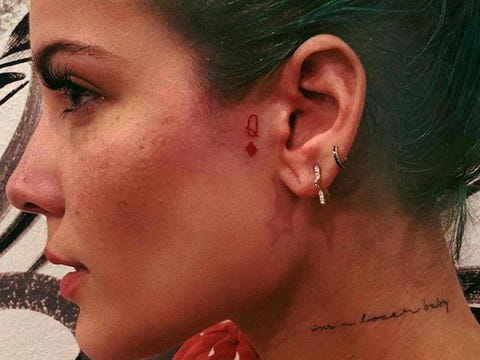 A bold move, to be sure. Halsey has said this Queen of Diamonds will "hopefully" be their only face tattoo in a since-deleted Instagram post. So don't expect her to pull a Lil Xan.
https://www.instagram.com/p/Bd2_uBSH5VM/
soooooooooyy un perdedor @iamhalsey #jonboytattoo
A post shared by c/s ∴jon✞boy∴ p/v (@jonboytattoo) on
This is pretty clearly a reference to Beck's 1994 song "Loser," but as for why Halsey felt the need to get it scrawled across their neck? ¯\_(ツ)_/¯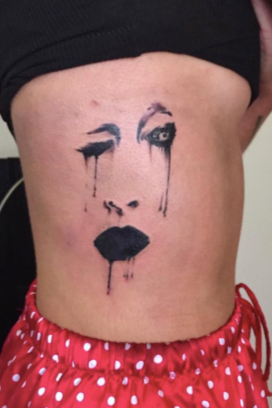 You might be wondering…um…WHY. Apparently, Halsey is just a Manson fan, which she explained on Twitter, writing, "Got Manson tatted on my ribs. I love Adelaide so much already. Marilyn. Not Charles. Sheesh lol."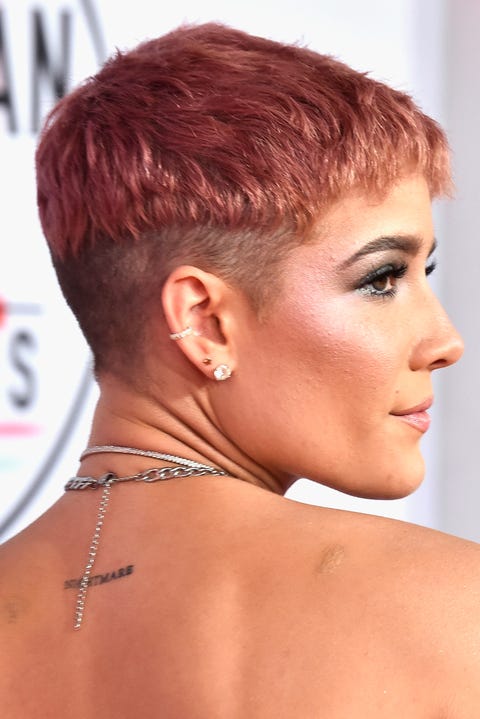 Halsey revealed this tattoo in May 2019, and I think it's safe to assume it's a reference to their song of the same name. But, ya know, feel free to @ us with any elaborate theories.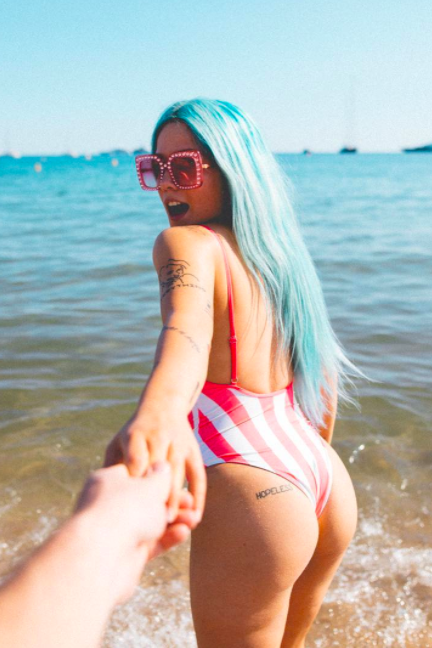 Two things: (1) Yes, Halsey has a butt tattoo, and (2) Yes, it's a reference to her album Hopeless Fountain Kingdom.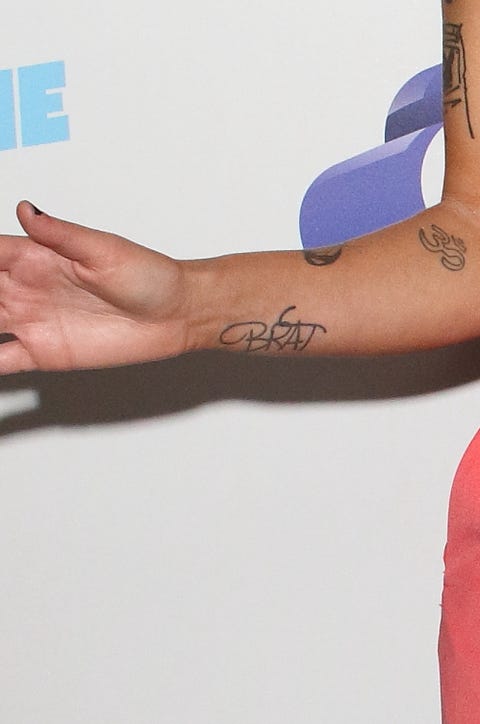 Halsey got this one because their parents lovingly call her a brat. Wow, same, except not lovingly.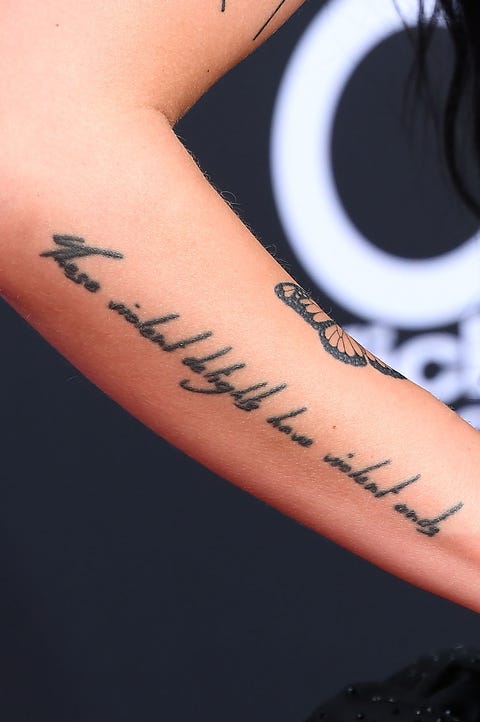 This quote probably sounds pretty familiar if you read Romeo and Juliet in high school watched Leonardo DiCaprio in Romeo + Juliet in high school. Anyway, Halsey got it tattooed after signing their record deal as a reminder to "pace herself."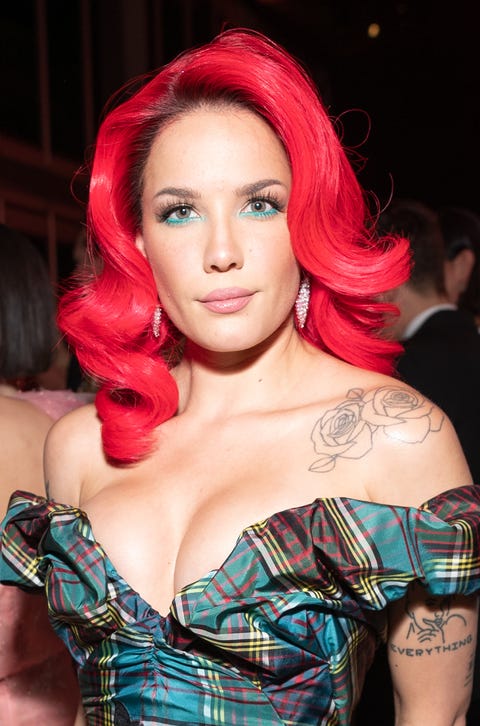 Halsey has had these since her 16th birthday, and she got them purely for aesthetic reasons. "I went and got something that meant absolutely nothing and just looked beautiful," they said. "It's still one of my favorite tattoos because I'll never dislike it. It just is cool-looking. It's really simple. I think it's really elegant."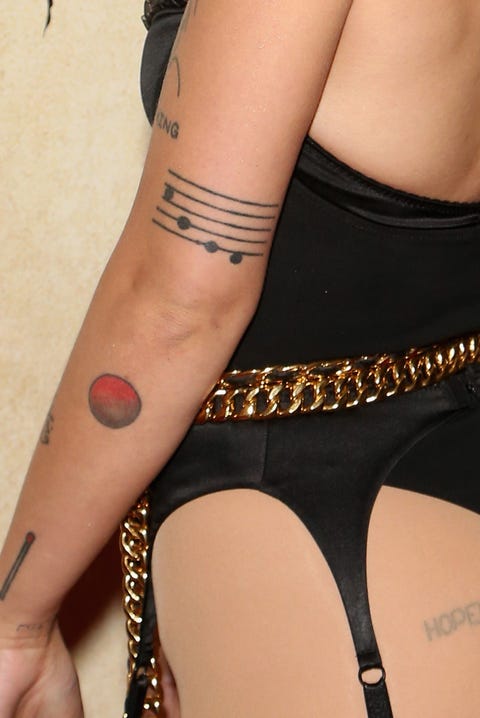 Fans think this is a shout-out to Halsey's producer ex-boyfriend Lido because he apparently uses these notes a lot. Not as big of a reach as when everyone thought Gaga's music tattoo spelled out Bradley Cooper's name, TBH.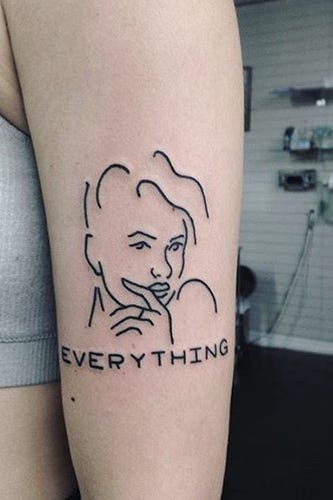 This tattoo is also rumored to be a shout-out to Halsey's ex Lido, mostly because Everything is the name of his album. But who knows, maybe it's just a self-portrait! Calm down, everyone!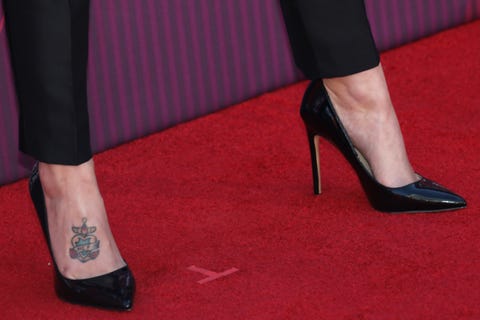 This was Halsey's first tattoo and features their mom's initials, "NFC." And turns out, Halsey's mom actually has a matching tattoo, which, cute! "My mom was like, 'We anchor each other,'" Halsey told iHeart. "I was like, 'That's beautiful, Mom. Just let me get a tattoo. I don't care what it is. I just want to be cool.'"
https://www.instagram.com/p/By-7hIkpSB7/
life imitating art 🔪
A post shared by halsey (@iamhalsey) on
IDK what this is, but I'm scared, moving on.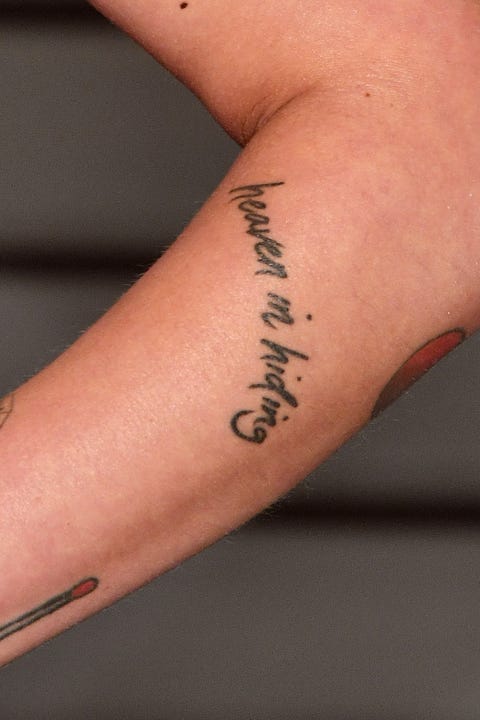 Real fans know this is the name of one of Halsey's songs on Hopeless Fountain Kingdom. No further explanation necessary!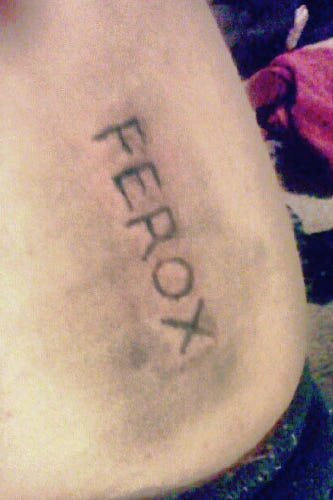 To quote Halsey: "It means 'fierce' in Latin and it was given to me with a sewing needle, India ink, and a lot of vodka." 😶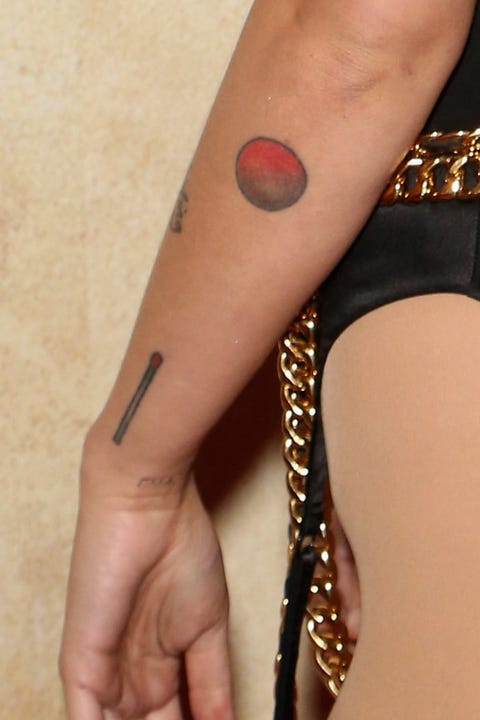 "I got Mars because I met a guy on tour that I became really good friends with, and his birthday is on my half birthday and I'm a Libra," Halsey told iHeart. "So my ruling planet is Venus and his ruling planet is Mars, which are also opposites. So it's, like, opposite birthdays, opposite signs, technically opposite personalities in astrology but complete opposites, and we were really good friends. So I got Mars and he got Venus. We got each other's planet."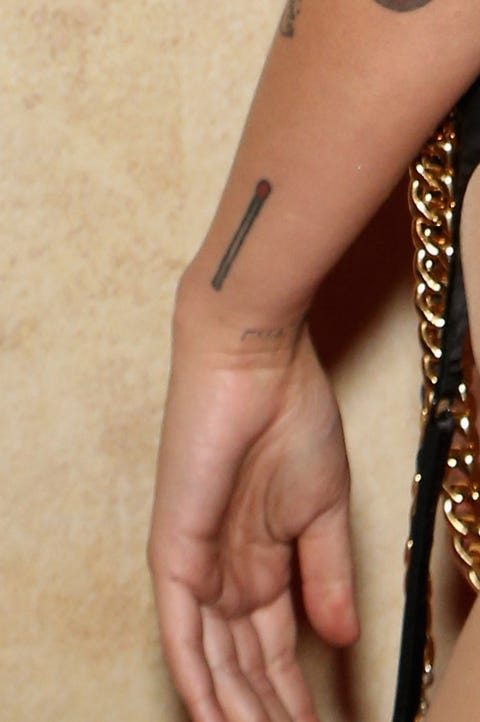 Because she's the literal best, Halsey randomly selected a bunch of their fans to get matching matchstick tattoos with, and apparently, they're each going to add a flame once they've accomplished something major.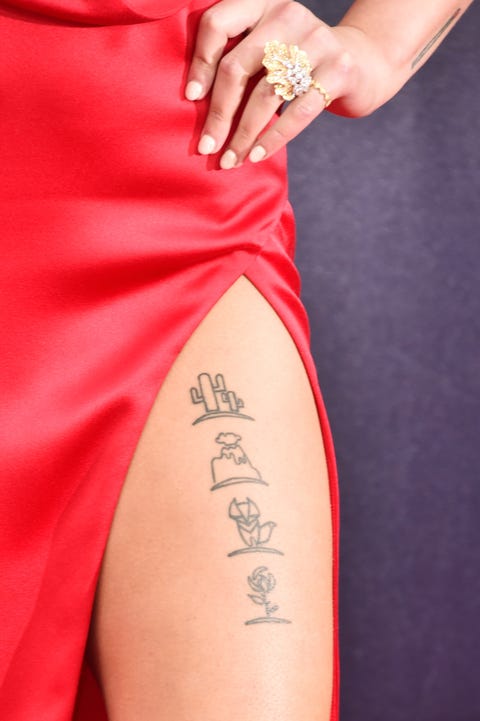 If you're a fan of The Little Prince, you'll immediately recognize these four major themes of the book—especially that cute fox! Halsey describes herself as a lover of literature, so this book clearly has a special meaning to her.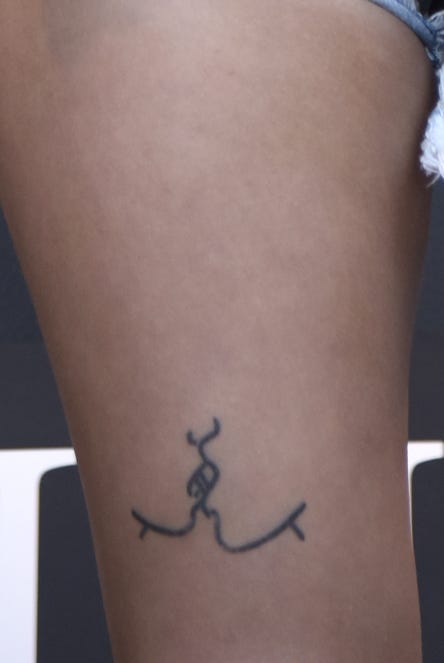 Not sure about the meaning behind this one, but in the immortal words of Paris Hilton, that's hot.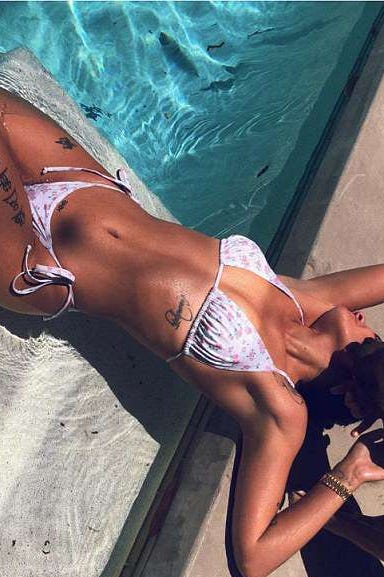 Halsey rarely shows it off, but she most definitely has a tattoo that says "baby" riiiiight above her bikini line.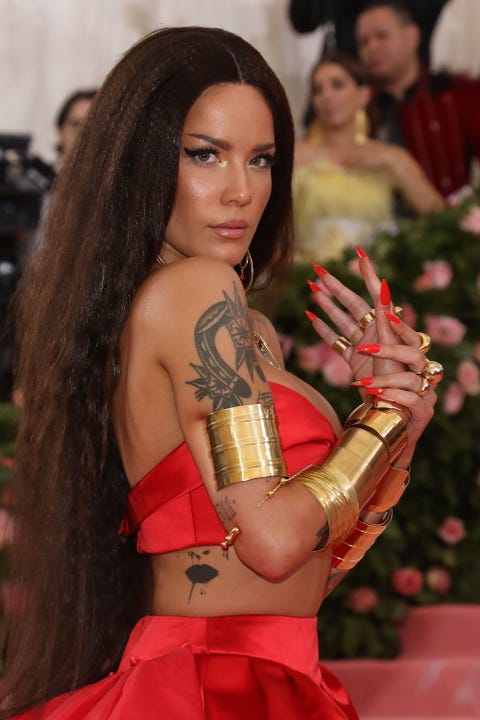 "In tattoo culture, you're not supposed to tattoo a horseshoe upside down because it means all the luck is spilling out, so it's actually bad luck," Halsey explained re: their boldest tattoo. "I got an upside-down horseshoe to signify that I don't need luck." Bad. Ass.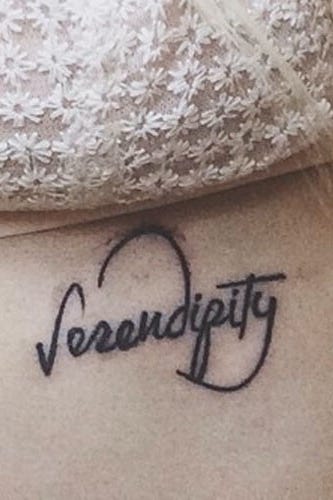 This is another tattoo Halsey got with her mom, and it's super special to her. "Serendipity is a word that means 'a happy accident,'" they told iHeart. "Which is I think how my mom explains my existence, as a happy accident, because she was 19 when she got pregnant with me and it was definitely an accident. But one that I think she considers a happy one."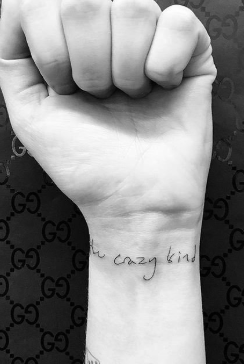 Awkward, but "the crazy kind" is most definitely a reference to lyrics from Halsey and their ex-boyfriend G-Eazy's song "Him & I."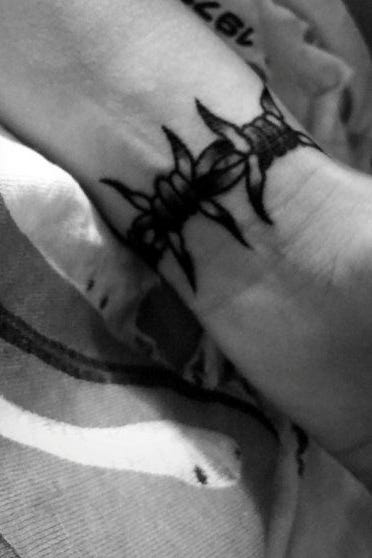 And, um, she definitely covered it up with barbed wire after they broke up. 😇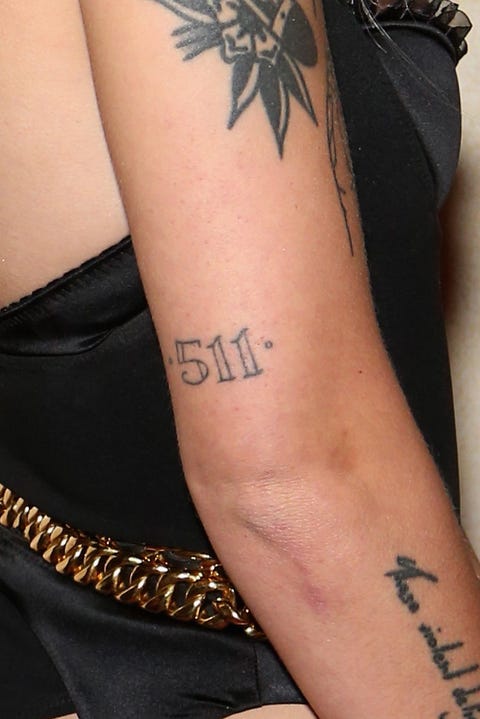 5/11 is Halsey's little brother's birthday! And also, LOL @ this: "It also used to be my password to stuff, and it occurred to me how awful it was that I was walking around with my password to everything literally tattooed on my body."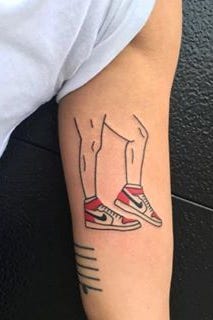 Halsey deleted this tattoo pic from Instagram but described it as "chi town / hybrid baby" in the caption.
*immediately checks to see if she has an endorsement deal with Nike*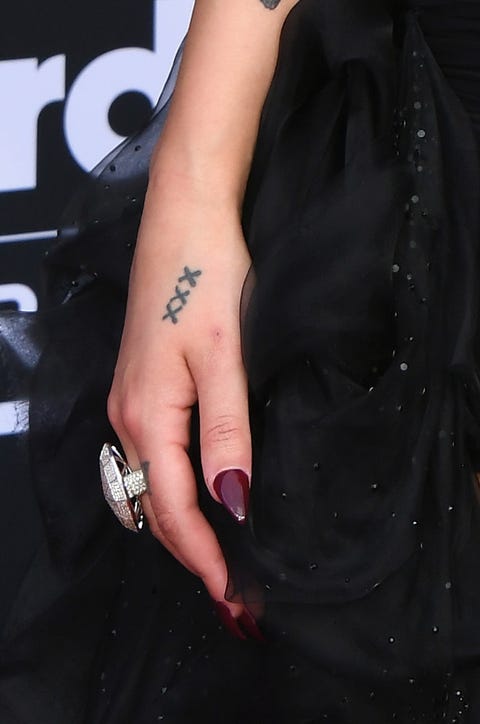 Kay, so these Xs are both a reference to Halsey's grandma and a reference to people viewing their music as explicit. Kind of a weird combo, but okay!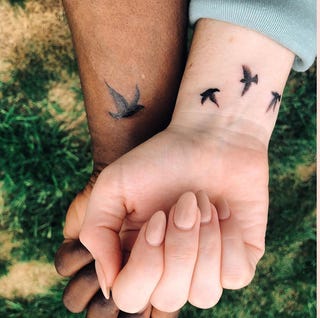 Source: Read Full Article