Celebrity chef Robert Irvine is best known for hosting a plethora of food-based reality TV shows, including "Dinner: Impossible," "Worst Cooks in America," and "Restaurant: Impossible." When Irvine isn't whipping it up in the kitchen, he's busy lifting weights, partaking in charitable and philanthropic causes, including founding the Robert Irvine Foundation, a charity dedicated to honoring members of the United States Military. He's also a loving husband to his wife of over five years, Gail Kim.
Kim, a now-retired professional wrestler, first mingled with Irvine on the set of "Dinner: Impossible" when the celebrity chef came to serve VIPs at WWE SummerSlam in 2009. But although they've been happily married for nine years, the celebrity couple didn't exactly hit it off upon first meeting; in fact, Irvine yelled at Kim to "quit talking" to her then-coworker, who had made a mess in the kitchen. Unbothered, however, Kim recalled Irvine "[liking] the fact that he didn't intimidate" her, and they were "the only ones who would put up with each other," as she told Michigan Live.
Despite the rocky start, the duo eventually fell in love after the turmoil that ensued on "Dinner: Impossible," and the rest is history. So with that said, who exactly is Gail Kim?
Gail Kim is a highly-respected retired wrestler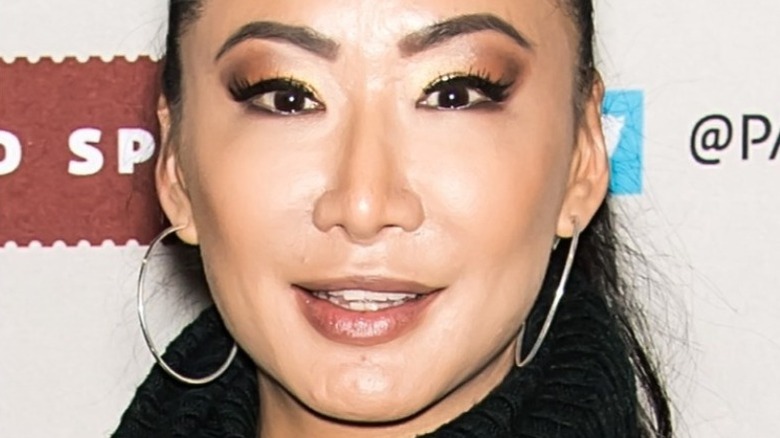 When it comes to athletics, Gail Kim has everything down to a T. As a professional wrestling legend, the Toronto native pioneered women's wrestling from the early 2000s onwards — cutting her teeth in the Canadian independent wrestling scene before signing with World Wrestling Entertainment (WWE) in 2002.
In WWE, Kim is a former one-time Women's Champion and helped elevate the women's division to new heights alongside fellow contemporaries Molly Holly, Victoria, Lita, and Trish Stratus. After making strides in WWE for two years, Kim was released in 2004 and quickly found herself in Total Nonstop Action Wrestling (TNA) the year after. In TNA, Kim managed the team of Chris Harris and James Storm — better known as America's Most Wanted — and was the company's inaugural TNA Women's Knockout Champion before departing in 2008.
Kim briefly returned to WWE from 2008 to 2011, where she feuded with Maryse, Melina, and the Bella Twins. However, Kim found herself back in TNA by the end of 2011, where she spent the remainder of her career. During her second stint with TNA, Kim became a record-breaking seven-time Knockouts Champion and one-time Knockouts Tag Team Champion. Kim was inducted into the TNA Hall of Fame in 2016 before ultimately retiring from the ring in 2019. Today, she currently works as a producer for TNA — which became rechristened to Impact Wrestling in 2017.
Gail Kim has been outspoken about her time in WWE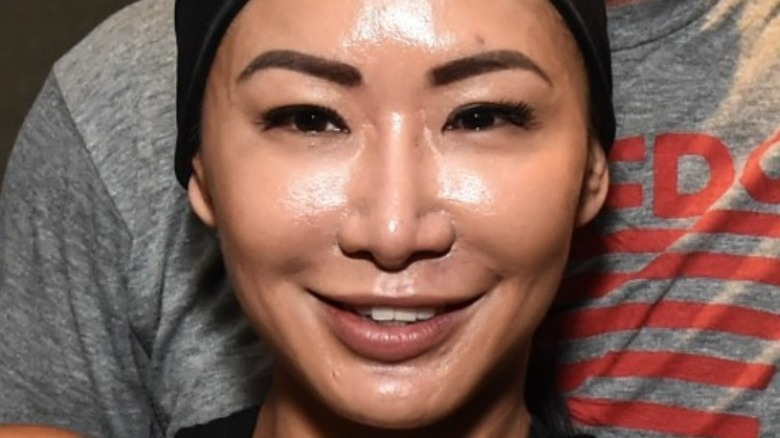 Gail Kim has not been shy in speaking out against her former employer in WWE, most notably highlighting alleged racism within the organization during her time there.
Talking to "Ring the Belle" in 2019, Kim revealed that she does "worry about the stereotypes" Asian talents (namely Asuka, Io Shirai, and Kairi Sane), stating, "… in a lot of cases, you see a lot of the ethnic minorities being grouped together because [WWE] really [doesn't] know what else to do." She also recalled allegedly being hounded on whether she spoke Korean by WWE executives and questioned whether they were "trying to make" her "go into that stereotypical role" despite being Canadian-born.
In a 2020 appearance on "Chasing Glory with Lilian Garcia," Kim also recalled feeling a lack of support from stakeholders at the WWE. "I don't understand what I'm supposed to do here because I do everything you guys ask me to do. And I'm like, I got to the point where I'm like, 'Am I too Asian?' I was literally highlighting my hair near the end to become more white, I didn't know what to do at that point," Kim opined to Garcia about her time in the organization. Kim also noted that she felt "very suppressed" by the company during her time there.
Clearly, Kim isn't afraid to be thrown down or speak her mind — and she has a supportive husband to boot!
Source: Read Full Article