DeMarcus Cousins is quiet about his personal life. He's very protective of his personal information. In fact, he's often too protective. In 2016, he verbally attacked a reporter for mentioning his brother, Jaleel Cousins, in an article. Jaleel is a basketball player in a European league.
Cousins was recently caught threatening someone again. This time, it was the mother of his children. Audio was released of him threatening her with death if she did not allow his two children to attend his wedding. DeMarcus wed in August. 
Despite that unpleasantness, the wedding was actually quite lovely. Cousins married Morgan Lang. He's been with Lang, fellow Mobile, Alabama native, for at least three years.
The two are kind of secretive about their relationship. While we're not sure how they met, we know Lang seems super sweet.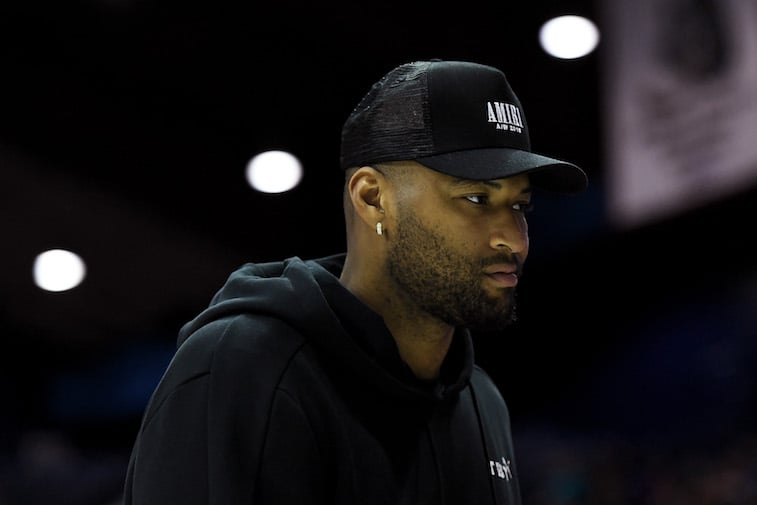 DeMarcus Cousins' wife is down to earth
Lang seems very down to earth, both literally and figuratively. Despite the fact that she's been dating a famous NBA player, she doesn't seem to seek fame herself. She's active on social media, but rarely posts about Cousins. She doesn't seem to want the attention that could come with marrying a basketball player.
She's literally down to earth as well. She is not very tall, at least compared to her husband. She doesn't even come up to his shoulder.
Lang owns a fashion boutique in her hometown of Mobile, Alabama. She posts a lot on Instagram, both on her personal page and her store's page. She doesn't seem interested in leveraging Cousins' fame to promote her store, however.
The wedding was well attended
Lang could ask her husband or some of his famous friends to help her advance her business, but that's not how she rolls. She almost never posts pictures of her new husband. Even though some of the biggest names in sports attended her wedding, Lang isn't bragging about it.
Among the attendees to Lang and Cousins' old Hollywood-themed wedding were his brother Jaleel and teammates from both the Golden State Warriors and the Lakers. 
Draymond Green, Andre Iguodala and Shaun Livingston represented his old team, the Warriors, while Anthony Davis, Quinn Cook, and Matt Barnes came from Cousins' new team, the Lakers.
The wedding aisle was lined with giant white flower arrangements, and white orchids cascaded from the chandeliers. The bride wore a sexy champagne colored dress designed by Daughters of Nonyelum. The ruched gown had a long train and a slit all the way up to Lang's thigh. Pearls and jewels swept over her waist.
The bride looked stunning, and all in all it seemed like the perfect day.
Hopefully things start looking up for DeMarcus Cousins
The Lakers star needs a perfect day after the year he's had. He's dealing with a torn ACL. He's had his fair share of injuries over the past few years, including a torn Achilles tendon and torn quadriceps.
He's in rehab now, where he's working on getting up to snuff for the 2020 season. Unfortunately he's not likely to get well in time to play this year. That has to be a big blow to Cousins, especially considering everything else going on in his life.
He's also facing legal troubles. After he threatened her, DeMarcus' ex-girlfriend filed a police report. The threat was recorded, and the recording is pretty cut and dry. It doesn't seem likely that he will be able to get out of this.
At least he has the memory of a beautiful wedding, and a sweet new wife to get him through what looks to be a challenging year.
There is one good thing 2020 will bring for DeMarcus and Lang. She recently posted on Instagram that she's expecting.
Source: Read Full Article