https://www.instagram.com/p/62jG_dOUAC/
A post shared by Royal Pains (@royalpainsusa)
Everything I know about concierge doctors comes from watching a couple episodes of Royal Pains (my mom loved that show and the photos on this post are from their Instagram). Like a lot of medical dramas I assumed it was mostly fabricated, but concierge medical services do exist. They're like subscription services after which clients pay extra for medical services. Many are now gearing up to give their uber wealthy patients the vaccine as soon as it arrives – for the general population. Of course all the supplies in the US of the two approved vaccines, from Pfizer and Moderna, are allocated to frontline medical workers and vulnerable patients. So even the very rich and privileged aren't getting the vaccine now. That's not stopping them from trying though. The LA Times spoke to concierge doctors who said that their clients are inquiring how much money it would take to skip to the front of the line.
"We get hundreds of calls every single day," said Dr. Ehsan Ali, who runs Beverly Hills Concierge Doctor. His clients, who include Ariana Grande and Justin Bieber, pay between $2,000 and $10,000 a year for personalized care. "This is the first time where I have not been able to get something for my patients."

With the first doses in short supply, California has laid out a strict order of vaccinations based on need and risk: Healthcare workers and nursing home residents, then essential workers and those with chronic health conditions, then, finally, everyone else.

But to those with power, money and influence, rules can always be bent. California's stern messaging about serving the neediest first hasn't stopped the rich from trying to leap ahead of teachers, farmworkers and firefighters.

Dr. Jeff Toll, who has admitting privileges at Cedars-Sinai Medical Center, one of the first hospitals to stock the vaccine, recalled a patient asking: "If I donate $25,000 to Cedars, would that help me get in line?'" Toll said no.

Watchdogs have been warning that the COVID-19 vaccine's initial scarcity could create a thriving black market, particularly if well-connected people in the healthcare industry skim off a few doses here and there for friends, family or the highest bidder.

But getting earlier access to the shot may not even require much backroom deal-making. Some wealthy patients may get the shots sooner than the average person because they're members of exclusive healthcare groups that offer the kind of high-quality, primary care most Americans can't afford.

Those patients are already on waiting lists with concierge doctors who charge as much as $25,000 a year for 24-hour access to top-notch care, which includes working to get their clients vaccinated as soon as it's available.

Concierge practices are fielding frantic, repeated phone calls from well-heeled clients and their assistants. They're busy assembling lengthy patient files with medical histories and potential COVID-19 risks.

And they're snapping up expensive, ultra-low temperature freezers, which are in short supply, to store the Pfizer and BioNTech vaccine, which must be kept at minus 94 degrees Fahrenheit.

Doctors in boutique practices say they'll adhere to public health guidelines in determining who gets priority. But being on a waiting list at a practice that has special freezers and other high-quality resources means you're already near the front of the line once the supply opens up…

"We're governed by the Hippocratic oath, the responsibility to provide care for the people who need it most," said Dr. Abe Malkin, the founder of Concierge MD LA, a house-call medical service that charges up to $750 per month. "But at the same time, there's obviously going to be gray areas based on individual patients' needs."
[From The LA Times]
The article goes on to state that the concierge facilities applied to be able to distribute vaccines, but that Moderna and Pfizer are controlling distribution and doctors aren't on the list yet. Notice how the concierge doctors are like "of course we wouldn't give our patients the vaccine before they're allowed, hippocratic oath" on one hand and "we got a bunch of subzero fridges and are ready" on the other. Those things aren't mutually exclusive, but their clients will absolutely get the vaccine the minute it's available while the rest of us will be waiting weeks if not months more for it to hit CVS. This is how healthcare works in the US, it's a tiered system that benefits those who can afford it. It's immoral, it's unfair, and while we've always known that poorer people die from lack of healthcare (and suffer from lack of dental care) here, it's never been more obvious than it is now. We're losing over 3,000 people a day to this virus and it's disproportionately killing people of color.
I saw a viral tweet using this meme from The Brady Bunch with a caption like "celebrities trying to get the vaccine."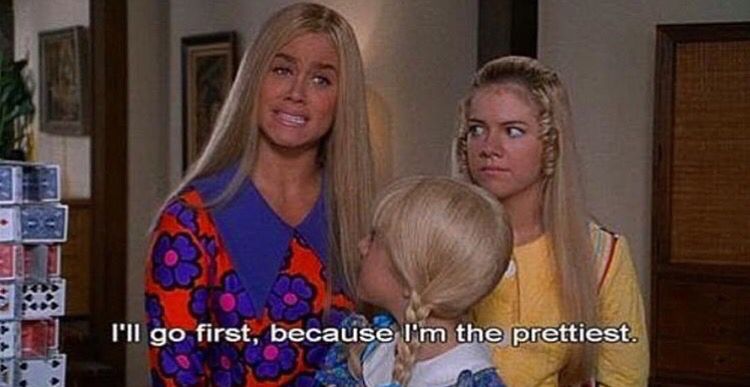 https://www.instagram.com/p/7onTPluUCB/
A post shared by Royal Pains (@royalpainsusa)
https://www.instagram.com/p/10yvyaOULo/
A post shared by Royal Pains (@royalpainsusa)
https://www.instagram.com/p/4qBUonOUJW/
A post shared by Royal Pains (@royalpainsusa)
Source: Read Full Article