Between her killer performance in the latest season of Stranger Things and her starring role in Taylor Swift's "All Too Well" short film, Sadie Sink is having, like, a really, really good year. And with her movies The Whale and Dear Zoe set to premiere later this year, the actor's fame will only continue to grow—as will the curiosity around who Sadie Sink is dating. We hate to be the bearer of bad news, but it doesn't seem like Sadie is dating her onscreen love interest Caleb McLaughlin IRL…or Finn Wolfhard, or Noah Schnapp, or any of her Stranger Things co-stars. In fact, it doesn't seem like Sadie is dating anyone at the moment. Sorry!
While the famous redhead is famously tightlipped about who she's romancing, she has been linked to a familiar face in the past. In September 2021, Sadie made headlines when she was spotted with Patrick Alwyn in New York—Patrick Alwyn being Joe Alwyn's younger brother, ofc. Um! Little else was heard about the rumored romance after the initial sighting, and tbh, little is known about Patrick himself (other than the fact that he may have dated Olivia Rodrigo's BFF Iris Apatow before maybe dating Sadie). But the internet is still ~all too convinced~ that Taylor played matchmaker, and we def don't hate that theory.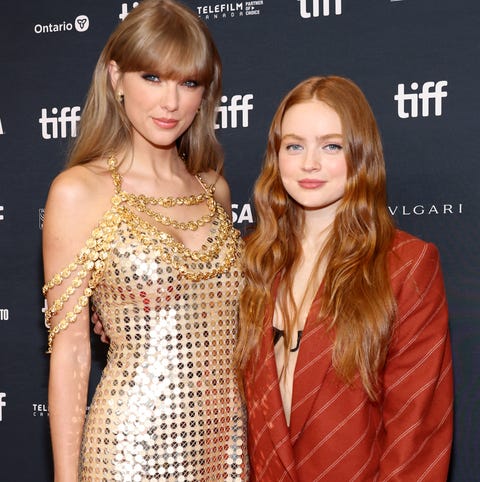 Unfortch, Sadie hasn't been linked to anyone since her hangout sesh with Patrick, and it's not all that surprising, considering how she likes to keep a low profile. She even told Glamour UK during a June 2022 interview that she tries to avoid IG as much as possible. "I don't have the Instagram app or any social media apps on my phone," she said, adding that she will "download it sometimes to check in" but that "social media probably isn't the best place for me." We stan a self-aware queen.
Let's not forget that Sadie is booked and busy, and chances are she doesn't even have all that much time to date. The actor's been in the biz since she was just a kid—landing her first major TV role on The Americans at the age of eleven—so she's spent a lot of time on set…and even had her first kiss in front of the camera. Yep, that smooch Max shares with Lucas at the Snow Ball during the Stranger Things season 2 finale? That was her first IRL kiss, and it was Caleb's first kiss, too. When asked by TheWrap whether she was anxious about the moment, Sadie said, "I mean, of course I was nervous because it's a first kiss, right?" Cuuuute.
But again, as much as fans may wish they were a real item, it seems like Sadie and Caleb are just friends…and even if Sadie is actually dating someone, it doesn't seem likely she'll be sharing that info with fans anytime soon. You do you, Sadie!
Source: Read Full Article