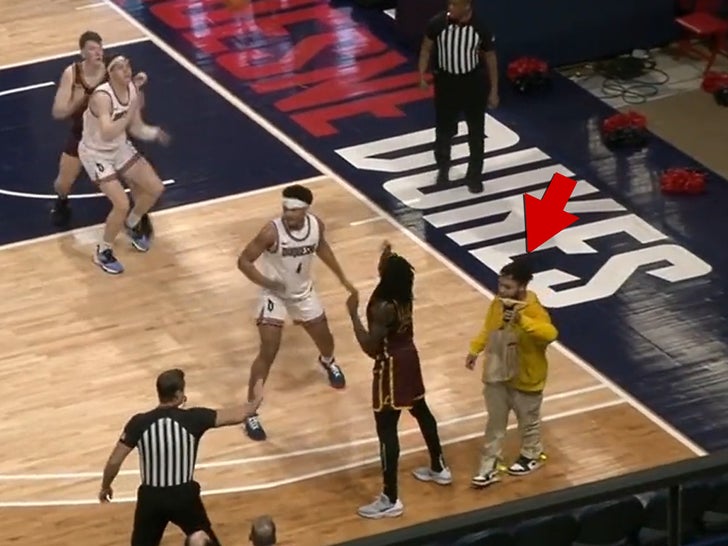 Bizarre scene in the college basketball world Wednesday night … an Uber Eats delivery person walked onto the court in the middle of a game — halting play and leaving everyone in the arena scratching their heads.
The wild moment happened in the second half of the Loyola Chicago vs. Duquesne men's basketball game at UPMC Cooper Fieldhouse in Pittsburgh … when a man dressed in yellow and holding a bag of McDonald's goodies hit the hardwood right as the Dukes were trying to score a basket.
Broadcast video shows a nearby ref trying his best to get the guy off the floor as the action kept moving forward … but the man appeared to be oblivious as he attempted to find his food's intended target.
Eventually, the play was stopped — and the game's broadcasters had to then describe what was happening.
"This guy's in the corner — was he going to deliver the McDonald's to somebody on the court?!" one announcer said.
"Who's he delivering it to?!" the other said.
According to video shot on the baseline, the deliverer had actually been asking people on the floor if they had ordered Door Dash. You can see in the clip he was ushered out of the area by an arena staffer, who told him, "You've got to get off the court, man!"
Some speculated it was all part of a prank — noting the person was wearing a microphone.
Either way, Duquesne head coach Keith Dambrot said afterward it was one of the most surreal scenes he's ever been a part of.
"Craziest thing I've ever seen in my life," he said.
To their credit, Duquesne shook off the weird moment to cruise to a win … beating Loyola Chicago 72-58.
Source: Read Full Article