Former rapper, Academy Award-nominated actor, food industry entrepreneur, reality TV star, HBO executive producer, Calvin Klein model. These are just some keywords associated with Hollywood A-lister Mark Wahlberg, most of which involve him finding considerable success. Wahlberg's massive industry success is also particularly noteworthy given he started out his career knees-deep in legal issues involving violence and some reportedly racist stuff, as the Independent detailed.
While #90skids may know Wahlberg better as Marky Mark from the hip-hop group Marky Mark and the Funky Bunch, youngsters probably know him best for his work in box office hits, like "Planet of the Apes" and "Ted," as well as critically acclaimed films like "The Departed" and "The Fighter." The former got him an Oscar nomination, and both earned him Golden Globe nominations for his acting, according to IMDb – clearly, his abilities have not gone unrecognized. 
Wahlberg has come a long way since his troubled youth that propelled him into the spotlight back in the 1980s. As Wahlberg himself stated in a 2020 interview with The Guardian, he has worked hard to put his life on track and make amends for the wrongs of his adolescence. Wahlberg has largely left his music career behind, making film his main vocation, while adding on considerable business ventures on the side. Keep scrolling to check out his transformation over the years!
Mark Wahlberg is the young of nine siblings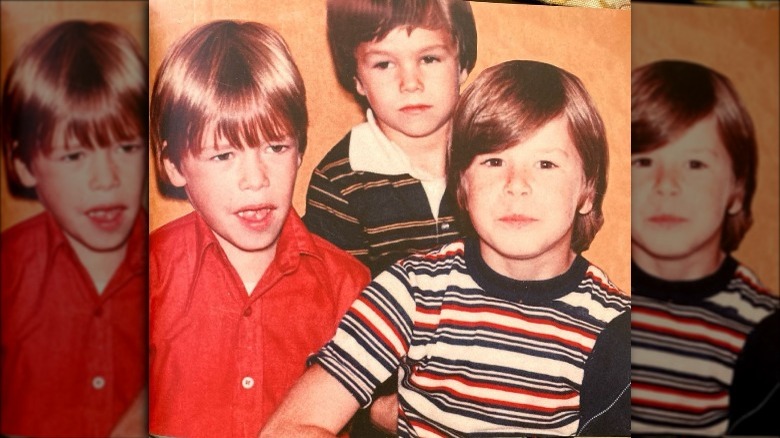 In today's world, having two siblings may count as coming from a big family. But Mark Wahlberg comes from a really large family in any era. Mark not only is one of nine siblings, but he is also the youngest of the bunch, a fact that he jokes about often. On March 20, Mark shared a photo on Instagram (featured here) of himself looking grim while sitting between Donnie and Robert Wahlberg, two of his five older brothers. In the caption, he alluded to his status in the family hierarchy by contending he was "checking out which shirt I'm gonna get as a hand me down" and included the hashtags "Family" and "Youngest of 9."
In addition to Donnie and Robert — both of whom are actors, with Donnie being a founding member of the boy band New Kids on the Block — Mark also grew up with brothers Arthur, Paul and Jim and sisters Michelle, Debbie and Tracey, as The Sun pointed out. The Wahlberg siblings were raised by Alma Elaine and Donald in the historical Dorchester neighborhood of Boston, Mass. in a Roman Catholic home, a faith he carried with him through adulthood, according to The Hollywood Reporter. "I don't go to Mass every day. But I like to start my day by going to get my 15 to 20 minutes of prayer, getting focused and giving thanks," he told the publication 2013.
Mark Wahlberg's trouble started soon after his parents' divorce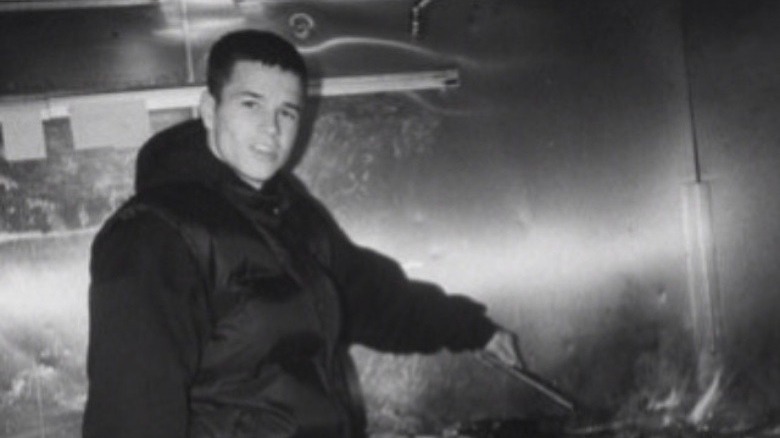 Alma Elaine and Donald Wahlberg's relationship often turned aggressive, with a lot of "yelling and screaming" involved, Mark Wahlberg told The Hollywood Reporter. In 1982, when Mark was 11, his parents separated and he began to divide his time between both households, per the report. He turned to the streets and his behavior deteriorated quickly. Soon enough, Mark's bad behavior turned violent.
In June 1986, he and a group of friends reportedly chased young Black siblings while yelling racial slurs, according to The Smoking Gun. The following day, Mark and two others saw one of them at a beach during a field trip and hurled rocks at the fourth graders once again, wounding a couple of them, the report detailed. In a civil suit, Mark was found guilty of violating the children's civil rights and the case was settled a month later, per the Independent.
Less than two years later, in April 1988, the then-16-year-old hit a Vietnamese man with a wooden stick, injuring the man's head, per The Smoking Gun. Later that day, Mark attacked an American man of Vietnamese descent, punching him in the eye. The officers who arrested Mark stated that he made "numerous unsolicited racial statements" to refer to the men, according to The Smoking Gun. Mark pleaded guilty to felony assault, contending he had been under the influence of PCP, according to the Independent. He served 45 days in jail.
Hip-hop (and Donnie Wahlberg) turned Mark Wahlberg's life around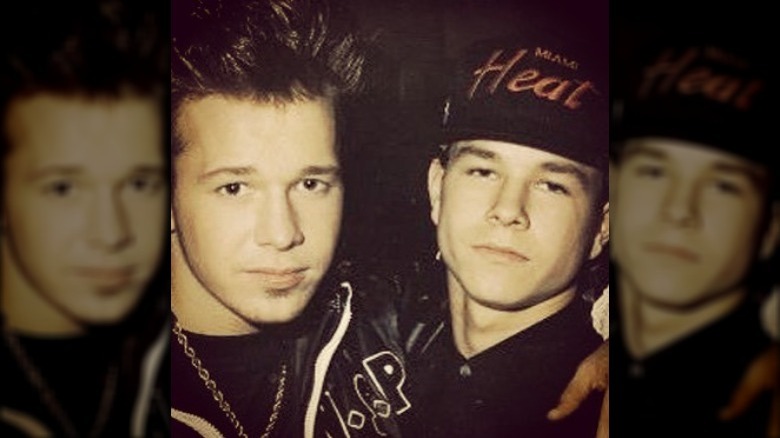 In 1984, Mark Wahlberg joined his older brother, Donnie Wahlberg, as one of the original members of New Kids on the Block, but he left the band within a few months. His late mother, Alma, told People in 1990 that Mark opted out because he "wasn't ready" for the commitment. "The regimen was really tough. Rehearsal every night after school, shows on weekends. There was no time for anything else. You really had to want to do this. Mark wasn't ready for it," she said. 
In jail, Mark had an epiphany, he told The Hollywood Reporter. "I'd been in there 45 minutes and I was already in a fight with two guys who were trying to jump me and take my cigarettes and the lighter my mother just gave me. It was like, 'This is not what I want for my life.' There was that wake-up call, but there was also the desire to have things that I didn't have," he said.
With the help of his brother who knew the ins and outs, Mark formed Marky Mark and the Funky Bunch in 1990. Per Celebrity Biographies – The Amazing Life Of Mark Wahlberg and Matt Damon, Donnie produced the group's debut album, "Music for the People," that included the hit song "Good Vibrations," which peaked at No. 1 on Billboard Hot 100 in October 1991. "Music for the People" achieved platinum status in January 1992, per the RIAA website.
Mark Wahlberg was soon showing off his acting skills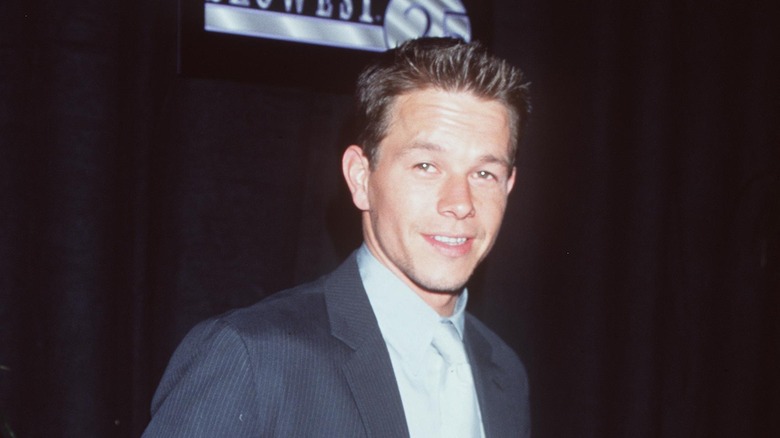 Mark Wahlberg began dabbling in film soon after launching his hip-hop career. In 1993, he starred in the made-for-TV movie "The Substitute" and made his big-screen debut a year later opposite Danny DeVito in "Renaissance Man." He landed his first leading role in 1996, when he starred with Reese Witherspoon in the sinister hit thriller "Fear." The following year would consolidate his status in Hollywood when he portrayed adult-film star in "Boogie Nights." "[T]his chunk of movie dynamite is detonated by Mark Wahlberg, the rapper formerly known as Marky Mark, who grabs a breakout role and runs with it," Rolling Stone wrote following its release. 
The early 2000s marked the peak of Wahlberg's acting career, with "Planet of the Apes" and "The Italian Job" among the list. In 2004, Wahlberg also added the title of executive producer to his repertoire with HBO's "Entourage," whose plot was inspired by Wahlberg's own experience arriving in Hollywood, according to Rolling Stone. "I will never own up to which bits are real! 'Deny until you die' is my motto," he said, adding that his experiences "were always a lot more dark and edgy."
In 2006, Wahlberg starred as a crude detective in Martin Scorcese's "The Departed," a performance that was recognized with nominations for an Academy Award and a Golden Globe. Five years later, he would snag a Golden Globe nomination for his starring role in "The Fighter." 
He takes pride in being a family man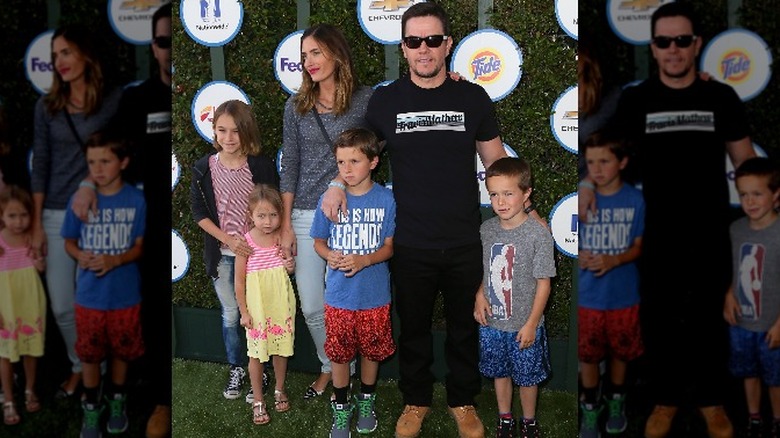 With his crime-ridden days in the past, Mark Wahlberg today is a doting father to daughters, Ella, born in 2003, and Grace, born in 2010, and sons, Michael, born in 2006, and Brendan, born in 2008, whom he shows off on his Instagram page often. He shares his children with model Rhea Durham, with whom he has been since 2001, though they didn't tie the knot until 2009. Per The Sun, Wahlberg credits Durham with helping him heal from his turbulent past. "I owe a lot to my wife. She has helped me become the man that I am and created a beautiful life for me and our children," he said.
Wahlberg also told The Guardian that he spends his days working and caring for his family. "I live in Beverly Hills, but it could easily be the English countryside because I don't see anyone and I don't do anything. I don't go to awards unless I have a movie in them. I go to bed early, I get up early, I take my kids to school and I'm with my wife; if I'm not, I'm working," he said.
In addition to movies, Wahlberg also co-owns Wahlburgers, a restaurant and bar chain, with his brothers Donnie and Paul. The family launched a reality show by the same name to promote the venture, which has more than 50 locations. Clearly, Wahlberg carved out a life far removed from his troublesome youth.
If you or a loved one has experienced a hate crime, contact the VictimConnect Hotline by phone at 1-855-4-VICTIM or by chat for more information or assistance in locating services to help. If you or a loved one are in immediate danger, call 9-1-1.
Source: Read Full Article