August 9 marked the end of an era in television when "The Ellen DeGeneres Show" dropped the trailer for its farewell season, according to People. This final series comes months after the talk show host announced she would be ending her decades-long show, following bombshell reports of a toxic work environment. At the time, Ellen DeGeneres told viewers on a May 12 episode that she was simply following her instincts. "The past 18 years have changed my life," she told viewers while visibly tearing up. "You've changed my life. I am forever grateful to all of you for watching, for laughing, for dancing … sometimes crying. This show has been the greatest experience of my life and I owe it all to you. Thank you. Thank you. Thank you."
However, many speculated that the show was *really* ending because DeGeneres' reputation had suffered when former staffers opened up in 2020 about enduring a "culture of racism, fear and intimidation," per Today. Though the host apologized in a letter that promised she and her team were looking into the reports and "taking steps" to correct the problems, it seemed the apology was too little, too late. So, while fans already knew that "The Ellen DeGeneres Show" was embarking on its swan song, the internet still has thoughts about the final trailer. 
The farewell trailer has fans divided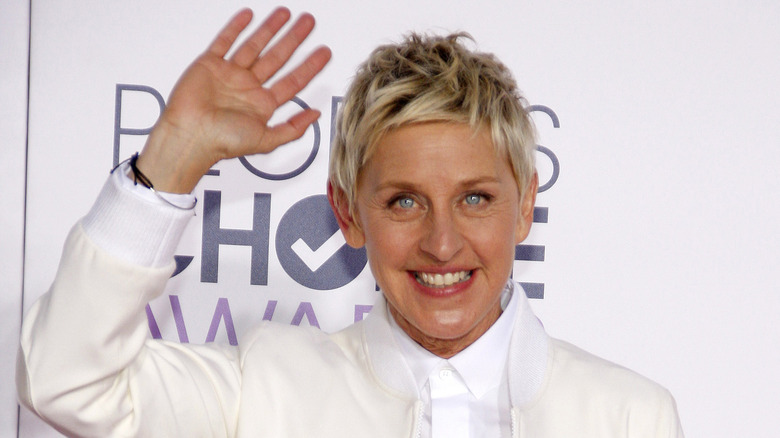 Per People, the final trailer of Ellen DeGeneres' eponymous talk show — which will air its first episode on September 13 — featured a highlight reel of her most notable celebrity guests, including Michelle Obama, Taylor Swift, Justin Timberlake, and George Clooney. Beyond noting that DeGeneres has hosted "4,000 guests," the promo also spotlighted how the show had given away "almost half a billion" dollars and "changed countless lives." On Twitter, some were quick to thank the TV personality for bringing humor into their lives. "Thank you so much for all the wonderful years you gave me laughing for over an hour of my day," one user tweeted. "I have no idea what's going to take your place for that hour. Everyone needs that break of laughter everyday. Miss you already." Another fan lamented the show's ending, calling DeGeneres "a blessing" who "lifts my heart."
But Twitter being Twitter, there were also those who didn't hesitate to throw shade. "Good the Pathetic Bully is finally leaving. Hope it's a quick year," one disgruntled person wrote. Someone else, who clearly shared a similar opinion, tweeted, "Good riddance to bad rubbish!!!" The less than stellar reactions mirror how Twitter responded when DeGeneres first announced her show was wrapping because "it's just not a challenge anymore," per The Hollywood Reporter. "Now Ellen know d**n well this ain't the reason, lol," comedian Sylvia Obell tweeted in response. Given the uproar over DeGeneres' scandal, at least a little negativity was probably expected.
Source: Read Full Article