Through his social media account, the 'General Hospital' alum asks for privacy from fans as he deals with Sheree Gustin's fourth pregnancy that he claims not his.
AceShowbiz –Steve Burton is on his way to singlehood again. After more than two decades of marriage, the "General Hospital" alum announced that he is separating from wife Sheree Gustin as he accused her of getting pregnant with another man.
On Wednesday, May 4, the soap opera star released a statement on the matter via his Instagram Story. "I wanted to clear something up. Sheree and I are separated," he began by writing, "She recently announced that she's expecting her 4th child."
Steve then declared that the child his estranged wife carries is not his. "The child is not mine," he pressed on, "We are still co-parenting our beautiful kids. We would appreciate privacy at this time. Much luv, Steve." As for Sheree, she has yet to confirm or deny her actor husband's statement.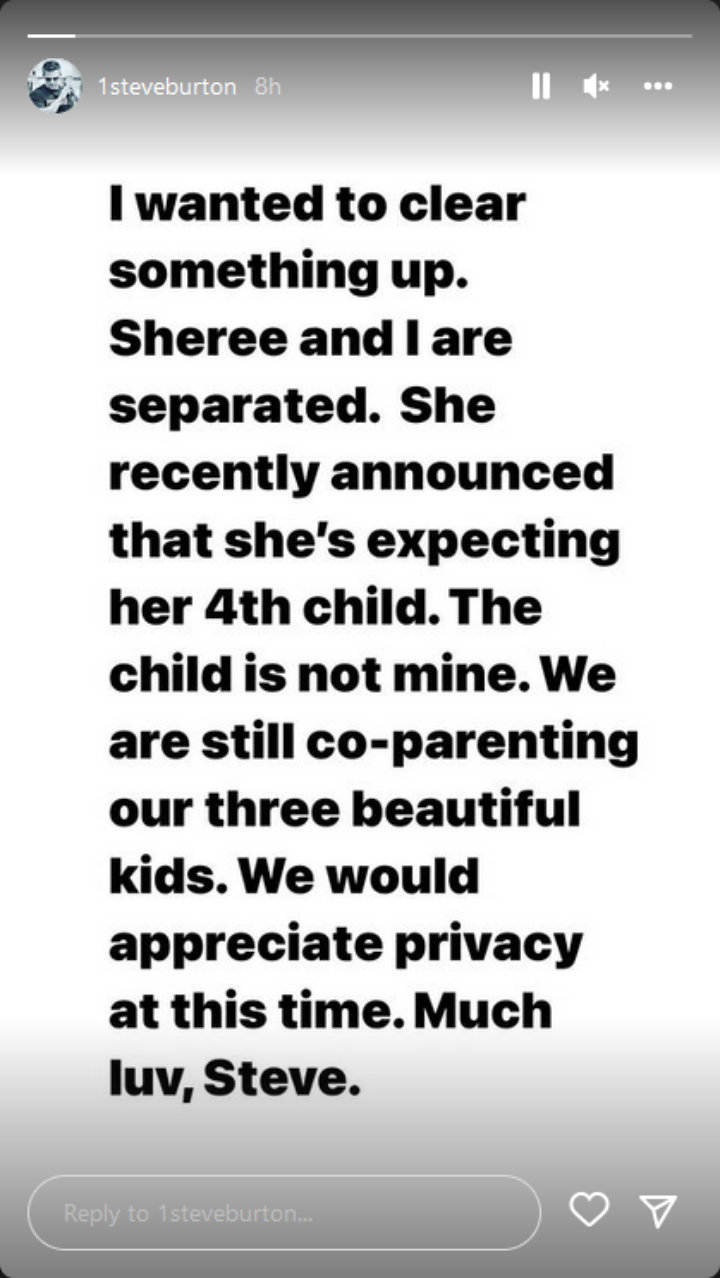 Steve released a statement regarding the matter on his Instagram Story.
Steve tied the knot with Sheree in 1999. Since then, the couple was blessed with three children, 18-year-old Makena Grace, 16 year-old Jack Stephen and 7-year-old Brooklyn Faith.
Personal affair aside, Steve shared an upsetting news on Instagram in November 2021. He claimed that he was let go from "General Hospital" because he refused to get vaccinated for COVID-19. In a video explaining the situation, he said, "I know there's been a lot of rumors and speculation about me and 'General Hospital'. And I wanted you to hear it from me personally."
"Unfortunately, 'General Hospital' has let me go because of the vaccine mandate," he further clarified. "I did apply for my medical and religious exemptions, and both of those were denied. Which, you know, hurts."
Steve, however, chose to focus on the good side. "But this is also about personal freedom for me," he added, "I don't think anyone should lose their livelihood over this."
Despite being let go from the soap opera, Steve expressed that he was thankful for his experience there. "I'll always be grateful for my time at 'General Hospital'," he concluded, "I love it there, I grew up there…. so I'll always be grateful."
Source: Read Full Article