Scarlett Johansson and Colin Jost have welcomed their first son. The couple wed in October 2020 and kept the news of their first baby under wraps throughout Johansson's pregnancy. Jost confirmed the news of the latest addition to their family, including Johansson's daughter, Dorothy, on his Instagram on August 18.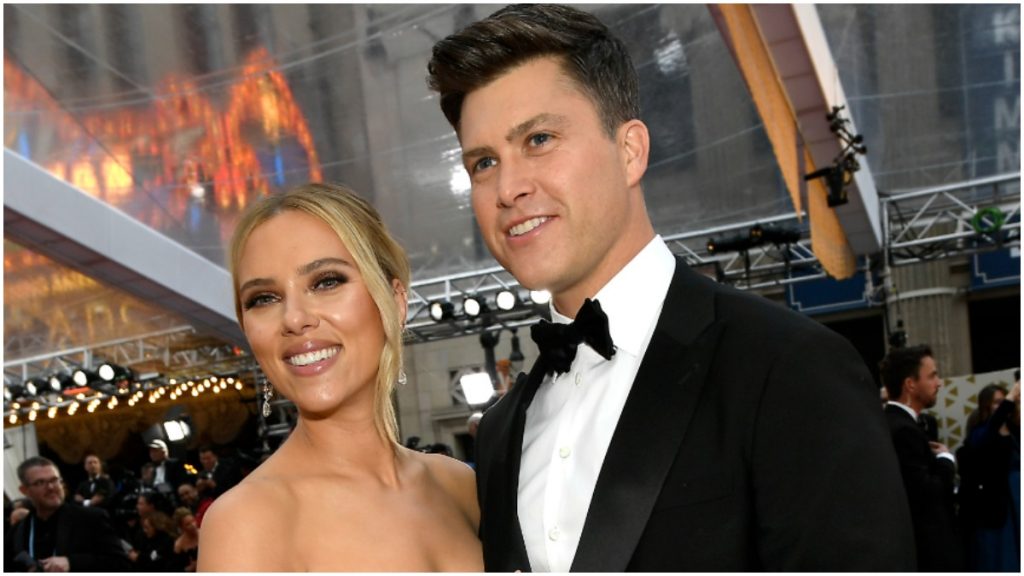 How did Scarlett Johansson and Colin Jost meet?
Scarlett Johansson and Colin Jost met on the set of Saturday Night Live in November 2010 when she was hosting the series for the third time, and he was a writer. She appeared in a sketch he penned, which parodied the MTV series Teen Mom and 16 and Pregnant. 
"It was some dumb parody that he had written, and he was in there partly directing this segment we had to do," Johansson said in an interview with The Hollywood Reporter. "That's my first memory of him. He seemed very confident at the time. I don't know if he felt that way, but in that environment, if you're not confident as a writer, your stuff just never gets produced."
Jost would become one of Saturday Night Live's head writers in 2017 alongside Michael Che. When Johansson hosted again, she and he began dating shortly thereafter. They were a couple for two years before Jost put an 11-carat pear-shaped brown diamond nestled in a black band on Johansson's finger. They tied the knot during the COVID-19 pandemic in a small ceremony attended by their family and close friends.
Scarlett Johansson's rep confirmed the news while Colin Jost took to Instagram
Johansson's rep Marcel Pariseau confirmed to People Magazine that the couple had welcomed their first child together. However, it was Jost who took to his official Instagram account with a post that confirmed the birth of their child and his name.
https://www.instagram.com/p/CSuiWHxlah-/
Jost wrote on the first of two slides, "Ok, ok, we had a baby. His name is Cosmo. We love him very much."
On the second, he quipped, "Privacy would be greatly appreciated. For all inquiries, please get in touch with our publicist @chethinks." He followed that up with the hashtags #wegotawaywithitforalongtime, #nokidspolicy, and #we'regoingtodisneyworld.
Che is Michael Che, Jost's Saturday Night Live co-head writer, and good friend.
Colin Jost and Scarlett Johansson maintain a private personal life
As a Saturday Night Live writer and one of the anchors of "Weekend Update" alongside Che, Jost shows off his acerbic wit on a weekly basis as he provides commentary on the most important news stories of the day. His personal touch is also seen in many of the show's skits, where the cast is put into improbable situations with a sarcastic edge.
However, when it comes to his and Johansson's personal life, they maintain a semblance of privacy in their day-to-day living. To The Hollywood Reporter, Johansson said that she "insists" on the ability to be able to take her daughter to the park and ride the New York City subways undisturbed. She said that as a celebrity, "you have to carve out that life for yourself. I don't engage in social media. I am a very private person."
Source: Read Full Article