A source insists the 'Vanderpump Rules' star has stayed away from social media for a month since she reportedly sought help at a mental health treatment facility.
AceShowbiz –Raquel Leviss reportedly hasn't been on social media in weeks as she continues her recovery at a mental health treatment facility. The 28-year-old TV star entered the facility in April, following her affair with her "Vanderpump Rules" co-star Tom Sandoval, and Raquel allegedly hasn't looked at her Instagram account in weeks.
"About a week ago, someone hacked her account and posted a reel of Tom Sandoval dressed as her for Halloween. She has not seen her phone or a computer for four weeks," a source told Entertainment Tonight.
Raquel's team contacted the photo-sharing platform in order to regain control of her account. The teams also intends to run her account as she continues her mental health recovery.
The insider added, "It took her team two days to get in contact with Raquel to discuss with her how she wanted to handle it. She gets two daily opportunities to retrieve messages and call out, so it sometimes takes a minute to communicate. Raquel came up with the mental health awareness takeover for her account."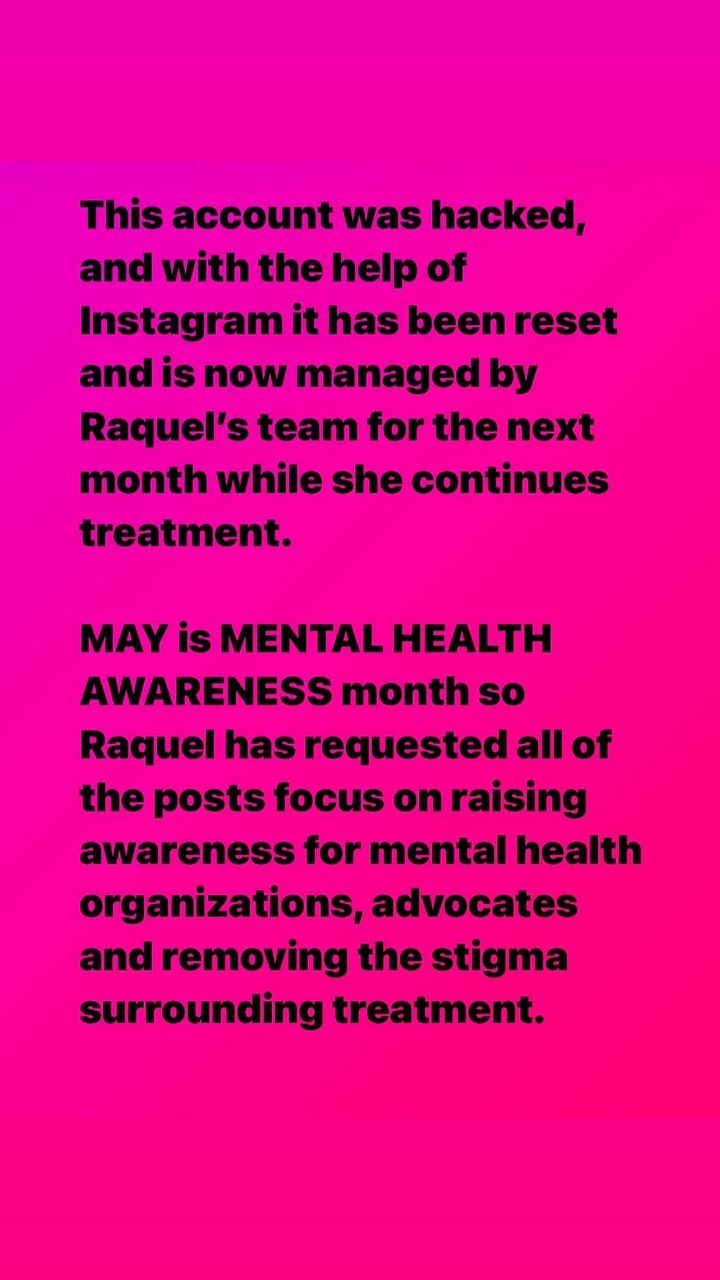 Raquel Leviss claims her account was hacked
Tom split from Ariana Madix after it was revealed that he had a months-long affair with Raquel. She subsequently took to social media to issue a public apology.
Raquel wrote on Instagram at the time, "I want to apologize for my actions and my choices foremost to Ariana, and to my friends and the fans so invested in our relationships. There is no excuse, I am not a victim and I must own my actions and I deeply regret hurting Ariana (sic)."
Raquel also promised to reflect on her mistakes. She said, "I am reflecting on my choices, speaking to a counselor and I am learning things about myself such as my patterns of codependency and addiction to being and feeling loved."
"I have sought emotional validation through intimate connections that are not healthy without regard for my own well-being, sometimes negatively affecting others and often prioritizing the intimate connection over my friendships. I am taking steps to understand my behavior and make healthier choices (sic)."
You can share this post!
Source: Read Full Article