Sounds like Pete Davidson is opening up about his relationship with Ariana Grande. Kinda! The Saturday Night Live star performed a New Year's Eve set in Boston, and talked candidly about Ariana—not to mention his experience with fans/trolls in the wake of their split.
"It made me see how ugly people can get, and how cool people can be," he reportedly said, going on to chat about what it was like listening to his name be dropped on "Thank U, Next."
According to Us Weekly, Pete joked that most artists *don't* put their exes on blast in songs, and then quipped "Not this wonderful lady. This diabolical genius named all of us." He also reminded everyone that "Thank U, Next" premiered right before SNL, at which point he told his friends: "We all have to listen to this song and you all have to look at me, it's gonna be rough."
Sounds like Pete is in a good place and has a pretty positive attitude about things (he even admitted that "Thank U, Next" is "catchy"), which is great to hear!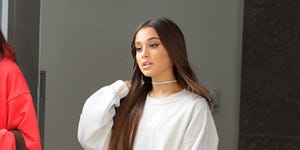 Source: Read Full Article