Responding to a fan's comment about her gorgeous locks on Instagram, the 'X-Men: Apocalypse' actress reveals her struggle with hair loss four months after giving birth to his first son, stating that her hair is 'falling out in clumps.'
AceShowbiz –Olivia Munn has been so open about her experience as a new mom after giving birth to his baby boy, Malcolm. On Instagram, the "X-Men: Apocalypse" star got candid about her postpartum struggle with hair loss.
One follower quickly wrote a comment in Olivia's April 14 post. The fan expressed admiration toward the actress' beautiful, healthy-looking hair. The comment read, "Can I just have your hair for one day please."
It prompted the 41-year-old actress to open up about her hair loss situation. "Umm it's falling out in clumps post partum," she wrote back, "I'll let you have it once I can grow it back and give it to you in better condition."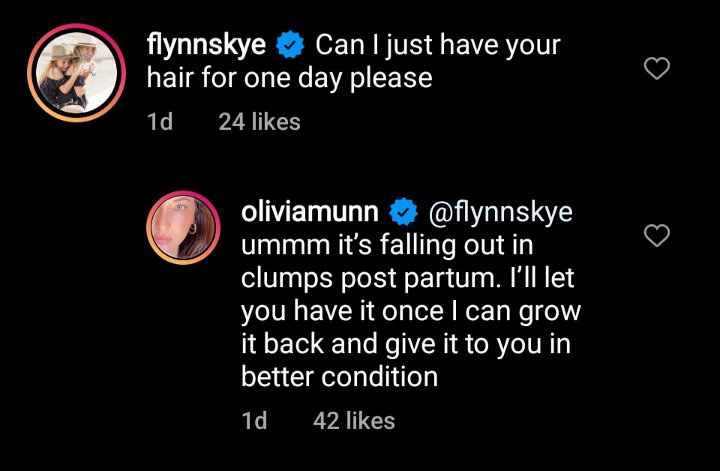 A fan gushed about Olivia's gorgeous locks.
The fan made the comment under Olivia's Instagram pictures of her and her four-month-old baby. The first picture showed her looking gorgeous with her freshly curled hair and flawless makeup, while the second one featured her holding her son in a white onesie and brown pants.
Back in January, Olivia had revealed her struggle with breastfeeding. The new mom told fans in a since-expired Instagram Story, "Breastfeeding is so hard, especially if you have low supply. 8 weeks in and I've taken a million vitamins, countless teas, lozenges, tinctures and worked with two lactation consultants." She stressed further that "Breastfeeding. Is. Hard."
In addition, the "Love, Wedding, Repeat" actress was honest about dealing with postpartum anxiety and her new hips after giving birth. She shared on Instagram Story, "My hips still feel wonky from pushing out a human being. My post partum anxiety is still here (and horrible)." However, she noted how martial arts had helped ease her anxiety and "made me feel a little bit more like myself. Hope I can keep it up."
Olivia welcomed her first child, Malcolm, in November 2021. She had her son with her partner, comedian John Mulaney. John confirmed her pregnancy during his appearance on "Late Night with Seth Meyers" in September 2021.
Source: Read Full Article