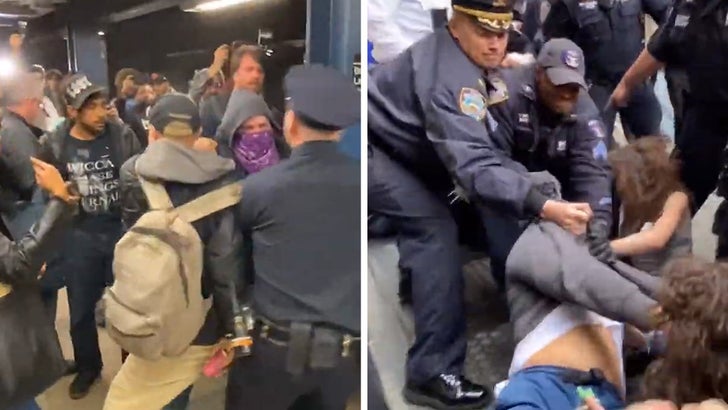 New York City is a powder keg … on the heels of a subway rider getting choked to his death, pissed-off protesters are going toe-to-toe with NYPD officers, and it's starting to get violent.
Demonstrations are going down on subway platforms and in the streets … where cops attempted to detain one protester while several others rushed at the handful of officers who had to form a circle to fend off attacks.
The violence is simmering over the death of Jordan Neely … a 30-year-old homeless man who was riding a subway train Monday afternoon when a Marine vet placed him in a chokehold for 15 minutes. The Medical Examiner has deemed Neely's death a homicide.
NYPD has said Neely appeared to be having a mental health episode, and had been pacing and shouting on the train. Cell phone footage shows the 24-year-old veteran wrestling Neely to the ground and applying the chokehold. He eventually went unconscious, and although paramedics transported him to a hospital, they could not resuscitate Neely.
Along with the protests, there's now a war of words between NYC Mayor Eric Adams and Congresswoman Alexandria Ocasio-Cortez.
AOC is ripping Adams for not calling the incident a murder. The Mayor issued a statement purely focused on Neely's mental health without mentioning the actions of the Marine which led to Neely's death. The medical examiner has already ruled it a homicide.
The Marine has not been named or arrested … which is prompting numerous protests demanding justice for Neely, and criticizing Mayor Adams' treatment of the city's homeless.
Source: Read Full Article