Food Network star Molly Yeh's version of traditional ziti takes the classic Italian meal to another level.
With two pounds of hearty meat and glorious pools of bright and fresh pesto atop the casserole, Yeh's baked ziti will satisfy even the pickiest eaters.
Molly Yeh's ziti features easy-to-find ingredients
For Molly Yeh's ziti recipe, you'll need for the casserole: sweet Italian sausage removed from its casing, sliced onion and fennel, red wine, crushed tomatoes, tomato sauce, ziti pasta, whole milk shredded mozzarella, grated Parmesan cheese, and a ball of fresh mozzarella torn into pieces.
For the pesto, have on hand loosely packed fresh basil and parsley leaves, fennel fronds, toasted blanched almonds, lemon zest and juice, crushed garlic, grated Parmesan cheese, and extra-virgin olive oil.
Yeh's ziti is different from other versions of the popular casserole
The culinary personality starts by browning the sausage in an oven-safe wide pan, followed by the sliced onion. Remember to salt and pepper as you go.
Yeh adds the fennel which, in the Food Network video, below, for this recipe she says "is not typical of a ziti, but because the sausage has fennel in it, this will just kind of echo that flavor."
Continue to cook the vegetables until they soften, adding crushed red pepper flakes at this point. Red wine is added to soften the "bits" on the bottom of the pan ("Those have so much flavor so I'm going to loosen them up by pouring in … wine. This is called deglazing if you want to get fancy").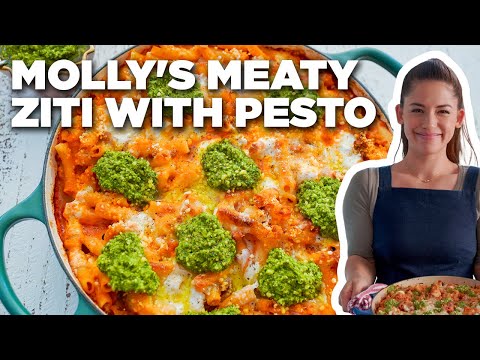 The bits are scraped off the pan bottom with a wooden spoon and it's all stirred together, allowing the wine to cook off.
Stir in the tomatoes and tomato sauce and then "bring this to a simmer and then let it cook until it's thick and flavorful." Cooked ziti is added "directly from the pot to the sauce" and it's all tossed together.
Now the fun part: "Not one, not two, but three kinds of cheese" are added to this saucy pan: shredded mozzarella, fresh mozzarella "for creaminess…leave it in some bigger chunks," and Parmesan cheese, "which brings saltiness to the party."  It's all gently stirred together into a "melty," creamy, rich mixture. Finish the dish off with more of the shredded and grated cheeses "and big tears of the fresh stuff, too."
The pan is placed in a 425-degree F oven for about 25 minutes, "until it's bubbly around the edges." 
Once the ziti is done, the pesto is prepared and spooned in pools on the surface of the pasta. "The brightness of the pesto cuts the richness of everything else so perfectly. This is so good, it should be illegal," Yeh quipped.
You can find the complete recipe, video, and reviews on Food Network's site.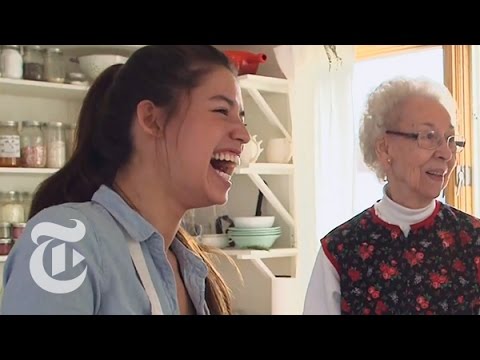 Reviewers loved Yeh's bright and rich ziti
With all that cheese, meat, and pasta, Yeh's ziti gets upgraded to exceptional with the addition of that pesto, and Food Network reviewers agreed.
"This was absolutely delicious. I did add a little bit of minced garlic. But it was so flavorful and everyone loved it! This will definitely be made again and again! Thanks Miss Molly for this gem!," one reviewer noted.
Another home cook added, "Amazing recipe. Family loved it. Highly recommend. Can be made ahead of time and reheated later. Definitely use fresh mozz. …"
Source: Read Full Article