Rap mogul Dr. Dre is in the headlines again and this time, it's a family affair. The music producer's estranged daughter LaTonya claims she's homeless and has been living out of her car without the funds to make payments. Some wonder why the multi-millionaire hasn't helped his eldest child but that's not exactly the case. Here's what we know about the latest celebrity scandal.
Dr. Dre is reportedly worth $820 million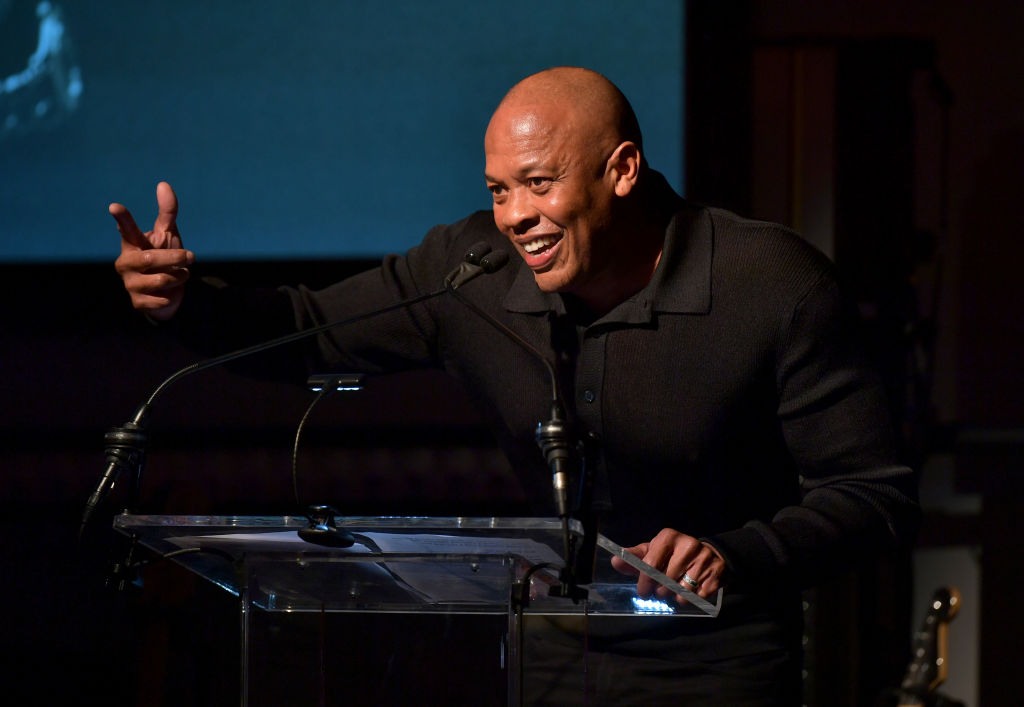 Andre Romelle Young — otherwise known as Dr. Dre — is one of the most successful producers, rappers, and all-around business savvy moguls around. With an album library that lists Eminem, Snoop Dogg, 2Pac, 50 Cent, Kendrick Lamar (and more), it's no wonder Dre's estimated worth is somewhere in the $820 million range.
Wealthy Gorilla lists Dr. Dre as the third richest rapper in the world just behind Jay-Z and Kanye West. Some of that money stems from Beats by Dre which sold to Apple for $3 million. That said, the producer's eldest daughter LaTanya Young says she's homeless, living out of a car.
LaTonya Young claims she's homeless and broke
Young was born to Dr. Dre and Lisa Johnson but she says her famous father left when she was 5 years old. Now, the single mother of four tells Daily Mail she's struggling to pay bills and lives in her car.
"My kids are staying with friends — they are not living in the car, it's just me," she said. "I'm taking odd jobs just to make it now — I got paid $15 an hour as an assembler at the warehouse. I'm trying to keep my head above water. I've been in debt for a while."
The DoorDash and Uber Eats delivery driver also claims she hasn't seen her father in 18 years and is only allowed to contact him through his team.
"His lawyer has said that my dad doesn't want to help me because I've spoken about him in the press," she said. "I feel like I'm damned if I do, I'm damned if I don't."
She's speaking out, fear of losing her rental car, which she snagged after moving from Nevada to California in search of high-paying jobs.
"The car is a pretty penny," she said. "It's an SUV that costs $2,300 for three weeks and I only paid for one week. Sooner or later they are going to take the car."
Dr. Dre, she said, has given her money in the past but it all came to a halt in 2020.
"I'm just trying to communicate with him and see if he wants to talk to his grandkids."
Newly single Dr. Dre ordered to pay massive spousal support
The newly single Dre was recently ordered to pay Nicole Young's health insurance, expenses in regards to their Malibu and Pacific Palisades homes, and spousal support in the amount of $293,306 per month, Vulture reported. The order will continue until Young remarries or enters into a new domestic partnership, death of either party, or until further order of the court.
Nicole Young filed for divorce in 2020 citing "irreconcilable differences" after 24 years of marriage. The couple shares two adult children together.
[LaTonya] Young said in the same Daily Mail interview it bothered her to hear of this settlement news, adding "what Nicole got is what my mom should've got."
"He was supposed to put us through college and pay for our health insurance and he never did that," she said. "My mom felt like he never upheld his end of the bargain. I commend Nicole in a way – she did what she had to do."
We reached out to a rep for comment but have not heard back.
Source: Read Full Article