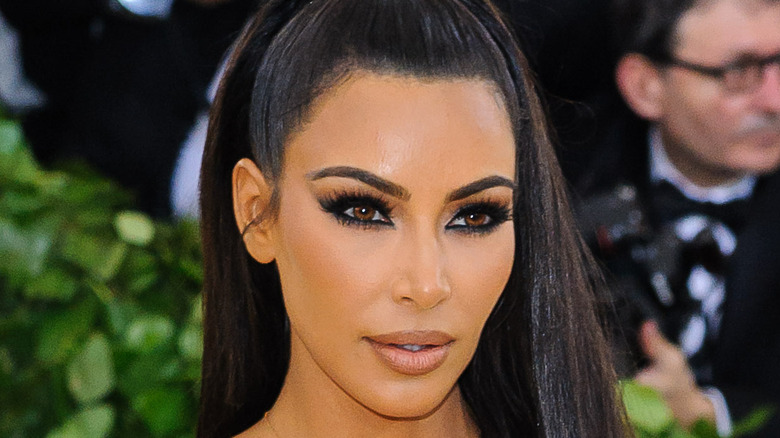 Kim Kardashian's new BFF and rumored boyfriend Van Jones recently gushed about how well she's doing in her efforts to become a lawyer. 
The reality star announced her plans to take the bar exam in a 2019 interview with Vogue and, in the time since, she's done everything possible to make it happen, frequently studying morning, noon and night, even when it leaves the working mother completely exhausted and away from her four children. In the face of harsh criticism of the starlet, Jones has consistently argued Kardashian is simply following in her father, legendary attorney Rob Kardashian Sr.'s, footsteps. 
As People reports, during an appearance on "The Ellen DeGeneres Show," the CNN anchor and lawyer sang the SKIM founder's praises, proclaiming she's going to make an "unbelievable attorney." As far as Jones is concerned, Kardashian has already proven herself with staunch, unwavering support for prison reform, which took the duo to the White House in 2018. "It's embarrassing to go into a meeting with Kim Kardashian, you're the attorney and she's not and she knows more than you by far, and that happens all the time," quipped the journalist. Unfortunately, it looks like Kardashian is facing a major setback in her path to the bar. 
Kim apparently feels like a failure for this reason
Fans of "Keeping up with the Kardashians" will recall watching Kim Kardashian cram for the so-called "baby bar," which is essentially a precursor to the real thing, before fretting over finally taking the official bar exam. Sadly, as E! News confirms, she did not pass. 
The SKIMS founder broke the news to sisters Kourtney Kardashians and Khloe Kardashians, before explaining how much of a setback the failure really is in her journey to becoming a lawyer in a confessional. "If you are doing law school the way I'm doing it, it is a four-year program instead of your typical three-year program," Kim explained at the time. The reality star needed at least 560 points to pass and she managed a not-too-shabby 474 on her first try. 
"That is extremely close on a test that most people are not taking in the middle of a pandemic," attorney and mentor Jessica Jackson, who she actually met through Van Jones, reassured her. However, the KKW Beauty founder was devastated, describing herself as a "failure" and bemoaning the weeks of cramming like a maniac that went into it. Kim explained, "It was so important for me to take this. And to not pass gets your spirit down and just makes you want to give up." Kourtney reassured her their father Rob Kardashian Sr. would be proud, with Khloe agreeing. Although Kim seemed like she might be giving up, the episode was filmed in October 2020, so hopefully the busy mother has regained her confidence since then.
Source: Read Full Article