Never once in my life did I think that I, a 24-year-old grown-ass woman, would be experiencing envy brought on by a 17-year-old YouTube sensation, but here I am, y'all! Why? Because JoJo Siwa lives in a massive $3.425 million mansion in Los Angeles' San Fernando Valley, and it's so extra that people are literally clamoring to visit.
While you can't show up at JoJo's home IRL due to it…literally being where she lives….she's blessed us with several virtual tours full of slime, candy, and mannequins. Starting with back in 2019, when JoJo treated everyone to an extremely enthusiastic YouTube tour of her mansion that truly left me speechless:
Things we discovered on this adventure?
She has multiple glass-encased mannequins….
Once we got inside JoJo's home, we were treated to an opulent display of her wealth—which is great because I was already feeling underpaid before she stepped over the threshold. There's shiny marble flooring, a grand piano, and multiple glass-encased mannequins showcasing her most iconic sequin and bedazzled outfits. Normal stuff.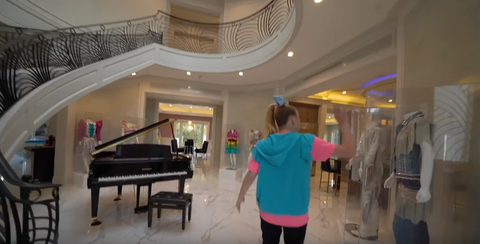 She has a merch room….
After taking her viewers through her candy-filled, cavity-inducing kitchen, JoJo hopped into her "merch room," aka where every single piece of JoJo Siwa merchandise you could ever want resides. It's so expansive that, at the time, JoJo said she's considering putting up actual signage to create aisles separating the products into categories.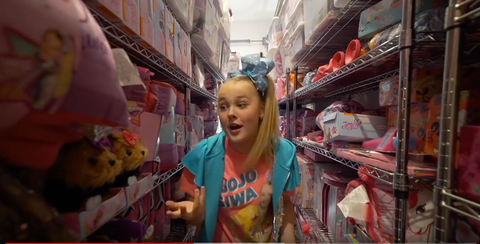 Flash-forward to now: JoJo came through on that promise, as she recently re-did her merch room so it's "scaled down" and super organized. Emphasis on those quotation marks, because "scaled down" in JoJo's house means a wall entirely covered in her signature hair bows, so.
Psst: JoJo did a whole separate YouTube video tour of the new/improved merch room, because it's truly too extra to be contained in just a regular house tour. Here ya go!
But perhaps this video leaves you wanting more? GREAT NEWS, because JoJo posted yet another house tour in Summer 2020 to show everyone just how much her home has changed. Some additions?
She has a massive unicorn in her entry way….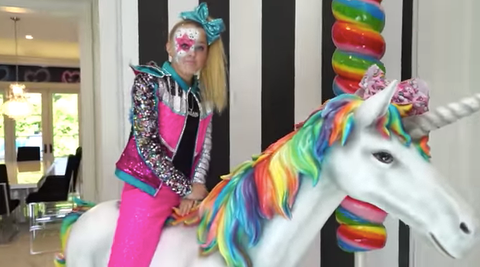 Unclear what its purpose is, but I support it.
And her candy room got a glow up….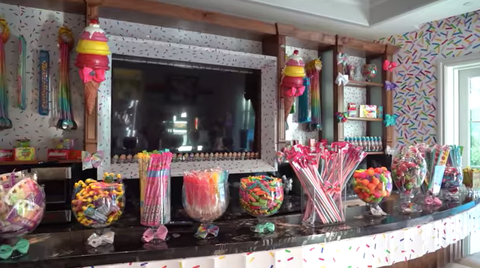 To be clear, JoJo always had a candy room, because everyone should, but it simply wasn't as colorful before.
She has a personal 7-Eleven station…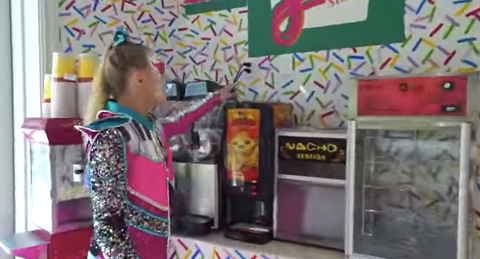 WHY GO TO 7-ELEVEN WHEN 7-ELEVEN CAN COME TO YOU?!
Oh, and don't forget her, um, "slime room"…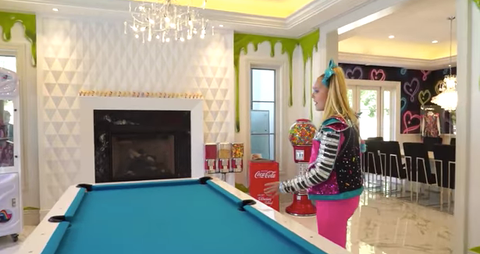 I have many questions, including but not limited to "y."
Anyway, here's the full video if you, too, wish to (a) feel like you're not successful enough, (b) question what you're doing with your life, (c) consider becoming a YouTuber for a chance to afford a home like this, (d) cry, or (e) all of the above.
And in the event that you want EVEN MORE JoJo Siwa house content, wonderful plot twist: she did a special holiday house tour, which some might define as the true essence of Christmas.
Things you can look forward to in the below video? Something vaguely blinding called a "magical rainbow tree forest," a very cute fluffy dog who stole the spotlight every chance he got, an entire garland festooned with JoJo's iconic hair bows, a literal army of elves lurking around every corner, several human-sized lollipops, an "old fashioned" Christmas room, a Grinch-themed room, and a dancing Santa. It's called subtlety, look it up!
You love all the thirsty deets on celebrity homes. So do we. Let's overanalyze 'em together. ✔️
Source: Read Full Article