Jeffree Star is adding some fuel back onto his fires with the KarJenner krew!
The makeup guru posted a review with Shane Dawson to his YouTube channel on Sunday, and the two were not impressed with Kylie Jenner's latest venture, Kylie Skin.
Star, who has a cosmetics line of his own, vocalized in the vid that her foaming face wash is "okay," the makeup remover wipes are "dry," and that the eye cream didn't make his under eye area "feel great." Damn! Tell us how you really feel. LOLz!
So, what's the final verdict? Jeffree proclaimed:
"My face feels basic. Feel me. Basic!"
Mr. Dawson seemed a bit worried that Kylie would take their review to heart:
"I'd say Kylie is gonna be sad and offended, but I just don't think she's gonna give a f**k."
But Star threw in a personal dig at the 21-year-old's extreme wealth:
"About this one? Absolutely not. She's fine in her seven houses and 60 cars. She's probably pregnant right now and doesn't give a f**k."
Yikes!
Mr. Star also threw a little extra shade at Miz Jenner in the description box of his video:
"Today Shane Dawson and I are trying Kylie Jenner's new skincare line, Kylie Skin! This has been such a highly requested review, but it has been sold out and we all know little ole Jeffree ain't on the PR list! But Shane ordered it… And it's HERE! Watch our unfiltered and honest thoughts and find out the REAL truth about Kylie Skin."
Maybe they felt even more inclined to make the vid because fellow YouTuber James Charles was recently spotted getting chummy with Ky at the launch party for her skincare line, mere weeks after the online beauty community imploded over a feud between Charles and Tati Westbrook, where Star and Dawson both publicly took Westbrook's side.
Watch more from the troublesome two (below):
As we reported, the young billionaire's collection has already sparked controversy in the skincare community because the main ingredient in her walnut scrub is said to be too harsh for many skin types. Jenner claims in a promo vid she uses it "two or three times a week," but that it's "gentle enough to use every day." Sounds like yet another blunder by the reality TV fam, like when the makeup mogul let it slip that her big sis' skincare secret was NOT Proactiv, despite her claims. LOLz!!
Not only that, many are drawing comparisons between Jenner's product to the St. Ives Fresh Skin Apricot Scrub, which uses walnut shell powder for an abrasive texture, and is notoriously hated by skincare experts.
The company even left a shady on Kylie's IG post! Ch-ch-check it out: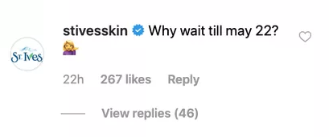 C'mon, be original!
Have U tried the skincare line, Perezcious readers? Share your thoughts (below) in the comments!!
Source: Read Full Article