Carrie Ann Inaba is leaving "The Talk," per The Hollywood Reporter. Inaba was a part of the CBS daytime talk show for two and a half years; she joined "The Talk" as a replacement for original co-host Julie Chen Moonves in 2018. Inaba is also a judge on ABC's "Dancing With the Stars." She was on a leave of absence from "The Talk" since April 2021; she said at the time she needed to "focus on my well-being."
In a statement about her departure from the CBS talk show, Inaba said (via THR), "I enjoyed my time at 'The Talk' as co-host and moderator and I am grateful for the opportunity I had to grow with the entire 'Talk' family as well as truly connect with viewers on such a personal level. I will miss 'The Talk,' but I am excited for the next chapter both for myself and for the show."
Inaba will continue her role on "Dancing With the Stars," which begins its 30th season in fall 2021. To get the inside scoop on why Inaba is leaving "The Talk," keep reading!
Carrie Ann Inaba's row with Sharon Osbourne could be why she's leaving The Talk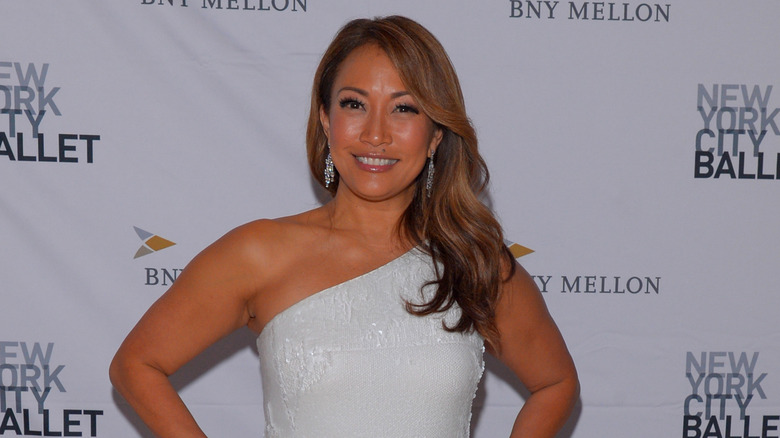 Carrie Ann Inaba's health issues — she's been diagnosed with multiple autoimmune conditions, per People — and her reported feud with Sharon Osbourne could be the reasons she is leaving "The Talk." Page Six reported on August 16 that there was a possibility that Inaba would be exiting the daytime talk show. A source told Page Six the race incident with Osbourne in March 2021 "did not sit well with Inaba," who was out during the controversy. The inside source revealed to Page Six, "After the incident, they brought in a diversity and inclusion agency to help repair the situation, and Carrie Ann openly griped that she was being punished for things while she was out. She returned to a new environment, and she also didn't like that the show is starting to tackle more serious issues." 
Per The Hollywood Reporter, Osbourne left "The Talk" in March after defending Piers Morgan following his comments about Meghan Markle. "Educate me, tell me when you have heard him say racist things," Osbourne said to co-star Sheryl Underwood at the time, via THR. 
Deadline also reported on July 14 that Jerry O'Connell would join "The Talk" as the first male co-host in the history of the daytime talk show.
Source: Read Full Article