Since winning New Female Vocalist of the Year at the 2017 Country Music Awards, Maren Morris has been a big part of the country music scene.
Morris released her second major label studio album GIRL earlier this year and it's a perfect blend of country, pop, and dance tunes.
Since she's only been on many people's radar for the past few years, many people are wondering how old Morris is and where she's gotten all of her experience in the music industry, as well as where the inspiration behind her songs comes from.
Maren Morris has had a whirlwind career in a short amount of time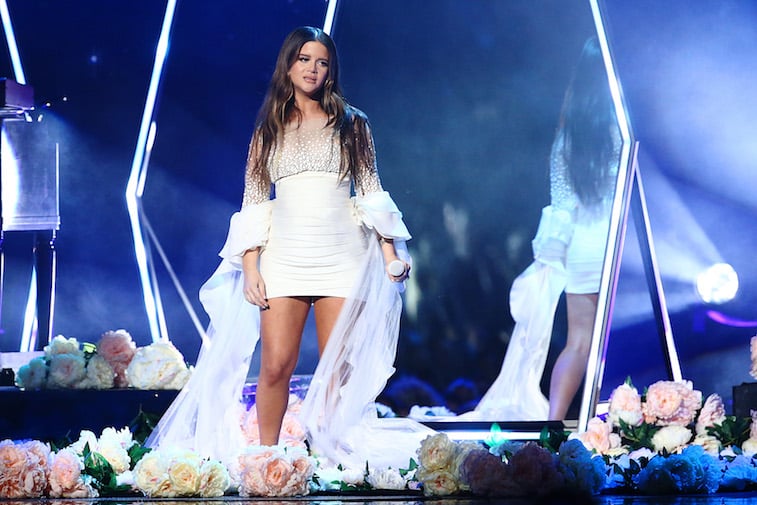 Morris's love for music started when her father bought her her first guitar when she was 12 years old. Since then, she's thought of little else. She grew up in Arlington, Texas and relocated to Nashville, Tennessee after graduating from the University of North Texas. She released a few small albums during that time and focused on perfecting her writing craft.
Morris then went on to write songs for many different artists including "Last Turn Home" on Tim McGraw's 2014 album and "Second Wind" on Kelly Clarkson's 2015 album. In 2015, she released the Maren Morris EP on Spotify. The EP only had five songs, but they wracked up 2.5 million streams in a month and attracted the interest of many major labels. Morris then signed on with Columbia Nashville.
Since then, Morris has released two albums under the label, Hero in 2017 and GIRL in 2019. Hero earned Morris four Grammy nominations and she won for Best Country Solo Performance with "My Church."
She also formed the group Highwomen alongside Brandi Carlile and Amanda Shires. The group brings in a rotating fourth member to the band each time they perform, such as Sheryl Crow, Margo Price, and Chely Wright.
How old is Maren Morris?
With how busy she's been so far in her short career, how long has she been involved in music and how old is she? Morris was born on April 10, 1990, making her only 29 years old. To have such a whirlwind career at such a young age, we can't help but congratulate her on everything she has accomplished, all before the age of 30.
In addition to making it big in only her mid-20s, Morris is also one of the shortest country stars on the scene right now. Standing only 5'1", Morris is towered over by many of her back-up band members and duet partners, as well as her husband, but her powerful and strong voice makes her hold her own on the country music stage. And we don't think she'd have it any other way.
What's next for Maren Morris?
Considering her busy career, Morris certainly won't be going away anytime soon. However, she may be taking a short hiatus in the coming year. It was recently announced that she and her husband, fellow country artist Ryan Hurd, are expecting their first child.
Sharing the big news on Instagram, Morris stated that she thought it was truly the height of irony that although her latest album is entitled GIRL, the couple found out they will be having a baby boy.
After the birth of her son, who knows what will be next for the country music star. One thing we're sure of is that she'll most likely keep killing it with her songwriting as well as her collaborations with other exciting artists like she's done with Niall Horan, Zedd, and Vince Gill. We can't wait to see what Grammy nominations she'll receive this year for GIRL.
Source: Read Full Article