Yesterday, Kate Middleton and Prince William hopped on Zoom (relatable) for a quick meeting with students and teachers from Casterton Primary Academy—which has stayed open for essential workers. Kensington Palace released a video of the call, and first of all it's incredibly cute due to all the kids wearing bunny ears, not to mention Kate teasing William for stealing all their family's chocolate (direct quote: "You keep eating it!").
Teachers across the UK are dedicating their time to keeping schools open for the children of key workers and vulnerable children. The Duke and Duchess of Cambridge called teachers and school staff at Casterton Primary Academy to thank them for their hard work and dedication – and to wish the children a very Happy Easter 🐣 @_place2be
A post shared by Kensington Palace (@kensingtonroyal) on
But Kate and William also used a Zoom name during their meeting, and instead of choosing "Prince William" or "Duchess Kate" they simply called themselves "DOC." So…what does that mean, exactly?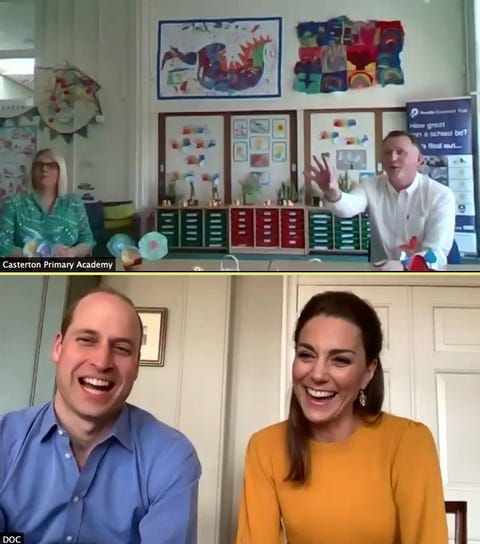 According to Town & Country, the couple appear to have abbreviated their royal titles Duke and Duchess of Cambridge into a handy acronym. So, like, if this has been bothering you immensely, the mystery is solved.
Also, if you're wondering what Kate and William are up to, they're currently staying at their country home with their children: "Kate bakes and decorates cakes with the kids [on] the weekend to keep them entertained," a source tells Us Weekly. "The kitchen is always a complete mess by the end of it, but it's all part of the fun — that's how Kate sees it. They also enjoy gardening together and planting seeds."

Source: Read Full Article