There's been a lot of questions, thoughts, and concerns about WTF Clayton Echard has been doing over on The Bachelor, specifically when it comes to keeping Shanae Ankney around for weeks despite a) literally everyone in the house accusing her of bullying, b) her mocking Elizabeth Corrigan for being neurodivergent, and c) her throwing the group date trophy into a pond.
And now it looks like Clayton is out here implying that production forced him to keep Shanae longer than he wanted to. Bachelor fan account @bachelornation.scoop noticed that one of Clayton's followers dropped this in the comments on one of his recent posts: "wear blue in your next photo if you were forced to keep Shanae against your will."
Cut to Clayton's next photo and yep: he's in blue. On top of that, he responded to the same fan when they wrote "YOUR SHORTS ARE BLUE," with "that is a correct observation!"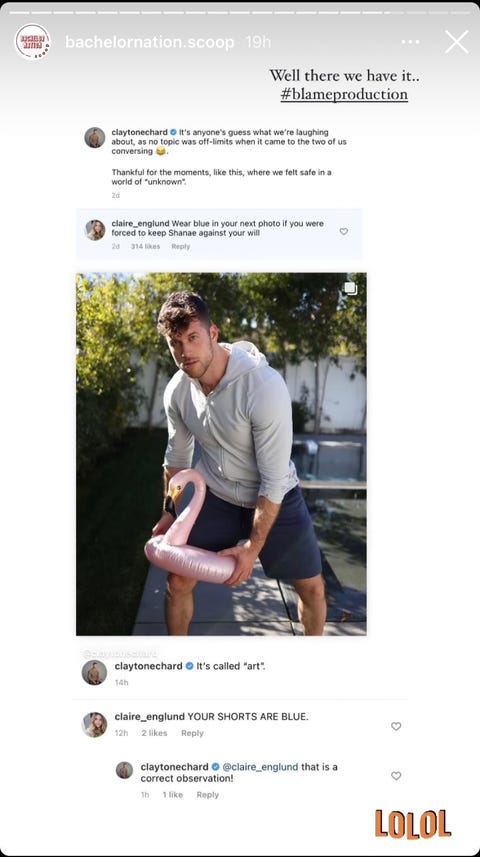 While Clayton will likely address his decision to keep Shanae around for so many weeks during the Women Tell All, contestant Lyndsey Windham accused him of lying in his apology to Elizabeth. (Reminder: he said, "I would have sent Shanae home immediately for making fun of you for being neurodivergent, had I known.")
Clayton…. You knew. Wish you the best tho #thebachelor
In conclusion: This season has been exhausting an it's not even half over yet.
Source: Read Full Article