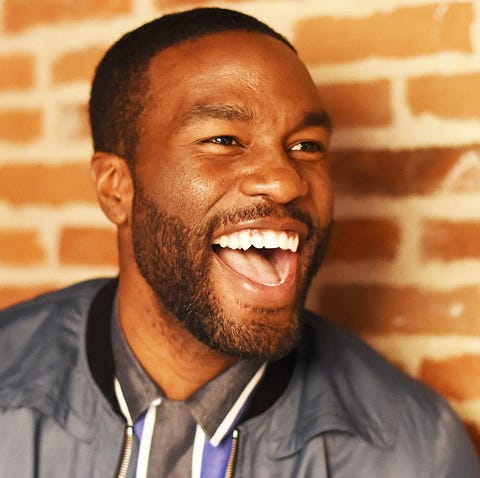 Let's start with the premise that if you met Yahya Abdul-Mateen II on the streets of L. A. (where he was when we spoke), or in a coffee shop in San Francisco (near where he grew up), or down in Atlanta (where he's been filming), you wouldn't necessarily know his face, but you'd probably think to yourself, What am I going to have for dinner? That's not to say that he doesn't make an impression (on the contrary), but he's not the most recognizable man on the street. The 32-year-old, New Orleans–born Abdul-Mateen is fairly normal. He goes to the gym, carries a backpack, and has a weakness for Apple Jacks.
Yet Abdul-Mateen is about to become very famous. This month, he'll embody Black Manta, the supervillain who goes up against Jason Momoa in the latest DC Comics spectacle, Aquaman (December 21). He's not exactly a Hollywood newcomer, but in almost record time he's gone from playing a disco-dancing sociopath on Baz Luhrmann's 2016 Netflix series The Get Down—his first role—to giving Aquaman a big wet punch in the face.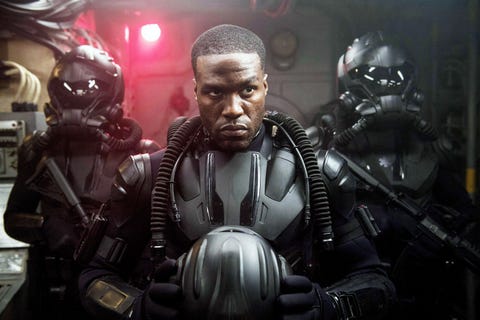 EverettJasin Boland
Moving swiftly from one achievement to another is sort of Abdul-Mateen's thing. Take his life pre-acting: He earned a bachelor's degree in architecture but after working for a few years thought he might just try acting. So he made a to-do list for an entire year. "I read that list every single day," he says. He studied it until he got into a slew of acting schools. He wound up at the Yale School of Drama. Ten days after his graduation, he was sitting in front of Luhrmann's camera, poised to become a star.
So how does a working actor competing for stardom against a bevy of would-be Chris [insert famous last name here]s end up becoming a recognizable name for years to come? The choices he makes help set him apart: routines, a few super-intense months at the gym, and a healthy dose of sunscreen.
When Abdul-Mateen was cast as Black Manta, he knew the costume would be formidable. Whereas Aquaman swans around in not much more than his skin, Black Manta is swathed in an armored, full-body diving suit—complete with a diving-bell-like helmet. "That suit is no joke," he says. "I don't think it's an exaggeration to say it was 70 pounds, but I'm sure we'll read later that it was 20 pounds." (Warner Bros. confirms it was 70 pounds.) Abdul-
Mateen has always been physical—the actor shaved an inch off his waist training for The Get Down. Now he was painfully aware of the challenges of acting from within a head-to-toe chastity belt. He wanted to wear the suit; he didn't want the suit to wear him.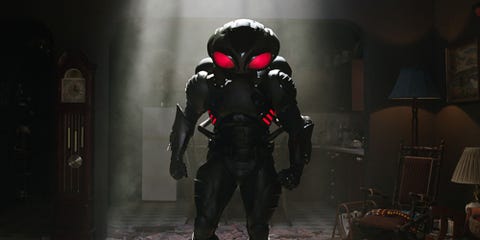 Warner Bros.
He and his trainer, Stuart Walton, spent two-plus months at the gym, doing workouts that sound slightly ludicrous. "You know, like 100 reps of something, weights stacked up to my chest," he says. There were moments that felt impossible. (Notably, he once misheard Walton's direction to complete 18 sets of lunges and overhead presses. The trainer had really said 80.) But they got into a rhythm and adapted the workouts to fit his Aquaman character. "He's annoyingly persistent, he's skilled, he will not stop until he gets what he wants." When Abdul-Mateen's resolve flagged, he thought of his costar Momoa; appearing alongside Khal Drogo is a great motivator.
This feeling of accountability, whether it's connected to a role, to a costar, or to yourself, is one of the secrets to checking "physical" off your to-do list to attain stardom. "I learned a lot about my body," says Abdul-Mateen of the process. Does he keep it up now that he's moved on to the next project? "Absolutely not, no way." But the beauty in working out like crazy for this movie is that he now has a gym regimen for whatever comes next.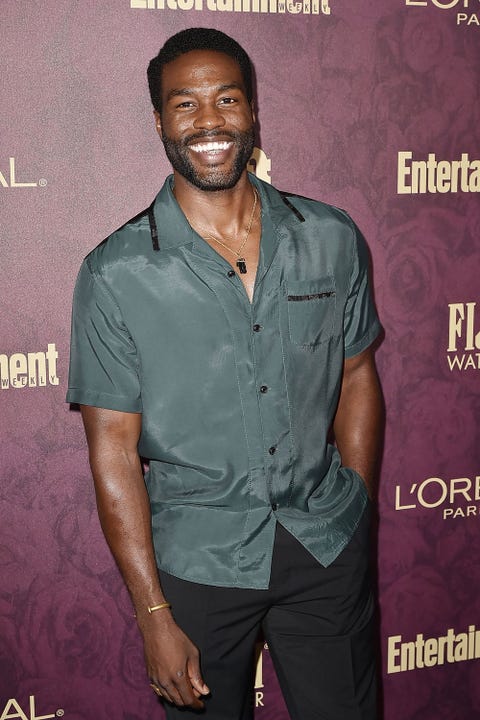 Getty ImagesDavid Crotty
All this becoming-a-movie-star stuff can take a toll on a man's skin, and Abdul-Mateen has gotten to the point where he needs to sit his face down and have a conversation. "I'm building a relationship with my skin," he says. "I'm like, Okay, I need to be somewhere Friday. So you can misbehave on Tuesday and Wednesday, but reel it in on Thursday so that we can be presentable on Friday."
Following the sage advice of his groomer, Joanna Simkin, has bolstered the relationship. She swears by routine: "It's not about going to the gym and then throwing yourself on the couch for two hours. Wash your face again!" For Abdul-Mateen, she recommended Kiehl's Oil Eliminator line for men (which includes a face wash and a shine-control moisturizer) and emphasized that after you've washed, exfoliated, and moisturized, you're not done: Next, use sunscreen. "Every time you shave, you're taking a little layer of your skin off and exposing it to the elements. You need to protect it." Her favorite is Glossier's Invisible Shield Daily Sunscreen (which can, mercifully, be ordered online).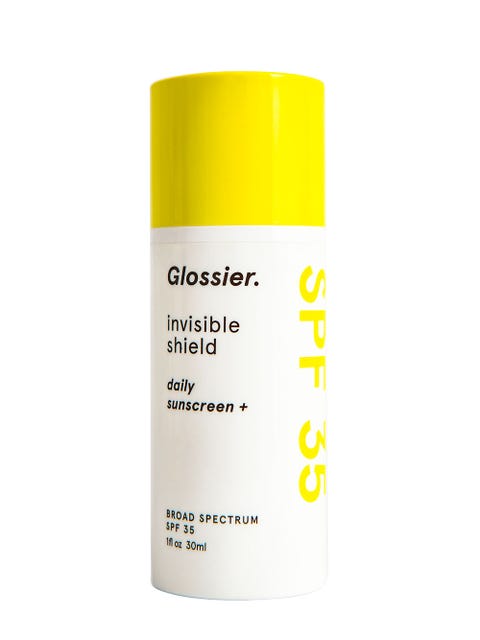 Glossier
That said, she sends Abdul-Mateen into the lion's den to stock up on essentials. "I go to Sephora now," he laughs. "I make sure that I have my proper serum, moisturizer, and cleanser, that I'm changing my brushes in my Clarisonic. It's nice to have the resources to be able to take care of yourself."
Abdul-Mateen has also taken to juicing. No, not the sort that gets you banned from baseball. He's literally making fresh juices for himself at home. The same kid who would rib his older brother for demanding fresh vegetables after coming home from college ("I thought he was just being a snob") now swears by beet, carrot, and orange juices and, of course, kale. Sugar—specifically the kind found in a certain orange-and-green O-shaped cereal—is verboten. When your job, and your ability to succeed, is tied to the way your body looks and feels, these types of shifts can be life-changing. "I love Apple Jacks," he says. "They send me over the edge. Once I start eating Apple Jacks, I start to crave sugar, and next thing you know, my bills are late and I don't know my lines and I'm late to set."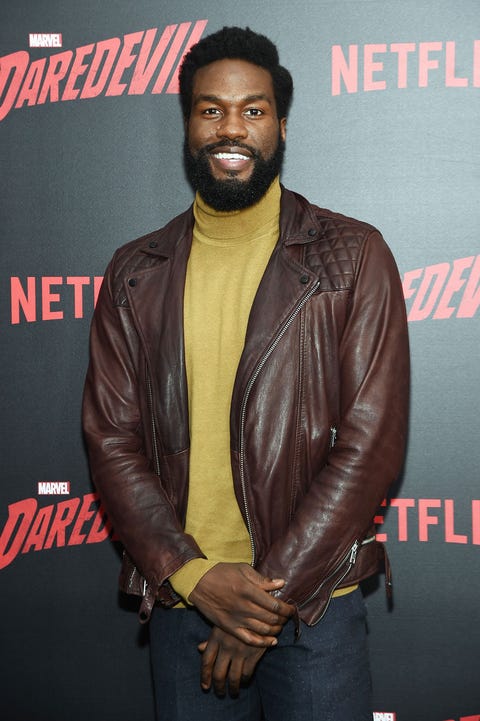 Getty ImagesJamie McCarthy
The last step in a man's journey to superstardom: getting his style nailed down. All the greats have something that makes them distinct—Jason Momoa has that beach-bummy, wild-dude vibe; Leonardo DiCaprio has his look-how-well-I-clean-up tuxedos; Jared Leto's got Gucci. Abdul-Mateen is easing himself into this new world of red carpets by looking for the ultimate uniform he can wear five days a week. "My sister calls me a cartoon because I wear the same thing every day," he says. He's turned up at events in a trim deep-blue suit with a black fur scarf, or a silk-shirt/leather-jacket combo. He has even pulled off a wide-brimmed Borsalino hat. "My style is classy with a little bit of left turn," he muses.
It's notable that, like many of the stars we find most stylish (Jonah Hill, for example), Abdul-Mateen isn't working with a stylist. He's building and evolving his look on his own. He hasn't ruled out the possibility of working with one (who would say no to some help?), but for now, his instincts are serving him well. He's spent enough time on his body that he might as well show the damn thing off: "I'll rock whatever complements my waist, long legs, and broad shoulders."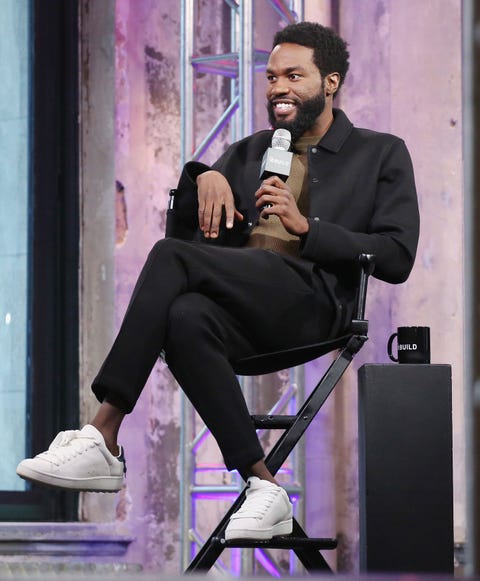 Getty ImagesMireya Acierto
Where will the work—the physical regimen, the skin care, the style moves—take Yahya Abdul-Mateen II next?
He's riding the Aquaman wave into three more projects, including the Damon Lindelof–
helmed Watchmen series for HBO, collecting entries on his IMDb page like stamps. The opportunities are emanating from his efforts—moves that separate superstars from one-hit wonders. Of course, raw talent helps, too. This is a man who left architecture
for acting on a whim and made it work. Yet he still thinks of himself as striving toward the big time. "I still hang my hat on that first job," he says. He's crossed "superhero movie" off the lifelong to-do list, so now what? "Best Actor" has a nice ring to it.
Source: Read Full Article