Amy Robach and T.J. Holmes' relationship is blossoming while their respective marriages are sadly coming to an end.
The former GMA3 hosts have seperated from their spouses with T.J. filing for divorce from his wife, Marilee Fiebig, and Amy now estranged from her husband, Andrew Shue.
However, Amy still follows Marilee on Instagram which will come as a surprise to those who have been following the story.
WATCH: Amy Robach and Andrew Shue's awkard interview with T.J. Holmes ahead of affair
While she's not liked any posts by the lawyer recently, back in August 2022 – around the time T.J. and Amy reportedly split from Marilee and Andrew – she showed her appreciation for a photo of her now-boyfriend, on his birthday.
The snapshot showed the father-of-three being hugged by his daughter, Sabine, 10 – who he shares with Marilee – as he was presented with his birthday cake.
TRENDING NOW: Who will David Muir's new 20/20 partner be following Amy Robach's departure from ABC?
POPULAR: GMA3 stars' wedding photos: Dr. Jennifer Ashton, Amy Robach, T.J. Holmes, more
Amy didn't comment, but at the time, it wouldn't have been a surprise that she liked the post as she and T.J. were friends before things turned romantic.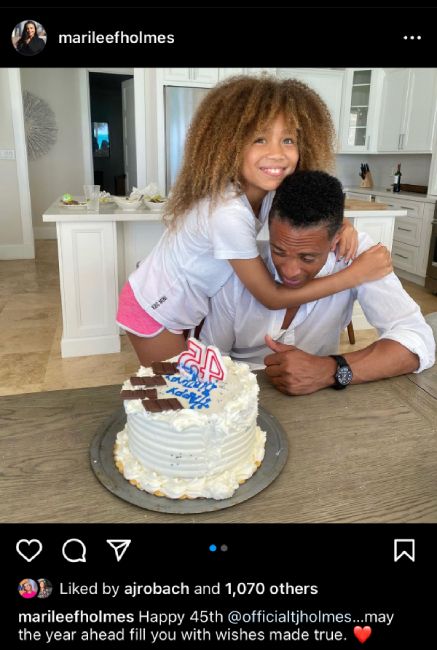 T.J. and his daughter on his birthday in 2022
News of their relationship was made public in November after they were photographed on an intimate vacation together.
They were swiftly taken off the air while ABC navigated news of their affair. On January 27 they were officially relieved of their hosting duties on GMA3.
POPULAR: Kelly Ripa and Mark Consuelos jet to Michigan to show support for youngest son
A spokesperson from the network released a statement to People which read: "After several productive conversations with Amy Robach and T.J. Holmes about different options, we all agreed it's best for everyone that they move on from ABC News.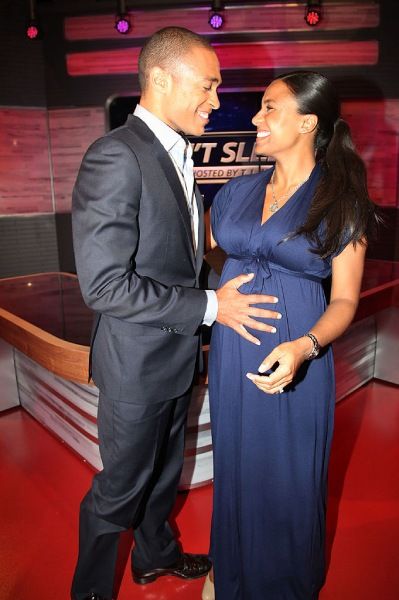 T.J. and Marilee have been married for 12 years
"We recognize their talent and commitment over the years and are thankful for their contributions. A decision for new co-hosts [of GMA3 and 20/20] will come later."
MORE: Amy Robach's tribute to T.J. Holmes following joint achievement
ALSO POPULAR: Meet NCIS star Sean Murray's family – including famous daughter who starred on the show
Marilee was seemingly blindsided by the relationship between her ex and Amy broke her silence in December with a statement in which her divorce lawyer, Stephanie Lehman, spoke on her behalf.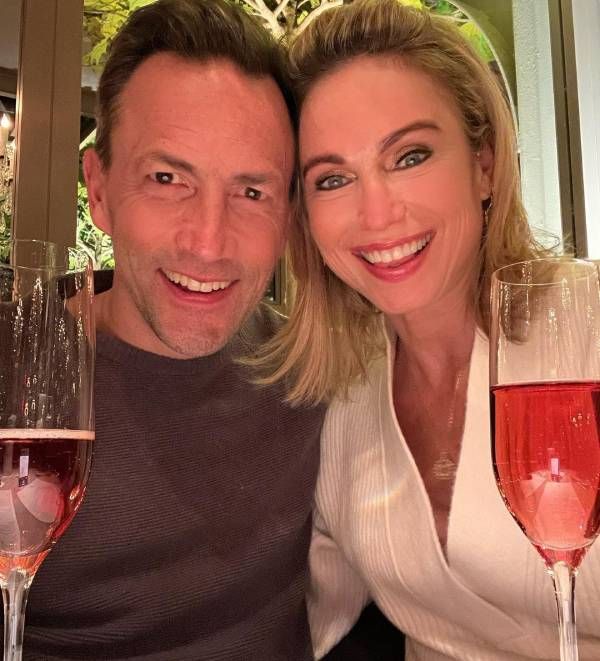 Amy has called time on her marriage to Andrew too
"Notwithstanding, we continue to be disappointed by T.J's lack of discretion, respect and sensitivity toward Marilee and the party's daughter," part of the statement read.
"Marilee has been touched by the outpouring of support and looks forward to a new beginning in this new year."
Andrew has not spoken publicly about the demise of his marriage, but tellingly removed all photos of Amy from his Instagram shortly after the romantic photos of his ex and T.J. emerged.
Read more HELLO! US stories here
Source: Read Full Article