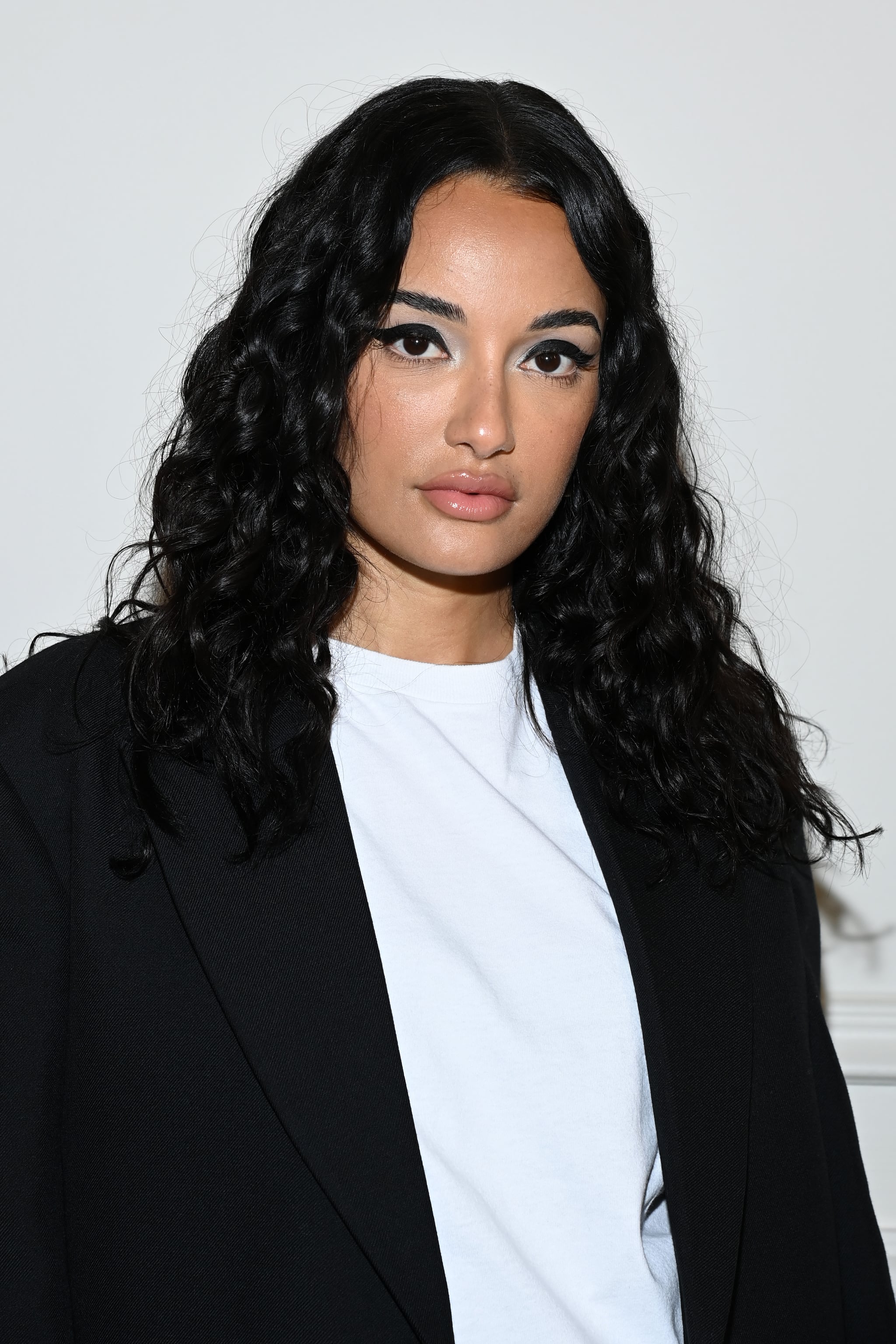 Amina Muaddi is setting the record straight on those A$AP Rocky cheating rumors. After a report surfaced on social media on Thursday claiming that Rihanna and Rocky split after she allegedly caught him cheating with the shoe designer during Paris Fashion Week, Muaddi shut down the allegations with a statement on her Instagram Stories on Friday.
"I've always believed that an unfounded lie spread on social media doesn't deserve any response or clarification, especially one that is so vile," Muaddi began. "I initially assumed that this fake gossip — fabricated with such malicious intent — would not be taken seriously. However in the last 24h I've been reminded that we live in a society that is so quick to speak on topics regardless of factual basis and that nothing is off limits." Referencing Rihanna's pregnancy, the designer added, "Not even during what should be one of the most beautiful and celebrated times in one's life."
She continued, "Therefore I have to speak up as this is not only directed towards me but it is related to people I have a great amount of respect and affection for. While Rih is continuing to live her serene, best dressed pregnancy life and I go back to my business — I wish everyone a beautiful Easter weekend!"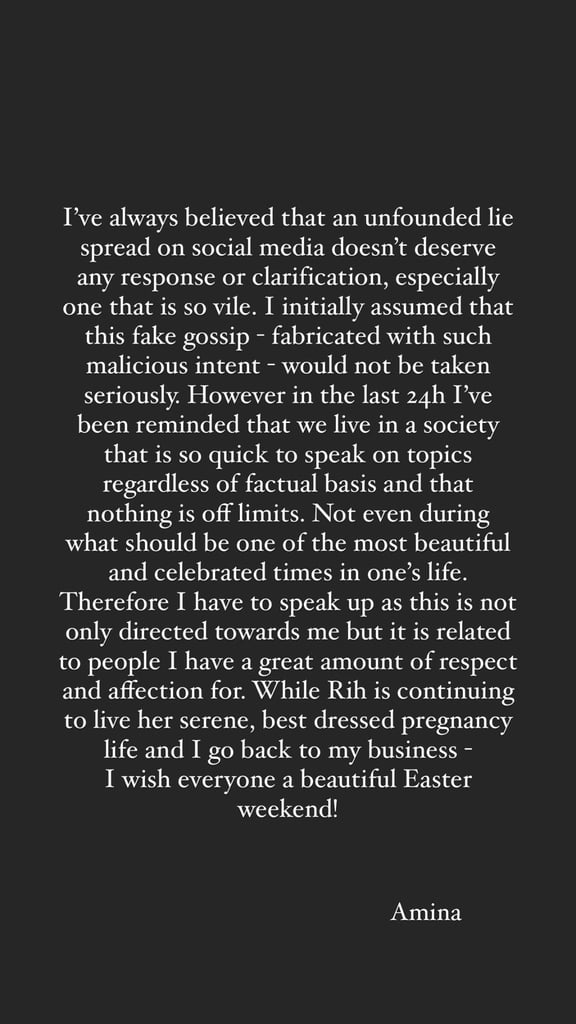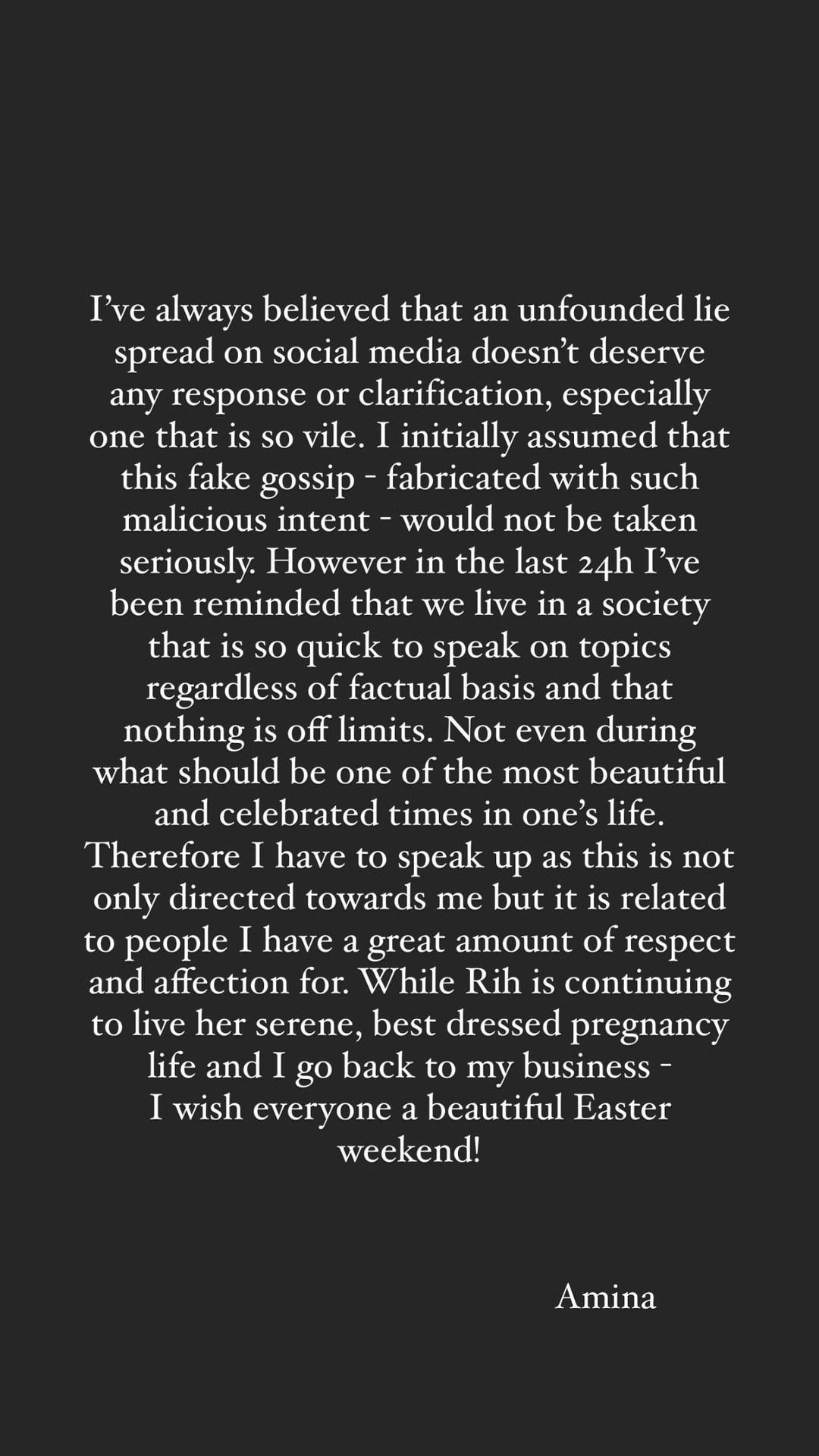 Image Source: Instagram user aminamuaddi
Rihanna and Rocky have been linked together since November 2020, but it wasn't until May 2021 that the rapper confirmed their romance to GQ. While speaking about their relationship, Rocky referred to Rihanna as his "lady" and "the one." This past January, the Fenty entrepreneur announced that she and Rocky are expecting their first child by debuting her baby bump in New York City.
In an interview with E!, Rihanna recalled how "hard" it was to keep her pregnancy a secret. "It was harder for me to keep it from my posse, because they're around me, they know my habits," she said. "They're like, 'You don't want something to drink? You're not smoking?' And I'm eating all the things I'm not used to eating. They know I hate sweets and I'm all of a sudden asking for cookies and donuts. But finally, I just had to let it all out, and they were all shocked, of course, as the world was shocked as well."
Source: Read Full Article