The Senegalese-American musician is brutally trolled on social media for his new hair piece which can be seen in a new photo with Fat Joe and Ja Rule in Dubai.
AceShowbiz –Akon has become the butt of the Internet's jokes. The "Bananza" hitmaker has been clowned on social media after he debuted his dramatic hairdo months after he underwent "painful" hair transplant surgery.
On Monday, January 23, the "Chammak Challo" singer reposted a photo of him, Fat Joe and Ja Rule in Dubai on Instagram Story. In the picture, he showed off the results of his hair transplant surgery. His hairline went straight across his head and the hair on his head was dark and quite prominent.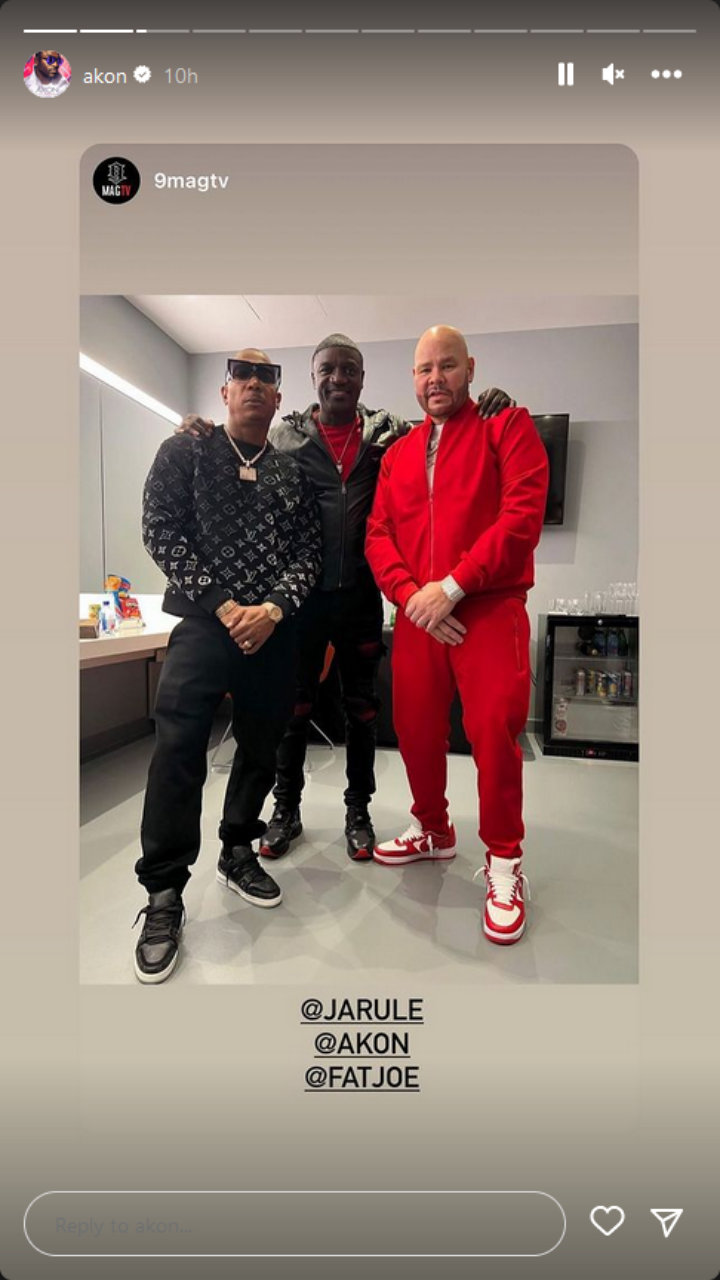 Akon debuted his new hair piece after hair transplant surgery.
Fans were left stunned by how his hair looked, with many mocking him online. "Akon 3D printed his hair," one person joked on Twitter. Another compared the look of his hair and the shape of his head to a grass hut, writing, "Deada**, Akon put a hut on his head and didn't think ppl would notice."
Someone else wrote, "Akon threw that hairpiece in the air and ran up under it." A different social media user noted that the hairpiece "looks bulletproof." Another commenter asked, "What is going on with Akon's scalp?"
Back in October, Akon confessed to getting hair transplant surgery done in Turkey. The procedure, which he got to restore his hairline, cost him $7,500. He also revealed that the procedure was somewhat "painful," saying, "The painful part is in the beginning when they gotta numb you up. That number ain't no joke. They stick a needle like this big, non-stop." However, he maintained that he was pleased with the results, calling it "amazing."
Despite saying so, Akon was clowned on social media with some hilarious memes. In one photo, he's compared to a Lego head. A second image showed a clearly Photoshopped addition of hair on the 49-year-old musician's forehead. A third edited picture saw a half of his hair hacked off. The final photo in the collage featured him completely bald.
Upon noticing the meme, Akon tweeted, "Yo this Akon hairline challenge is the funniest s**t I've ever [seen]." The "I Wanna Love You" artist got excited as saying, "You guys got me rolling!! Send more please!!!"
In a follow-up post, Akon shared a photo of a red-haired man with an arching hairline. "I know my hairline can't be worse then [sic] this," the Senegalese-American singer/record producer wrote.
You can share this post!
Source: Read Full Article