Clueless debuted over 20 years ago, but those who grew up on the plaid skirts and feathery pens still love anything Cher Horowitz themed, which is why the show still lives on. A case in point: Hot Topic released a Clueless palette, and it's getting a lot of buzz in the makeup world. Hot Topic isn't the first brand to create a Clueless inspired makeup palette — Peachy Queen beat them to it with a palette that consists of 30 '90s-influenced shadows — but this one in particular includes a bevvy of show references and throwback, retro colors. Plus, it's only $15, making it budget-friendly and available to makeup lovers in all price points.
The Clueless eyeshadow palette comes in a spiral notebook that features a bright yellow and blue plaid cover that is reminiscent of one of Cher's most famous outfits — her yellow plaid skirt suit set. The front says "Clueless Eyeshadow Palette" is silver sparkly letters, along with one of Cher's favorite catchphrases, "Totally Buggin'." When you flip open the notebook-slash-palette, you're met with 12 different shadows, along with a heart shaped mirror with the phrase, "You're a total Betty." For those who don't remember, a "Betty" is 1980's surfer slang for an attractive girl, and something that Cher called her mom, asking, "Wasn't my Mom a total betty?"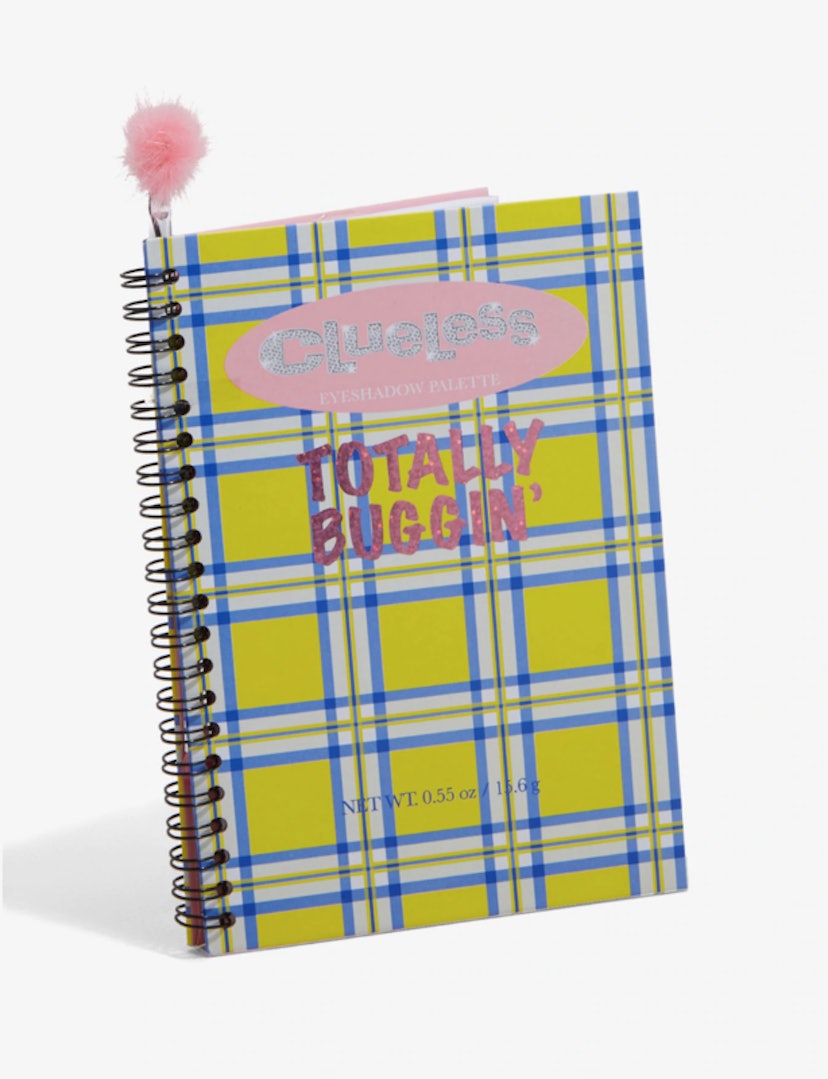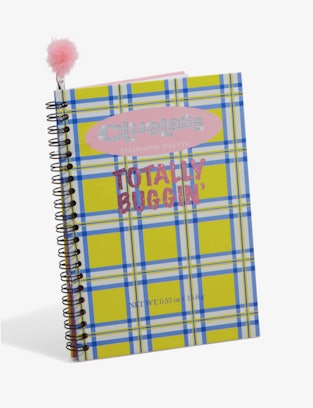 Clueless Totally Buggin' Eyeshadow Palette
$13.50
Hot Topic
The eyeshadow pans are embedded in what looks like a lined notebook page, and on the bottom there is a handwritten note reading, "Some people are not lucky enough to be as naturally adorable as you are." The palette consists of six matte shades and six shimmer hues, letting you mix and match textures. The colors will bring you back straight to the '90s, with their Clueless-heavy references.
In the first row, you have a light pink matte hue called "Whatever," which is Cher's signature phrase. Then there is the dusty red shade called "Totally Buggin'," followed by a matte purple called "Fabulous."
In the second row you get a pale yellow color dubbed "Oops!," followed by the first sparkly shade coming in a bright Robin Egg's Blue called "Makeover," which was one of Cher's favorite pastimes. Next to that hue is a dark brown color named "Homies," which references "Rollin' with the Homies;" which was Elton's and Tai's song.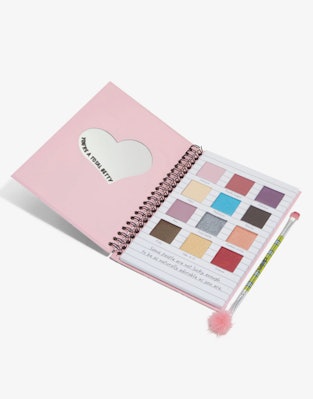 Clueless Totally Buggin' Eyeshadow Palette
$13.50
Hot Topic
In the third row, you get a dusty rose hue named "Dee;" followed by a glitter-packed silver called "Totally Betty," and a light orange shimmer called "Fashion Victim." In the last row there is a light brown sparkle hue dubbed "Picky," followed by a pastel yellow shimmer named "As If," and a bright red shadow called "Woman."
If that wasn't packed enough with show references for you, then the makeup brush will clinch it. the eyeshadow brush is topped off with a fuzzy pom pom at the end, just like Cher's iconic pen that she uses at school and waves around as she's musing.
Packed with pretty colors and Cher-Horowitz-approved catchphrases and references, this would be an amazing palette to have on your vanity table.
Source: Read Full Article