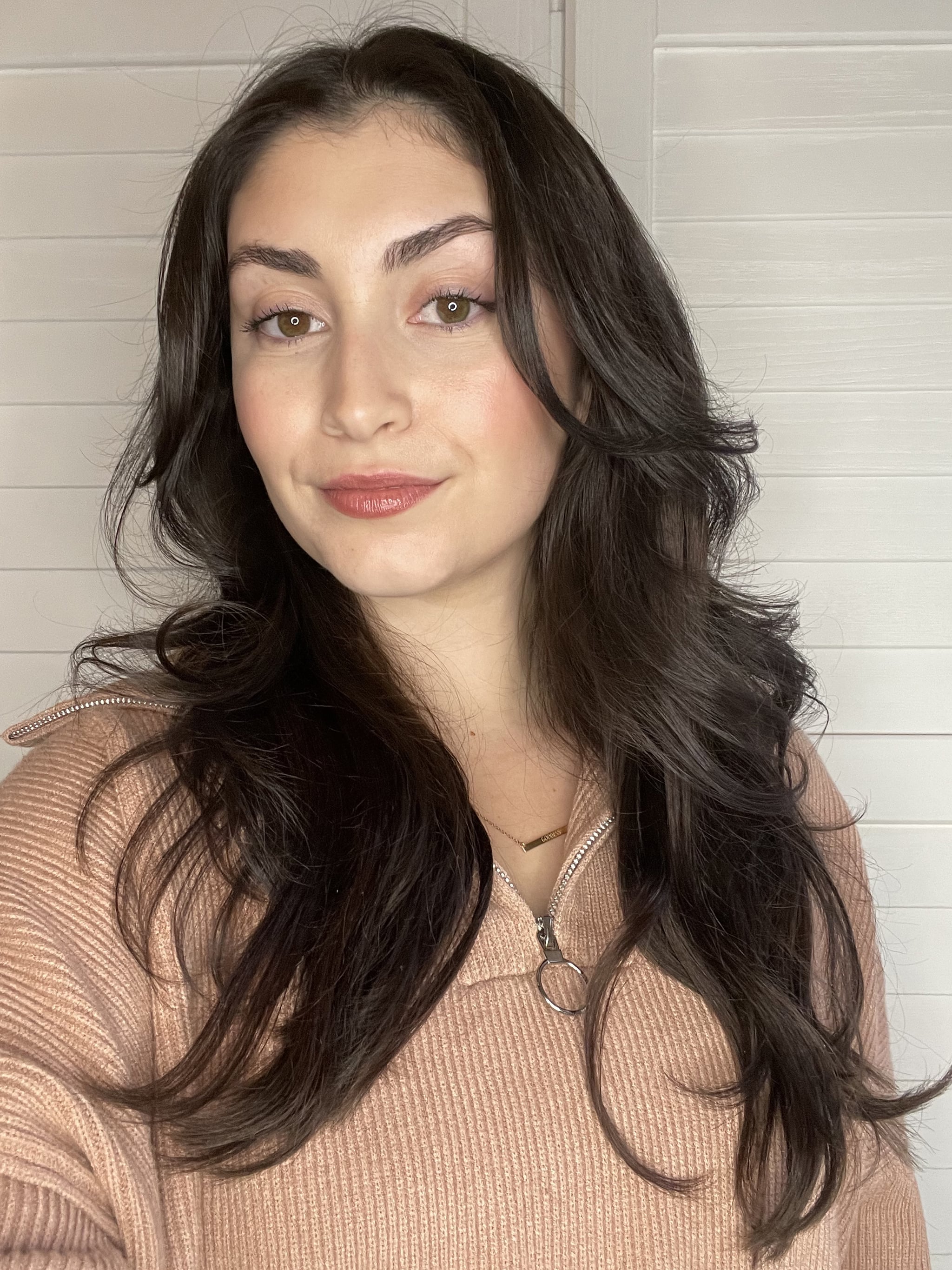 I have very fine hair, and it's been that way my entire life. It runs in my family, too, so I have long accepted the fact that this is my lot in life. Hairstylists have told me that I have a lot of hair on my head, but the strands are just very thin, meaning when I put it up into a ponytail, it has the circumference of a penny. The idea of trying hair extensions didn't really cross my mind until a few months ago, mainly due to laziness. For the longest time, I didn't have much of a hair routine to speak of (I always air-dried and just let it do its thing), but recently I have gotten into giving myself blowouts and wanted to experiment. That's when I decided to give the Luxy Halo Hair Extensions ($265) a try.
Luxy Hair makes a variety of high-quality pieces — clip-in ponytails, buns, bangs, you name it — but the Halo style stood out to me because it would add thickness and volume to my hair when it's down. For those unfamiliar, halo extensions use a super-thin hidden wire to secure around the crown of your head. The hairpiece sits flush against your head, and your natural hair goes over it. Luxy's version also has a set of small clips along the band that attach to your head for an added layer of security. From what I learned on the internet and TikTok, halo-style extensions are fairly easy to put in and take out, making them a go-to for my DIY extension wearers.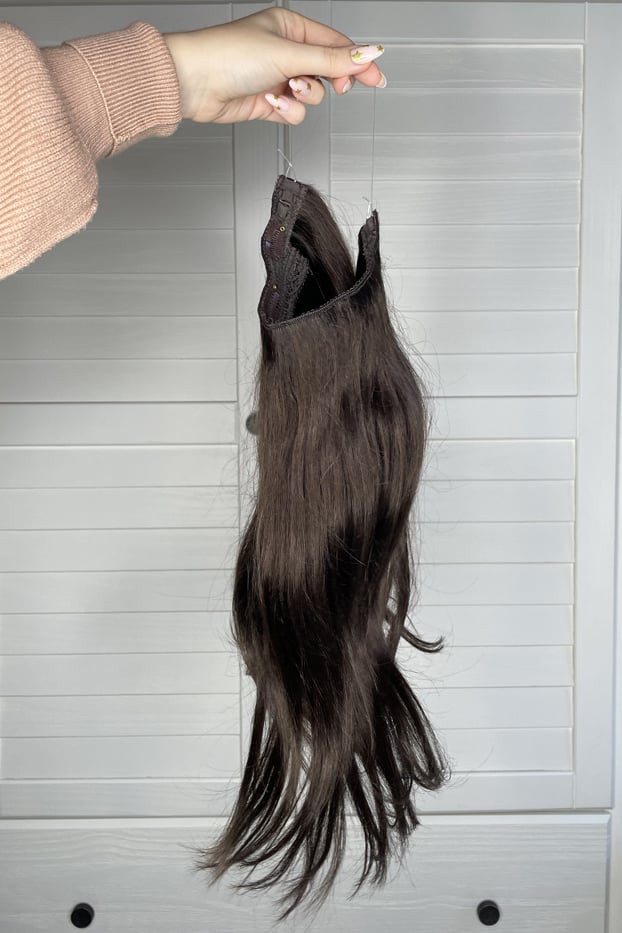 I used the website's shade-matching feature to find the right color, which ended up being the shade Dark Brown. (Spoiler: it's a perfect match.) The Halo option also comes in two lengths — 16 inches and 20 inches — so I opted for the 16-inch option.
To start, I washed and styled my hair as normal to give myself a bouncy blowout. Then I was ready to put in the hairpiece. The instructions say to gather a large section of hair at the back of your head around the crown and clip it out of the way. This is where the halo wire will sit. I used my blow-dry clips, like the DryBar Hold Hair Clips ($19), to hold that section of my hair out of the way and opened the snap clips along the extensions.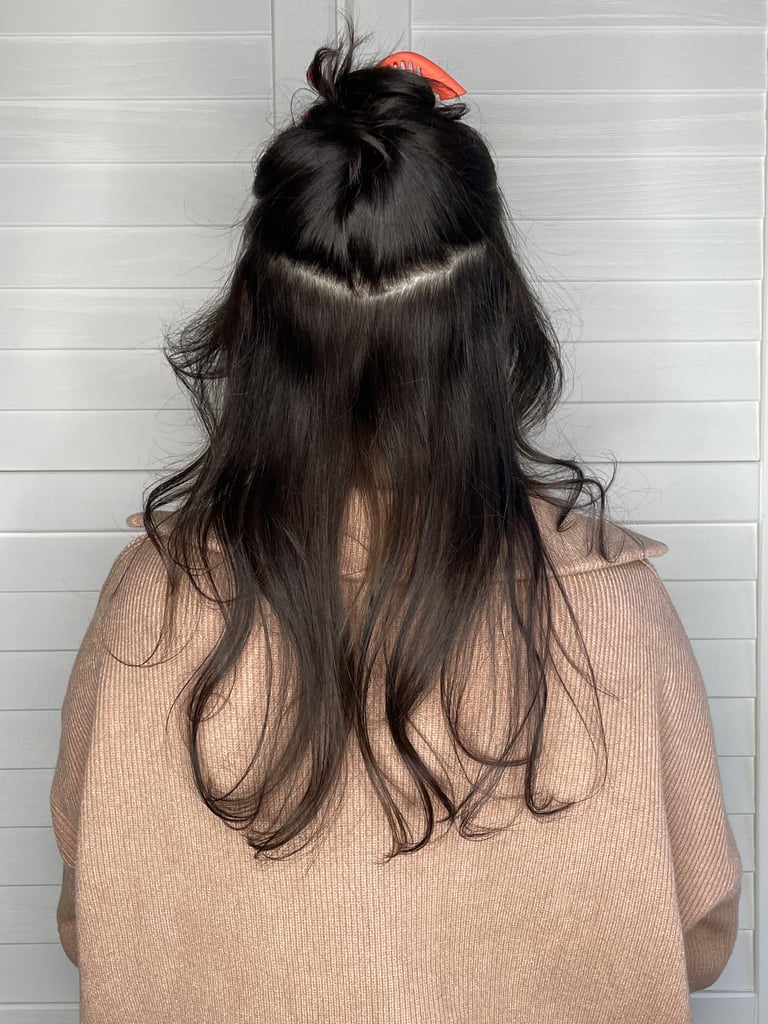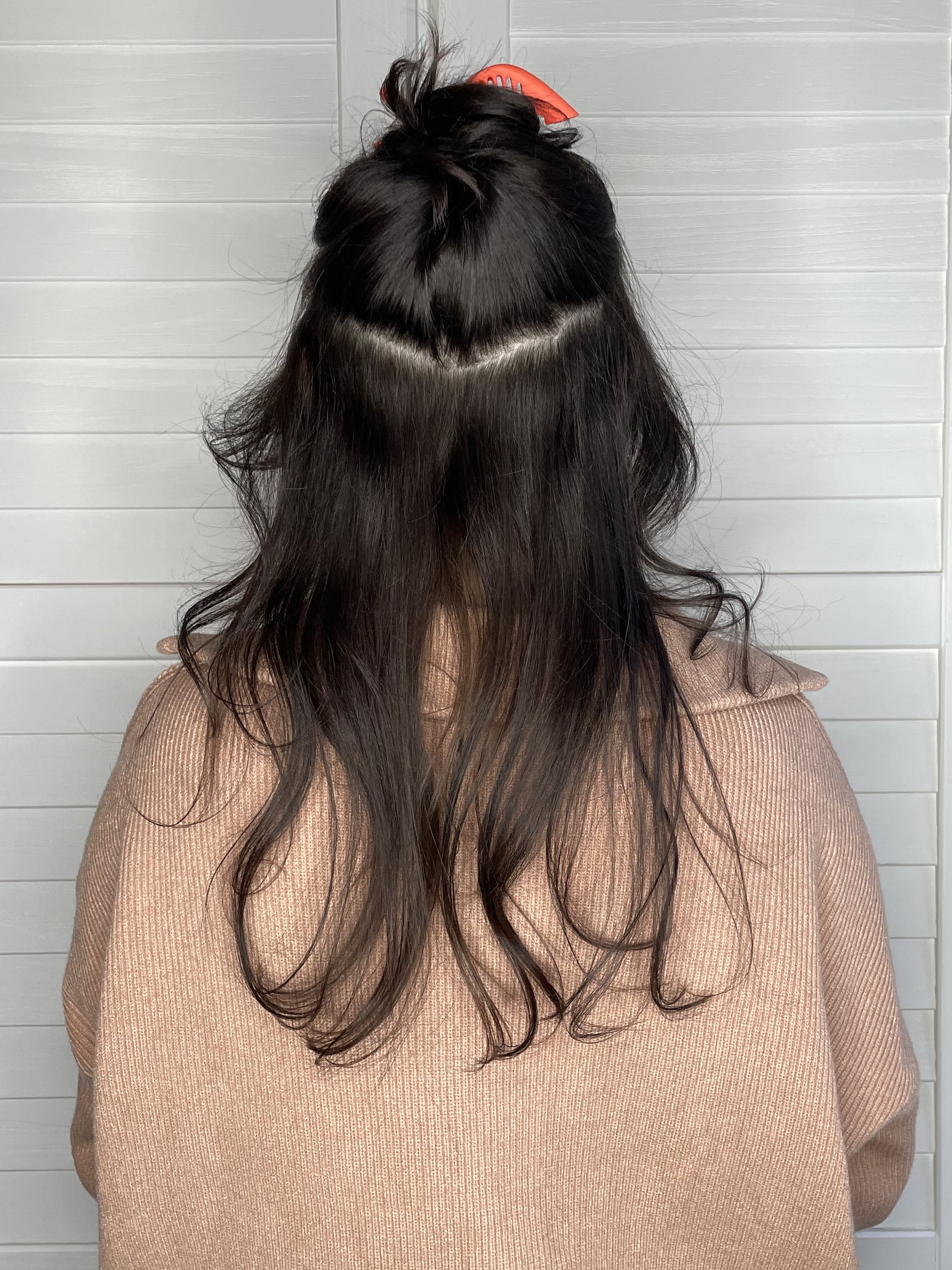 The Luxy Hair kit comes with different length options for the wire that you can switch out depending on the size of your head. To no surprise of my own, the XL wire fit me best. This is where things got tricky: I placed the wire around the crown of my head and pulled the extensions down until it became taut and the snaps lined up with my scalp. My first six tries were unsuccessful because the clips kept getting stuck in my hair or the wire would slide off. Through trial and error, I found that I needed to section off a larger area of hair to ensure the snaps sat low enough on my head that they didn't stick out. But once I got the placement just right, I was able to close the snaps, and everything felt secure.
With the hairpiece in place, I let down the section of hair at the back of my head and used a wide-tooth comb to brush it out, concealing the band of the hair extensions in the process. I thought the clear wire would be noticeable on my scalp, but with some brushing, it completely disappeared.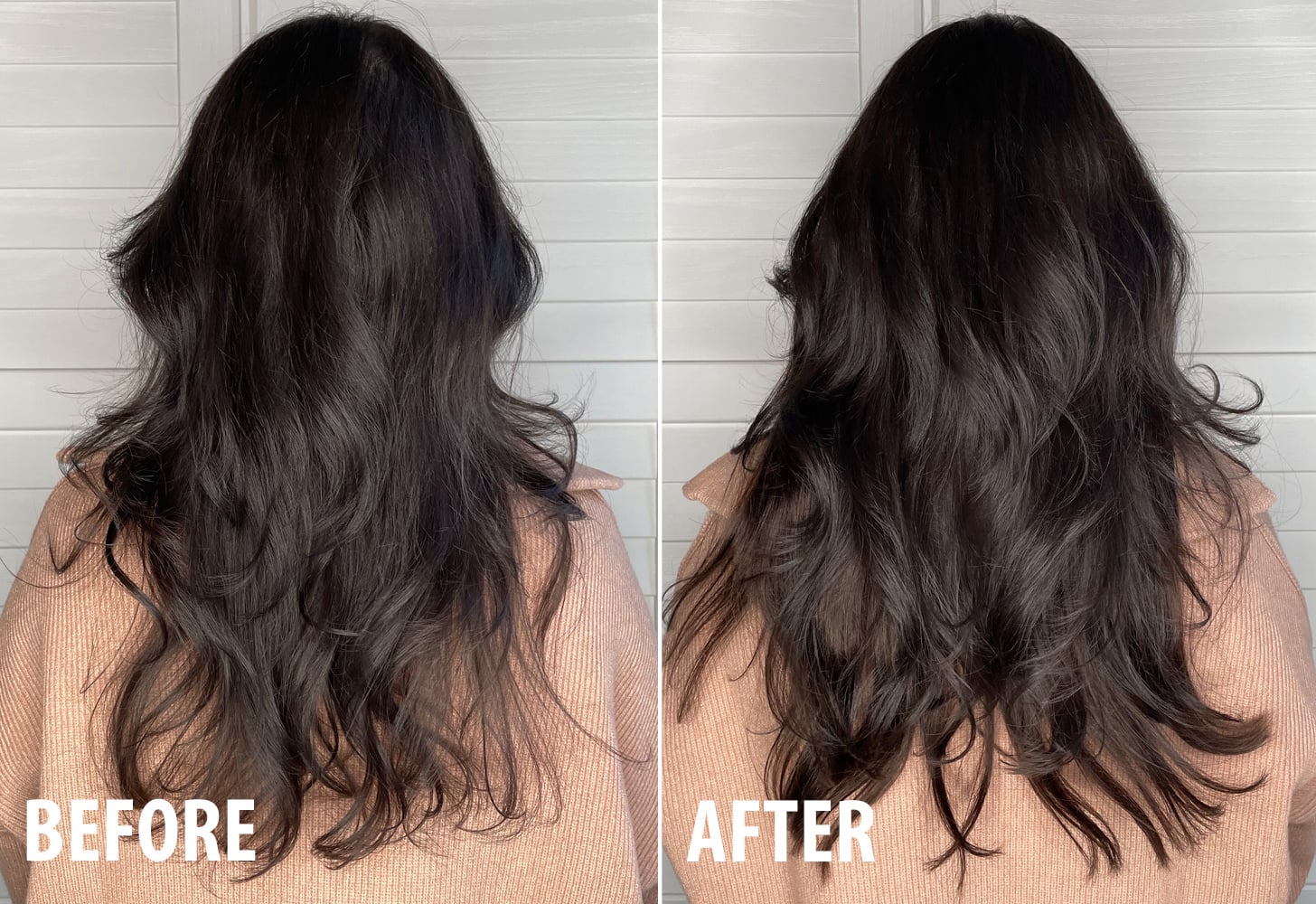 With the Luxy Halo Hair Extensions in place, my hair was completely transformed. I'm talking Disney-princess-level thick and voluminous. They blended seamlessly into the rest of my blown-out hair, adding two to three inches to my length. Most importantly, the extensions looked really natural, which is something I was nervous about prior to trying them.
My hairstyling skills are at the basic level, so putting in the Luxy Halo Hair Extensions was a little challenging at first, but after a brief learning curve, I feel like I have it down. I never thought I'd feel or see my hair look so thick, and it was a surreal experience. I immediately FaceTimed a couple of friends who squealed at how good they looked. As you can tell, I'm kind of obsessed.
Rating: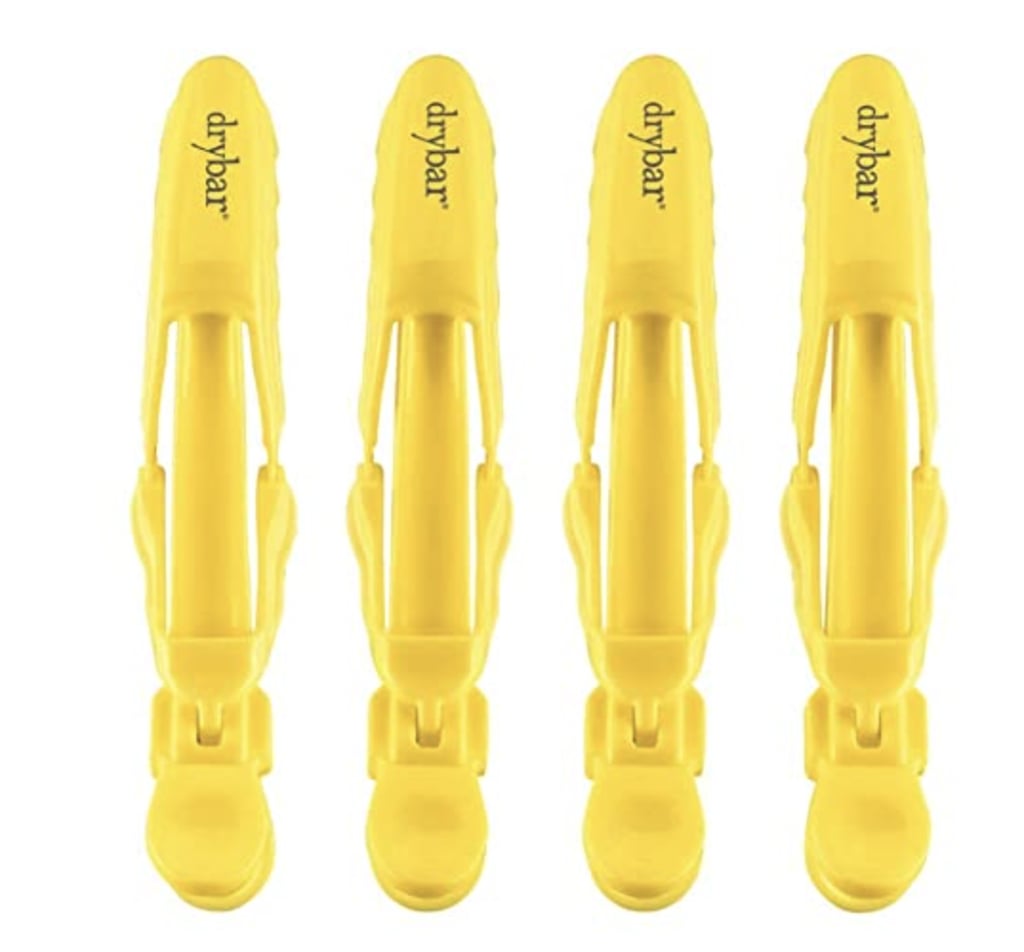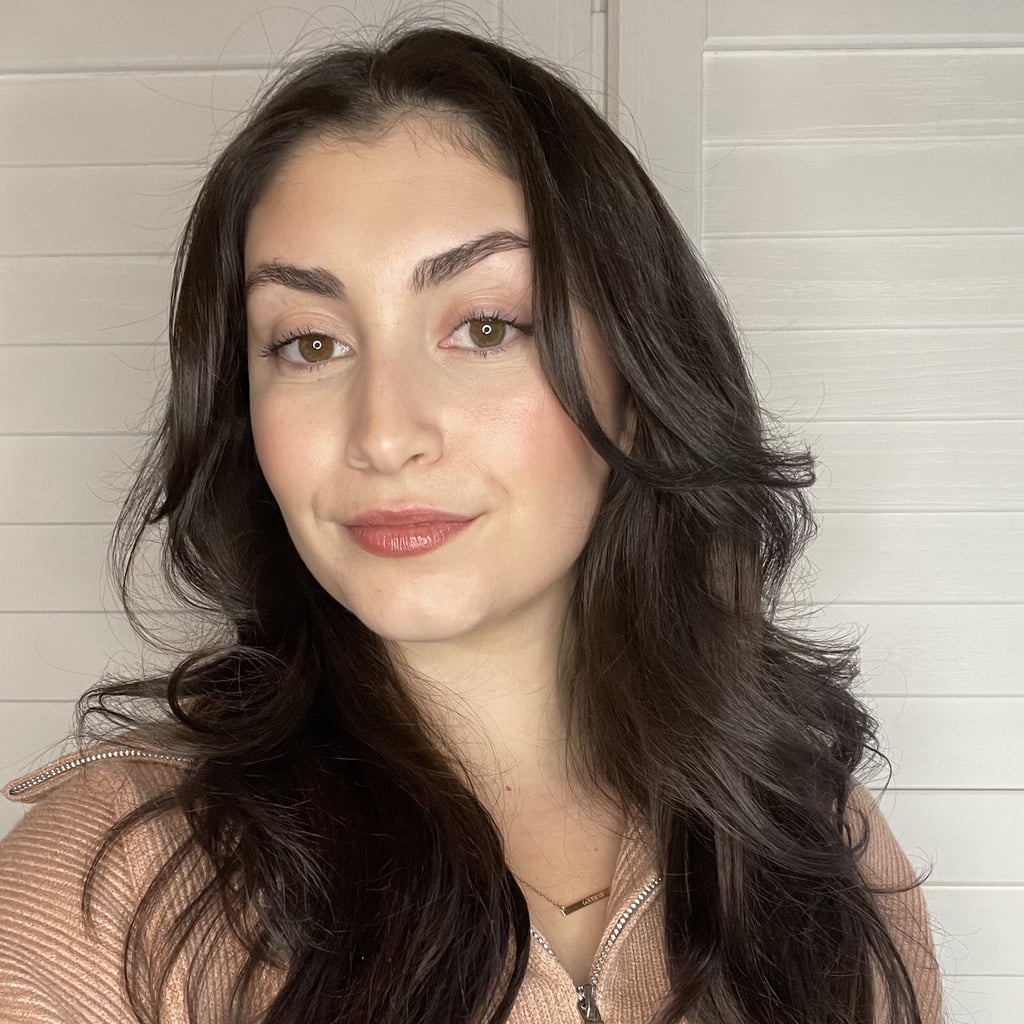 Source: Read Full Article