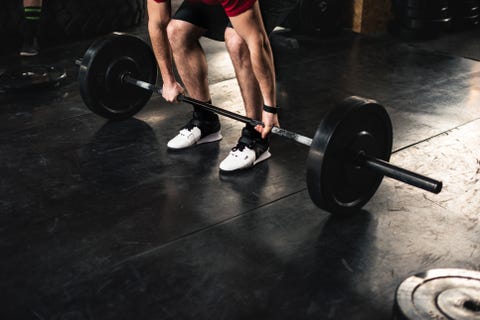 What you wear to the gym can be just as important as the equipment you use for your workout.
You wouldn't wear a stiff pair of khakis and loafers into the squat rack — if you do, reconsider your life choices, please. Instead, you opt for flexible, comfortable clothes that allow you to squat, lunge, press, and jump without being impeded. Your footwear should be even more utilitarian.
Whether you're a seasoned weightlifter or just starting out, getting the right pair of weightlifting shoes is important — and the best pair for you depends on what sort of workout you're performing. A proper pair of shoes could help push you past your PRs, since they're engineered to help you maintain proper balance and technique.
One 2012 study found that when lifters performed a one rep max barbell back squat, they were more likely to maintain proper form and reduce lower back strain while wearing weightlifting shoes versus basketball sneakers. Another more recent study similarly found that compared to more general athletic shoes, weightlifting shoes reduced ankle movement and helped lifters maintain an upright torso during squats.
Of course, shoes alone will not help at all if you don't have proper technique. "You don't want to have a 25-cent squat in $200 shoes," says Scott Caulfield, CSCS, the head strength and conditioning coach at the National Strength and Conditioning Association. In other words, no matter what shoes you end up buying, always remember to practice, practice, practice.
How to Pick Your Kicks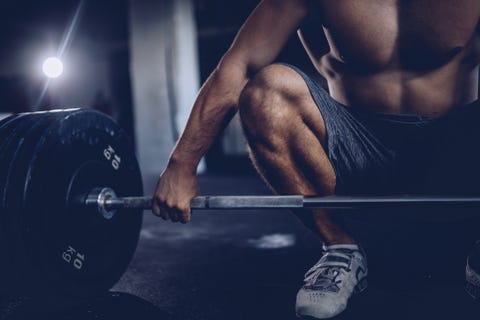 Getty ImagesSouth_agency
There are many kinds of kicks available, depending on the discipline you're trying to master. Some basic elements tend to make up a solid shoe for lifting weights — particularly for regular squatting and Olympic weightlifting, where the weight is going to be placed on your back or lifted above your head. "You are going to need a shoe that has a hard sole, an elevated heel, and some lateral support," says Sean Waxman, CSCS, head coach and owner of Waxman's Gym.
The problem with wearing running shoes or basketball sneakers while lifting weights is that those shoes have built-in cushions to absorb every step you take. Lifters must be close to the ground (some even go barefoot) to generate as much force through the floor as possible in order to pick up heavy weights.
"The hard, flat sole in weightlifting shoes allows more force to be applied into the ground," Caulfield says. "You wouldn't want to use a real big air cushion sneaker to lift in, because that cushioning is going to just dissipate force and be like a big sponge on the foot and on the floor."
No matter what discipline you practice, you want the sole to be hard and flat. An elevated heel helps the natural movement of your body and your torso stay upright during a snatch or clean-and-jerk. "The heel lift gives you a little bit more mobility in your ankle," Caulfield says. "By raising your heel, it allows you to get into your lower squat position, and also allows you to maintain an upright posture easier, because what happens if you lean too far forward, the biomechanics of that bar being out over you can put you in a bad position."
But for squatting, deadlifting, and bench pressing at maximum volume — you need to skip the heel. "If you're going to squat wide stance, you don't want a heel," says Jordan Syatt, owner of Syatt Fitness and five-time powerlifting record-holder. "You should have a flat shoe." The heel does not serve you well in a wide stance because it stops mimicking your body's natural position as you do a squat. And in a deadlift, Waxman says, you need to have your weight back towards the heel — so an elevated heel is no good. That's why many powerlifters demand a more minimalistic shoe with a flat sole.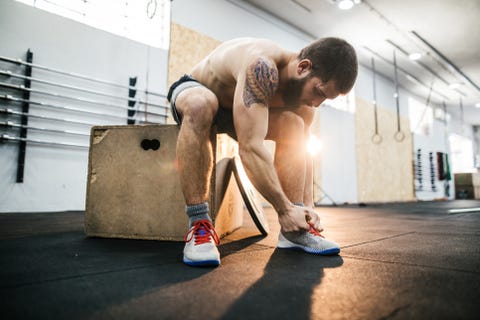 Getty Imagesmiodrag ignjatovic
CrossFit adds another complexity to the lifter's shoe dilemma. "In a workout where you might be doing more than just lifting, you'll want something multifunctional," says Caulfield. "If your workout is going to involve jumping on boxes, or shuffling, or doing any sort of agility, you want to have a shoe that can take on that." That means CrossFit shoes have the flat sole of most lifting shoes, but with added flexibility in the toe and sole that allows for more movement. Some even come with extra traction for rope climbs.
No matter what interests you most, we've got you covered.
Best for Squats and Deadlifts: Converse Chuck Taylor All Stars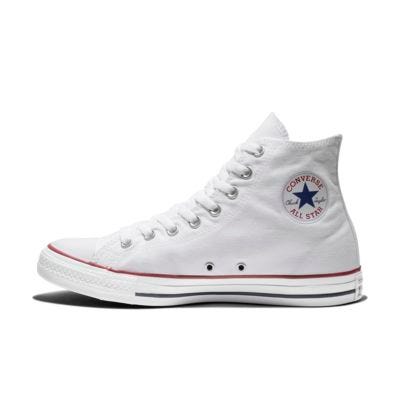 Some of our experts disagreed on various points—but no one chose anything other than the classic Converse Chucks to meet your powerlifting needs. "From a powerlifting standpoint, they're pretty much standard," Caulfield says.
Chucks have the necessary hard, flat rubber sole that you require for your strongest lifts, as well as some ankle support when you get the high-tops. For wide-stance squats (where you don't want a heel but need to be close to the floor), deadlifts, and bench press, Chuck Taylors have remained the king for decades. "I got Chuck Taylors as my first lifting shoe when I was like 18, and I loved them," Syatt says.
Also check out: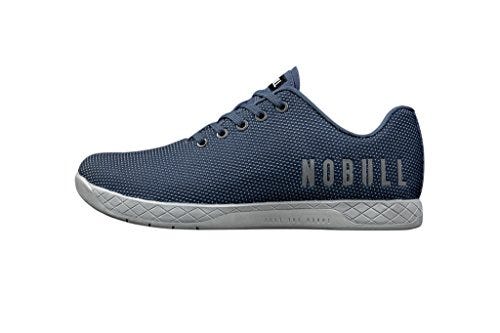 Best for Explosive Movements: Adidas Adipower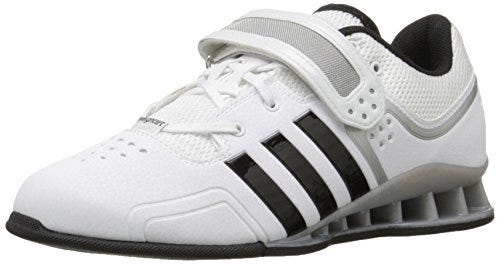 Hard, wooden, flat sole? Check. Elevated heel? Check. Lateral support strap? You got it. While anything with those three elements will work pretty well, the Adidas Adipower has a lot of little extras thrown in that make them particularly comfortable. "They are the standard, and everyone loves them," Syatt says.
The Adipowers are particularly stiff, not giving much lateral mobility and stabilizing the ankle—perfect for a narrower squat or Olympic weightlifting. They're comfortable, and the snug, stable, narrower fit gives you the best squat and Olympic lifting shoe you can find.
Also check out: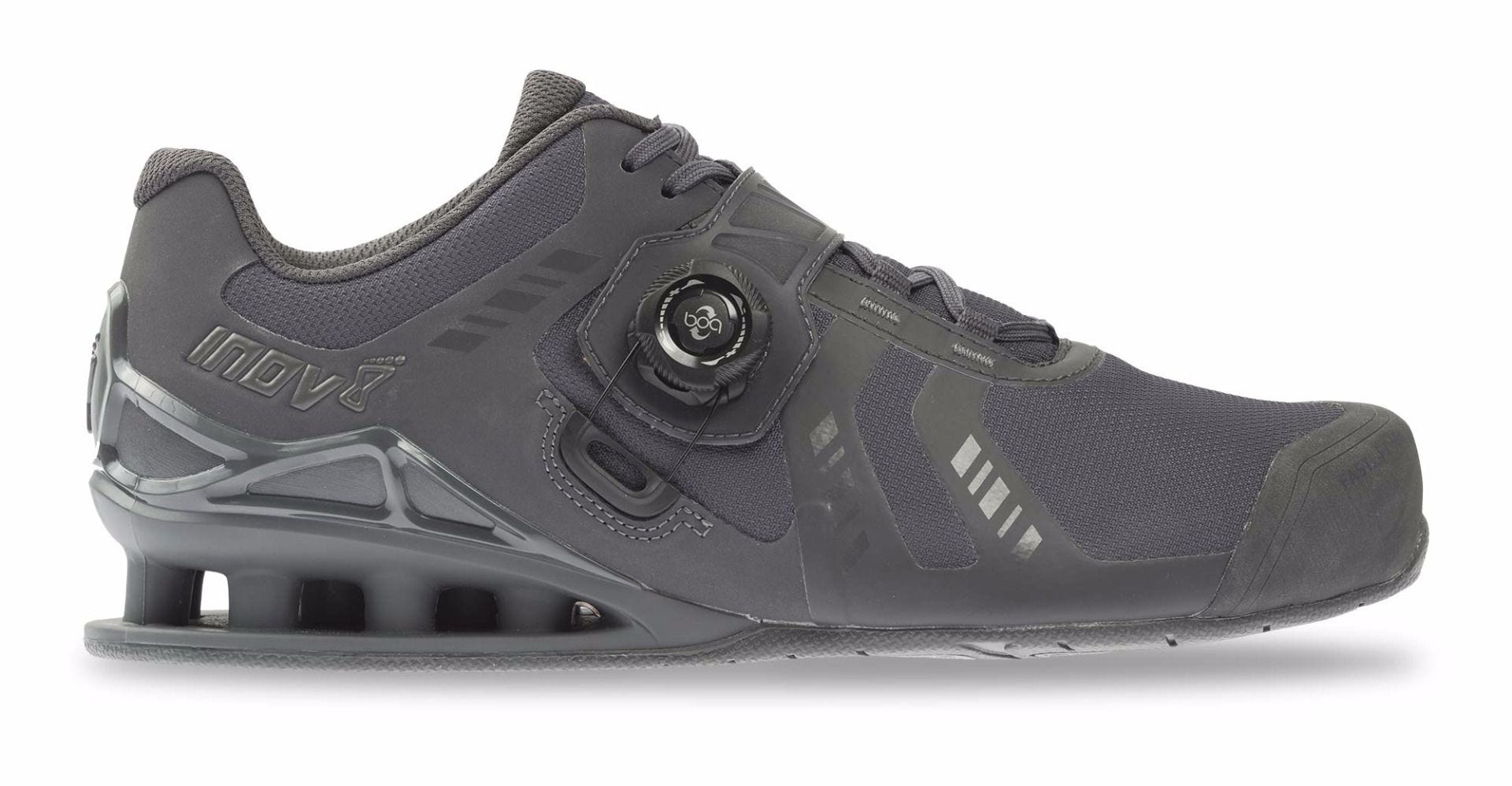 CrossFit: Nike Metcon 4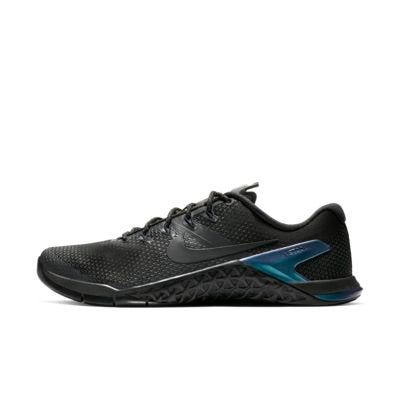 The best all-around CrossFit shoes should have tons of dynamism to them — for lifting, running, box jumps, or whatever your WOD may contain. "It's flat, and it's very sticky on the bottom, which is perfect," Syatt says. "And it's also very athletic."
Different types of textures on shoes' uppers adds breathability, and low-cut profiles allow maximal mobility. Nike latest features an upper with a haptic shield, the company's Flywire technology for a better fit, and a rubber forefoot for improved traction.
Also check out: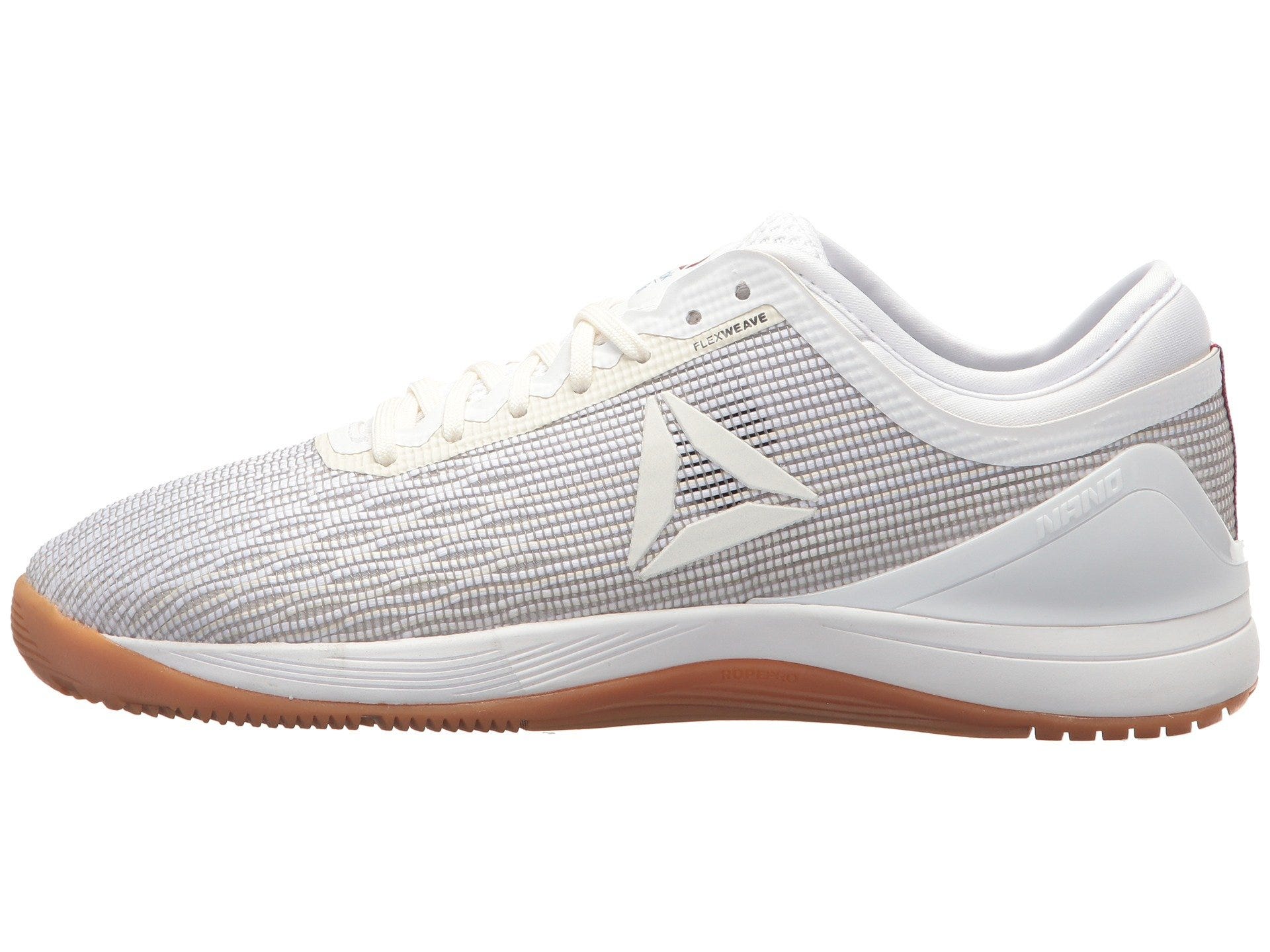 Source: Read Full Article