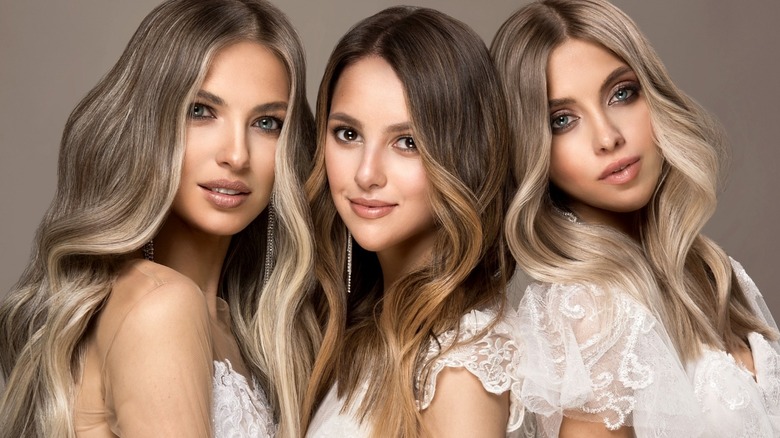 Those of you who love rocking makeup know that there are a number of factors to consider when determining which look to go for. These factors usually include your outfit, your skin tone and undertone, and in some cases, your hairstyle. But what about your hair color? Should that be a variable when deciding your makeup? 
We all know that the right hair color has the ability to accentuate or enhance your natural complexion, as does the right makeup look (via Byrdie). So perhaps it is worth considering hair color when doing your makeup, if only to avoid clashing and/or washing yourself out — which can easily be the case for those with blond hair, according to Shape. 
With that being said, if you're naturally blond or have recently converted to one, here are some tips and tricks to help you pick the right makeup looks. To make things even easier for you, we have also taken skin tone into account (you're welcome!).
Try these makeup items if you're fairer skinned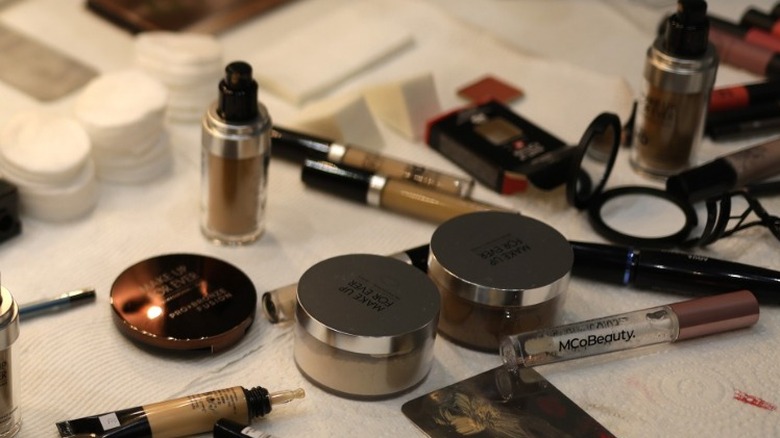 If you have light blond hair and are light-skinned, then you might benefit from picking up some bronzer. "Fair-skinned blondes can run the risk of looking 'washed out' when they go platinum. Swipe on a bit of bronzer on your forehead, cheeks, and chin to make sure your bone structure doesn't get lost," Kelli Bartlett, the director of artistry and education at Glamsquad, told Byrdie. One highly rated bronzer worth trying is NARS' Bronze Powder ($38, Sephora). You will want to apply the powder on the peaks of your face (around where the sun might hit).
Another piece of advice for those of you who are fairer skinned is to avoid black eyeliner and instead switch to brown (you can pick up Urban Decay's 24/7 Glide-On Waterproof Eyeliner Pencil at Sephora for $22). You will also want to stick to lighter shades such as pastels (think: lavender or pink) for eyes and lips, according to makeup artist Jamie Greenberg (via Oprah.com).
However, if you have a very pale blond color (i.e., platinum), you can get away with sporting a bold lip color, such as red or burgundy, per Matrix. Two lipsticks to buy ASAP include Dior's Rouge Dior Refillable Lipstick in red ($38, Sephora) and Yves Saint Laurent's Rouge Pur Couture Satin Lipstick Collection in deep ruby ($38, Sephora).
Those with medium skin should try these makeup looks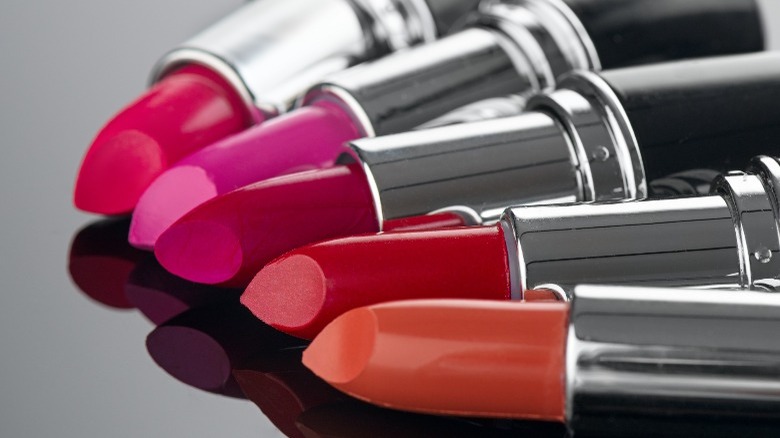 If you have medium skin and blond hair, you can work with a richer color scheme, according to Greenberg (via Oprah), who recommends gold tones for eyelids, cabernet-colored lips, and darker eyeliners. You can get this look with NARS' Summer Solstice Eyeshadow Palette ($49, Sephora), Shiseido's ModernMatte Powder Lipstick in Dark Fantasy ($26, Shiseido), and KVD Beauty's Tattoo Eyeliner's Tattoo Eyeliner in Satin Black ($21, Sephora).
If your hair shade is a golden blond, in particular, then shimmering yellow hues and warm pinks will strongly complement your locks and your complexion, per Beaut. Whereas Honey Artists makeup artist Daniela Gozlan suggests that medium skin tones can play around with both "cool and warm shades of pink and red on lips and cheeks" (via Byrdie).
If you feel experimenting with your eyeshadow, you can try Anastasia Beverly Hills's Norvina Eyeshadow Palette ($45, Sephora), which features a spread of whimsical shades in both cool and warm tones! As for your cheeks, you can pick up Rare Beauty by Selena Gomez's Soft Pinch Liquid Blush in Dewy True Red ($20, Sephora), or bareMinerals' Gen Nude Blonzer Blush + Bronzer in Kiss of Pink ($25, Sephora).
If you're deeper skinned, try these makeup looks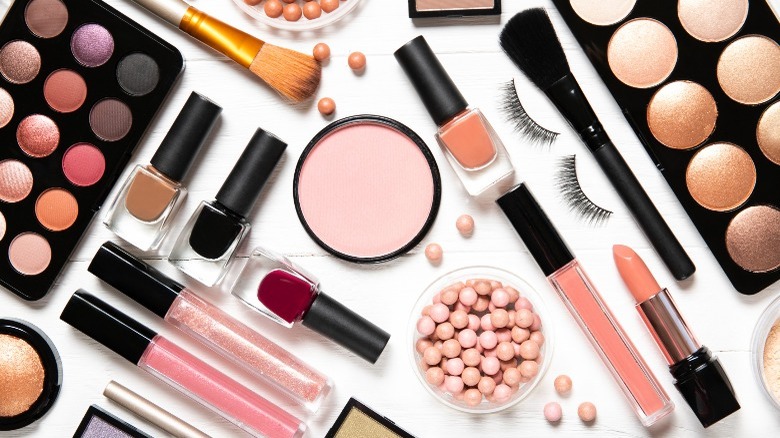 If you have deeper skin tones and blond hair, you are going to want to go for bronzy earth tones around the eye area, as Greenberg told Oprah.com. She also recommends going for pink shades around the cheeks and berry colors for lips. Some products to help you achieve this chic look are HUDA BEAUTY's Brown Obsessions Eyeshadow Palette's Brown Obsessions Eyeshadow Palette ($29, Sephora), Dior's BACKSTAGE Rosy Glow Blush in Pink ($37, Sephora), and Tower 28 Beauty's ShineOn Jelly Lip Gloss in Sheer Berry ($14, Sephora). 
Another color scheme that works great with richer skin tones is orange hues, according to Gozlan (per Byrdie). If you wish to play around with orange shades, go ahead and try Too Faced's Mini Light My Fire Eye Shadow Palette ($27, Sephora), Anastasia Beverly Hills' Blush Trio in Peachy Love ($30, Sephora), and FENTY BEAUTY by Rihanna's Mattemoiselle Plush Matte Lipstick in Tiger Tini Exotic Orange ($7, Sephora). 
If you have bleach blond locks, specifically, then a plum lip can help you to really make a statement, per Stylecraze. Try Givenchy's Le Rouge Lipstick in Deep Plum ($38, Sephora). 
Though these are the experts' recommendations, makeup is about expression, so feel free to play around and have fun with any color scheme you wish!
Source: Read Full Article