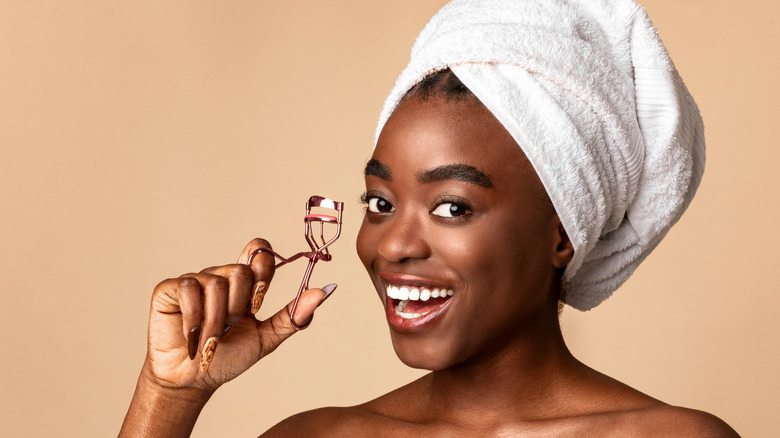 All prices are current as of time of publication. If you click a link and buy a product from a merchant, we may be paid an affiliate commission.
Do eyelash curlers really make a difference? As a matter of fact, they can lift and brighten the appearance of your eyes without any mascara. With mascara, they take your makeup game to a whole new level.
We've all used mascara without a curler before, whether it's because our previous curler broke or we were simply being a little lazy. However, failing to curl your lashes before applying mascara can result in lashes sticking straight out or forming big clumps. This is all to say that yes, eyelash curlers make a huge difference.
But with so many choices, finding the right eyelash curler for your needs can be a daunting task. To keep you from going down the lash curler rabbit hole, we've compiled a list of the best eyelash curlers and kits available on Amazon. 
Best eyelash curler that gives you the most bang for your buck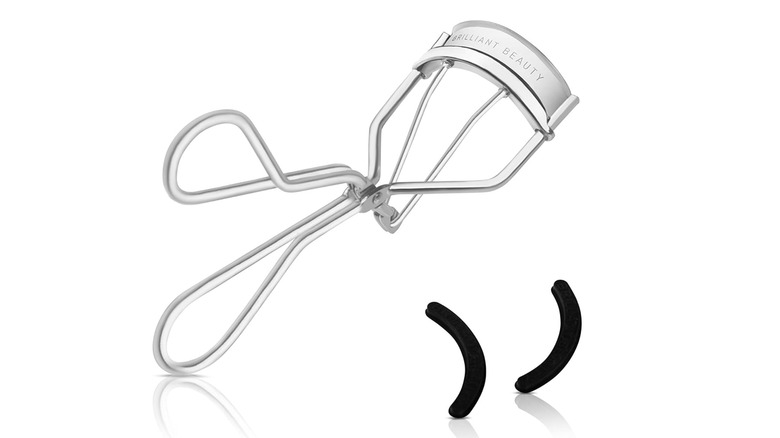 With eyelash curlers, sometimes nothing is better than a simple classic. Brilliant Beauty offers a curler in a tried-and-true design, with elegant handles and a stainless steel frame. The longer curl surface should gently grab hold of all your eyelashes in one go, so you don't have to repeat the curling step in your makeup routine. Reviewers note that the curling pads are stiff enough to provide an excellent curl almost instantly, but not overly stiff to the point that they could damage your eyelashes. Reviewers also made a note of the excellent customer service from the brand.
Purchase the Brilliant Beauty Eyelash Curler on Amazon for $9.47.
Best eyelash curlers for fake eyelashes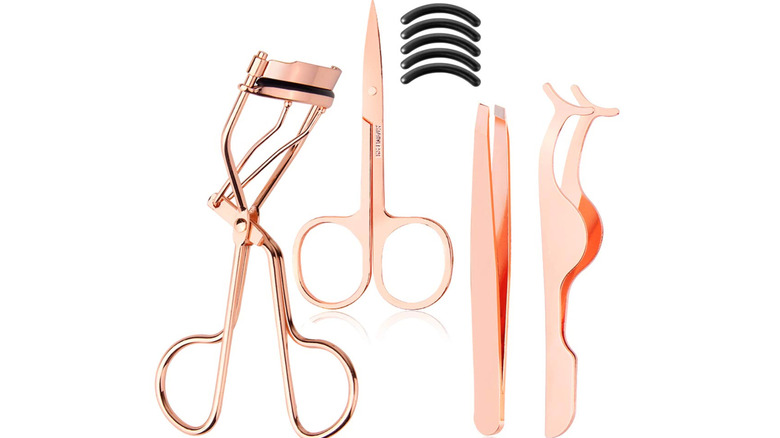 If you're a fake eyelashes devotee, you know the tools are as important as the lashes. Fake eyelashes require not just a good curler, but a decent pair of tweezers, lash tweezers, and even scissors for last minute modifications.
That's why you should consider the Arroyner Four-Piece Eyelash Kit or the Yaomiao Eyelash Set. The Arroyner kit comes with a classic eyelash curler, precision scissors, precision flat-head tweezers, curved lash tweezers, and five replacement curling pads. The Yaomiao set comes with a sturdy, non-slip curler, a mini eyelash curler for lashes that are difficult to reach or manipulate, a pair of eyelash tweezers, and 20 replacement pads for both the large curler and the mini curler. Since both sets are designed for use with fake eyelashes, either one can help you achieve the full, even lashes of your dreams.
Purchase the Arroyner Four-Piece Eyelash Kit on Amazon for $6.99.
Purchase the Yaomiao Makeup Tools Eyelash Set on Amazon for $9.99.
Best eyelash curler for straight lashes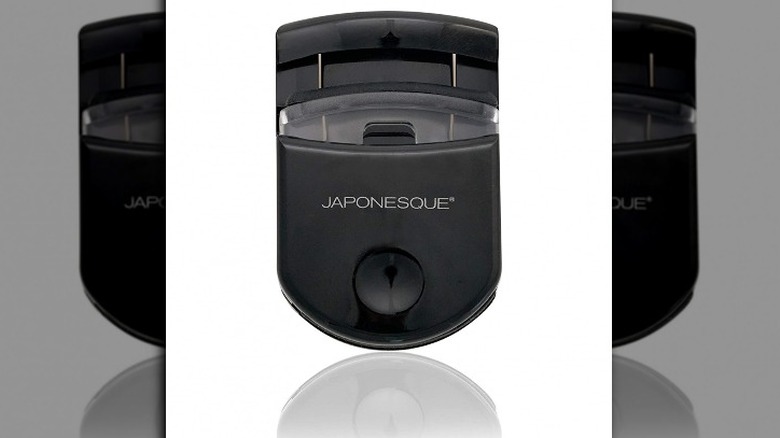 Do you struggle to achieve a full curl with the typical eyelash curler? Lashes that are fine and incredibly straight don't take well to curlers, and can make putting on mascara or fake lashes all the more difficult. Fortunately, Japonesque sells a unique eyelash curler designed to help even the straightest lashes form a beautiful curve.
The product is made of plastic and designed to perform the curl press for you. According to the instructions, you use it by carefully lining up your lashes under the top of the device and on the pad line. Then, you flip the lever down and squeeze it to your desired pressure to create the curl. When you are done, simply lift up the lever and gently remove it from your eyelashes. Note that Japoneque strongly suggests applying mascara after using the curler.
Purchase the Japonesque Go Curl Eyelash Curler on Amazon for $11.00.
Best eyelash curler for for short lashes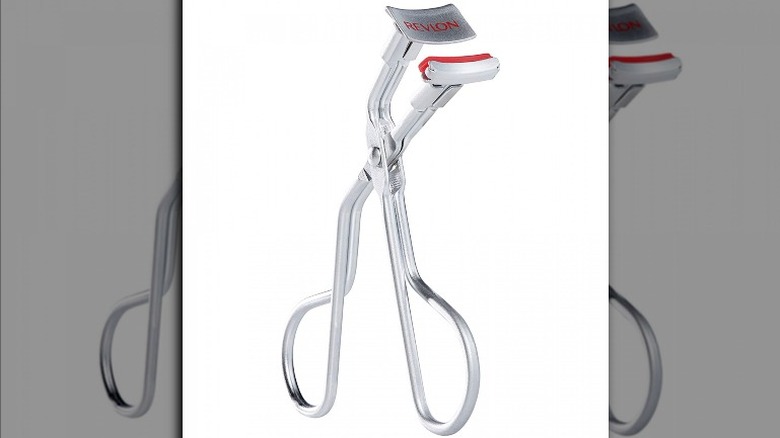 While everyone has shorter lashes toward the sides of their eyes, some of us have even shorter, straighter lashes on the sides than others. For this reason, a tool designed for short lashes may be an excellent investment. The Revlon Precision Lash Curler works well to curl the inner and outer corner lashes that a standard, full-sized curler may miss. The sleek design consists of a full-handled grip for control and narrow front plates to reach right to the lash line. If you have the patience, you can even use this tool to give all of your eyelashes a precise, rounded curl.
Purchase the Revlon Precision Lash Curler on Amazon for $10.19.
Best professional eyelash curler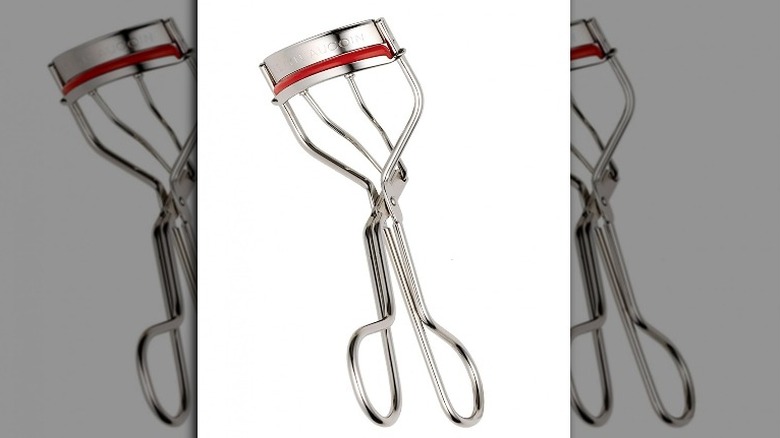 Have you ever wondered which eyelash curlers professionals use? Celebrity makeup artists reportedly love the Kevyn Aucoin Professional Eyelash Curler, according to Elle. They note that this curler has the perfect curve for even the roundest eyes, and the rubber pads help give lashes a beautiful, natural-looking lift. Reviewers have written similar praises, and expressed pleasure at how wide the curler opens so that it can capture all the lashes. While it is certainly pricier than the typical drugstore curler, many customers believe it's worth the extra cost, as the product is designed to last.
Purchase the Kevyn Aucoin Professional Eyelash Curler on Amazon for $21.00.
Best eyelash curler that comes with a complete grooming kit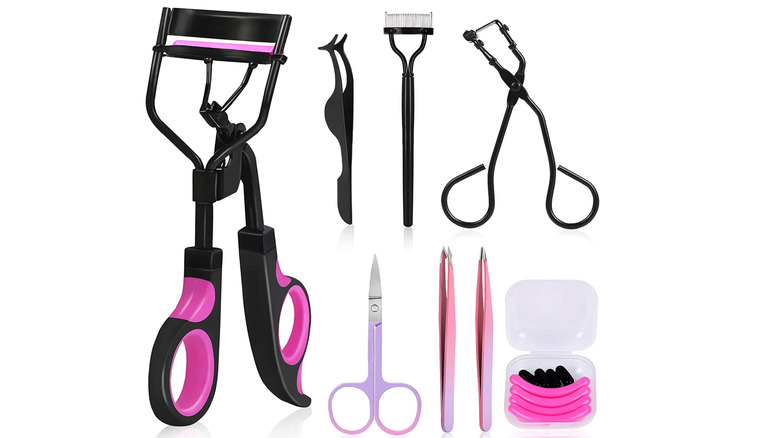 Purchasing various lash tools separately online can add up to a huge bill. As a result, an all-inclusive kit can be the answer to your money woes, and it doesn't necessarily require you to lower your standards. Moduskeye offers a 7-in-1 eyelash kit that includes a plastic, heavy-duty curler, a mini curler, fake-eyelash tweezers, eyebrow and lash sheers, an eyelash comb, flathead tweezers, pointed tweezers, and four replacement pads for each curler. The incredibly low price may make this kit worth your while, especially if you aren't looking to pay the big bucks for a professional set.
Purchase the Moduskeye 7-in-1 Lash Curler Kit on Amazon for $8.99.
Best eyelash curler and comb duo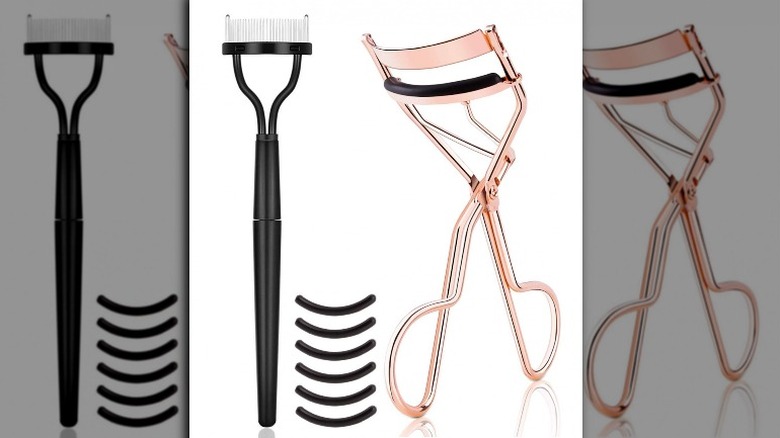 If you need only one or two tools out of an eyelash curler kit, you may be better off purchasing a set of just two tools instead. For an affordable and high-quality option, we suggest the TPPICK Eyelash Curler Kit. It contains a classic, rose-gold metal eyelash curler, a sturdy separator comb to prevent clumping when you apply mascara, and six replacement pads. TPPICK states that the curler works well with all eye types and provides a long-lasting curl. And when the comb is used just before the curler, it helps create a fan-like shape to the lashes that gives them a more voluminous look.
Purchase the TPPICK Eyelash Curler Kit on Amazon for $6.99.
Best eyelash curler from a vegan company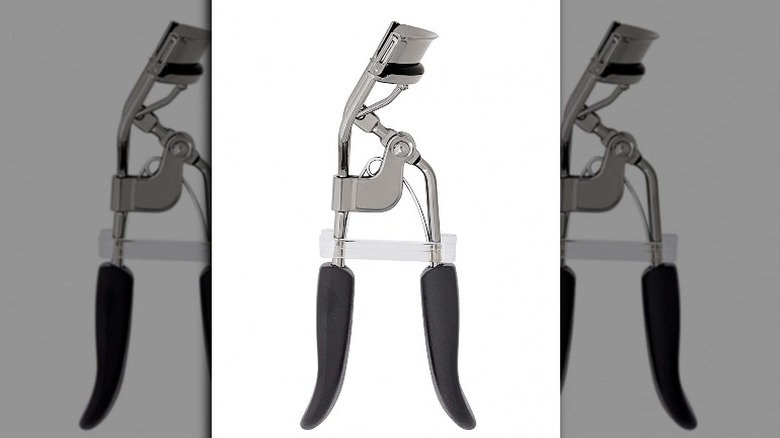 The ethics of beauty companies is important to consider when we think about the impact of our purchases. That's why we recommend the e.l.f. Pro Eyelash Curler, an ergonomic tool crafted without unnecessary toxins and with all-vegan materials. The contoured curve of the curler helps to grab all of your lashes to create a uniform, all-day hold. Better yet, the price is incredibly competitive. One downside is that this curler comes with just one replacement pad.
Purchase the e.l.f. Pro Eyelash Curler on Amazon for $4.00.
Best eyelash curler made of plastic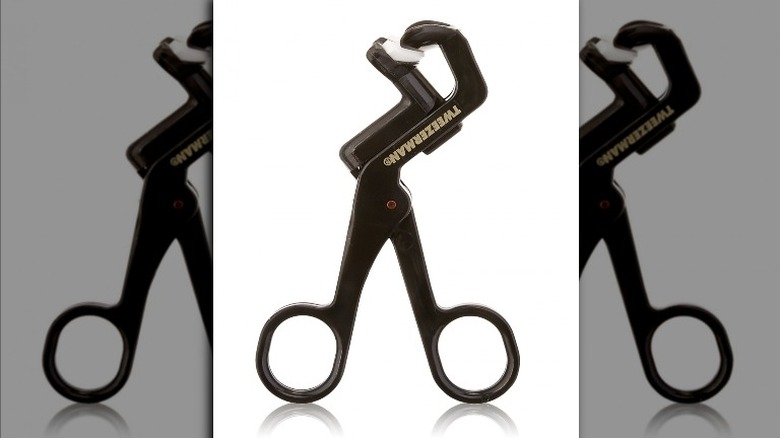 Though plastic eyelash curlers have a reputation for being less durable than their metal counterparts, they may be a good option for you if you have sensitive skin or eyes. The Tweezerman Supercurl Eyelash Curler is an excellent option if you are worried about reacting to certain metals overtime. Plus, these curlers can be easily cleaned.
This particular Tweezerman curler is a precision curler, and it's designed to be used with heat. The instructions state that you should first gently heat the pad with a blow dryer, then use it as normal. The addition of a gentle heat can significantly improve the curve of your lashes and help them last all day long. You don't have to worry about the pad or the tool getting too hot either. Because the pad is made of silicone and the curlers are made of plastic, both parts of the tool are designed to safeguard against overheating.
Purchase the Tweezerman Supercurl Eyelash Curler on Amazon for $17.24.
Best eyelash curler with a built-in spring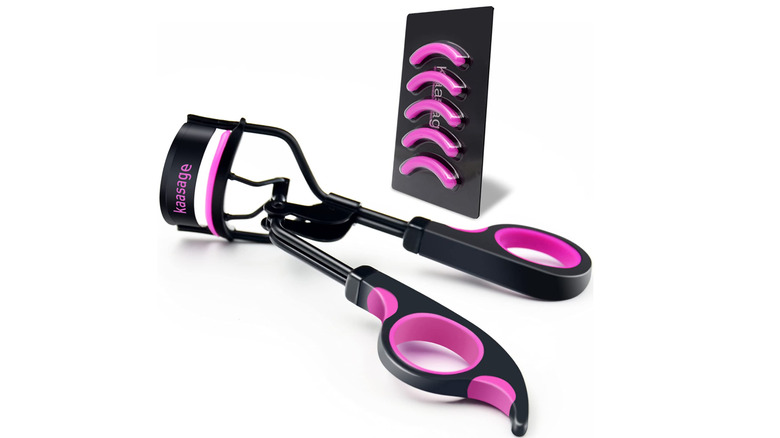 Using an eyelash curler doesn't require a lot of strength. However, you may prefer a curler with a spring because it can prevent you from accidentally holding onto your lashes after you curl them, causing breakage. And no one ever wants a situation where there's breakage involved.
The Kaasage Eyelash Curler is made from a durable plastic and uses silicone pads to create a long-lasting curve. And of course, the added spring makes the process even easier so you don't have to worry about accidentally pinching yourself or pulling out an eyelash or two. As an added bonus, this curler comes with five silicone replacement pads.
Purchase the Kaasage Eyelash Curler on Amazon for $10.98.
Best bargain eyelash curler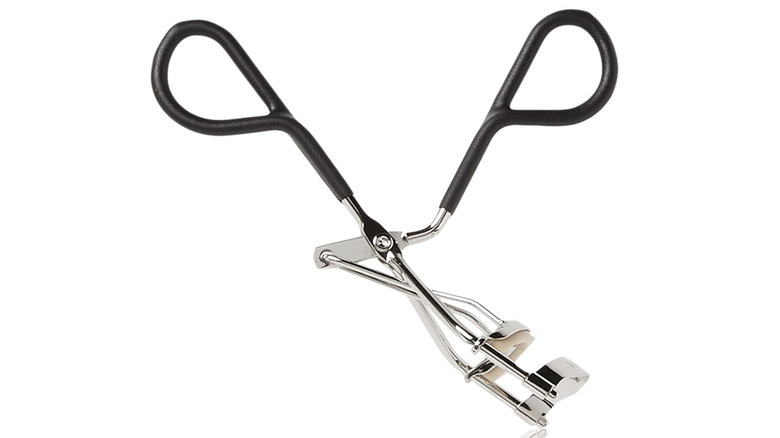 When you're hunting for a bargain, it's easy to get a product that, well, isn't exactly the best quality. Fortunately, this isn't the case with the Covergirl Makeup Masters Eyelash Curler. At less than $5, this gentle, metal curler is a great bargain that still curls lashes beautifully. Reviewers note that the grips don't hurt after use, and this curler can even be used on smaller eyes with just as much success. The downside? It doesn't come with replacement pads.
Purchase the Covergirl Makeup Masters Eyelash Curler on Amazon for $3.79.
Best eyelash curler and mascara duo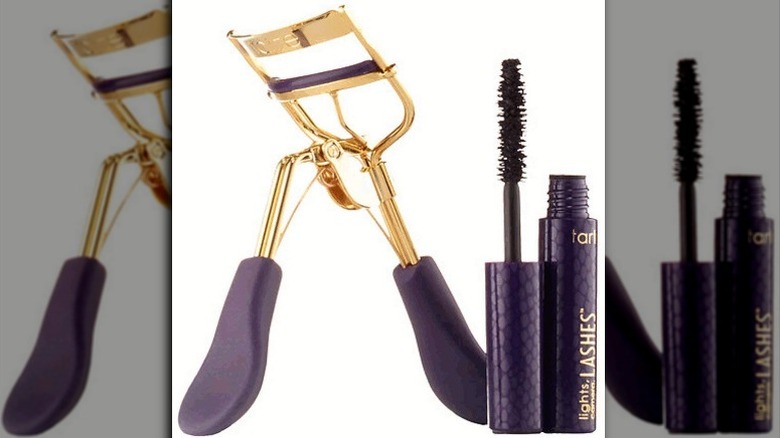 It's true that you don't have to purchase an eyelash curler and a mascara from the same company to get the best effect, because the two aren't necessarily related. Still, it's nice to be able to find a high-quality duo online without having to purchase both items separately.
Our top pick for a matching curler and mascara is the Tarte Picture Perfect Eyelash Curler and Deluxe Lights, Camera, Lashes Mascara. The purple and gold curler is not only aesthetically pleasing, but does a lovely job of curling lashes effectively to create an all-day, natural curl. In fact, Tarte claims that you only need to squeeze the tool only once to get the effect. The mascara is also lauded for its ability to create full-looking lashes without huge clumps.
Purchase the Tarte Picture Perfect Eyelash Curler and Deluxe Lights, Camera Lashes Mascara on Amazon for $29.90.
Best eyelash curler set in a colorful design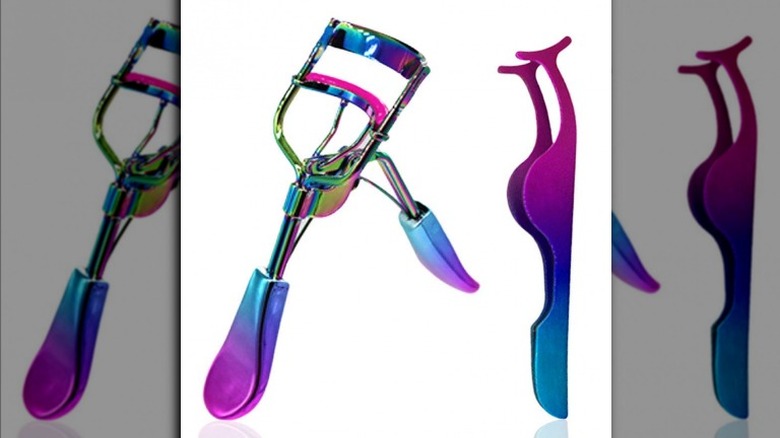 Have you been craving a splash of color in your makeup tools? For a fun twist on the traditional eyelash curler set, try out the SinPinEra Eyelash Curler and False Lashes Extension Tweezers. The tools are made of a rainbow metal that shines with blue, purple, green, and pink colors. Users note that on top of the pretty design, this curler duo performs very well. The curler works best with a few pumps to create a long-lasting curl, and the tweezers seem to hold up well over time. Because there are no slip guards on either tool, make sure your hands are clean and dry before using.
Purchase the SinPinEra Eyelash Curler and False Lashes Extension Tweezers on Amazon for $6.00.
Source: Read Full Article