No matter what time of year it is, treating yourself to one of the warmest throw blankets is an excellent source of relaxation: not only will it keep you nice and toasty, but it's also an instant way to make your living space feel even more cozy and inviting.
When shopping for a throw blanket, you'll want to look for the following characteristics:
Quality Materials: Look for something made from wool, cotton, microfiber, or fleece, as those tend to be the warmest fabrics.
Easy Maintenance: Materials like fleece, microfiber, and cotton are typically washer- and dryer-safe, whereas wool is a thicker and more durable fabric that offers less ease of washing (though, the wool blanket on this list is machine-washable).
Hypoallergenic: Those with allergies will specifically want to seek out hypoallergenic blankets. But even if you don't have any sensitivities, there are still many benefits of using a hypoallergenic blanket, as they're much more likely to prevent and reduce the spread of dust mites and other allergens that may try to penetrate through the material.
When you're ready to add some comfort and style to your living space, check out these five throw blankets that are sure to be your favorite new accessory. Then check out the best fuzzy blankets when you're in need of some extra pampering.
1

The Overall Best Throw Blanket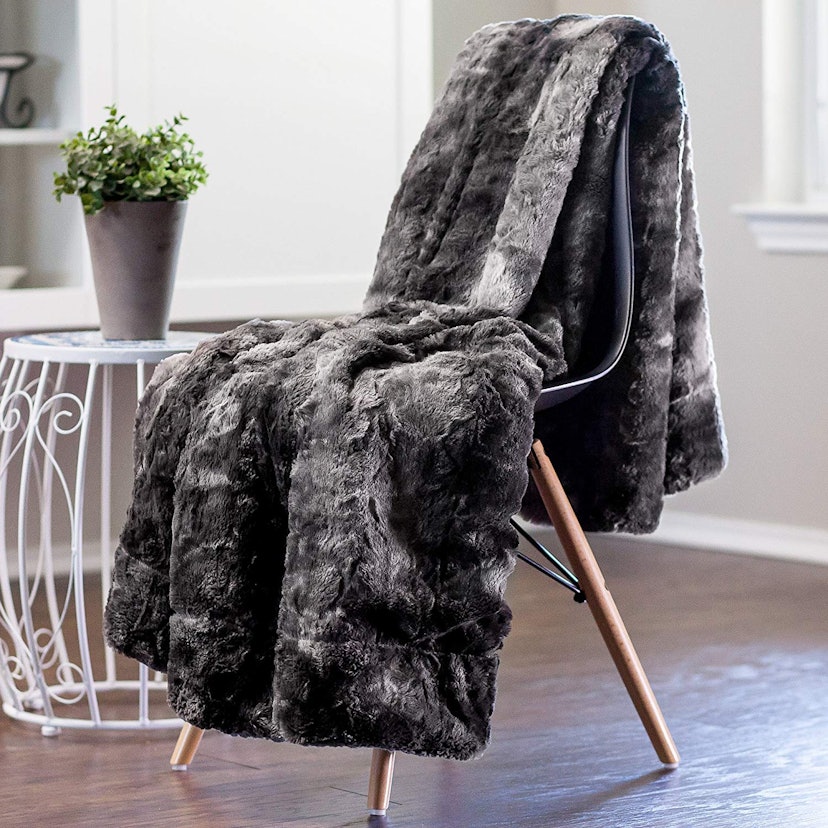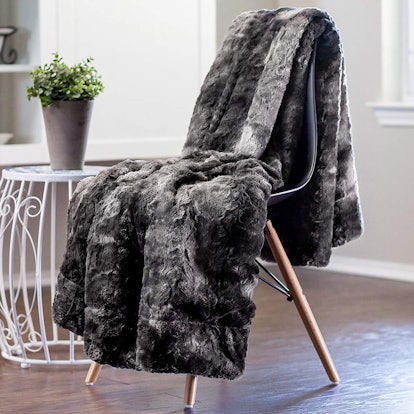 Chanasya Faux Fur Throw Blanket
$30
Amazon
Materials: 100 percent microfiber polyester
What's great about it: There are several reasons this hypoallergenic Chanasya throw blanket is our overall best pick. The pure microfiber polyester material means this blanket is soft, lightweight, and resistant to pilling, while still providing plenty of warmth. The blanket has faux fur on one side and sherpa on the other for an elegant look that's still environmentally conscious. Also, it's available in multiple colors and sizes. The fabric is machine-washable (choose a gentle cycle and cold water) and can even be thrown in the dryer (tumble dry on a very low temperature).
What fans say: Of the more than 3,500 reviews on Amazon, fans love that this blanket doesn't shed and that it repels dander and pet fur. And many also appreciate the comfortable feel of the faux fur. As one reviewer put it: "If you've ever dreamed of sleeping in the pellets of 50 rabbits but don't want the guilt of all those rabbit lives, this is your blanket."
2

Also Great: A Reversible Throw Blanket That's Available In 18 Different Colors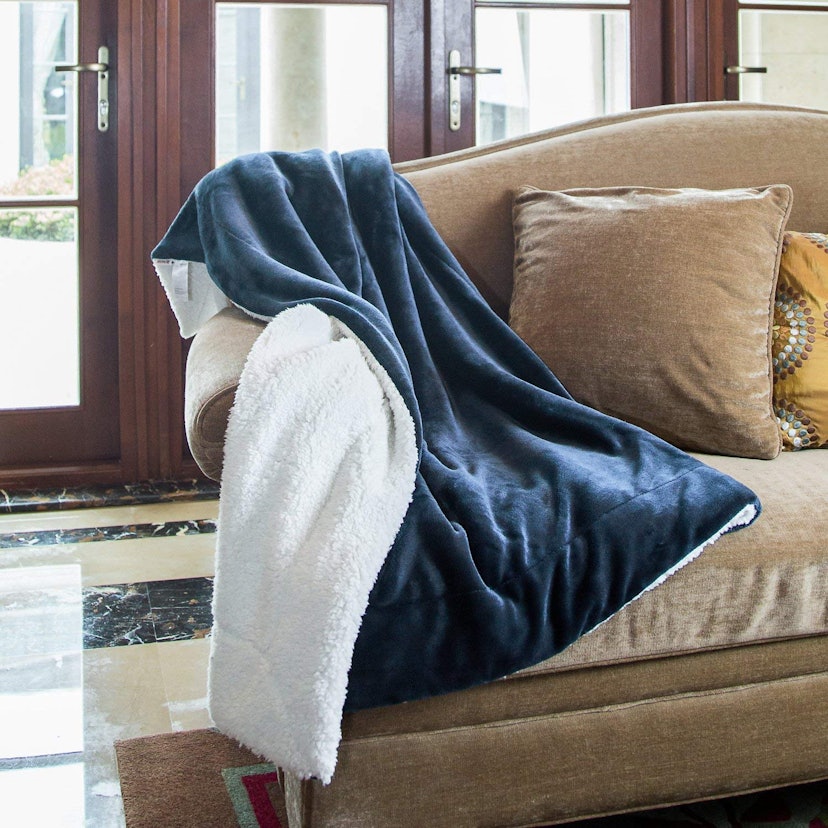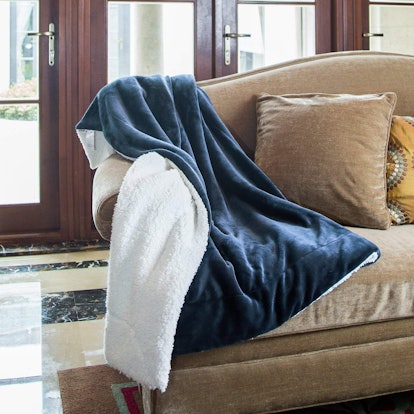 Bedsure Sherpa Fleece Blanket
$26
Amazon
Materials: 100 percent microfiber polyester
What's great about it: This dual-sided throw blanket offers you the best of both worlds: fleece on one side and plush sherpa on the other for all the fluffiness you'd ever want. Plus, with 18 different colors ranging from pink to teal to knitted grey, you'll have no problem finding one that complements your living space. The blanket is designed to have a stronger fade-resistance and stain-resistance than your basic cotton blanket, while also retaining its shape over time. And best of all, this blanket is safe in the washer and dryer, so taking care of it is a breeze.
The trade-offs: While this Bedsure throw shares many ideal qualities with the Chanasya blanket, it's not hypoallergenic. So whether you suffer from allergies or not, this blanket will not be as effective at repelling dander and other irritants.
What fans say: Fans call this blanket "ridiculously comfortable" and consistently mention wanting to buy more because of its softness. As one reviewer uniquely put it: "If Santa and a unicorn had a love child, it would be this blanket."
3

A Machine-Washable Throw Blanket Made Of 100 Percent Wool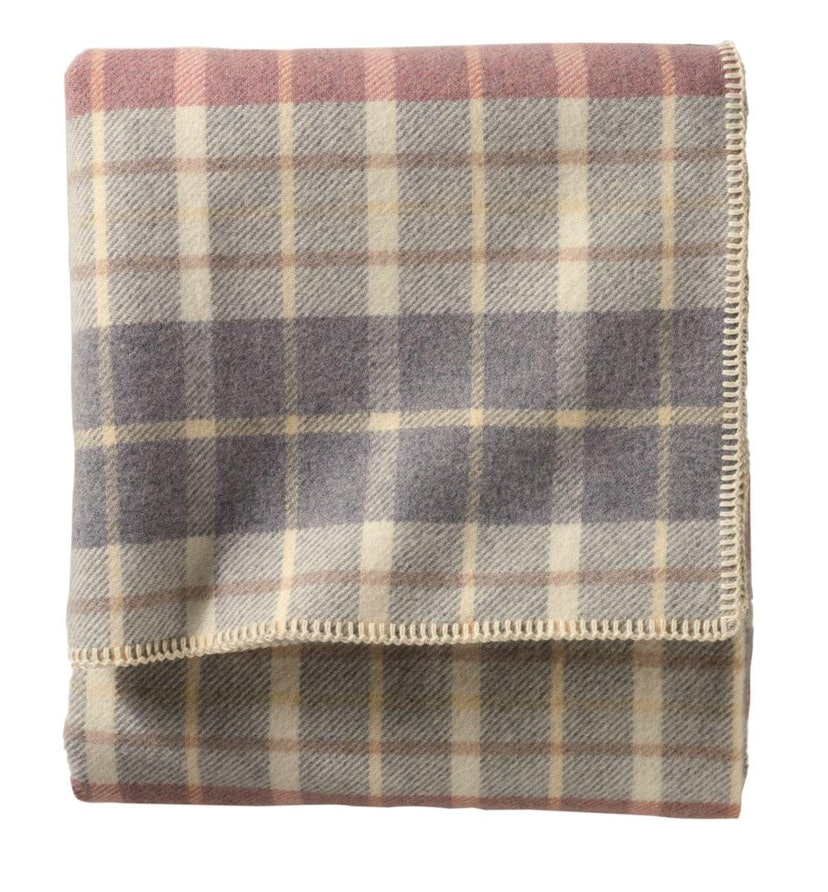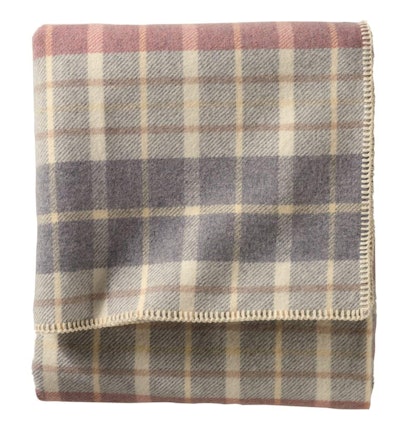 Pendleton Eco-Wise Easy Care Blanket
$140
Amazon
Materials: 100 percent pure virgin wool
What's great about it: If you're the person who's always cold no matter what, this wool throw blanket is for you. Unlike other wool blankets, which have to be dry-cleaned, this blanket is machine-washable, with many reviewers saying that it stays beautiful wash after wash. This blanket is one of the larger throws, measuring at 66 by 96 inches, and it's also available in even larger sizes. Plus, it comes in 14 different designs, so whether you prefer a traditional Oxford plaid or a unique striped style, there's plenty of options to suit your taste.
The trade-offs: Though this blanket is machine-washable, it cannot be put in the dryer, so you'll need to let it air dry.
What fans say: Fans love that despite being superbly warm, this wool blanket is still lightweight and comfortable. One reviewer wrote, "I neither sweated or got cold at all" and another described this blanket as being "like magic. It's lightweight but very warm and very breathable."
4

A Budget-Friendly, Hypoallergenic Fleece Throw Blanket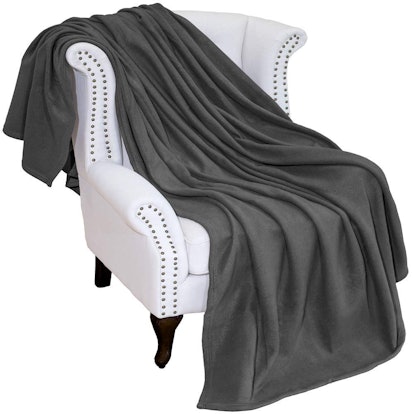 Bare Home Polar Fleece Blanket
$15
Amazon
Materials: Polyfiber yarn
What's great about it: With all the great qualities this affordable throw blanket has, it's hard to believe the price. Measuring at 50 by 60 inches, it's the perfect throw blanket size for any couch, armchair, or recliner. The premium quality polyfiber yarn is soft, durable, and even hypoallergenic. The material is machine-washable (in cold water) and dryer-safe (tumble dry low), but it's also anti-pilling and wrinkle-free, so it will remain looking fresh and clean for longer.
The trade-offs: Although it's designed to be used year-round, many fans say the blanket was a little lighter and thinner than they preferred.
What fans say: Fans appreciate this blanket for the generous size and the softness of the fleece. One reviewer wrote that the blanket "washes well and looks great" while another noted that it's "soft and lightweight, but still provides the warmth I need when the AC is blowing on me."
5

The Best Electric Throw Blanket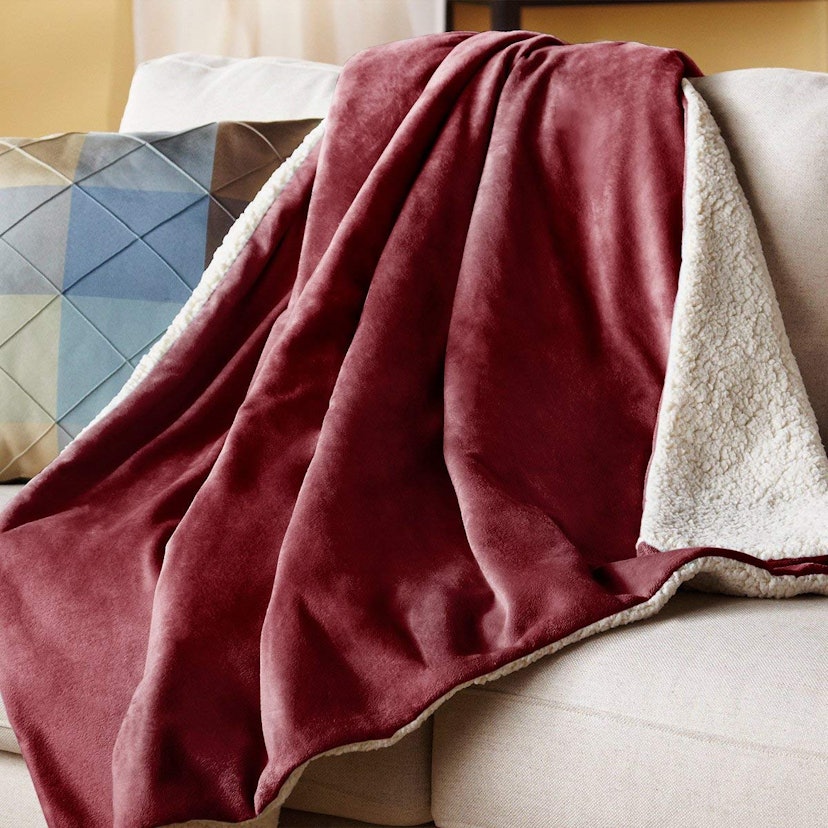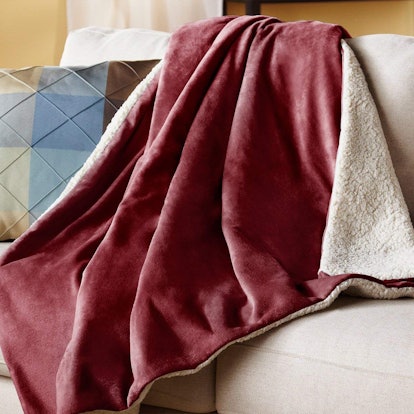 Sunbeam Reversible Sherpa/Mink Heated Throw Blanket
$60
Amazon
Materials: 100 percent polyester
What's great about it: This electric throw blanket will keep you warm and comfortable throughout the year, thanks to a controller with three different heat settings. And although no electric blanket should ever be left on while unattended, this throw does have a three-hour auto shutoff function for extra security and peace of mind. Also, it's reversible, with sherpa on one side and faux mink on the other side (both of which are cruelty-free materials). Best of all, this blanket is both machine-washable and dryer-safe, so upkeep is incredibly easy.
The trade-offs: Due to the involvement of electrical wires, electric blankets aren't safe to use with certain types of beds, including waterbeds, mechanical beds, and bunk beds. It's also not advised to sleep with an electric blanket plugged in; aside from posing a fire hazard, it can create an electromagnetic field around you that poses health risks should you sleep under it all night.
What fans say: One reviewer called this "best heated throw I've ever had," while another wrote, "It is so warm even without turning it on." It's worth noting that a portion of reviewers had trouble getting the blanket to heat up after using it for a few months, but the majority of reviewers had no such issues.
Elite Daily may receive a portion of sales from products purchased from this article, which was created independently from Elite Daily's editorial and sales departments.
Source: Read Full Article