If you know what to look for, the best base layers for cold weather will keep you warm, dry, and comfortable in even the most frigid temperatures.
Before you buy, the first thing to consider is which types of activities you're planning to do out in the cold. Here's the thing: Pretty much any extra layering will provide you with more warmth. While fleece-lined layers are the warmest, they're a better option if you aren't planning to run, ski, or hike. If you're sweating in the cold, you'll want to invest in a thermal base layer that's both warming and sweat-wicking to help regulate your body temperature.
Another thing to keep in mind is your budget. If you're hitting the slopes every weekend, you'll want to invest in quality thermal base layers with adequate circulation and quick drying times. But if you're more of a once-a-season skier, or you're simply looking for the most affordable layer still worth buying, there are budget-friendly thermals that can keep you warm as well.
With so many options for cold-weather gear out there, it can be tough to find exactly what you need. Here's a round-up of some of the best base layers for cold weather to help you narrow down the decision.
1

The Best Thermal Top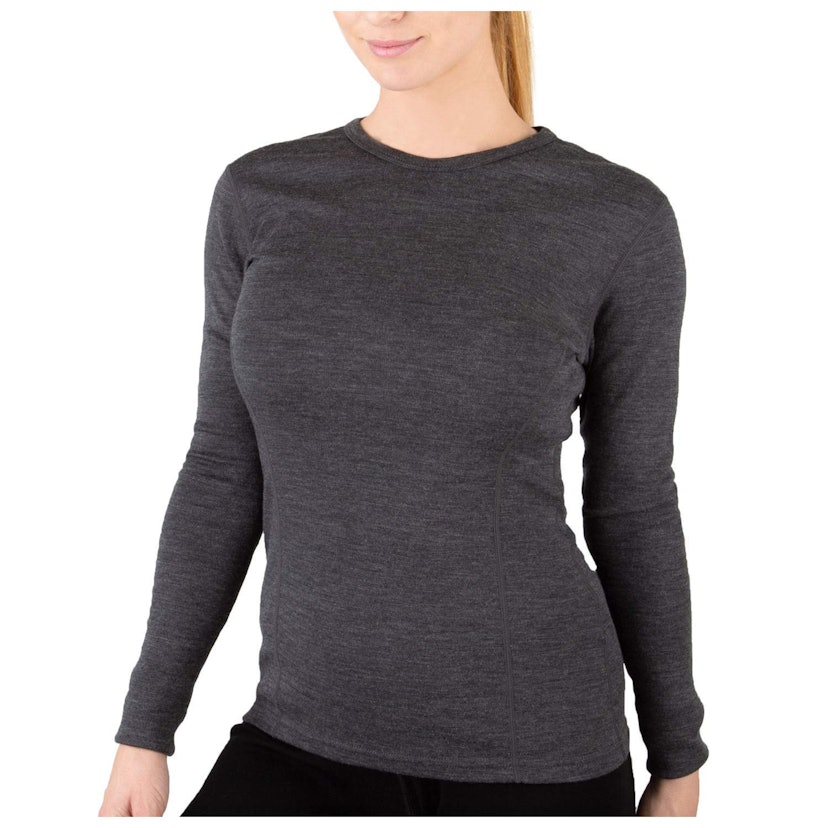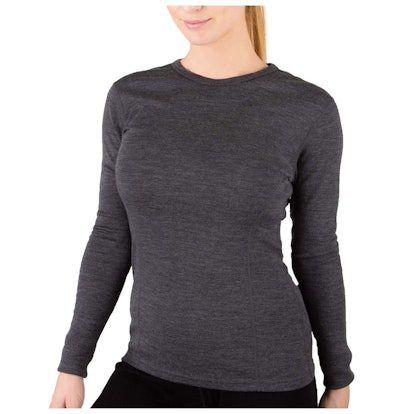 Meriwool Women's Merino Wool Base Layer
$45
Amazon
Available Sizes: Small —X-Large
This midweight thermal base layer is made with 100 percent fine Merino wool, making it both soft and sweat-wicking. Better yet, it's also anti-bacterial, odor-resistant, and quick-drying to keep sweat off your body. It even features a loop so you can hang it up to dry, but don't worry — it's safe in the dryer, too. Get it in five colors including black, cream, purple, berry, and charcoal gray (pictured).
While this is a pricier single thermal top, it's a solid investment. One reviewer raves, "I absolutely love this shirt. I am cold all the time, and I am frequently out walking or hiking in 30 degree weather. It hasn't been colder yet. I've tried numerous base layers with various warmth ratings, and I always got cold. Not with this item —jnm warm and dry for hours."
2

The Most Affordable Thermal Top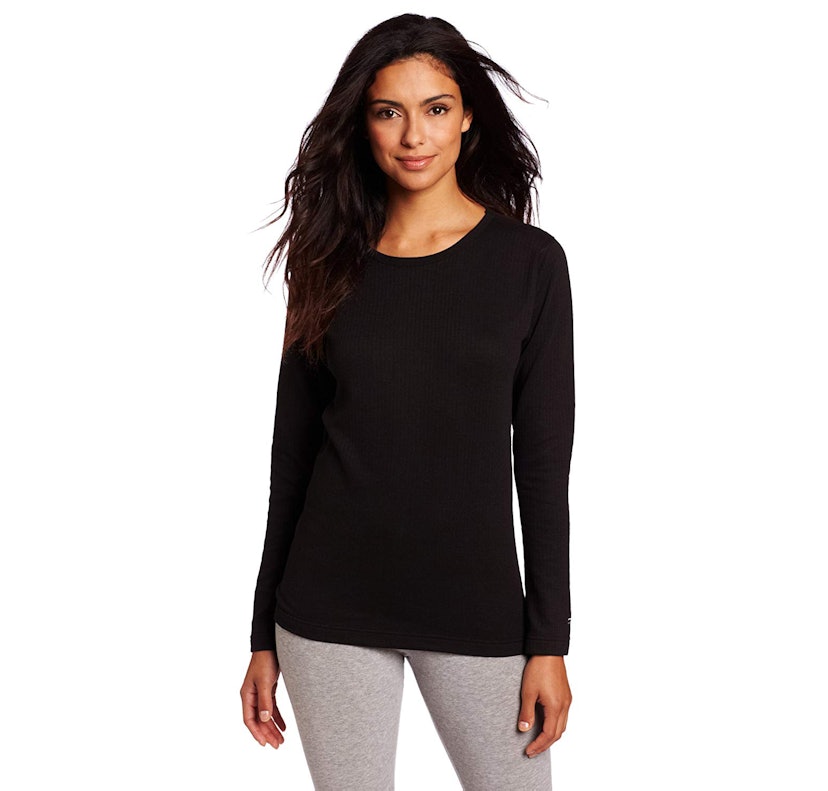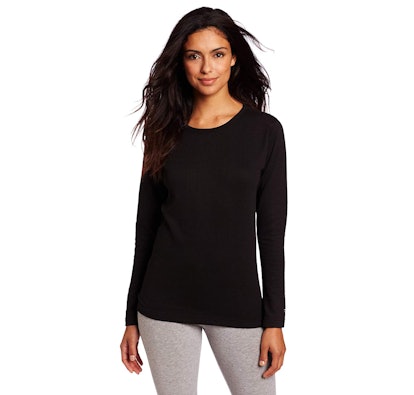 Duofold Women's Mid Weight Thermal Shirt
$15
Amazon
Available Sizes: Small —X-Large
This double-layered thermal is made from a poly-cotton blend that resists most moisture without weighing you down. Plus, the flat-lock seams threaded throughout the top are barely noticeable and won't rub, so you don't have to worry about it irritating your skin or forming any hotspots underneath your bulkier winter layers.
The only downside to this top is that it's truly made for lower-impact activities. It won't absorb large amounts of moisture from snow or sweat, so this one is best worn for winter walks or snow day lounging.
3

The Best Thermal Leggings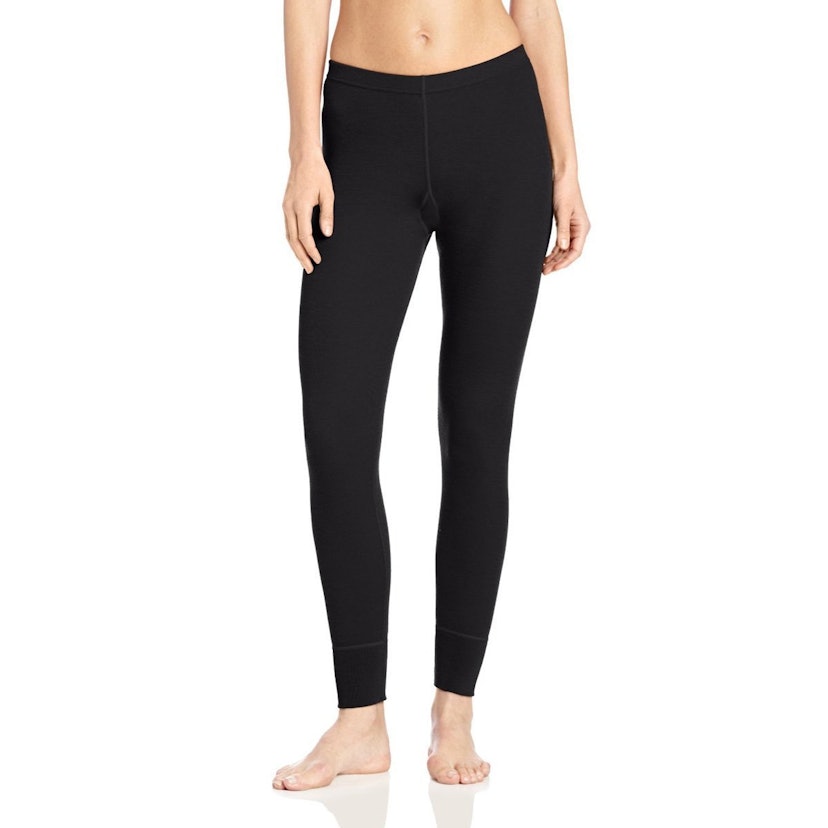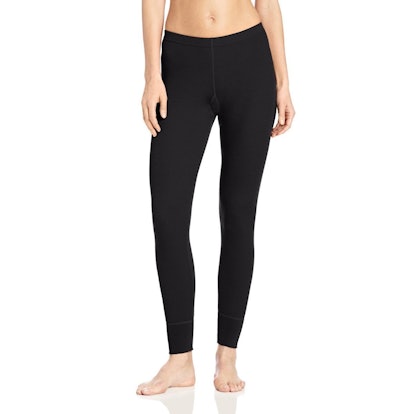 Minus33 Merino Wool Base Layer
$66
Amazon
Available Sizes: X-Small —3X-Large
Not only are these thermal leggings made from 100 percent Merino wool, they also feature flat lock seams to keep your legs blister-free while you run, ski, or hike in the cold. Plus, they're still thin enough to fit under a pair of sweats or even jeans, so you can stay toasty without anyone knowing you're rocking an extra pair of pants.
With nearly 500 glowing reviews, these leggings are tried and true. One fan raved: "I can honestly say that these Minus33 100% wool, midweight base layers made all the difference in the world this last season. NEVER before have I been actually WARM when out in the elements for any length of time. The 5 mile hike up into camp in a foot of snow would have rendered me a sweaty, wet, frozen mess before but this time I was comfortable and toasty, even when we stopped to rest and cooled down."
4

The Most Affordable Thermal Leggings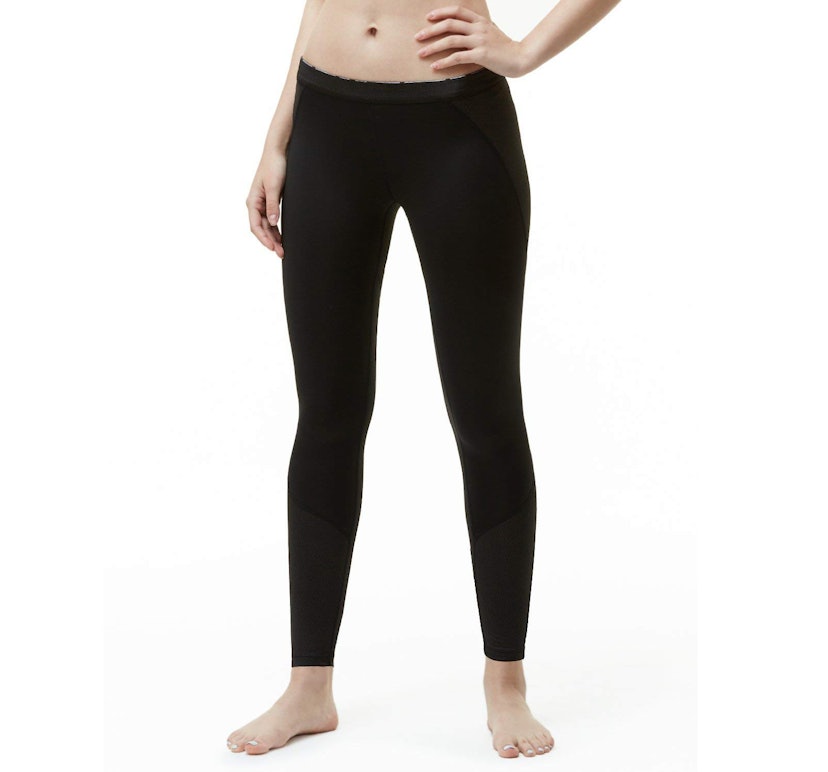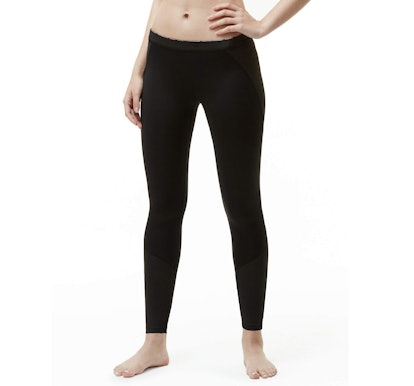 Tesla Women's Thermal Compression Leggings
$17
Amazon
Available Sizes: X-Small —X-Large
If you're looking for a more affordable option, these thermal compression leggings will keep you warm without breaking your budget. For one, they're fleece-lined, so they'll keep you comfortable and warm for long periods of time outdoors. They're also deodorizing, antimicrobial, and designed to absorb small amounts of sweat.
A warning, though: Several reviewers mentioned that these leggings run small. Even the company itself mentions that buyers should size up, so be sure to check out the product description before you purchase.
5

The Best Set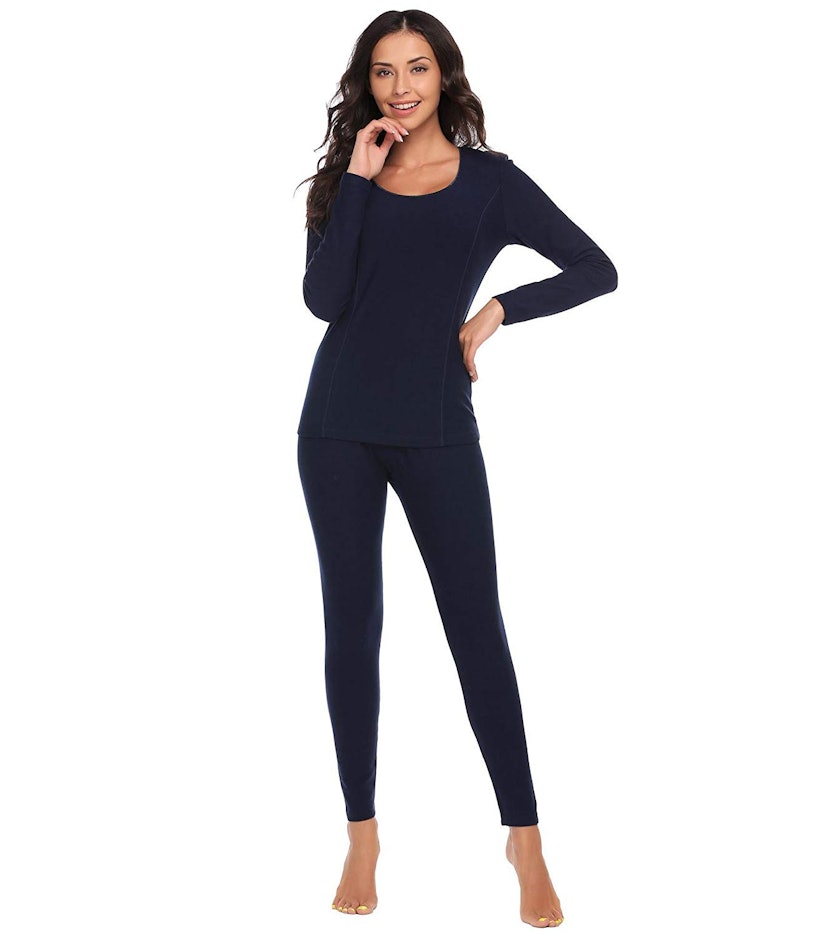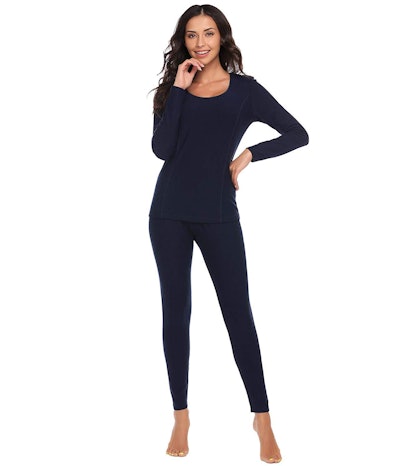 Ekouaer Women's Thermal Fleece-Lined Layering Set
$37
Amazon
Available Sizes: Small —XX-Large
This double-layered long underwear set is perfect for lounging around when it's frigid outside. Both pieces are made with a super soft cotton blend, and the leggings are lined with fleece to trap in even more warmth. On top of that, there are no tags on the shirt so there's no uncomfortable rubbing on your skin.
While these long underwear are sure to be comfy, keep in mind they aren't exactly made to withstand extreme cold. They work best as a light under-layer when taking a snowy walk or snuggling up indoors.
Elite Daily may receive a portion of sales from products purchased from this article, which was created independently from Elite Daily's editorial and sales departments.
Source: Read Full Article