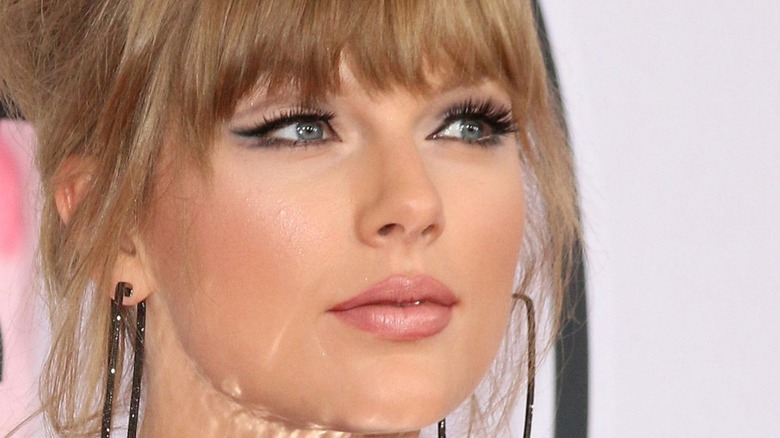 Taylor Swift's music, style and album aesthetic are constantly evolving. As one of the most successful artists today, every move she makes or tweet she sends out turns into a treasure hunt for what she's up to next — and rightfully so. The superstar has sold over 75 million plus singles over the span of 10 years, which makes her the only artist with these bragging rights (via The Things). But those impressive stats have never changed her or made her any less authentic. Per MTV, Swift's connection with her fans is legendary, she's on social media right with them and creatively involves them in her album campaigns.
Taylor Swift is known for her intricate single and album announcements, and regularly uses her hair and beauty looks as a way to keep her fans guessing about her new releases. The eleven time Grammy-award-winning singer (via Recording Academy) has had multiple hair transformations, all of which have been pure perfection. From her burgundy lips and tousled curls during 2017's release of "Reputation" (via Hello Giggles) to her dip-dyed tips for 2019's "Lover" (via Vogue), each hair reveal shows her dedication and commitment to her art. As one of the biggest storytellers and writers in pop, it's only fitting that each of Swift's hair and beauty moments has a story behind it.
Taylor Swift's ringlets were the beginning of her hair journey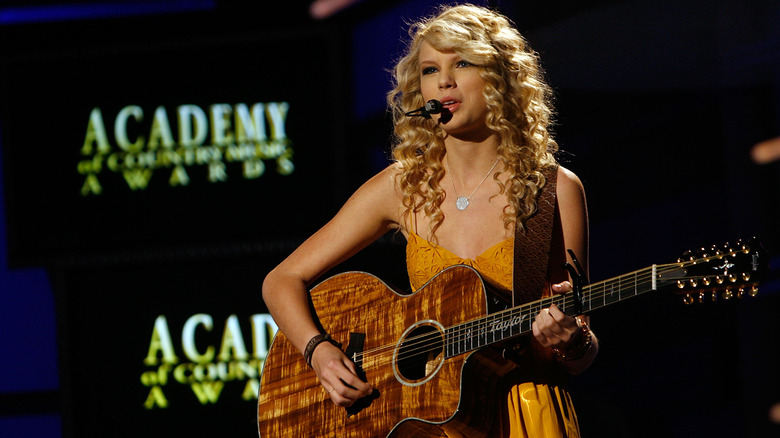 When country-turned-pop singer Taylor Swift first stepped into the music scene, her cascading curls made just as much noise as her catchy and meaningful music. While album release ushered in a new hair and style era, there's one album aesthetic that still has people talking today. Fans have become incredibly nostalgic over Swift's now-iconic blond ringlets from her "Fearless" and "Speak Now" album eras — her go-to hairstyle from 2006-2008. There are a lot of Reddit threads dedicated to the star's ever changing curl pattern and how to replicate her curly hair routine. In this Reddit thread, one user labeled it her superior hairstyle, writing "I feel like Speak Now's curls were peak Taylor curls, besides 1989 that was my favorite era for her hair."
Though she's since parted ways with her tight curls, fans aren't the only ones reminiscing about the magic behind her hair. In a reflective piece she penned for Elle titled "30 Things I Learned Before Turning 30", the "Red" singer mourned the loss of her curls. "I learned that your hair can completely change texture," she wrote. "From birth, I had the curliest hair and now it is STRAIGHT. It's the straight hair I wished for every day in junior high. But just as I was coming to terms with loving my curls, they've left me. Please pray for their safe return."
The story behind her blunt bangs and pin-straight hair during the Red era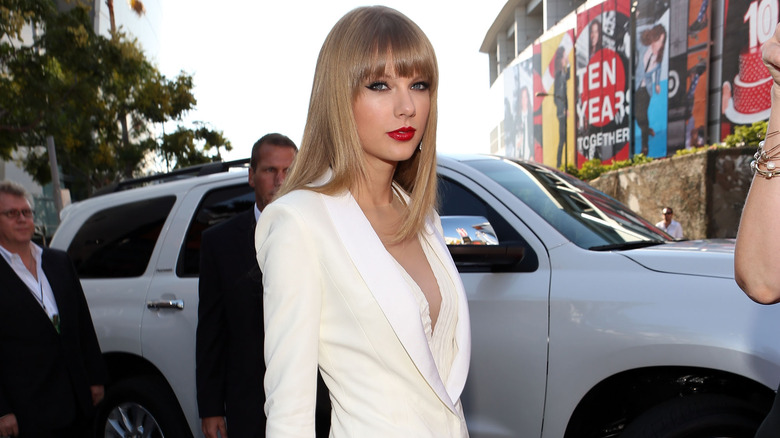 During her performance of song "Back to December" at the 2010 American Music Awards — written about her relationship with Taylor Lautner (via Billboard) — Taylor Swift teased what would eventually become known as one of her most defining looks (via CBS News). Two years later, the "Red" era was born. In her 2012 photoshoot for Vogue, Taylor Swift shocked the world for a second time when she rocked long, sleek locks and full bangs on the cover. Per Vogue, the original plan was to give the music icon fake bangs. But after struggling with making them look authentic, Swift gave the okay to just cut her hair — a huge departure from her usual look. Her reasoning at the time was "It's Vogue," which we 100% agree with. From one cut, an entire aesthetic was formed.
In a 2014 interview with Vogue UK, Swift and celebrity photographer Mario Testino looked back on her bangs. The best-selling artist shared that her bangs "completely ended up changing the way that [she] looked for the next two years" and confirmed that her hair plays a huge role in her musical process (via MTV). Paired with her fire engine red lipstick (pictured above), the "Red" era marked a time of evolution and growth for Swift.
New haircut, new Taylor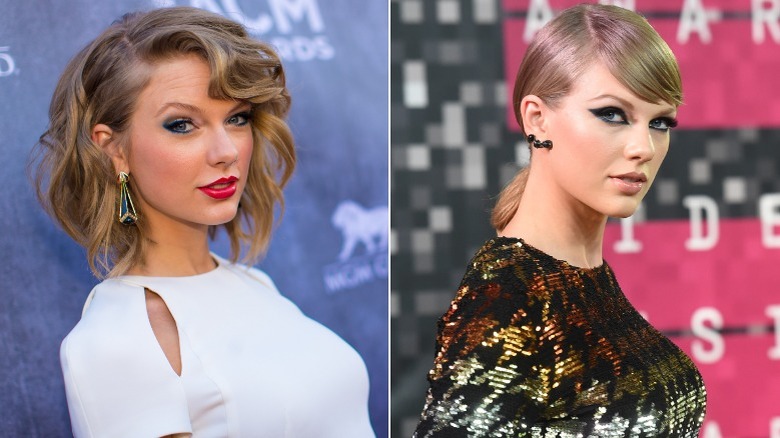 At the 2014 Academy of Country Music Awards, she stayed on trend in a classic white crop top with cutouts and a sultry high slit skirt by designer J. Mendel (via PopSugar). Despite how synonymous she's become with her signature tight curls over the years, the style icon went for the big chop anyway and rocked a curly bob. Complete with her signature red lip, she completely pulled this look off. Her much shorter, looser waves grazed the tops of her shoulders and perfectly accentuated her sharp jawline.
Swift pulled out all of the stops at the 2015 Grammy Awards and switched out her curling wand for her flat iron (via Hollywood Reporter). It was a big night for fashion and music, considering the "Bad Blood" singer picked up three prestigious awards for her fifth album "1989" (via Recording Academy) and looked the part in a Elie Saab halter gown and fuchsia heels (via Hello Giggles). Per Cosmopolitan, her style on the red carpet always serves as a snapshot of what she and her music stand for. Her straight bob was a goodbye to the old Taylor. She further distanced herself from her classic 2006 ringlets with a sleek side ponytail, and layering dark eyeshadow and eyeliner at the 2015 MTV VMA awards (via InStyle). Swift and rapper Kanye West even temporarily put aside their longtime feud, and she presented him with the Video Vanguard award, as reported by Harper's Bazaar.
Her 'Bleachella' phase was her most dramatic haircut and hair color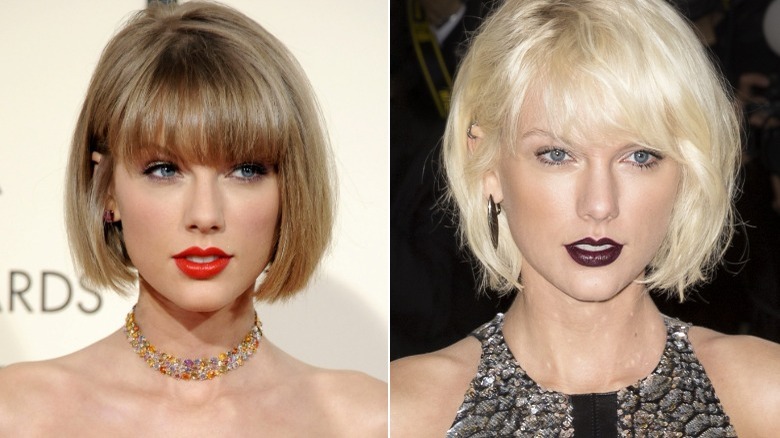 Taylor Swift is the queen of transformations and surprises. Per Yahoo, a year after she debuted her edgy cut, she shocked everyone again with a shorter, chin-length bob at the 2016 Grammy awards. Her full bangs made a huge comeback. The blunt ends of her bangs emphasize her eyes and make them pop without overwhelming her face. In the August 8th, 2019 episode of Vogue's "Go Ask Anna" video segment, the singer-songwriter let fans revealed that this specific cut was an ode to fashion legend and Vogue editor-in-chief Anna Wintour.
Refinery29 opined that Swift's most divisive hairstyle and beauty look stemmed from another Vogue shoot. At Wintour's request, the singer-songwriter retired her honey blonde locks and went full on platinum in 2016. During an April 2016 episode of Vogue's podcast, Wintour shared her inspiration behind the now infamous look (via Fashionista). "We thought that we could take Taylor — who is a beautiful, beautiful girl but has been a little bit more conservative in her fashion choices — and turn her into an Hedi Slimane rock n' roll girl," she explained. Never one to pass up an opportunity to try something new, Swift leaned into the rocker look but later admitted that she wasn't a fan. "Fashion is all about playful experimentation," she penned for Elle. "If you don't look back at pictures of some of your old looks and cringe, you're doing it wrong. See: Bleachella."
She grew her hair out for the Reputation era, then embraced unicorn hair dye for Lover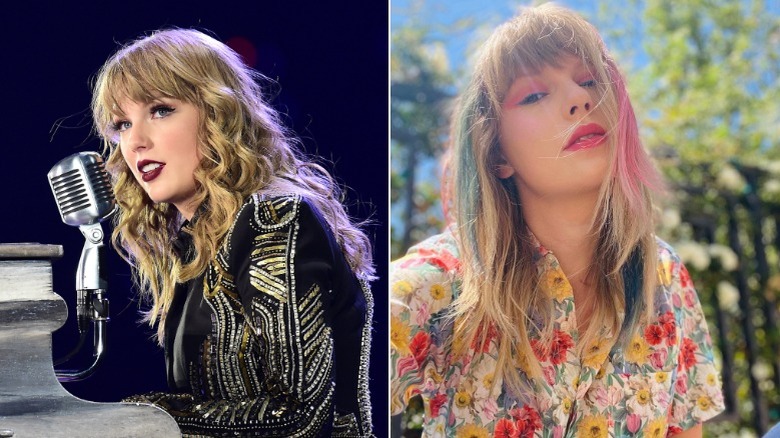 Per The Tease, the release of 2017 album "Reputation" welcomed in a grungy, honest and unapologetic Swift. The Washington Post's detailed review of her sixth album took stock of the fact that a majority of the running themes centered around different controversies she was involved in. Her smash singles "Look What You Made Me Do", "End Game" and "Delicate" boldly commented on public feuds with other celebrities and society's often negative and biased perception of her dating life. Swift experimented with darker colors and more of a rocker vibe during the "Reputation" era, as noted by Marie Claire. Her November 2017 appearance on "Saturday Night Live" was marked by softer, medium-length curls, and monochromatic costumes like her black crop top and shorts set, and black plaid sweatshirt.
Her aesthetic for 2019 album "Lover" was the complete opposite. She embraced brighter colors, and even dyed the tips of her hair in pastel blue for the album artwork (via Refinery29). A year after dropping the hit album, she posted a callback to her "Lover" hair on Instagram. But this time, she mixed in cotton candy pink strands with the blue. Two of the biggest beauty trends to come out of the coronavirus pandemic were DIY haircuts and hair dyes. It looks like the singer was just as eager to reinvent her hair during quarantine.
The evolution of her bangs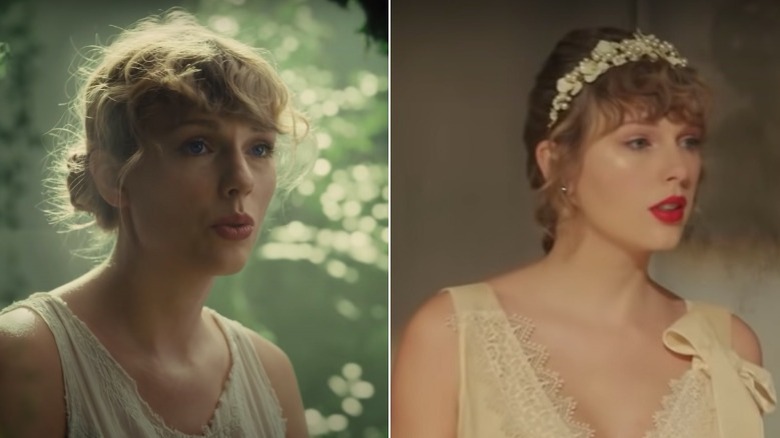 Taylor Swift's bang evolution is well documented. She's worn them blunt and straight across, and grown them out and then swept them to the side. She even slicked them back for her "Reputation" album cover. But quarantine ushered in a brand new look for the "Cardigan" singer. Per Vulture, Swift dropped two surprise albums, "Folklore" and its follow-up "Evermore" in 2020. She explained what sparked the quick turn around for her second release in a viral Instagram post, writing "I've never done this before. In the past I've always treated albums as one-off eras and moved onto planning the next one after an album was released. There was something different with folklore. In making it, I felt less like I was departing and more like I was returning."
Swift played on the ongoing theme of "firsts". Style wise, there was a softness to the "Folklore" and "Evermore" album era. She even styled her own hair and makeup in the music video for "Cardigan" (via YouTube) because of COVID-19 safety precautions, as reported by PopSugar. The singer-songwriter paired her low braided buns with curly bangs. This low maintenance hairdo softened her features and showcased an even more vulnerable Swift. She kept her wispy curls for her "Evermore" promo but styled the rest of her hair in a long French braid for the "Willow" music video (via YouTube).
Her hairstyle at the 2021 BRIT Awards was an Easter egg for re-recorded album Red (Taylor's Version)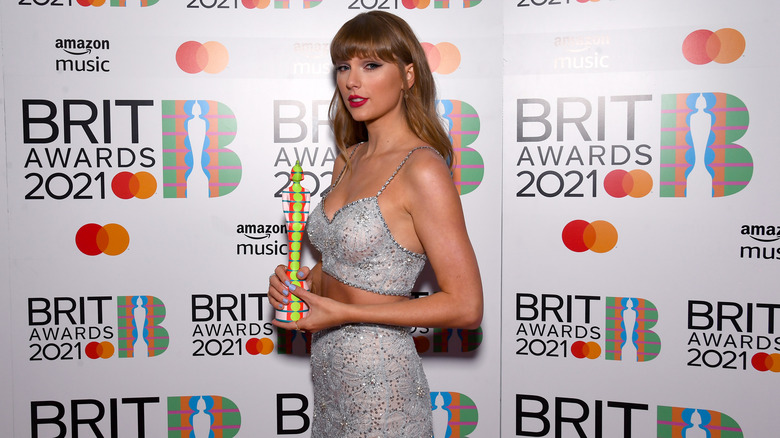 In June 2021, Swift announced that she was re-recording her 2012 album "Red" as part of her ongoing mission to take back control after the second sale of her old masters (via Billboard). Before the announcement, fans were speculating about which album she'd re-record and guessed that "1989" was coming. The hashtag "1989TaylorsVersion" blew up on Twitter with no official word from the multi-platinum selling artist herself (via Forbes), and fans joked that they would start the new era with or without her.
Forever the queen of Easter eggs and teasers, Swift may have actually hinted at the re-release of "Red" at the BRIT Awards 2021 when she brought back her long, straight hairstyle from the "Red" era (pictured above). A year prior, she dropped a more subtle clue on her Instagram page. She posted a selfie and captioned it "Not a lot going on at the moment". Eagle eye fans on Twitter connected the caption back to the t-shirt she wore with those exact words in her "22" music video (via YouTube).
Swift has consistently reflected on her impact and pushed herself to grow past her comfort zone. The level of detail and care she puts into every new hairstyle, beauty look and song release shows her genuine respect for her art and her fans. Whatever the pop icon's next move will be is bound to make waves.
Source: Read Full Article