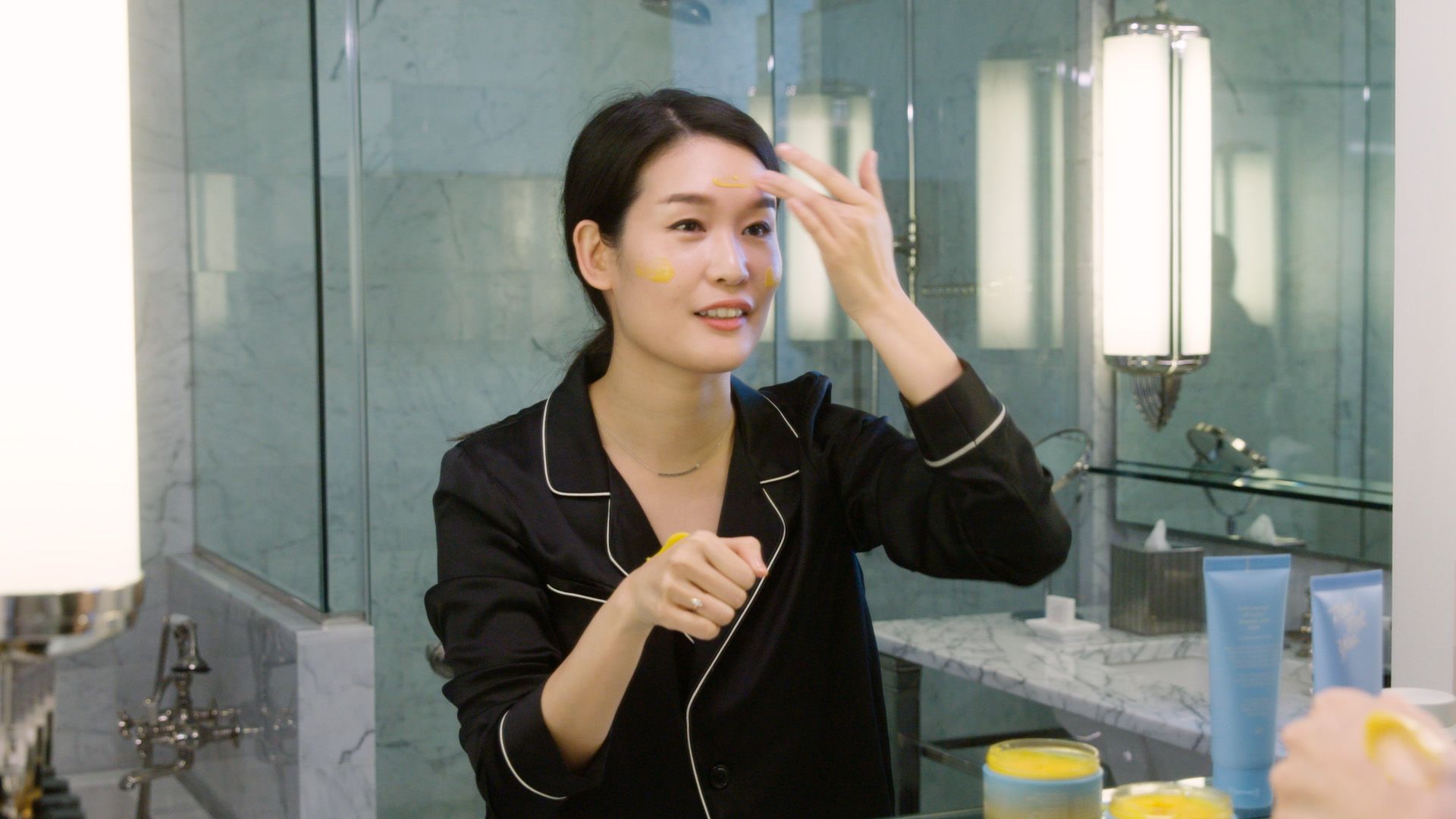 The reason you know about K-beauty today—and likely own one or two beauty products that originate from Korea—is because of Charlotte Cho. The California-born entrepreneur and esthetician started online retailer Soko Glam back in 2012, and has since written a book, launched a blog, and even created a new skincare line called Then I Met You. In this episode of Go To Bed With Me, Cho walks us through her expert and meticulous nighttime skincare routine.
Cho starts off with a double cleanse, which means using an oil-based cleanser before a water-based cleanser to get every last stitch of makeup off her skin. She starts her routine with the Then I Met You Cleansing Balm. After cleansing, she exfoliates with a gentle sugar-based scrub from Dear, Klairs. "You rinse if off and it will just feel baby smooth and soft," she says.
View this post on Instagram
[Sound on] When I first learned about skin care, it seemed like such a chore. But after discovering the double cleanse, I realized how nice and relaxing the experience was… and I started to look forward to it every morning and night. . . This #ASMR video of @thenimetyou embodies how I zeroed into all the aspects of what would make an elevated cleansing experience. It's about the creamy and rich textures, hints of rosemary, and the top shelf ingredients I used to get the experience that would make it an effective and luxurious experience. These cleansers were designed specifically for those looking for a turning point in their routine and those who could appreciate the elements that make it so special. #thenimetyou #glowdeeper
A post shared by Charlotte Cho 샬롯조 (@charlottejcho) on
"Now that my skin is a little fragile from all that cleansing, I want to bring my skin back to its happy place," she says before applying a beauty water on her skin. Next, comes a sheet mask. "I literally put sheet masks in my fridge just to have that extra cooling effect," she says. "There's a lot of essence left over in this pouch. Dip your hands in and use it on your hands and your next."
After masking comes an essence. "It's 93% fermented ingredients, which is my all-time favorite ingredient," she says. She puts a few drops in her hand and taps it into her skin.
View this post on Instagram
My travel-friendly, low pH, Neogen Green Tea Cleansing Stick 💚 I made this in collaboration with Neogen in 2017 and its still one of our best sellers! Remember *ALL* Neogen is 20% off until tomorrow with the code "WOWNEOGEN" That means favs like the Neogen Micro Essence, Micro Serum, Day-light Sunscreen, Gauze Bio-Peels… the list goes on! 😍😍 Click link in bio for all #Neogen! . . . #glowingskin #kbeauty #skincare #koreanbeauty #instaskin #onlygoodskindaysahead #sokoglam #honeyskin #koreanskincare #beautyblogger #asianbeauty
A post shared by Charlotte Cho 샬롯조 (@charlottejcho) on
There are plenty of steps left in Cho's routine—but you'll have to watch the full video to learn about why she loves snail mucin. Shop her favorite products above and don't forget to subscribe to BAZAAR's Youtube channel so you don't miss a single video this #beautyweek.
Source: Read Full Article