The ritual of applying fragrance can be uplifting, motivating, and comforting. It's also a great way to reflect on how you'd like to express and compose yourself—even when no one else is around. Enter: Perfect, the new fall fragrance from Marc Jacobs, that comes with a timely message of optimism and self-acceptance from Jacobs himself.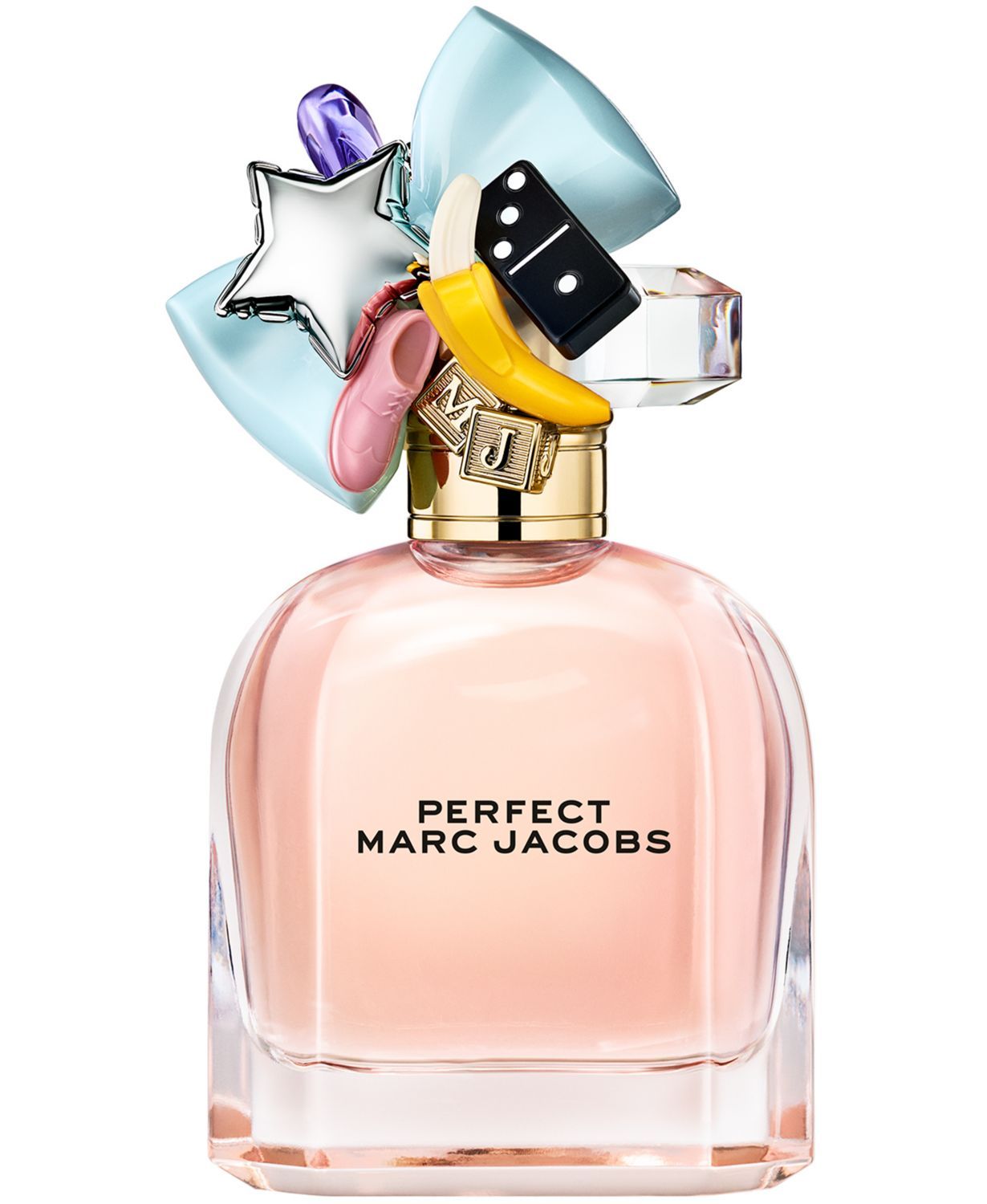 Over video chat the designer explains the process of creating the new fragrance. "It all starts with a name," says Jacobs. "When I was asked to come up with a name for a fragrance around two years ago, I though it should be called Perfect. Then I started to tell the story about what that word meant to me."
The name didn't just come out of thin air. The fashion designer and beauty and fragrance mogul has had the word "perfect" tattooed on his inner wrist for 15 years, he says. "It's just a reminder and it's not really about perfection, because you never totally get it right." His version of perfection is not about striving towards an ideal, but rather accepting yourself in any given moment. Though years in the making, the sentiment of this new fragrance is one needed in this unprecedented new world.
Jacobs explains, "It comes from this teaching in The I Ching that says 'I am a perfect being in a perfect world where everything that happens benefits me completely.' So what I absorbed from that lesson was that I am going to make mistakes, but I'm going to love myself. I'm going to grow. I'm going to do a lot of things and be a lot of things and show a lot of sides of me. But no matter what they are, they're all perfect. I am perfect as I am in this moment."
Leave it to a designer to start with the visual component of a fragrance instead of the scent itself. After the inspiration, the bottle comes next: "The story just kept unfolding until there was a spirit and a look to the bottle," says Jacobs. The bottle, which looks almost like the platonic ideal of a fragrance–an elegant glass with curved edges– is juxtaposed with a cap covered in a collection of overflowing mismatched charms that look like fashion Monopoly pieces. There's a bow, a high heel, a lucky domino, and a shiny star balloon, to name a few. It's a clear play on the quirky contrast between serious, eclectic, and ladylike elements—a signature of Jacobs's work.
With the name and bottle done, it was time to create a fragrance that fit his vision. "I went to the perfumer [Domitille Michalon-Bertier of IFF] and said 'What would you fill my fantasy with?' Somehow we got to a fragrance that we felt would come out of that bottle and be part of that story."
So what does perfection smell like? The blush-pink fragrance smells like something you'd find your coolest, most charismatic friend wearing—and they would be happy to share it with you. It opens with bright daffodil and juicy notes of rhubarb that give way to almond milk, cedar, and cashmeran base notes. It's a bit more sophisticated than your average fruity floral, since it dries down to a powdery, creamy scent.
Don't expect to hear that Perfect is just for one type of person, gender, or aesthetic. Jacobs expresses frustration with the idea that a fragrance is prescribed to a certain stereotypical woman like the Femme Fatale or the Bohemian Free Spirit. "Perfect isn't about one person it's more like a facet of many people," he explains. "That idea is old. It's boring. And it doesn't include everybody."
Attitudes are shifting in the beauty landscape and it's up to brands to adjust to the changing expectations. It happens with makeup too, he says. "What that does is bind people to these identities rather than stimulating or encouraging them to create their own," adds Jacobs. "I don't want to be told what the right thing to wear is or the right choices to make are or what's male, female, or anything."
To assist in making that point, the fragrance is represented by rising supermodel, Lila Moss, alongside a supporting group of 42 individuals who were selected through an open social media casting call. "We wanted to hear from different people about what the word perfect meant to them. I just bonded with a certain group of people. Everybody brought something very unique to it. Some were very touching, probably because I connected very closely some of the experiences that people shared with how they got to their definition of perfect."
Lila's involvement seems opportune, given his longtime collaboration and friendship with Lila's mother, Kate Moss. "I've known Lila since she was a young girl. And now it felt like the right time and Kate was okay with the idea that Lila would do our beauty campaigns," he says. But the conversation wasn't without some pushback from the supermodel. "When I was talking to Kate about this fragrance and the spirit of it, she was actually very adamant. She was like, 'I don't want it to be like you're saying Lila is the perfect girl.' And I said, 'No, no, no, no, no. She's part of a cast,'" retells Jacobs. " I think Lila is a great beauty and she represents a youthful spirit to me. But Perfect was not about this perfect girl. It was about individualism. And once I told Kate and Jefferson [Hack] that, they were very happy to know that Lila was a part of this group."
Through this ensemble of unique spirits, Jacobs hopes to amplify the message of self-love and acceptance. "I remind myself every day that I'm perfect as I am. And it's taken me a long time to feel that way or to feel confident in saying that," he muses. "It just felt like an opportunity to tell a different story in the fragrance world."
Marc Jacobs Perfect Eau de Parfum, $96, available now at Macys.com. SHOP
Source: Read Full Article