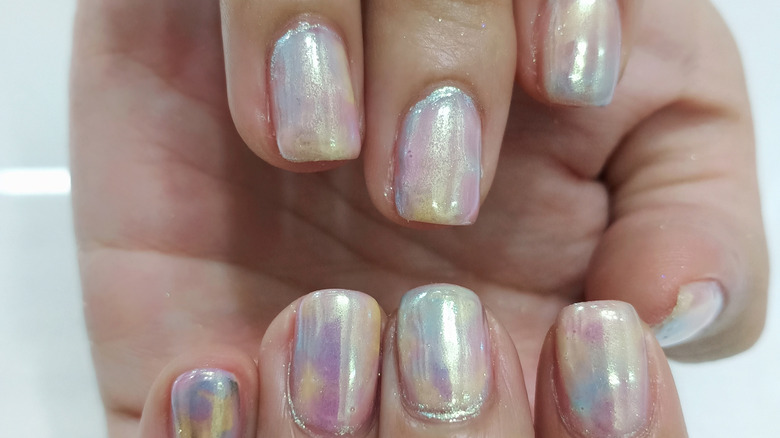 Korean aurora nails are, without a doubt, the next big thing when it comes to Instagram-worthy manicures. As per Vogue, think of the Korean-inspired nail trend "like highlighter for your nails." 
As per Vogue, the look creates a nail that boasts an iridescent charm that instantly brings mermaids and fairytales to mind, alongside the incredible aurora borealis light show. The hashtag #AuroraNails is attached to over 70,000 posts on Instagram as of publication, with the Korean Hangul Script translation at 140,000. According to Glamour, another name for aurora nails is "ice nails," due to the trending style offering a glittery, dimensional style that is reminiscent of tiny ice crystals. However, Glamour described the nails as having "an iridescent foil core and layers of shimmer," rather than the design being more simple to create.
As per Bustle, founder of Naillery, Suzi Rezler, explained that, "I love the way these nails catch the light in a space-age unicorn kind of way, they look like a real life filter." The Korean-inspired aurora nail trend might seem a little complex to recreate, but it's definitely worth taking the time to learn how to master this mesmerizing design.
How to recreate iridescent Aurora nails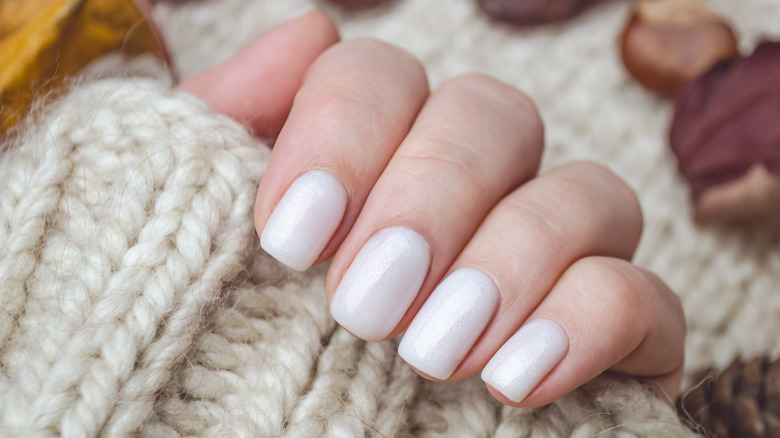 To recreate this popular nail trend, you can opt to use specialist aurora gels; however, these are usually only available for professional salon use, according to Vogue. The good news is that to recreate this unicorn light inspired trend, all you need are nail polishes in sheer and opalescent shades.
As per Glamour, New York based nail artist Fleury Rose explained that, "This trend is all about layering. There are different techniques out there, but mainly it entails layers of opal gel polish, or opal powder with layers of holo film to create a stunning effect. The entire thing is encapsulated with clear gel to give a lit-from-within effect."
According to Vogue, the Aurora nail trend is fairly simple to recreate, as all it takes for a basic version is a nail polish that has light-reflecting properties. Glamour suggested recreating the look using a "holographic film" topped with clear gel polish to create a nail that pops.
Source: Read Full Article