Dermatologists prescribe products to their patients all day long, but have you ever wondered which ones they personally use? Welcome to Derm Diaries, a series where dermatologists share their skin woes—and solutions—so you can steal secrets from their skincare routines.
Flora Kim, MD, FAAD didn't have becoming a skincare expert in her original plan. The South Korea-born, New York-raised dermatologist actually started her career with a lucrative job as a financial analyst at Morgan Stanley's Mergers & Acquisitions Group. On September 11, 2001, however, she witnessed the second tower of the World Trade Center collapse as she was trying to escape the city on the NY Waterway ferry, and that moment changed everything. "It was then that I experienced a period of introspection and decided to leave banking, instead pursuing a passion and serving my community as a physician," Dr. Kim says.
https://www.instagram.com/p/CG3hBBLniyW/
A post shared by Flora Kim Dermatology (@drflorakim)
She ended up sending a mass email to the alumni of her alma mater Harvard College asking to shadow any physician in New York City. A fortuitous response from dermatologist Mark Lebwohl, MD granted her request and from there, Dr. Kim's passion for skincare grew. She ended up completing a dermatology residency at Dallas at UT Southwestern.
Now, Dr. Kim loves teaching others how to care for their skin properly, something she had to learn in coping with her own skin issues. Since her teenage years, she's struggled with lentigines, aka brown spots caused by sun exposure. "Being Asian, I have dealt with this since my teenage years and have witnessed my skin become progressively more and more easily prone to the development of them with even the slightest bit of sun exposure," she says.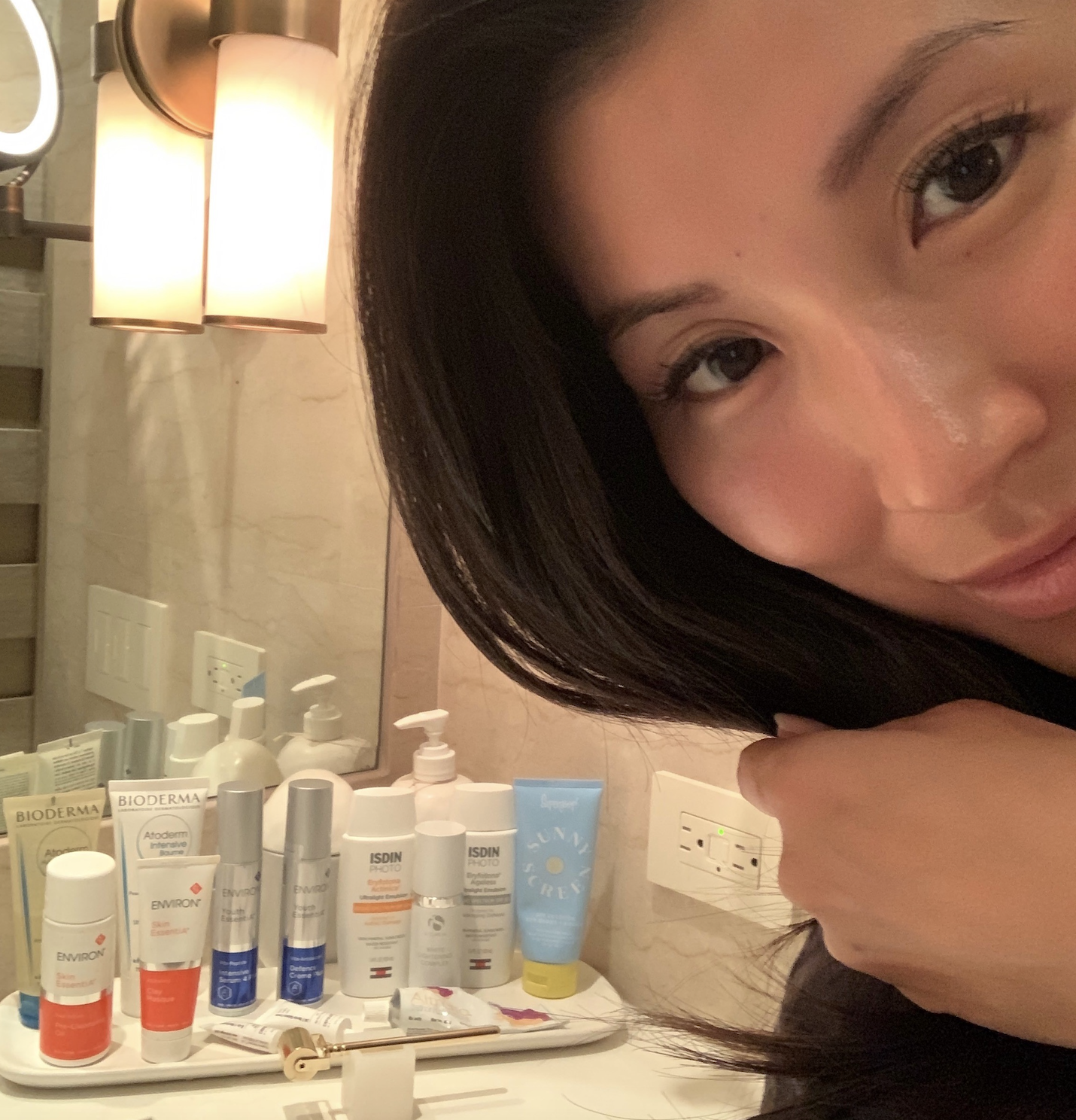 To avoid getting them, Dr. Kim says that she does more than use sunscreen. "The only way to deal with these brown spots is not just sun protection; it is strict sun avoidance—aka, not letting any UV rays touch my face." Whether it's sunny or cloudy, she always has a super wide brimmed hat on and large sunglasses. She also uses a powerful topical antioxidant and tinted sunscreen on her face and neck, in addition to regular peels and laser treatments at her office.
Most importantly, she stays on top of her daily skin routine. Here are her go-to products that get her through the day.
In the morning, she washes her face with lukewarm water and a cleansing lotion.
"I use Environ's YouthEssentiA Hydra Intense Cleansing Lotion, which is a luxurious gentle hydrating lotion-esque cleanser."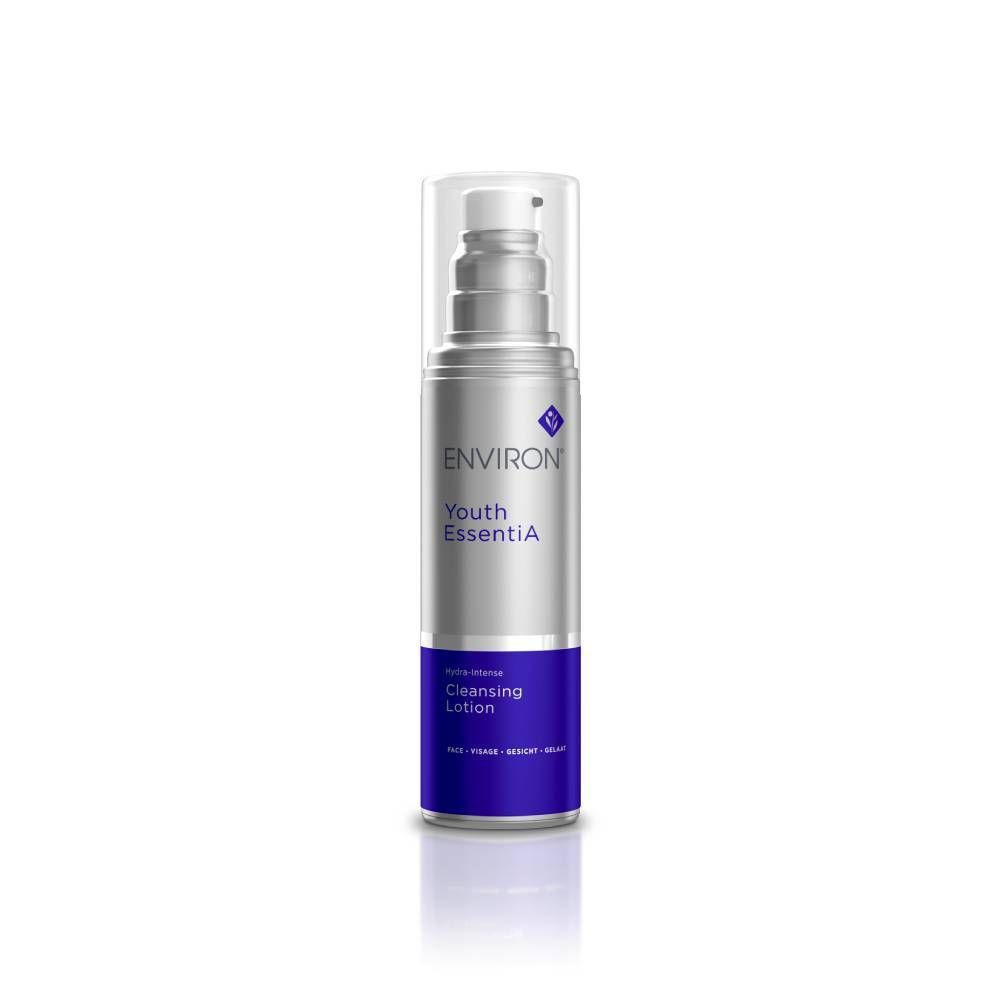 She applies a product specifically designed to fight hyperpigmentation.
"To prevent and combat brown spots, I apply two to three pumps of iS Clinical's Brightening Complex to my face and neck to go beyond vitamin C. This is also made with Norwegian kelp, arbutin, and mushroom extracts. FYI, this is so potent that it will tingle a bit when applied!"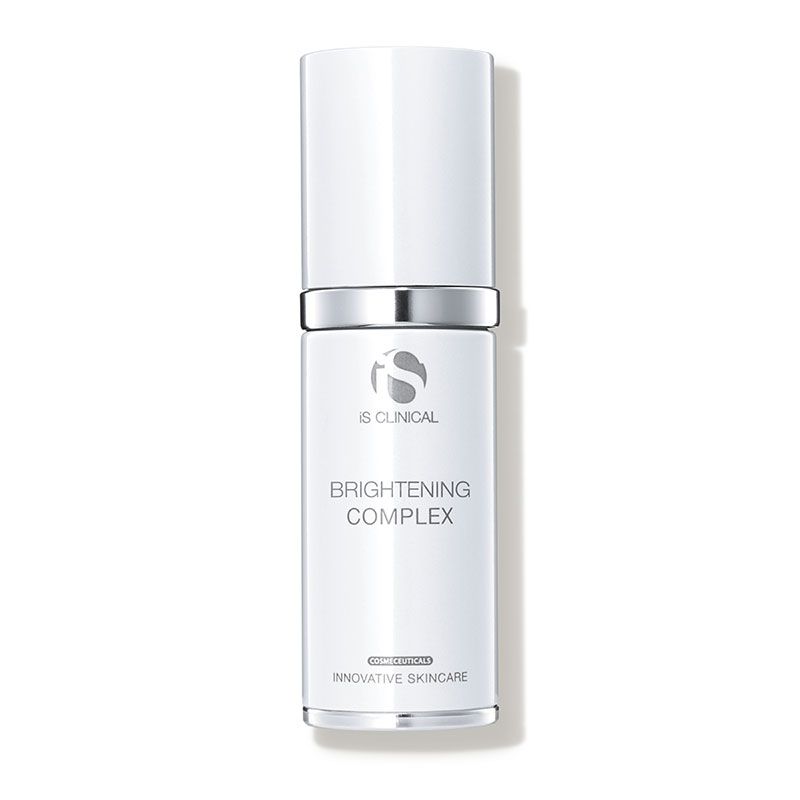 She changes her moisturizer depending on the season and her skin needs.
"Currently, I have normal/dry skin, so I love Biopelle's Tensage Advanced Cream Moisturizer, which utilizes scientifically vetted secretions from snails to combat signs of aging."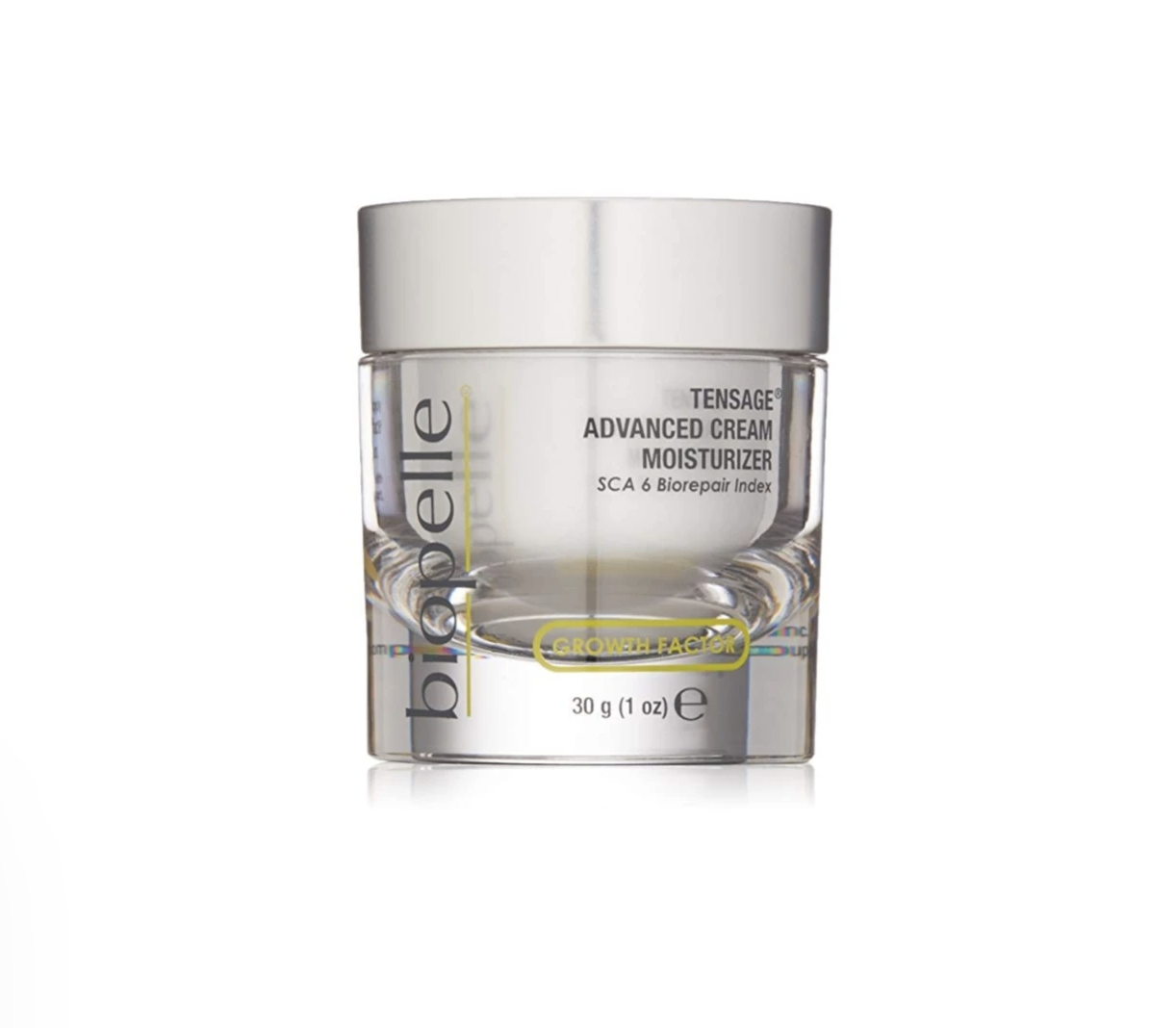 She makes sure she ends her AM routine with her favorite sunscreen.
"ISDIN's Eryfotona Ageless Ultra Light Emulsion sunscreen is a purely physical sunscreenthat is tinted to protect against blue light and offer the face light coverage. It's super sheer and non-greasy or shiny in formulation. Then, I put on my sunglasses and hat, and I am out the door."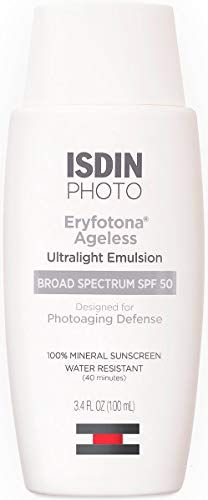 During the evening, she likes to triple cleanse.
"To ensure that all of the day's pollution, sweat, oil, dirt, plus any products applied are all completely, but gently removed from my face, I massage on to dry skin Environ's Dual Action Pre-Cleansing Oil and Hydrating Clay Masque first. Then, I turn on the lukewarm water to wash it all off with Environ's YouthEssentiA Hydra Intense Cleansing Lotion."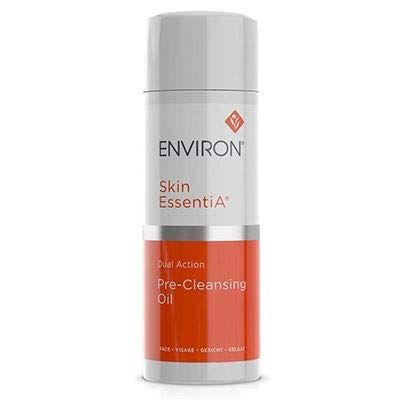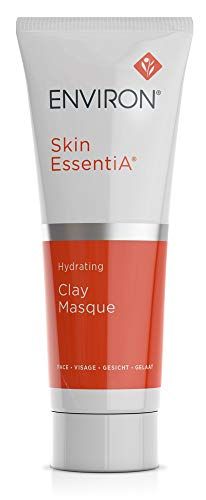 One or two nights a week, she swaps out her regular cleanser for a brightening powder one.
"I [like to] wash with Lifeline's Brightening Cleanser, which is a novel powder cleanser activated by contact with water that delivers micro-exfoliation using rice enzymes and salicylic acid for a smoother, brighter, and more even tone skin."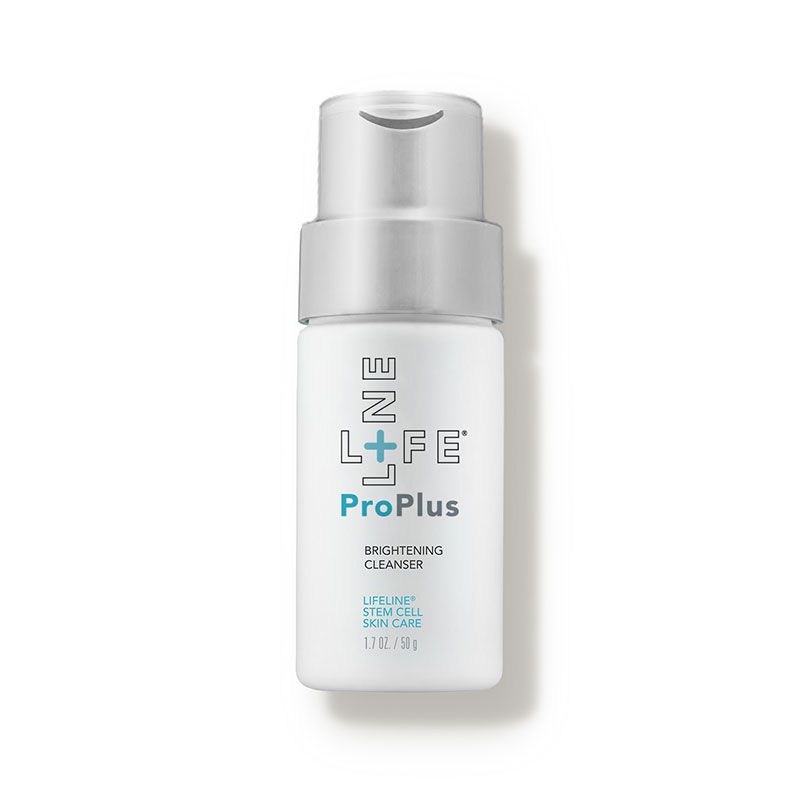 She sometimes likes treating her face to a microneedling session, before she applies her serum.
"I use Environ's Microneedling Gold Roll-CIT for 5-10 minutes on my face and neck, followed by Environ's YouthEssentiA Vita Peptide Intensive Serum 4 Plus and Defence Crème Plus to maximize collagen stimulation and enhance penetration and absorption of the antioxidants, peptides, and retinol active ingredients applied."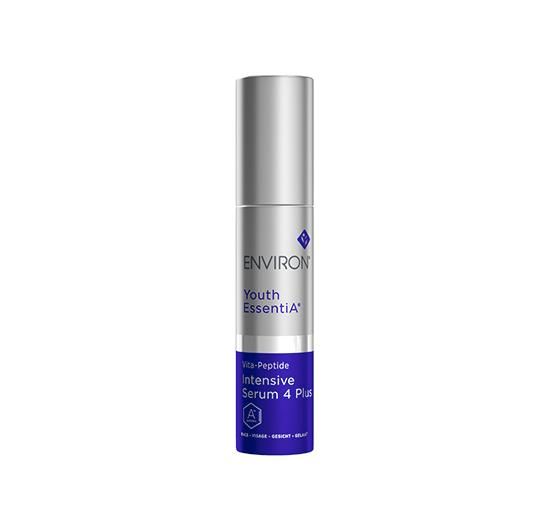 If she feels her skin is dry or needs an extra boost, she'll use a Biopelle serum.
"Biopelle's Tensage Intensive Serum 40 is something I love to supplement after microneedling to nourish my skin with a high concentration of snail growth factor that hydrates, soothes, repairs, and completely pampers my face and neck."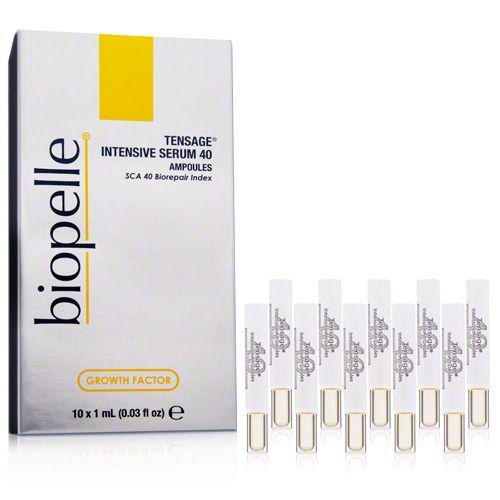 Source: Read Full Article