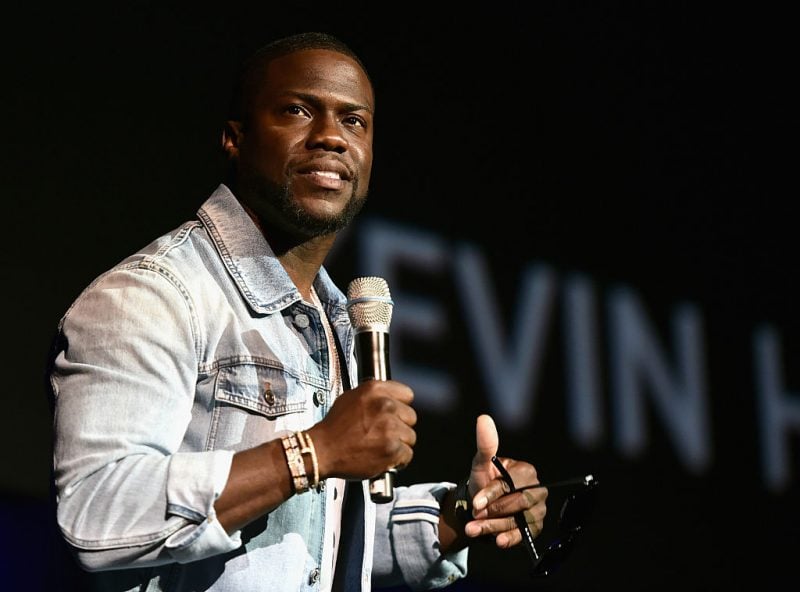 Kevin Hart is not apologizing for his old tweets anymore | Alberto E. Rodriguez/Getty Images
Kevin Hart is done dwelling on the past. The controversial comedian is putting his foot down when it comes to talking about his decade-old anti-gay tweets. Hart is sticking to his word so much that he even gave up the honor to host the Academy Awards. While his behavior may have been problematic, not just online but in his early stand-up, Hart feels like he's taking the high road. His presence at the Academy Awards would generate a negative buzz, detracting from the magic of the event.
If you'll miss him as the host, you can at least catch some of his test material on YouTube.
What tweets got Kevin Hart in trouble?
Between June 2009 and July 2011 the pint-sized comedian posted a series of homophobic tweets, offending fans, and the LGBTQ community. Amazingly, the tweets remained live on his account up until very recently.
Hart made an extremely troubling tweet about his son, threatening physical abuse if he ever caught him playing with a dollhouse. He verbally accosted people on the social media platform as well. He told actor-director Damien Dante Wayans that his profile picture resembled "a gay bill board [sic] for AIDS" and called another Twitter user a fat f-g." Hart used problematic language (gay, homo, and f-g) and made many other anti-gay statements, numerous times before 2011. It seemed the success of his first stand-up movie made the questionable comedian check his boorish behavior.
After he was chosen to be the host for the Academy Awards this year, Hart began quietly deleting tweets, but that didn't save him. The national conversation the tweets caused resulted in tons of people screen capping them, so it's no surprise the tweets hunt the rising star to this day. With an increased media presence, they have become even more of a problem.
Does Kevin Hart actually have a problem with the LGBTQ community?
Back in 2010, Hart made some comments during a stand-up routine that rubbed fans the wrong way. He mentioned that despite not being homophobic, one of his biggest fears was raising a gay son. Hart went on to say "I have nothing against gay people." While he would still love his son, having him be gay is something he'd prefer to avoid at all cost.
The public agrees that all of his anti-gay statements, especially the ones regarding his son, have been incredibly insensitive. The jury's still out on whether or not Hart ultimately meant to cause harm with his offensive comments. Despite his best attempts, his past apologies haven't put out the dumpster fire.
Kevin Hart is done saying sorry
Hart has addressed these tweets several times over the last decade. In the past week, he's taken it upon himself to make several statements, social media posts, and guest appearances to apologize. For many, it's additional fuel for an already blazing fire. Fans, activist, and the Academy all pushed for him to make another formal apology.
The Academy told him if he didn't apologize they would drop him for another host. On January 8th, Hart announced on Good Morning America that he dropped out of his hosting spot, much to Ellen DeGeneres' dismay. He also said he was over talking about his past behavior.
Why didn't Hart just apologize?
View this post on Instagram
I know who I am & so do the people closest to me. #LiveLoveLaugh
A post shared by Kevin Hart (@kevinhart4real) on
The Central Intelligence star is done. He's apologized for his behavior so much at this point, what's the point of repeating himself? If all of his previous apologies haven't excused his behavior, certainly one more apology isn't going to change anything. Since he's addressed it to the best of his abilities, he is ready to move forward.
"I chose to pass. I passed on the apology. The reason I passed is because I've addressed this several times."
These tweets have haunted him for an entire decade, so he's going to try to start a movement himself. You can't move past a controversy if it's still actively being discussed. Hart hopes that if he stops responding, people will stop bringing it up.
Do you think his idea will work?
Source: Read Full Article